Santorini's reputation precedes it. An effervescent island that draws flocks of revellers to bask in the epic majesty of its legendary sunsets and languish on the decks of luxury hotels, you would be forgiven for mistaking it for a real tourist trap. But, beyond the obvious, you'll find so many more things to do in Santorini
Things to do in Santorini
Approach Santorini from the sea and you'll be blessed with an unforgettable perspective: the waters over the caldera are seductive, deep indigo and above them, the multi-coloured volcanic rock lip trembles, crowned by shining white buildings. Santorini's two main towns, Fira and Oia, are brimming with fabulous restaurants and old-town charm, but a little off the beaten track you'll find an equally enchanting selection of small towns and wild, stunning hiking trails. We've combed the depths of this island's history, nature and culture to compile this guide to experiencing Santorini like a local.
TASTE
Before all the hotels and guesthouses sprang up, the island's incredibly fertile land was covered in tomato plants and vineyards. Unmissable local delicacies to try include fava beans, Tomatokeftedes and fried white eggplant as well as fresh seafood. Start at charming tavern The Good Heart, which is owned by a couple, Anna and Michael. Everything – including the wine – is homemade and this is a wonderful starting point to give you an introduction to traditional Greek fare as you watch the sun slide below the horizon from the terrace.
The next day, indulge in a sweet breakfast by picking up some delicate pastries and strong coffee at Erotokritos Bakery; the sticky, crunchy, honey-coated baklava is particularly appealing. For a more sophisticated breakfast, try Melenio Café, which boasts views of the water and serves irresistible homemade pancakes. Health buffs should head to Passaggio and pick up an energising smoothie made with fresh, local fruit.
Treat yourself to a lunchtime meal at the Red Bicycle, located in a 19th-century cliffside mansion, and savour classic dishes with a modern twist, such as vine leaves stuffed with truffled egg and oxtail, thinly sliced marinated sea bass and smoked eel with creamed fava and caramelised grapes.
SIP
Aside from water, there are two drinks every inhabitant of Santorini cannot live without: coffee and wine. Starting with your morning cup, you can choose from a traditional Greek coffee brewed in a special briki pot or opt for a frappé, a cold coffee shaken with ice. Locals love Akrothiri Bistro Café & Cocktail bar for a truly heavenly cup.
Wine is of supreme importance in Santorini. Although the island's residents have always been aware of the quality of their wine, Santorini wine has been steadily garnering international attention over the past decade. As a result, some of the island's vineyards offer pretty spectacular tasting experiences, such as Vassaltis, where you can sample a tasting menu with some magnificent wine pairings, or Venetsanos, where you can try their wine while gazing out at an astonishing view. If you want to try several of Santorini's bottles, head to Oia Vineyart, a courtyard and rooftop tucked away down an old side street.
DISCOVER
Santorini is an island steeped in history and there is no better place to appreciate the scope of its tumultuous past than the archaeological site in Akrotiri, where the prehistoric inhabitants were obliterated by the eruption of the volcano. This beautiful village is also home to some typical Greek taverns where you can enjoy a hearty lunch. Equally enthralling is the 8th century settlement of Ancient Thira, located at the top of Mesa Vouno. You'll need to walk up here via a staircase that winds its way up the mountain, so make sure to bring comfortable shoes.
SHOP
Fira and Oia are both destinations for independent and concept stores, such as Spicy Boutique Santorini, which is dedicated to providing travelers the very best quality of clothes, shoes, and accessories emphasizing on Greek designers. Atlantis bookshop is generally regarded as one of the best and most beautiful in the world, having received international acclaim thanks to its incredible collection of rare first editions. If you're lucky, you can catch the small farmer's market in Fira, which takes place just after the main square and gives you a glimpse into the traditional life in Santorini, with old women selling leafy vegetables and fresh fish. Bear in mind that many stores close for "mesimeri", a small siesta time between 2 and 5 pm.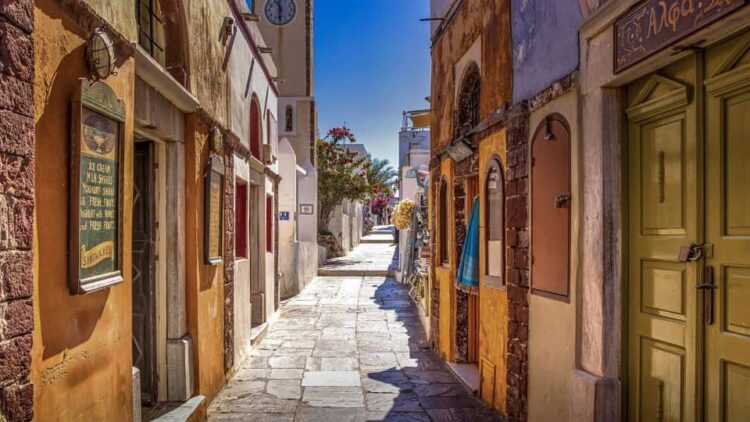 CHILL
Relaxing in Santorini is synonymous with the beach. The dark black and red volcanic sand and pebbles that touch the waterline are curiosities in themselves and the most convenient and accessible beaches are located in the south of the island. Perivólas and Vlyháda are wonderful, as well as the famous Perissa with its iconic black sand. On a warm afternoon, sneak off to Mesa Pigadia, a quiet, rarely frequented rock beach. Here you can swim through a cave and glimpse some gorgeous views before having a simple dinner of fresh seafood at the family tavern located right on the beach.
BE ACTIVE
Taking a hike in Santorini is an extremely rewarding experience. The classic trail from Fira to Oia is around three hours long and will take you on an adventure past abandoned villages, medieval churches and wild landscapes. You'll be walking along the staggering edge of the caldera, the rippling midnight blue waters twinkling below. You can also take a 2-hour trek from Pyrgos village to Ancient Thera, at the end of which you'll encounter the latter's stunning ruins.
Santorini's astonishing colours and centuries-old history provide a compelling backdrop for some mesmerising experiences. From tasting and sipping the island's rich produce to drifting through devastating landscapes, this is truly the stuff of dreams.
STAY
You may elect to stay in the picturesque Oia or Fira villages along the cliff with the stunning views looking down into the caldera. You may prefer though the beach towns on the opposite side of the island. Santorini offers a wide range of boutique hotels. We would advise in all cases to book early if you are planning to visit in summer.