Santorini's reputation precedes it. An effervescent island that draws flocks of revelers to bask in the epic majesty of its legendary sunsets and languish on the decks of luxury hotels, you would be forgiven for mistaking it for a real tourist trap. But, beyond the obvious, you'll find many more things to do in Santorini.
Contents
History of Santorini
Santorini, also known as Thira, is an island in the Aegean Sea and part of the Cyclades group of islands in Greece. The island has a long and storied history, dating back to the Minoan civilization around 3600 years ago. The Minoan settlement of Akrotiri was a bustling port and trade center until it was destroyed by the eruption of the Santorini volcano around 1627 BC. This eruption was one of the largest volcanic events in recorded history and is believed to have played a significant role in the decline of the Minoan civilization.
In the centuries that followed, Santorini was inhabited by various civilizations, including the Mycenaeans, the Dorians, and the Romans. The island was also an important stop on the trade routes of the Byzantine and Ottoman empires. In the 19th century, Santorini played a key role in the Greek War of Independence and became part of the modern Greek state in 1832.
Today, Santorini is a popular tourist destination known for its stunning views, charming towns, and unique volcanic landscape.
Things to do on Santorini island
While Santorini is famous for its stunning sunsets and luxury hotels, there is so much more to see on the island beyond the tourist hotspots. Here are some off-the-beaten-path places to explore:
Ancient Thira, located on a hilltop near Kamari, is a testament to Santorini's rich history. This archaeological site was named after the mythical ruler of the island, Theras. Excavations at Ancient Thira began in 1895 and continue to this day, uncovering a wealth of artifacts that provide insight into the island's past. The site includes the ruins of houses, temples, and a gymnasium, as well as a theater with a seating capacity of 1,500 people. One of the most striking features of Ancient Thira is the view from the hilltop, which overlooks the Aegean Sea and the surrounding islands. It's a great place to take a walk and imagine what life was like in ancient times.
Megalochori, located in the center of the island, is a hidden gem that's worth a visit. This traditional village is known for its neoclassical mansions and wine production. Megalochori was once a wealthy town, and the impressive architecture of the houses and mansions reflects this. The village is also home to several churches, including the Church of Agios Nikolaos, which was built in the 17th century. Visitors can take a leisurely stroll through the narrow streets of Megalochori, stopping to admire the colorful doors and windows of the houses. The village is also home to several wineries, where visitors can taste the local wine and learn about the history of winemaking on the island.
Pyrgos, located on one of the highest points on the island, is a picturesque hilltop village that's worth the climb. The village was once the capital of Santorini and was built in the 15th century to protect against pirate attacks. The Kastelli castle ruins are a reminder of this history. Visitors can explore the narrow streets and alleys, admiring the traditional architecture and taking in the panoramic views of the island. Pyrgos is also home to several cafes and tavernas, where visitors can enjoy a meal or a cup of coffee while taking in the view.
The Akrotiri Lighthouse, located on the southwestern tip of the island, is a hidden gem that's perfect for watching the sunset away from the crowds. The lighthouse was built in 1892 and is 11 meters tall. Visitors can climb to the top of the lighthouse for panoramic views of the caldera and the Aegean Sea. The area around the lighthouse is also home to several beaches and coves, which are perfect for swimming and snorkeling.
Prophet Elias Monastery, located on the highest peak of the island, is a peaceful and spiritual place that's perfect for a quiet retreat. The monastery was built in 1711 and is dedicated to the Prophet Elijah. Visitors can explore the church, which is decorated with beautiful frescoes, and visit the small museum, which features religious artifacts and icons. The view from the monastery is breathtaking, with panoramic views of Santorini and the surrounding islands.
Step back in time and uncover the mysteries of the ancient Aegean civilization in the prehistoric city of Akrotiri. Located on the southern coast of the picturesque island of Santorini, Greece, this remarkable site was built over 3600 years ago and inhabited for centuries before being buried by volcanic ash from the nearby Thera eruption. Immerse yourself in the well-preserved streets, buildings, pottery, frescoes, and tools, and marvel at the glimpses of life and culture from a bygone era. Discover one of Greece's most significant archaeological sites and witness history come to life.
Art Space Gallery and Winery, located in Exo Gonia, is a unique winery that combines wine tasting with contemporary art. The underground galleries feature works by Greek and international artists, and the tasting room offers a variety of local wines and snacks. Visitors can take a guided tour of the winery, learning about the history of winemaking on the island and the unique methods used at Art Space. The winery also hosts regular exhibitions and cultural events, making it a great destination for art lovers.
When it comes to shopping, Fira and Oia are both destinations for independent and concept stores, such as Spicy Boutique Santorini, which is dedicated to providing travelers with the very best quality of clothes, shoes, and accessories, emphasizing on Greek designers. Atlantis bookshop is generally regarded as one of the best and most beautiful in the world, having received international acclaim thanks to its incredible collection of rare first editions. If you're lucky, you can catch the small farmer's market in Fira, which takes place just after the main square and gives you a glimpse into the traditional life in Santorini, with old women selling leafy vegetables and fresh fish. Bear in mind that many stores close for "mesimeri", a short siesta time between 2 and 5 pm.
Santorini is a treasure trove of history, culture, and natural wonders, and there are many hidden gems to discover beyond the tourist hotspots. These off-the-beaten-path destinations offer a glimpse into the island's rich past and present.
Taste – Restaurants in Santorini
Santorini is known for its delicious Mediterranean cuisine and fresh seafood. While there are plenty of restaurants catering to tourists, there are also many hidden gems serving up authentic Greek dishes. If you're looking to experience the local flavors, here are a few off-the-beaten-path places to try.
Start your culinary adventure at the charming tavern The Good Heart, owned by a couple, Anna and Michael. Everything – including the wine – is homemade, and this is a wonderful starting point to give you an introduction to traditional Greek fare as you watch the sun slide below the horizon from the terrace. Unmissable local delicacies to try here include fava beans, Tomatokeftedes, and fried white eggplant, as well as fresh seafood.
For a sweet breakfast, pick up some delicate pastries and strong coffee at Erotokritos Bakery. The sticky, crunchy, honey-coated baklava is particularly appealing. Alternatively, for a more sophisticated breakfast, try Melenio Café, which boasts views of the water and serves irresistible homemade pancakes. Health buffs should head to Tutti Frutti and pick up an energizing smoothie made with fresh, local fruit.
Treat yourself to a lunchtime meal at the Red Bicycle, located in a 19th-century cliffside mansion. Here, you can savor classic dishes with a modern twist, such as vine leaves stuffed with truffled egg and oxtail, thinly sliced marinated sea bass, and smoked eel with creamed fava and caramelized grapes.
If you're looking for off-the-beaten-path restaurants, try To Psaraki, located in the fishing village of Vlychada. This family-owned taverna serves fresh seafood and local specialties, and the outdoor seating area offers stunning views of the sea. Alternatively, head to Metaxy Mas in the village of Exo Gonia, where you can indulge in traditional Greek dishes made with local ingredients, such as slow-cooked lamb or grilled octopus.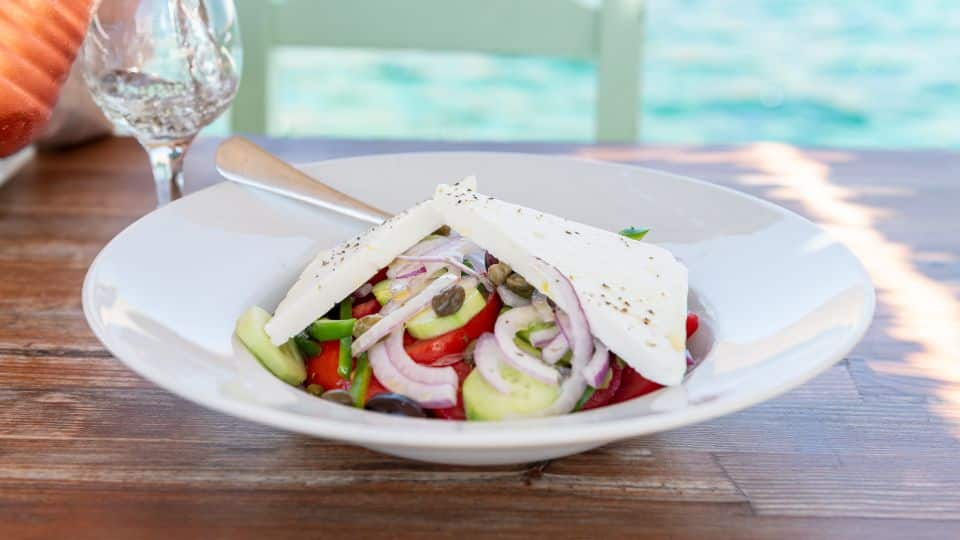 For a gourmet experience, head to Selene in Thera, where the menu changes seasonally and features locally sourced ingredients. Here, you can enjoy a modern twist on classic Greek dishes. Finally, for a truly authentic experience, visit Katerina's Traditional Restaurant in the village of Akrotiri, where the outdoor seating area is surrounded by grapevines and offers a peaceful atmosphere. This family-owned restaurant serves classic Greek dishes like moussaka and souvlaki, giving you a taste of traditional Greek cuisine.
Aside from water, there are two drinks every inhabitant of Santorini cannot live without; coffee and wine. Starting with your morning cup, you can choose from a traditional Greek coffee brewed in a special briki pot or opt for a frappé, a cold coffee shaken with ice. Locals love Akrothiri Bistro Café & Cocktail bar for a truly heavenly cup.
Wine is of supreme importance in Santorini. Although the island's residents have always been aware of the quality of their wine, Santorini wine has been steadily garnering international attention over the past decade. As a result, some of the island's vineyards offer pretty spectacular tasting experiences, such as Vassaltis, where you can sample a tasting menu with some magnificent wine pairings, or Venetsanos, where you can try their wine while gazing out at an astonishing view. If you want to try several of Santorini's bottles, head to Oia Vineyart, a courtyard, and rooftop tucked away down an old side street.
Nightlife in Santorini
Santorini may be known for its breathtaking sunsets, but it also boasts a vibrant nightlife scene that attracts locals and tourists alike. From laid-back wine bars to lively nightclubs, the island has something for everyone.
For those looking to enjoy a stunning view of the island while sipping on cocktails, Franco's Bar in the village of Pyrgos is a must-visit. Perched high above the caldera, this hidden gem offers a panoramic view of the island and the Aegean Sea. Guests can enjoy live music and a range of cocktails while soaking up the serene ambiance of this charming bar.
For a taste of traditional Santorini nightlife, head to Amoudi Bay near Oia. This picturesque fishing village offers a selection of waterfront seafood restaurants and bars that are perfect for enjoying a drink as the sun sets over the water. As the evening wears on, the atmosphere becomes more lively, with music and dancing spilling out into the streets.
If you're a wine lover, be sure to visit Tango Bar in the village of Oia. This cozy wine bar boasts an impressive selection of Greek and international wines, as well as delicious tapas and small plates. The bar's terrace offers stunning views of the caldera, making it the perfect spot to relax and unwind after a day of exploring the island.
For a livelier nightlife experience, head to the Tropical Bar in the heart of Fira. This open-air club offers a range of music, from traditional Greek music to international hits, and is a popular spot for locals and tourists alike. The bar also hosts regular events and parties, making it a great place to meet new people and dance the night away.
Finally, for a more intimate and relaxed atmosphere, check out the Two Brothers Bar in the village of Perissa. This family-run bar offers a range of cocktails and drinks, as well as delicious food; all served in a cozy and welcoming setting. With live music and a laid-back vibe, it's the perfect spot to spend a lazy evening with friends or loved ones.
Overall, Santorini's nightlife scene offers something for everyone, whether you're looking for a lively club, a romantic spot to watch the sunset or a cozy wine bar to unwind in. With so many options to choose from, you're sure to find the perfect spot to enjoy your evenings on this stunning island.
If you're planning to visit the island, you'll need a place to stay that will elevate your experience to the next level. Let us introduce you to seven exceptional hotels on the island. Each of these hotels has its unique charm, offering everything from luxurious villas to cave suites. Whether you're looking for a romantic getaway or a family-friendly vacation, there's something for everyone in Santorini. So, let's dive in and explore the top hotels on this beautiful Greek island.
On the volcanic cliffs of Santorini, Aenaon Villas stands out as a gem of the Mediterranean. With its six villas set on the steep slopes of the caldera, this hotel offers unparalleled views and impeccable service. The design is a mix of modern and traditional, with white walls curving around the rock formations and seamlessly blending into the crystal blue pools. Whether you're looking to unplug or indulge, Aenaon Villas is the perfect place to relax and enjoy delectable food and wine in the utmost privacy and comfort.
If you're seeking luxury and tranquillity, look no further than Amor Hideaway Villas. This complex of five luxurious villas is located in a secluded spot near Fira, offering privacy and a sense of serenity. The stylish decor blends seamlessly with the island's unique character, and each villa has been designed to cater to your needs and preferences. Take in the stunning views of the Aegean Sea from your villa's private terrace or relax in the refreshing waters of the swimming pool, which is exclusively available for villa guests. The staff is always on hand to assist you with anything you might need, from recommendations for local attractions to arranging transportation and excursions.
At Astarte Suites, restoration, romance, and luxury converge to create an unforgettable experience. Each of the 15 suites radiates the utmost level of comfort, with dreamy muslin-draped beds and private Jacuzzis. The never-ending views from the private terraces capture your gaze from the moment you wake up until long past the vivid sunset across the bay. Lounge next to the tranquil infinity pool, seemingly spilling out into the azure waters of the Aegean Sea below. Personalization and privacy are top priorities for the staff at Astarte Suites, ensuring that your stay will be nothing short of magical.
Experience unparalleled luxury and care at Athina Luxury Suites, located in one of the most coveted spots on the island. The rooms are carved into volcanic rock, giving them a hushed, tranquil atmosphere, and decorated with bright, modern touches. Enjoy an exquisite meal or a swim in the infinity pool while taking in the panoramic views of the Caldera and crystal-clear waters. The restaurant, Esperisma, is known for its traditional Greek fare with contemporary flair, making it a must-visit spot on the island.
Perivolas Boutique Hotel is a restored series of ancient caves that make up the sea-facing side of the village, offering a serene, almost sparkling white decor that glows from the walls. The caves' walls and ceilings arch elegantly over a laid-back luxury decor, with big squashy pillows in jewel tones, distressed wood, and baskets of flowers. Wake up to the magnificent view of the Aegean and enjoy the ultimate relaxation in this perfect atmosphere.
Santopaz Suites Santorini is a luxurious haven that offers a peaceful escape on the east coast of Santorini. It has three sea-view suites with modern amenities and minimalist yet elegant designs. The boutique hotel's facilities include refreshing pools and private plunge pools that offer unparalleled aesthetics, making it the perfect hideaway for relaxation. The entire property can also be booked for ultimate space and privacy. The hotel's serene ambiance and breathtaking views of the sun, land, and sea create an ethereal atmosphere that will leave you in awe. Santopaz Suites Santorini is the ideal destination for anyone looking to unwind and disconnect in the natural beauty of Santorini.
Villa Rodakes is a luxurious retreat designed in the Cycladic style with contemporary elements. The color palette of blue, white, and light wood creates a serene and relaxing atmosphere, while the high groin ceilings and Mediterranean-inspired arches and niches add elegance and warmth. The minimalist aesthetic and luxurious rooms invite guests to rejuvenate and revitalize. The concierge service offers various activities, including private tours, massages, and sailing tours. Guests can enjoy the unobstructed view of the Aegean Sea by the private pool during sunset.
Be Active – Outdoor Activities in Santorini
Santorini offers plenty of opportunities to get outside and enjoy the island's natural beauty. Whether you're an experienced hiker or just looking for a leisurely stroll, there's a trail for everyone.
One popular hiking trail is the Fira to Oia hike. This 10-kilometer trail takes you through traditional villages, past ancient ruins and offers stunning views of the caldera. The trail is well-marked and takes approximately 3 hours to complete. Be sure to wear comfortable shoes and bring plenty of water.
For a more challenging hike, head to the highest peak on the island, Profitis Ilias. The trail starts in Pyrgos and takes you through vineyards and rocky terrain before reaching the summit. The hike takes approximately 2 hours, and the panoramic views from the top are worth the effort.
If hiking isn't your thing, there are plenty of other outdoor activities to enjoy. Rent a bike and explore the island's villages and beaches at your own pace. You can also go horseback riding along the beach or take a sunset cruise around the caldera.
For the adventurous, try your hand at rock climbing. Santorini's volcanic landscape offers plenty of challenging climbs, and there are several companies that offer guided climbs and equipment rentals.
Water sports enthusiasts can also get their fix in Santorini. Rent a kayak and explore the hidden coves and sea caves along the coast, or try your hand at stand-up paddleboarding. The island's crystal-clear waters make it an ideal destination for snorkeling and scuba diving enthusiasts. Explore the underwater caves, shipwrecks, and volcanic formations teeming with colorful marine life. Many tour operators offer guided dives and snorkeling trips for both beginners and experienced divers. Don't miss the opportunity to witness the stunning beauty of the Aegean Sea up close.
No matter what outdoor activity you choose, be sure to take in the stunning views and appreciate the natural beauty of Santorini.
The Best Beaches in Santorini
Santorini is a beautiful Greek island with a unique topography thanks to its volcanic past. The island has some of the most beautiful beaches in the world, and we've put together a list of the best beaches to visit during your stay on this magical island.
The first beach on our list is Perissa Beach. Perissa Beach is located on the southeastern coast of the island and is one of the most popular beaches in Santorini. The beach is well known for its black sand, clear water, and amazing views of the surrounding cliffs. There are plenty of beachfront bars and restaurants where you can enjoy some delicious Greek cuisine while soaking up the sun.
Next up is Kamari Beach. Kamari Beach is another popular beach located on the southeastern coast of Santorini. The beach is famous for its pebble-stone beach and crystal-clear waters, making it an excellent spot for swimming and snorkeling. There are plenty of sunbeds and umbrellas available for rent, and you can also find a variety of bars and restaurants to enjoy.
If you're looking for a more secluded beach experience, then Red Beach is the perfect choice for you. This beach is located near the village of Akrotiri and is known for its red and black volcanic pebbles. The beach is surrounded by towering cliffs and is accessible only by foot or boat, which adds to the sense of adventure. It's the perfect spot for those who want to get away from the crowds and enjoy some peace and quiet.
Another great beach to visit is Vlychada Beach. This beach is located on the southern coast of Santorini and is known for its unique landscape. The beach is surrounded by white cliffs, which give it a lunar-like appearance. The beach is a bit quieter than some of the other beaches on the island, making it the perfect spot for those who want to relax and unwind.
Moving on to the western coast of Santorini, we have Amoudi Bay. Amoudi Bay is a small fishing village that boasts some of the most beautiful views on the island. The beach is small, but the crystal-clear water is perfect for swimming. You can also explore the local tavernas, which serve some of the freshest seafood you'll ever taste.
Another beach that deserves a spot on the list of the best beaches in Santorini is White Beach. Located just a short distance from Red Beach, White Beach is known for its unique white pebbles and crystal-clear waters. The beach is surrounded by towering cliffs that provide a dramatic backdrop for a day of relaxation in the sun. To access the beach, you can take a boat from the nearby port of Akrotiri, which adds to the sense of adventure and excitement. With its unique landscape and stunning views, White Beach is definitely a must-visit for anyone exploring the beaches of Santorini.
How to get to Santorini
If you're traveling from outside Greece, you can take a direct flight to Santorini's airport. Several airlines operate seasonal and year-round flights to the island from various cities in Europe, including London, Paris, Amsterdam, and Frankfurt. Once you arrive, you can take a taxi or a bus to reach your hotel or resort.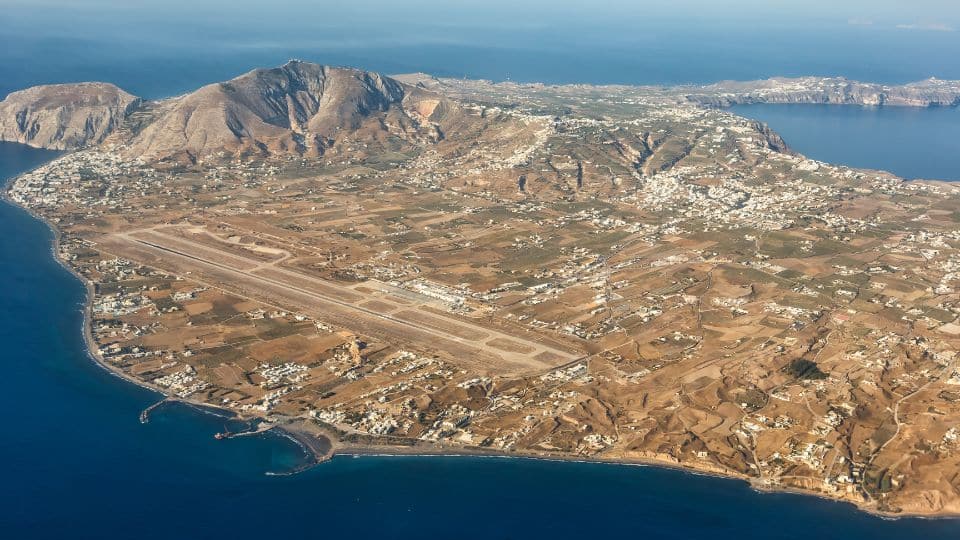 Another way to get to Santorini is by ferry. There are daily ferries from Athens' port, Piraeus, to Santorini, with the journey taking approximately 5-8 hours, depending on the type of ferry you choose. The ferries offer both economy and business class options, and you can also take your car or motorbike on board.
If you're already on one of the Greek islands, you can take a ferry from there to Santorini. The neighboring islands of Mykonos, Paros, and Naxos offer regular ferry connections to Santorini, making island hopping an easy and enjoyable experience.
Transportation in Santorini
Getting around Santorini is relatively easy, thanks to its compact size and well-connected road network. The island has several transportation options, including public buses, taxis, rental cars, and ATVs.
The local bus system is the most affordable option and connects all the major towns and villages on the island. The buses run frequently during the high season and provide a reliable and efficient way to get around.
Taxis are also readily available, although they can be more expensive than the bus. If you're traveling with a group, it may be more cost-effective to rent a car or an ATV, which allows you to explore the island at your own pace.
If you're arriving by ferry, there are buses and taxis waiting at the port to take you to your destination. Some hotels also offer airport and port transfers for their guests.
It's important to note that Santorini's roads can be narrow and winding, especially in the villages, so it's important to drive carefully and follow the speed limit. Additionally, parking can be limited in some areas, so plan accordingly.
Getting around Santorini is convenient and straightforward, allowing visitors to make the most of their time on the island.
Island hopping from Santorini
Santorini is undoubtedly a captivating destination, but if you're looking to explore more of the Cyclades, island hopping is the way to go. A few nearby islands to consider visiting include Ios, Anafi, and Folegandros. Each of these islands has its own unique charm and offers visitors a chance to experience the laid-back island lifestyle that the Cyclades are famous for.
Ios is known for its stunning beaches and lively nightlife, making it a popular destination for younger travelers. Anafi, on the other hand, is a more secluded island with a relaxed atmosphere and beautiful hiking trails. Folegandros is a quaint island with a traditional Cycladic feel, offering visitors picturesque villages and stunning views.
Of course, no visit to the Cyclades would be complete without a stop in Mykonos. Known for its vibrant nightlife and cosmopolitan vibe, Mykonos is one of the most famous destinations in the Aegean. With its whitewashed buildings and cobblestone streets, the island offers visitors a taste of Greek island life with a luxurious twist.
Whether you're looking to party the night away on Ios, hike through the stunning landscape of Anafi, or explore the traditional villages of Folegandros, island hopping from Santorini is an excellent way to experience the diverse beauty of the Cyclades. And with Mykonos just a short ferry ride away, you can even add a touch of glamour to your island adventure.
When to visit Santorini – Santorini Weather
Santorini is a year-round destination, but the best time to visit is between April to October when the weather is warm and dry. The peak tourist season is from June to August, when the island is bustling with tourists and prices are at their highest.
If you prefer to avoid the crowds and don't mind cooler temperatures, visiting Santorini in April, May, September, or October is a good option. During these months, the weather is still pleasant, and you can enjoy the island's beauty without the crowds.
The winter months, from November to March, are the quietest and least expensive time to visit, but the weather can be unpredictable, with occasional rainfall and cooler temperatures. Some restaurants and attractions may also be closed during this time.
The best time to visit Santorini depends on your preferences and priorities. If you want to enjoy the island's vibrant nightlife and beach scene, visit during the peak season. However, if you prefer a quieter and more affordable trip, consider visiting during the shoulder or low season. Regardless of when you visit, Santorini's stunning scenery and rich culture are sure to leave you with unforgettable memories.