Aenaon Villas offers a wealth of luxury and never-ending sea views
On the volcanic cliffs of Greece's precious Santorini Island, rests one of the jewels of the Mediterranean, Aenaon Villas. A set of six villas lay waiting on the steep slopes of the caldera where you can expect unparalleled views and faultless service. Aenaon Villas' sprawling white courtyards are juxtaposed with the dark rock which it was carved from, and it is within in this contrast where its allure lies.
The minimalist design is ultra-modern and traditional at the same time. You are tethered between realms of opulence and old-world charm as the owners and designers have created a haven where visitors can unplug. The white walls curve around the rock formations and spill seamlessly into the crystal blue pools. Here you can breathe in the salty air from the Aegean Sea and enjoy delectable food and wine in utmost privacy and comfort.
"Aenaon" is ancient Greek for "eternal" and here you will experience eternal splendour, eternal pleasure, and eternal happiness.
What we liked the most
Waking up to a mouth-watering breakfast; the Eggs Benedict is a firm favourite
Tasting a glass of chilled wine while overlooking the Caldera
Enjoying an unforgettable sunset from the pool overlooking the sea
Relaxing in the privacy of your plunge pools from Villa Charissa
George and Alexandra's outstanding keen eye for detail; ensuring that every one of your needs is catered for
Rooms Overview
Each villa has been thoughtfully designed to give guests views of the picturesque expanses while allowing for optimal privacy. The design is modern and sleek and pays tribute to the classic architecture that Santorini is admired for. You will enjoy modern amenities like Wi-Fi, television, air-conditioning and a private entrance.
Villa Charissa
2 guests
Panoramic View
Private pool
This large and luxurious space pays homage to Santorini's yposkafa buildings. Curved edges give you a sense of tranquillity and the minimalist design makes room to breathe and declutter your mind. Overlook the sunset from your private heated plunge pool or enjoy a nourishing breakfast in the 65sq meter living space.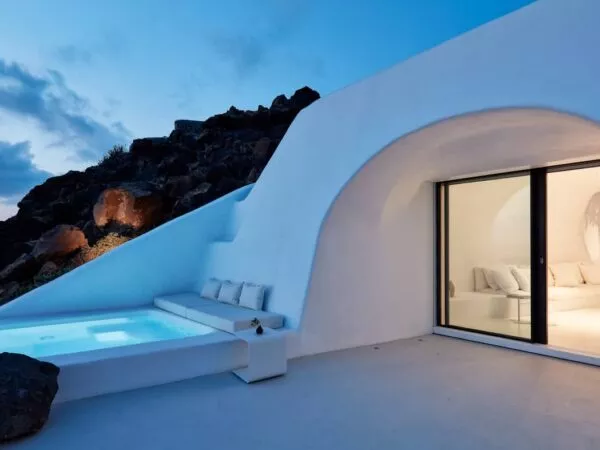 Sunrise has never looked as good as from this eastern facing villa. The breakfast nook is the perfect place to enjoy your first cup of aromatic coffee in the morning. As night draws closer you can cosy up next to the fireplace. The spacious open plan design is 45sq meters of pure tranquillity.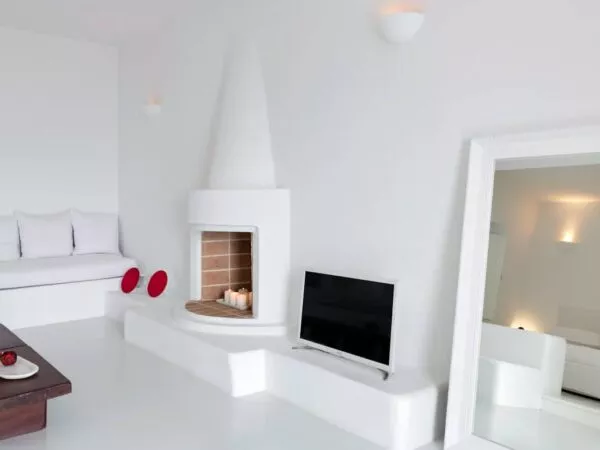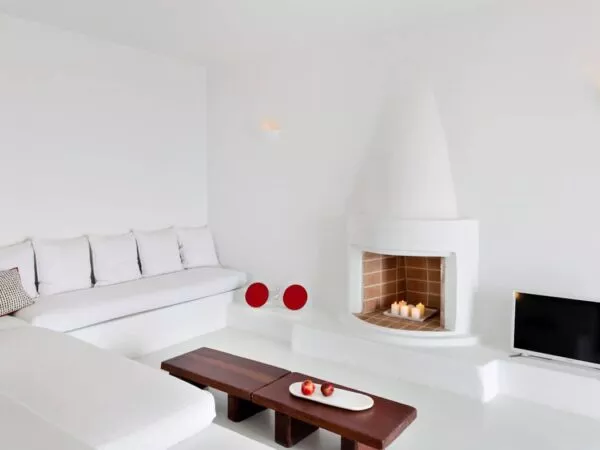 Clean lines and an open plan living space gives a sense of serenity in this bright villa. The dining area and fireplace are perfect for two people to get comfortable and enjoy their surroundings. Each inch of this 45sp m space has been thoughtfully designed to blur the lines between inside and outside for optimal freedom of movement.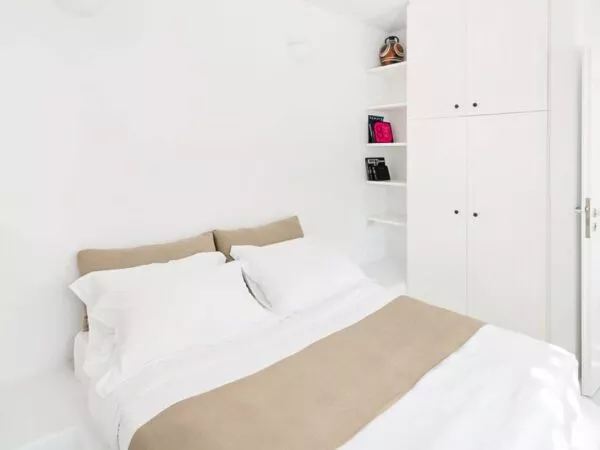 The private western facing veranda leads into a one of a kind loft space. Arched bedroom ceilings create a warm and intimate atmosphere while the living space spills out to unspoiled ocean views. Angular designs emulate the overall fresh ambience of the surroundings.
The private veranda is carved into volcanic rock framed by a crystal blue secluded plunge pool. The attic-style bedroom with a curved ceiling serves optimal comfort and the downstairs area with the fireplace and dramatic arched window is equally inviting.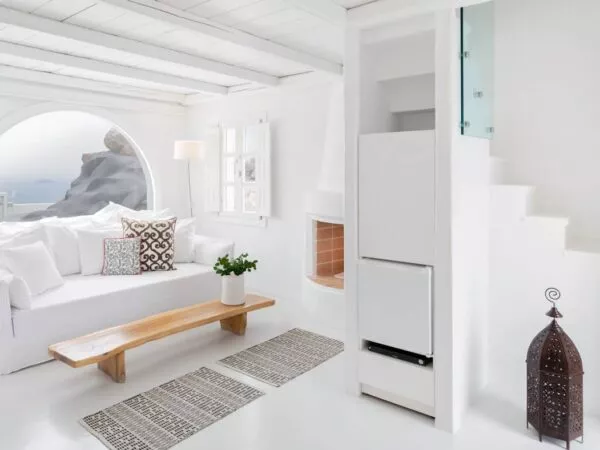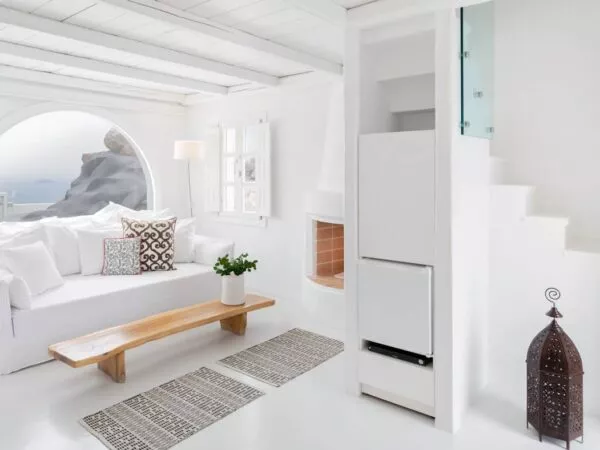 This 3-bedroom villa comfortably sleeps 4 and the elevated ceilings create an airy atmosphere. The master bedroom has a private bathroom with a separate bathroom for the adjacent rooms. A dreamy pergola shades the veranda with seating leading to the stunning infinity pool.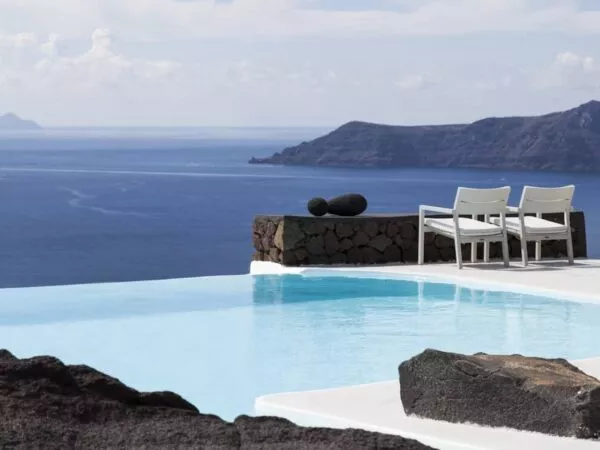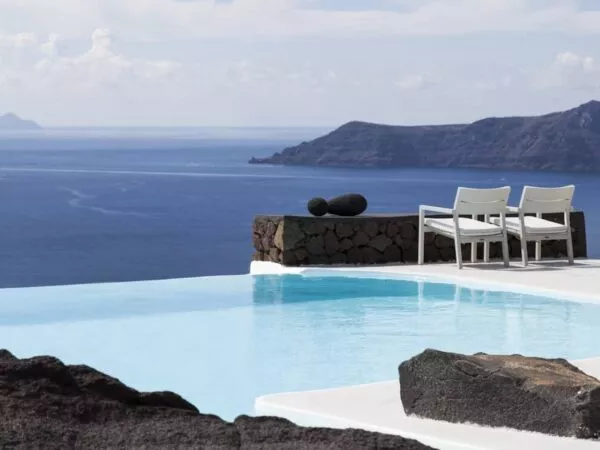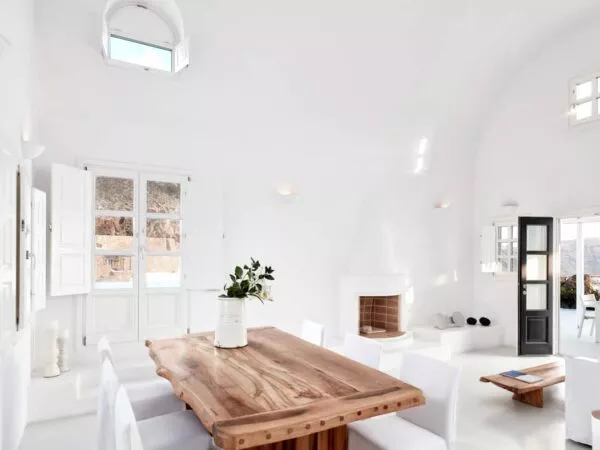 Taste the flavors
Breakfast and light meals
Breakfast is served each day at a time and place of your choosing. Do you enjoy eggs benedict in bed or a charcuterie platter on your veranda? Your needs will be met whether it is a decedent soufflé, Greek omelette or an aromatic cup of coffee that you desire. There is a choice of Greek, American or a-la-carte breakfasts.
If you can't bear to tear yourself away from the pool or view for lunch, there are wonderful light meals that are served until 6:00 pm. Greek salads and fresh bruschetta with a side of fruit combine all the flavours of the island.
Wine and champagne are always on standby and can be waiting for you in your room at any time.
Figs
Like the fig tree roots, the property is constantly addressing many sustainable tourism areas and excelling in most fields.
At Aenaon Villas, the local flora has been elevated and used in harmony with the construction. The building also makes use of the volcanic rock-strewn over the cliff to amalgamate with the environment.
The Villas are designed to enhance heat efficiency along with energy-efficient light sources, including timers and thermostats.
You can enjoy a real taste of Greece with local produce used to add Cycladic flavours to the dishes.
Explore the location
Aenaon Villas is located on the northern clifftops of Santorini. The area is private and secluded and guests enjoy unparalleled panoramic views. From there it is a short drive to the villages of Finikia and Oia where iconic white and blue buildings cling to the rock face. Santorini is a mere 5-min drive away and airport transport is available. Within a 3-mile range, there is a multitude of restaurants, bars and clubs.
Explore Santorini like a local
Book a trusted local driver for your transfer to and from the hotel, and introduce you to the destination, pre-order travel essentials, and get all your questions answered before or during the trip. Choose the stops, visit the attractions, and don't waste any time waiting. We've partnered with Welcome Pickups, the first company to deliver a holistic, in-destination travel experience.