A Grecian Oasis: Amoessa Polychrono Luxury Suites & Rooms
Indulge in the allure of Amoessa Polychrono Luxury Suites & Rooms, where paradise meets sophistication. Nestled in the heart of the captivating Polychrono, Halkidiki, this adults-only haven invites you to a world of exquisite elegance.
As you step into this oasis, you'll be greeted by the shimmering pool, where sunbeds beckon and the bar promises cool, refreshing libations. Picture yourself basking in the Grecian sun, a cocktail in hand, and the worries of the world slipping away.
The charm of Polychrono, a mere 380 meters from this hidden gem, is yours to explore. Stroll through its bustling streets, savoring the local flavors and immersing yourself in the vibrant culture. And for those who crave the sea, a pristine, sandy beach with crystal-clear waters awaits just 400 meters from your doorstep.
Embrace the convenience of a location that feels both secluded and connected. Thessaloniki Airport is a scenic 85-kilometer drive away, with the option of an airport shuttle service for your ease.
Seeking adventure beyond the boundaries of Polychrono? The hotel offers bicycle and car rental services, ensuring that every corner of this mesmerizing region is yours to discover.
Amoessa Polychrono Luxury Suites & Rooms is not just a destination; it's an experience waiting to be embraced. Your next vacation or holiday dreams find their perfect canvas here. Dive into a world where relaxation, exploration, and pure luxury harmonize to create unforgettable memories.
What we liked the most
Elegantly decorated rooms with sandy hues and garden-view balconies

Poolside relaxation with sunbeds and a delightful bar

400 meters from the crystal-clear, organized sandy beach

Free public parking nearby for ease of access

Shuttle service available for stress-free arrivals

Nearby archaeological treasures: Kallithea, Skioni, Mendi, and more
Rooms Overview
Discover Amoessa's elegant rooms and suites adorned with soothing sand-toned decor. Each opens to a balcony with garden views, where tranquility meets the eye. Enjoy the comfort of heating and air conditioning, a flat-screen TV, a safe, and a well-appointed bathroom with a hairdryer. For an extra touch of luxury, the Junior Suites feature private pools.
Deluxe Double Room
2 guests
Private terrace
View into the mountains
View into the pool
Amoessa's Deluxe Double Room is a haven of relaxed luxury and elegance. Immerse yourself in earthy tones that invite serenity. This 18 sq.m retreat offers a tranquil experience for up to 2 guests. Sink into the plush double bed and wake to views of your private garden. The minimal luxury bathroom pampers with a shower and exclusive toiletries ensuring a unique, bohemian escape.
Design Double Room
2 guests
Private terrace
View into the mountains
View into the pool
Step into the essence of serenity in the Design Double Room. Immerse yourself in 24 sq.m. of relaxed luxury, where earth tones create an authentic ambiance. Ascend the wooden staircase to an elegant living room, then open the door to your private terrace. Enjoy a tranquil retreat for up to two guests with beautifully landscaped gardens as your backdrop. It's a unique experience of authentic hospitality and relaxation.
Exclusive Suite
3 guests
One-bedroom suite
Private terrace
View into the pool
The Exclusive Suite at Amoessa is an oasis of bohemian luxury. This spacious retreat, designed with earthy boho-chic elements, accommodates up to 3 guests. A comfortable double bed on the mezzanine, a stylish living area, and a modern open-plan bathroom provide the perfect setting for relaxation. Step out onto your private balcony, where you can soak in the atmosphere and tranquility. This is exclusive living at its best.
Junior Suite
3 guests
One-bedroom suite
Private terrace
View into the garden
View into the sea
The Junior Suite is an embodiment of relaxed luxury and bohemian elegance. Earthy boho-chic elements and clean lines set the tone for a unique, tranquil experience. This cozy suite can accommodate up to three guests in its 27 sq.m. space. A comfortable double bed awaits in the attic area, accessible via an interior wooden staircase. As you step onto your private sun terrace, the essence of Greek sun and serenity envelop you. An unforgettable blend of comfort and style.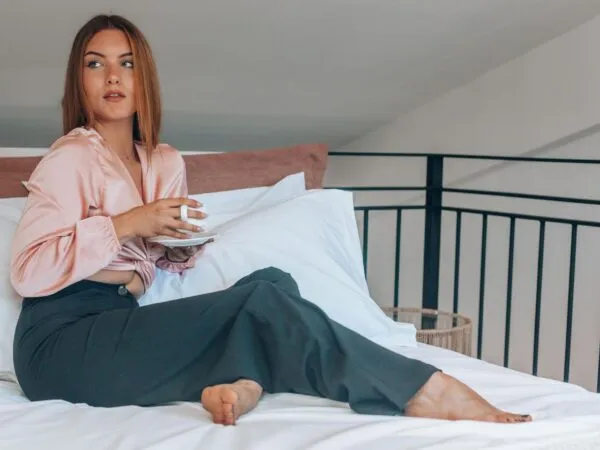 Exclusive Suite Private Pool
3 guests
One-bedroom suite
Private pool
Private terrace
View into the countryside
View into the pool
Unveil the Exclusive Suite Private Pool, a 35 sq.m. oasis designed for up to three adults. The suite beckons with a private patio and a sparkling pool, setting the scene for unforgettable moments. Inside, a plush sofa and a spacious double bed await. Experience serenity and sophistication in your own private haven.
Taste the flavors
Breakfast
Indulge in a morning sensory journey at Amoessa Boutique Hotel. Enjoy a homemade breakfast made with healthy options and local treasures, the perfect start to your day. While basking by the pool, savor refreshments, coffee, drinks, and tempting snacks. Embrace the flavors of Halkidiki and embark on a day of relaxation or adventure.
About sustainability
Citrus, the fruit of Promise, indicates that the property is noticeably eco-conscious as many areas of sustainability are addressed.
Explore the location
Amoessa Boutique - Adults Only is your gateway to the enchanting realm of Polychrono, Halkidiki. Nestled amidst the trident of Poseidon's realm, this dream destination harmoniously combines the azure skies with the lush greens of nature. Discover Halkidiki's three distinctive "legs": Kassandra, Sithonia, and the revered Mount Athos peninsula.
Explore the area like a local!
Beyond Amoessa's oasis, embark on guided tours to Ancient Stagira, the birthplace of Aristotle, and delve into the annals of history. Explore the ancient sanctuaries of Poseidon and Mendi, their ruins whispering tales of the past.
Unearth the secrets of Petralona Cave, home to the oldest evidence of human presence in Greece. Immerse yourself in the vibrant culture with a visit to the Grove of Aristotle, where interactive instruments reveal the philosopher's wisdom.
For the adventurous, the Holomontas hills offer hiking and hidden waterfalls to uncover, while the azure coastal waters invite you to indulge in water sports or set sail on a boat tour.
And with Thessaloniki and its Mediterranean Cosmos shopping haven just a stone's throw away, you have the world at your fingertips. Amoessa Boutique Hotel beckons you to explore, relax, and embrace Halkidiki's rich heritage and natural beauty.