Discover Mykonos' Beauty at Boutique Hotel Alissachni
Nestled on the enchanting shores of Psarou Beach in Mykonos, Boutique Hotel Alissachni beckons you to embark on an extraordinary journey of elegance and tranquility. Beyond being a mere stay, this captivating haven offers an experience unlike any other.
Perched atop a picturesque hillside, Alissachni unveils unobstructed vistas of the cerulean Aegean Sea, enveloping you in the island's timeless charm. The renowned Cycladic architecture merges seamlessly with the breathtaking scenery of Saint Lazaros, creating a masterpiece for the senses.
Indulge in days of serenity on expansive verandas and sun-drenched lounges, where relaxation takes on an entirely new dimension. Your taste buds will dance with delight at the cozy restaurant, where an artfully curated menu awaits, always tailored to your discerning palate.
The stylish Bar at Alissachni beckons as the sun dips below the horizon. Here, beneath a star-studded canopy, you'll be treated to magnificent views of the Aegean Sea. Sip on exquisite, handcrafted cocktails that will ignite your senses with every sip.
At Boutique Hotel Alissachni, the line between vacation and enchantment blurs, leaving you with a lifetime of cherished memories. Your next getaway awaits in this idyllic sanctuary on the shores of Mykonos.
What we liked the most
Beachfront luxury steps from Psarou Beach

Stunning Aegean views from a hillside location

Authentic Cycladic charm in every detail

Spacious verandas and sunbeds for pure relaxation

Private Jacuzzis and inviting turquoise pools

Relish gourmet flavors in a picturesque setting
Rooms Overview
Indulge in the charm of Boutique Hotel Alissachni's distinctive accommodations. Each room is an exquisite blend of chic Mykonian elegance and timeless Greek tradition. Awash in a stylish color palette, these spaces offer a luxurious yet barefoot-chic aesthetic. Some units even feature private Jacuzzis and inviting turquoise pools, ensuring an unforgettable Mykonian escape for every traveler.
Deluxe Suite
2 guests
Jacuzzi
One-bedroom suite
Private terrace
View into the sea
Discover tranquility in the Deluxe Suites, where Mediterranean charm meets elegant serenity. These suites offer an expansive veranda with a heated Jacuzzi overlooking a panoramic vista. Mediterranean architecture and soothing earthy tones surround you, creating the ideal ambiance for a luxurious, relaxing escape. Your choice will be rewarded with an unforgettable Mykonian experience.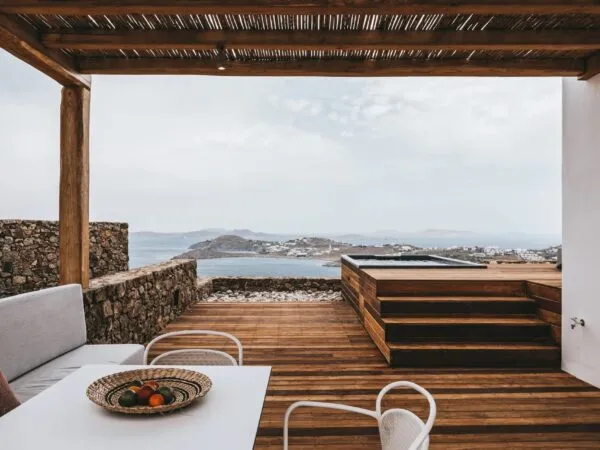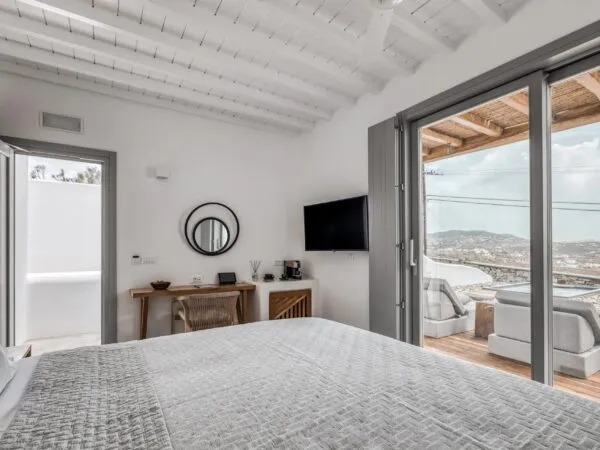 Junior Suite
2 guests
One-bedroom suite
Private pool
Private terrace
View into the sea
Elegance and serenity define the Junior Suite at Alissachni. Awash in Mykonos' light and luxury, this upper-level retreat showcases minimalistic design adorned with earthy tones and wooden accents. Step onto your private balcony, where island vistas unfold before you. Transform it into your own outdoor oasis, where countless moments of relaxation and comfort await. Discover the essence of Mykonian finesse in this unforgettable experience.
Premium Suite
2-3 guests
One-bedroom suite
Private pool
Private terrace
View into the sea
Elevate your Mykonian experience in the Premium Suite, a luxurious one-bedroom sanctuary perched at the hotel's upper level. Embrace stunning Aegean views and contemporary design that melds Mykonian tradition with modern luxury. The wooden accents and elegant details embody discerning taste. Complete with a glistening pool, your private balcony invites you to bask in the Aegean sun—a truly unforgettable island escape.
Silver Suite
2-3 guests
Jacuzzi
One-bedroom suite
Private terrace
View into the sea
Step into the Silver Suite, where sheer luxury meets serene elegance. This one-bedroom haven features a tranquil private terrace with a heated tub, inviting you to bask in the mesmerizing Mykonos sunset. Dressed in soothing shades of grey and white, the Silver Suite offers the ultimate retreat for relaxation and comfort. Let the ample natural light and the relaxing ambiance of this space envelop you in a world of pure bliss.
Superior Suite
2-3 guests
Jacuzzi
One-bedroom suite
Private terrace
View into the sea
Discover the epitome of seclusion and luxury in the Superior Suite. This spacious haven features a 40 m² veranda with an outdoor heated Jacuzzi. Awaken to the sun's gentle embrace, with a king-size bed and an extra-large sofa bed accommodating up to three guests. Sip a refreshing drink by the Aegean, surrounded by breathtaking sea views. Experience a tranquil escape that lingers in your memory.
Executive Suite
2-3 guests
Jacuzzi
One-bedroom suite
Private terrace
View into the sea
Escape to the exclusive haven of Executive Suite Satyra. Perched on the top floor, this one-bedroom sanctuary offers privacy and luxury. Its lush, traditional Myconian architecture makes it a tranquil retreat for up to three guests. The private Jacuzzi and a sprawling terrace reveal awe-inspiring Aegean vistas, a perfect backdrop to cherish sunsets. Experience serenity, space, and elegance in Suite Satyra.
Alissachni Golden Suite
2-3 guests
One-bedroom suite
Private pool
Private terrace
View into the sea
Alissachni Golden Suite is a pinnacle of luxury. This haven is a true jewel among the rooms, offering an expansive private terrace with the largest pool and the most spacious veranda. Immerse yourself in high-level brand amenities, all while a dedicated staff member caters to your every desire.
Wake up to breathtaking Aegean views in a harmonious blend of Mykonian tradition and modern sophistication. Your private pool invites hours of blissful relaxation under the Aegean sun, ensuring an unforgettable experience on this enchanting island.
Services and facilities
24-hour Reception Operation
Taste the flavors
Restaurant
At Alissachni's restaurant, the landscape harmoniously integrates with the dining experience. The menu combines Greek and Mediterranean culinary traditions, featuring locally sourced, premium ingredients. This culinary journey blends tradition with contemporary flavors, and a special dessert menu highlights signature sweet creations. Embrace the opportunity to savor these delectable dishes while immersed in the natural surroundings.
Bar
Elevate your evenings at Alissachni Mykonos Bar, where chic style meets breathtaking vistas of the Aegean Sea. Experience starlit nights with unique, elaborate cocktails, an array of spirits, and fine wines complemented by cheese platters and cold cuts. Welcome to a night of pure sophistication and indulgence.
About sustainability
Citrus, the fruit of Promise, indicates that the property is noticeably eco-conscious as many areas of sustainability are addressed.
Explore the location
Mykonos' enchanting spell awaits, and Boutique Hotel Alissachni is your key to a world where glamour and simplicity come together in perfect harmony. As you wander through the narrow marble streets, you'll be captivated by whitewashed houses adorned with vibrant doors and window frames, bougainvillea trees in full bloom, and hidden churches that echo stories of the past.
Explore the area like a local!
Mykonos pulsates with relentless energy, a vitality that you can feel from sunrise to the wee hours of the morning. The island's vivacity is only matched by its natural beauty. The famous Psarou Beach is a stone's throw away, offering sun-soaked days and crystal-clear waters.
Venture just 5 kilometers from the hotel, and you'll find yourself in the vibrant Town Centre of Mykonos, a place that marries tradition with a contemporary spirit. Discover the island's iconic windmills, sample sumptuous local cuisine, or explore the lively nightlife that carries you into the heart of the night.
Relax and unwind on sun-kissed beaches, sail along the rugged coastline, or set out on a hiking adventure through lush green hills where hidden waterfalls await. And when the sun dips below the horizon, Mykonos comes alive with a nightlife that's second to none.
Mykonos is an island of contrasts and harmonies, where every step reveals a new facet of its beauty and character. Experience it all from the splendid base of Boutique Hotel Alissachni.