Open up the universe of indolent charm, exquisite decor and utmost luxury on your visit to DOM Boutique Hotel
Situated in the heart of Heraklion, the exquisite DOM Boutique Hotel stands out for its elegant interior, bespoke and eco-conscious travelling experiences, and top-notch service. Inside, you can witness the exquisite aspect of the boutique hotel's lobby, lit by the fireplace in winter and cool during the siestas of summer months.
Then, indulge in the calm of the business area that is rigged out with amenities to work at a distance or conduct negotiations, and sample the delectable locally-sourced Cretan ingredients at the hotel's spacious dining area and taste prime spirits at the bar.
Once you exit the elevator a completely different, more intimate world of private dapple rooms with en suite bathrooms and all cutting-edge facilities of the digital age will welcome you on your sojourn in DOM Boutique Hotel.
Not only do rooms tempt with huge double beds, tall ceilings, and amenities like air conditioning and master design work, but also with unique green technologies used to keep your stay sustainable. Some of the rooms also offer a vast terrace with a private jacuzzi; with a view opening up on the idyllic sunsets and sunrises, which you can see from the boutique hotel's rooftop and the sea.
Soaking up in a private jacuzzi on the terrace
Taking delight in ambrosial breakfast and local organic ingredients
Taking a stroll around historical landmarks like Minos Agias Cathedral, situated a stone throw's away from the downtown
Taking pleasure in utmost privacy and modern setting
Indulging your senses in exquisite decor
Rooms Overview
Rooms at DOM Boutique Hotel feature handmade furniture, bathrooms crafted with Carrara marble and private terraces that put you truly one-on-one with the scenic cityscape and the seemingly boundless horizon of the sea. Here, opulence meets taste and nature shines with the intimate brilliance of sustainable travelling. All rooms feature toiletries without parabens as well as bathrobes and soft towels that are all manufactured, used and processed, in the most eco-conscious manner.
Junior suite with hot tub
2 guests
Jacuzzi
Private terrace
View into the sea
The roomy, somewhat futuristic, air-conditioned suite features a spacious bedroom with delicate cotton linen and a cutting-edge Nespresso machine, while the bathroom offers top-notch shower rain and other cutting-edge technology.
But the topmost perk of staying here is that, at sunset, you can gaze at the gob-smacking sea panorama from the hot tub situated right on your private balcony.
Business double
2 guests
Balcony
One-bedroom suite
View into the city
Perfect for a business sojourn, it is an air-conditioned, bright and spacious room with a cushy double bed and its own Nespresso Machine, an en suite Carrara marble bathroom, and a private terrace with a mind-blowing vista over the town.
Deluxe double
2 guests
One-bedroom suite
Private terrace
View into the city
Airy suite with a view of the old town, it is fitted out with cutting-edge hand-made Italian furniture, a humongous bed, a personal Nespresso machine and a swanky bath with a wide diameter rain shower; what is more, you can sip on your dose of strong coffee right on your private balcony overlooking cosy city centre lanes.
Keep in mind that the rooms boast cutting-edge green technology to set the optimal ambient temperature.
Superior triple
3 guests
Balcony
Two-bedroom suite
View into the city
Gargantuan in size, the room is a tribute to the dashing yet reserved Mediterranean elegance: it features earth-coloured walls, handmade furniture, a plush bed and sofa, and is designed for three people.
Its smart decor blends well with the authentic Greek townscape that you can delight in from your private balcony.
Single room
1 guests
Balcony
One-bedroom suite
View into the courtyard
Perfect for working away, this Dom Boutique Hotel room is fitted out like the rest with state-of-the-art technology, offering reliable connection, and other perks for a workation, such as its multi-capsule first-class Nespresso machine, and a balcony into a serene yard setting to add to a Carrara marble en suite bathroom, exuding refinement.
Taste the flavors
Breakfast
One of the main advantages of a stay with Dom Boutique Hotel is a breakfast featuring local delicacies cooked using choice locally sourced ingredients.
Munch on the boutique hotel's signature yummy croissants and tuck into a succulent Greek omelette to kickstart your day of exploring and relaxing.
During the winter let your worries melt away with your breakfast tea next to the fireplace, and during the hot summer months, you can relax in the cool setting with your iced morning coffee and fruits.
Bar and snacks
Also don't miss out on delectable coffee and pamper your taste buds with the hotel's choice selection of spirits. The bar stands for the kinetic allure of a stay in the Dom Boutique Hotel.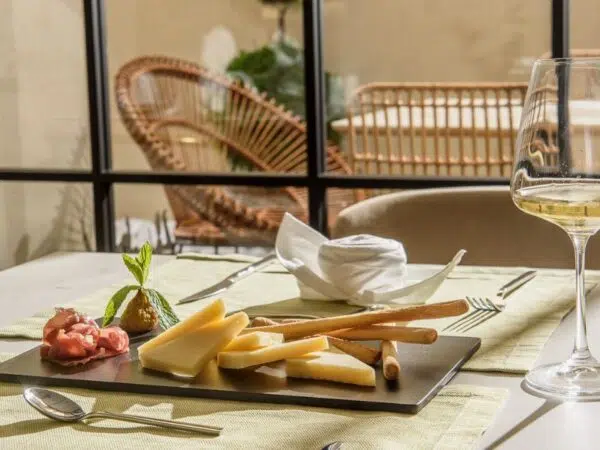 About sustainability
Citrus, the fruit of Promise, indicates that the property is noticeable eco-conscious as many areas of sustainability are addressed.
One of the most striking features of DOM Boutique Hotel is that it and its management are firmly devoted to the idea of sustainable travelling.
The ingredients in your morning meal will be not just locally sourced but also meet the rigorous ecological guidelines, whilst the toiletries and linen are sourced, processed, and recycled according to the most cutting-edge eco-protocol.
What is more, a stay in the boutique hotel, situated in the very centre, will allow you to navigate the maze of local craftsmen and restaurants on foot, most of which exercise fair trade and as islanders pay a great deal of attention to climate change.
Explore the location
Located in downtown Heraklion, the DOM Boutique Hotel oozes out a feel of modern luxury right in the midst of antiquity.
The millennia-old town is home to ancient architectural sites and is still a treasure trove of traditional crafts.
Set out on your downtown Heraklion tour and pay a visit to stunning Minos Agias Cathedral, Natural History Museum, stunningly beautiful Venetian Harbor, and 1866 Agora.
Head on a vespertine stroll around the kinetic old town to sip on Greek homemade wine and garner enough experiences to reminisce over in your bubbly hot tub or back home.
Book a trusted local driver for your transfer to and from the hotel, introduce you to the destination, pre-order travel essentials, and answer all your questions before or during the trip. Choose the stops, visit the attractions, and don't waste any time waiting. We've partnered with Welcome Pickups, the first company to deliver a holistic, in-destination travel experience.