Noima Boutique Hotel Mykonos: Where Summer Dreams Come True
Just a few steps from the Agios Ioannis beach, Noima Boutique Hotel Mykonos beckons travelers to a refined summer escape that surpasses all expectations. A fusion of luxury and exclusivity, this sanctuary caters to the discerning traveler, offering a haven for those seeking an elevated vacation experience.
Guests are greeted by a selection of lavish suites, each boasting mesmerizing sea vistas and contemporary amenities, setting the stage for an unforgettable stay. Here, the essence of summer comes to life, where gentle sea breezes and golden sunsets become the backdrop for cherished moments.
Noima Boutique Hotel Mykonos endeavors to provide an all-encompassing hospitality experience complemented by exclusive services that enhance one's comfort and convenience. The hotel's dedicated concierge is available to fulfill every need, offering insights, recommendations, and personalized experiences to ensure absolute satisfaction.
For those who seek to elevate their Mykonos holiday, the concierge is the gateway to wellness services, sightseeing tours, transfer arrangements, vehicle rentals, private cruises, and exclusive entertainment experiences. Noima Boutique Hotel Mykonos extends an invitation to embrace the extraordinary, promising an unforgettable vacation experience on the vibrant canvas of Mykonos Island.
What we liked the most
Sea-kissed suites with panoramic views of azure Mykonos waters

Contemporary luxury where design meets the embrace of nature

Tailored wellness experiences that renew mind, body, and spirit

Exclusive transfers for seamless, stress-free exploration

Mykonos nightlife comes alive through Noima's connections

Beachside enchantment—stroll to Agios Ioannis in mere moments
Rooms Overview
Explore Noima's luxurious suites, each offering captivating sea vistas and contemporary indulgences. These retreats redefine coastal elegance, promising a fresh and elevated experience for couples, families, or friends. It's a harmonious blend of modern design, natural elements, and traditional charm – an alluring invitation to immerse in Mykonos' beauty.
Superior Double Room
2 guests
Balcony
View into the sea
Indulge in Noima's Superior Double Room, where luxury meets panoramic sea views. This chic retreat, spanning 28 square meters, invites you to bask in comfort and style. Wake up to the Aegean's beauty, step onto the spacious private terrace, and immerse yourself in a serene ambiance. It's not just a room; it's your perfect Mykonos sanctuary.
Superior Suite
2 guests
One-bedroom suite
Private terrace
View into the sea
Elevate your Mykonos experience in the Superior Suite – a modern haven of relaxation where sea views and attentive services define your summer holiday. This 35m² retreat blends elegant exclusivity with stunning vistas, offering a serene atmosphere for a carefree escape. Immerse yourself in the gentle embrace of the Aegean, where every detail is designed for unforgettable moments.
Deluxe Suite
2 guests
One-bedroom suite
Private pool
Private terrace
View into the sea
Step into the Deluxe Suite, where contemporary elegance and thoughtful comforts unite to usher you into a Mykonos summer like no other. This one-bedroom oasis for two features an intimate private pool and unspoiled sea views. Your sun-drenched retreat for an unforgettable island experience. It's Mykonos' embrace in every square meter.
Premium Suite
2-3 guests
One-bedroom suite
Private pool
Private terrace
View into the sea
Escape to the Premium Suite – a haven for up to three guests. Here, luxury meets unbridled space, where an exquisite private pool is your sun-drenched retreat. Wake up to endless sea views, as this suite defines the essence of summer indulgence. A harmonious marriage of lavish style and Mediterranean charm, the Premium Suite is your dream getaway.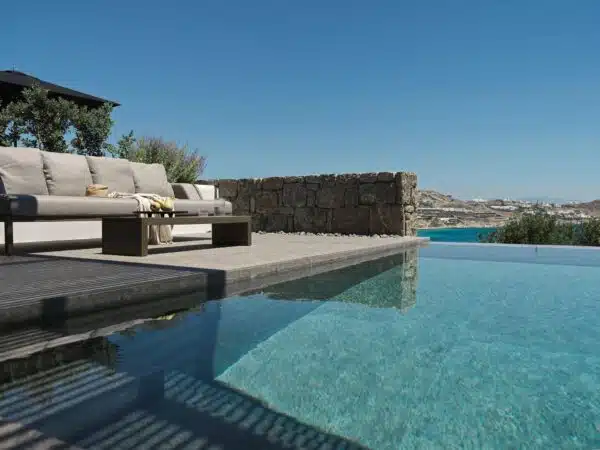 Executive Suite
2-3 guests
One-bedroom suite
Private pool
Private terrace
View into the sea
With its expansive 50m² space, the Executive Suite embodies minimalist aesthetics and a private terrace overlooking the boundless Mykonos blue. This oasis accommodates up to three guests, offering an immersive experience of tranquility. Dive into your private pool, where endless vistas become your daily backdrop. Discover an unforgettable serene escape at the Executive Suite.
Noima Suite
2-4 guests
One-bedroom suite
Private pool
Private terrace
View into the sea
The Noima Pool Suite, with its stunning sea view, is a modern oasis where quality and luxury converge. It welcomes up to four guests, spanning 64 square meters. Gazing out over the Aegean, it captures the essence of Mykonos tranquility. Step outside to your private pool, immersing in the ultimate summer experience. This is Mykonos at its finest, an unforgettable escape where the sea whispers serenity.
Services and facilities
24-hour Reception Operation
Taste the flavors
Breakfast
Noima Boutique Hotel Mykonos presents a lively and contemporary breakfast experience. Start your mornings with a sumptuous spread featuring homemade pastries, fresh fruits, traditional local delicacies, and more. It's the perfect energy boost to kickstart your day in Mykonos, ensuring your mornings are as vibrant as your island adventures.
All-day Restaurant
Noima's All-day Restaurant is a chic space where culinary excellence meets breathtaking sea views. From savory to sweet, savor Mykonian and Mediterranean specialties. This is where you'll relish gourmet delights, handcrafted cocktails, and a curated selection of wines, all set against the stunning Mykonos backdrop. It's your perfect dining haven at any time of day.
Private Dining
Elevate your romantic getaway with a private dinner experience in the intimacy of your Noima Suite. Let the dedicated concierge orchestrate a candle-lit soirée designed exclusively for you and your beloved, featuring exquisite flavors and personalized service. Simply consult the concierge and let them craft this unforgettable culinary journey.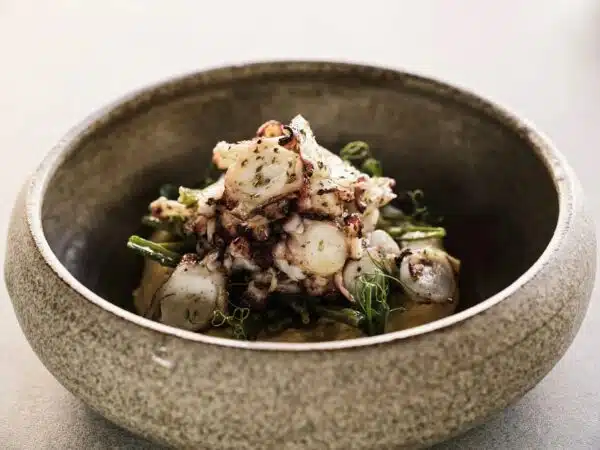 About sustainability
Citrus, the fruit of Promise, indicates that the property is noticeably eco-conscious as many areas of sustainability are addressed.
Explore the location
In the heart of Mykonos, Greece, Noima Boutique Hotel beckons you to discover the essence of this captivating island. Begin your journey amidst the iconic windmills that gaze out over the Chora, steeped in history and modern allure. Venture to Little Venice, a dreamy neighborhood where colorful homes stand in the seawater, capturing sunsets and sparking romance.
Don't miss the striking church of Panagia Paraportiani, a unique gem nestled within the Chora's castle ruins. And just a short cruise away, the ancient treasure of Delos unfolds, revealing the birthplace of God Apollo and a rich Greek sanctuary.
For sun-seekers, Mykonos' famous beaches are legendary. The south boasts vibrant, golden sands like Platys Gialos and Super Paradise, alive with day-to-night celebrations. Wind- and kite-surfing enthusiasts flock to Kalafatis, while Fokos on the northeastern coast is your hidden haven.
Explore the area like a local!
Explore, indulge, and discover Mykonos' unique blend of history, culture, and natural beauty. Trust the Noima Luxury Suites concierge to guide you to the island's most exquisite attractions and activities, making your stay a symphony of sun, sea, and adventure.