Journey to Chania's Charms: Notus Hotel – Your Enchanting Getaway
Discover the enchanting allure of Notus Hotel in Chania, an exquisite boutique gem nestled within the ancient Venetian walls of Chania Old Town. As you step into this little piece of paradise, a sense of tranquility washes over you, leaving behind the worries of the world. With a big heart and warm embrace, this charming haven beckons you to experience the jewel of the Cretan island in all its splendor.
The location is nothing short of perfect, offering easy accessibility and ample parking nearby. Yet, despite being centrally situated, a serene hush envelops the surroundings, creating a cocoon of peace and privacy for your retreat.
As you embark on a journey of exploration, meander through the labyrinth of narrow streets, where the intoxicating fragrance of night flowers fills the air. Allow yourself to be captivated by the grandeur and timeless legacy bestowed upon this place by Venetian nobility, adding an air of romance and history to your vacation.
Notus Hotel welcomes you to embrace the essence of Chania Town, with its vibrant Venetian Port, local culinary delights, and charming bars that beckon you to indulge in the pleasures of the senses. Each comfortable room invites you to unwind and rejuvenate, providing a sanctuary where your every need is cared for.
A mesmerizing escape awaits you at Notus Hotel, where your desire for a perfect holiday is ultimately fulfilled. Let the timeless charm of Chania and the gracious hospitality of Notus Hotel weave an unforgettable tapestry of memories that will forever hold a special place in your heart.
What we liked the most
Comfortable rooms with modern amenities and thoughtful touches

Inviting verandas and balconies for relaxation and views

Easy access to the historic Old Venetian Port

Cozy coffee shops and trendy cocktail bars nearby

The warm hospitality and attentive service

Charming Old Town location, within Venetian walls
Rooms Overview
Discover your perfect retreat at Notus Hotel, where seven uniquely designed units await sophisticated travelers. Choose from two ground-floor Superior studios, two 1st-floor Maisonettes, and two 2nd-floor Superior studios, each boasting a charming balcony. The Executive Suite awaits you on the top floor for the ultimate indulgence, offering the best veranda view in town. Immerse yourself in comfort with queen-size double beds, modern amenities, and elegant touches.
Superior Studio with Veranda
3 guests
One-bedroom suite
Private terrace
View into the patio
Embrace easy comfort and contemporary elegance in the Superior Studio with Veranda. Revitalized original details blend harmoniously with chic modern amenities, offering a serene escape for the discerning 21st-century traveler. Crisp, snowy bed linens and fluffy towels await, ensuring a restful stay. Unwind on the spacious veranda, where you can indulge in relaxation, lose yourself in a captivating book, and bask in the warm embrace of Notus Hotel's hospitality.
Superior Studio With Balcony
3 guests
Balcony
One-bedroom suite
View into the sea
Indulge in pure luxury in the upper floor Superior Studio with Balcony. Adorned with stylish decorative details, this suite offers a serene ambiance and breathtaking views of the azure Cretan Sea. Relax in comfort with a finely crafted bedroom and unwind in the walk-in shower. Enjoy the Saturday open street market while savoring your coffee on your private balcony, creating an unforgettable experience.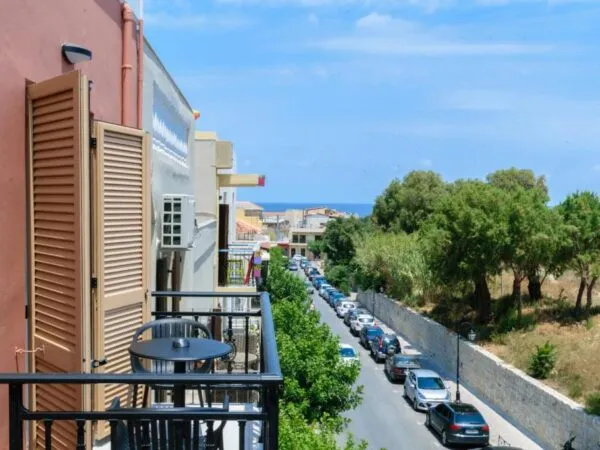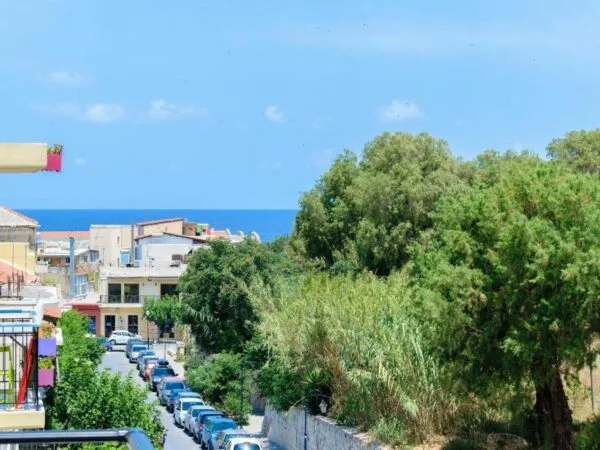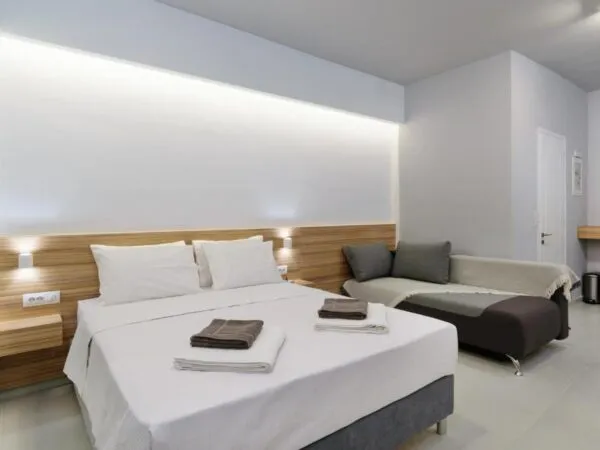 Junior Maisonette with Balcony
3 guests
Balcony
One-bedroom suite
View into the city
Unwind in the Junior Maisonette with Balcony, a serene two-level haven designed to envelop you in discreet comfort. Immerse yourself in the stylish, contemporary ambiance as you ascend to the upper floor, where a modern en suite bathroom awaits with a refreshing walk-in mixer shower. Drift off to restful dreams on the plush queen-size double bed. Your holiday experience of tranquil sophistication awaits.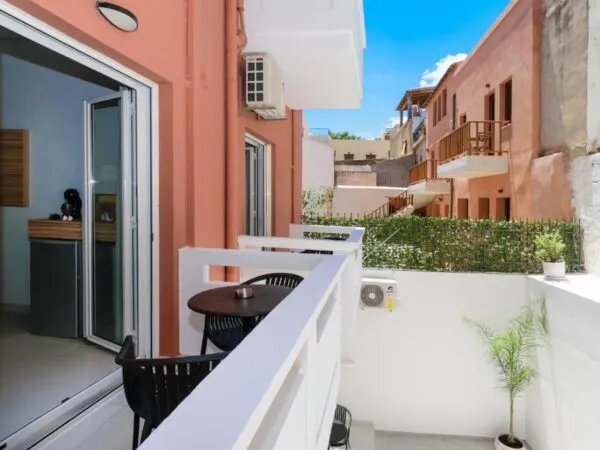 Deluxe Suite
2-4 guests
One-bedroom suite
Panoramic View
Private terrace
View into the sea
Ascend to the pinnacle of luxury at Notus Hotel's Deluxe Suite. Nestled on the top floor, this captivating retreat offers a regal experience for two. A king-size bed invites blissful slumber, while the sleek interior design and carefully curated lighting create an elegant and serene ambiance. Step onto the magnificent veranda, where a sparkling blue sea meets the majestic White Mountains. Lounge on the sitting sofa, sway on the swing for two, and cherish memories that will linger forever.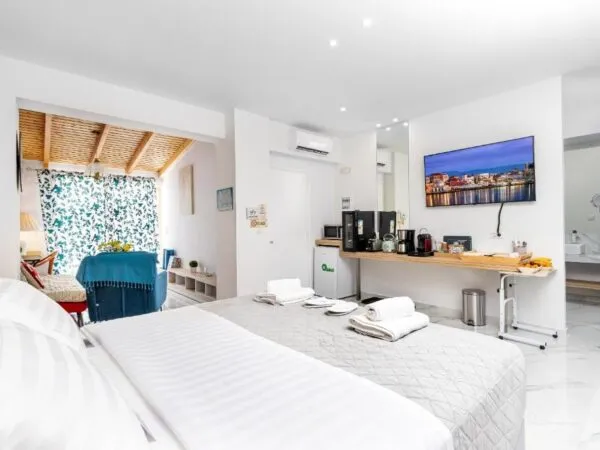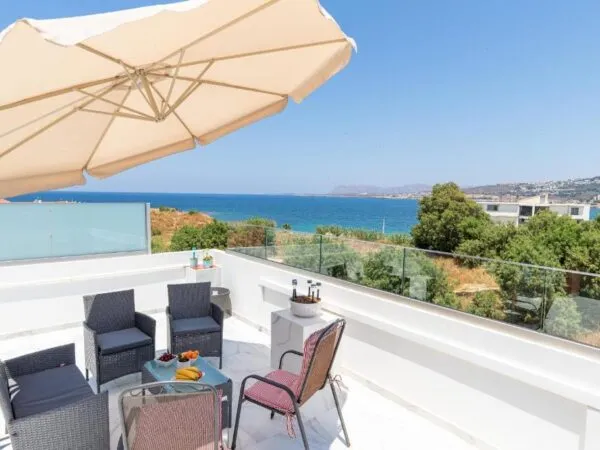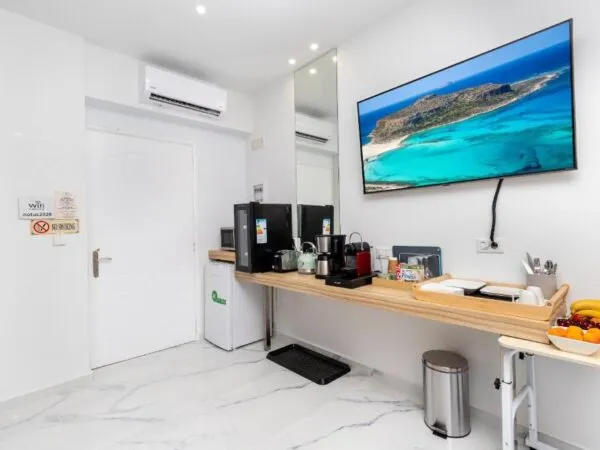 Services and facilities
24-hour Reception Operation
Taste the flavors
Cretan Gastronomy
Embark on a gastronomic journey through the heart of Chania, where flavors come alive with an oriental mystery, African wilderness, and European touch. From humble souvlaki to traditional Cretan delicacies, indulge in a tapestry of tastes that will enchant your senses. Gourmet restaurants, lively cocktail bars, and cozy coffee shops await, promising an unforgettable culinary experience in this vibrant town that never sleeps.
About sustainability
Citrus, the fruit of Promise, indicates that the property is noticeably eco-conscious as many areas of sustainability are addressed.
Explore the location
Nestled in the picturesque town of Chania, on the captivating island of Crete, lies Notus Hotel—an ideal gateway to a world of cultural richness and coastal allure. Step out to explore the charming labyrinth of Chania's old town, where the tapestry of history unfolds before your eyes. Within a mere half square mile, discover the coexistence of an Orthodox Church, a Synagogue, a Mosque, and a Catholic church, a true testament to the town's diverse heritage. Delve into the fascinating museums and historical sites dating back thousands of years, immersing yourself in the captivating stories of ancient civilizations.
As the sun rises, the call of the azure sea beckons you to the sun-kissed beaches of Chania. Bask in the warmth of the Mediterranean sun, sink your toes into the velvety sands, and immerse yourself in the crystal-clear waters that shimmer with alluring turquoise hues. Embrace the vibrant local life as you explore bustling markets, indulge in delightful cafes, and savor the delectable flavors of Cretan cuisine in charming tavernas.
As twilight descends, Chania awakens with a captivating nightlife. Wander through lively streets adorned with bars and music-filled taverns, where the air is alive with laughter and camaraderie. Experience the warm Cretan hospitality as you join in the festivities and create memories that will last a lifetime.
At the end of each day's enchanting adventures, retreat to the comfort of Notus Hotel. Unwind in the embrace of luxurious amenities and savor the tranquility of this charming haven. Here, amidst the blend of culture and coastal allure, you'll find a home away from home—an oasis where cherished experiences and lasting impressions await.