Oniro Suites: Luxurious dreamscape hotel, a stone throw from the historic windmills of Mykonos
Inspired by the word "Oniro" which means "dream" in Greek, Oniro Suites transports you to a personal paradise in an elevated, peaceful location of Mykonos Town. As you wander through the grounds of the 8-room boutique hotel, you discover that the architecture is modern, low-rise, and minimalistic in appearance. It's whitewashed from top to toe, dazzling in the Mediterranean sunlight with a crystalline aquamarine pool, bringing the outdoors of Mykonos into the hotel.
Oniro Suites are all about creating well-being, you can relax knowing every detail is taken care of with the VIP concierge services. Suites are relaxing sanctuaries decorated in the same colors as the rest of the hotel – natural and cool with clean, crisp linens. Lavish breakfasts are served on the delightful first-floor terrace. As you bask beneath a wooden pergola, surrounded by fenced greenery and uninterrupted views of the Mykonos landscape, there's a sense of stillness and a feeling that you're the only one here.

Timeea Zamfir
06:31 20 May 23
I have not one bad thing to say about this place. I am beyond happy with every single detail. From the placement of the hotel, to the beautiful clean room, breakfast included and amazing taste. The pool is so nice and everything looks so nice for photos. The view is overlooking the sea and the little houses. The staff is the nicest I have no words. Felt like a dream.

Javier Lara
03:29 17 Sep 22
Oniro is one of those places that you want to be back as soon as you leave. The place is beautiful, a boutique hotel with only 8 rooms making a super personal experience. The room was wonderful, the staff couldn't be more welcoming (thank you Anna, you made our stay the most beautiful experience). The breakfast is delicious, with view to the sea. The wifi could be improved, it doesn't work well on every place.Thank you oniro! For sure I'll be back
What we liked the most
Located in a quiet street in the heart of Mykonos Town.
All Guest Suites have a beautiful swimming pool or garden views.
Healthy island-inspired breakfasts created with fresh, organic local produce.
Sunsets and signature cocktails on the terrace overlooking Mykonos Town and the sea.
Complimentary VIP concierge service offering the opportunity to explore the island in style.
Rooms Overview
The 8 contemporary guest rooms of Oniro Suites Mykonos are elegant, designed with smooth clean lines, curved domed fixtures and earth tones to depict changing landscapes of the Cyclades.  Rustic wood and vintage marble combines to create a sophisticated palette and floor-to-ceiling windows ensure you always wake up to a stunning view.
Deluxe Suite
2 guests
Private terrace
View into the sea
Stay in the lap of luxury in one of Oniro's Deluxe Suites. Spanning 28m2, these sophisticated suites feature a large furnished balcony, wooden ceiling beams and views over the town and sea. These rooms are nautical-inspired, bringing the Aegean to you with minimalistic décor, cool hues and white wooden ceiling beams.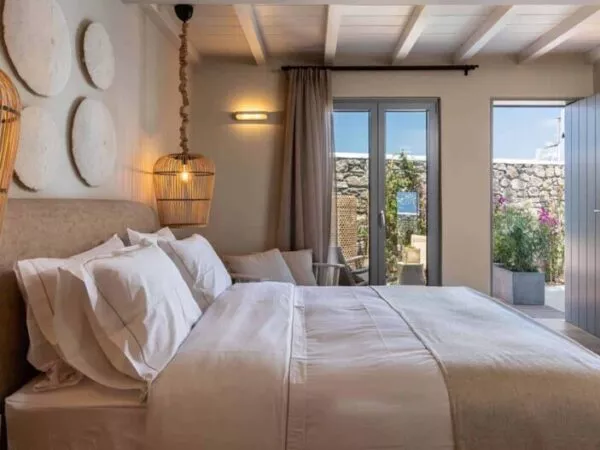 Superior Suite Sea View
2 guests
Balcony
View into the sea
Wake up to the sparkling cobalt waters of the Aegean or stargaze on your private balcony. You can do it all while staying here. Decorated with spotlights, hanging lamps and cosy, neutral décor, you can envelop yourselves in your own private haven away from the world in the superior suite with a sea view.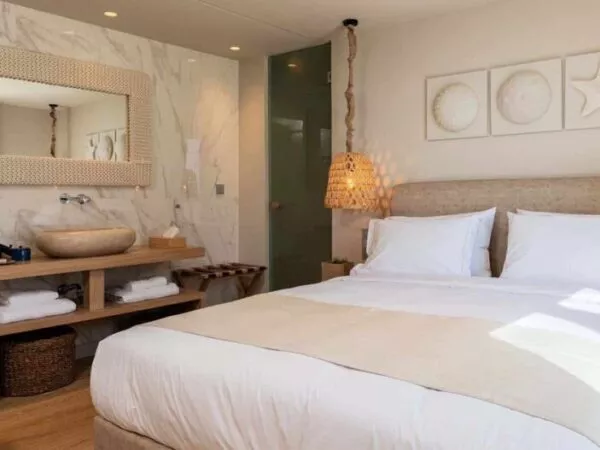 Superior Suite Garden View
These suites feature unique design elements with hand-crafted tree stump tables, wooden armchairs and marble en-suite bathrooms. You can wake up to the scent of bougainvillaea and vistas of mature trees and plant life.
Standard Suite
2 guests
Balcony
View into the pool
Standard Suites feature pool or garden views and have 23m2 of space in which to relax and unwind after sunny days in Mykonos. With cool parquet flooring, traditional, white wooden beamed ceilings and domed lattice lampshades, their decor embodies the ever-changing beautiful island scenery.
Services and facilities
Taste the flavors
Breakfast
The terrace is the ideal place in which to enjoy a hearty, healthy breakfast, a place where the five senses are activated, invigorated by unique island flavours, with mouth-watering dishes created with fresh, locally sourced, organic produce. Sit back and plan your day, feasting on delicious innovative dishes whilst admiring the sparkling sunlight dancing on the sea.
The terrace
The Terrace, located on the first floor of the hotel is shaded by a white wooden pergola and surrounded by lush, emerald greenery. It's an alfresco space and a social hub where friends gather in the evenings to share stories of their day's adventures in Mykonos.
Focus on sustainability
Citrus, the fruit of Promise, indicates that the property is noticeable eco-conscious as many areas of sustainability are addressed.
Oniro Suites is a place that uses fresh, locally sourced and organic produce that is composed of unique flavours of Mykonos Island into its mouth-watering traditional dishes.
Oniro Suites provides parking for bicycles as a way of supporting eco-friendly means of travelling.
Explore the location
Tucked away in a residential street, in an elevated area of Mykonos Town, Oniro Suites is in a prime location from which to explore the island's capital. The hotel is just a few minutes walk from the main shopping area of Matoyiannis Street – a labyrinth of cobbled alleyways with souvenir shops and whitewashed houses with colourful doorways.
The 18th-century waterfront location of Little Venice is just 10 minutes away on foot, as are the iconic, historic windmills of Mykonos for which the island is famous.
Book a trusted local driver for your transfer to and from the hotel, and introduce you to the destination, pre-order travel essentials, and get all your questions answered before or during the trip. Choose the stops, visit the attractions, and don't waste any time waiting. We've partnered with Welcome Pickups, the first company to deliver a holistic, in-destination travel experience.