Harmony of History and Nature: Porto Kaza's Mesmerizing Dance
Step into the welcoming embrace of Porto Kaza, an idyllic escape in Sitia, Crete, where the essence of your holiday dreams takes flight, harmonizing history and nature in a mesmerizing dance. Tucked near the charming Venetian neighborhood and the stoic Kazarma Fortress, this haven of peace and comfort invites you to weave unforgettable moments with your beloved companions.
Step into the world of Porto Kaza Boutique Hotel, where sun-kissed verandas greet you with breathtaking sea panoramas. Here, you'll revel in the luxury of your private space away from the bustling town center, allowing you to unwind in pure bliss and tranquility. The Cretan hospitality, imbued with a touch of rustic elegance, will embrace you warmly, making you feel right at home.
Porto Kaza takes pride in its eco-friendly philosophy, offering earthy apartments and deluxe amenities. As you immerse yourself in the local way of living, new experiences, flavors, and delightful beverages await you, ensuring that every moment of your stay is etched in your heart forever.
The Porto Kaza family extends a heartfelt invitation to embark on an unforgettable journey through the mesmerizing island of Crete. Embrace the essence of this enchanting place through their eyes and discover the magic it holds for you and your loved ones. Allow Porto Kaza to be the canvas on which you paint your perfect vacation, where cherished memories are born and joy knows no bounds.
What we liked the most
A charming fusion of history and nature

The sun-kissed verandas with sea panoramas

The essence of warm Cretan hospitality

The cozy, comfortable, and carefree atmosphere

Nestled near the captivating Venetian neighborhood

Rustic sophistication wrapped in comfort
Rooms Overview
Discover your ideal sanctuary at Porto Kaza. Select from 13 tasteful apartments and suites, each crafted with cozy, comfortable, and carefree vibes. Embrace the inviting, soft summer ambiance and relish the elegant, modern design infused with natural elements. 
Be it a solo adventure, a romantic getaway, or a cherished family vacation, find an unparalleled summer escape in this enchanting haven.
Junior Suite Pool View
2 guests
Balcony
Kitchenette
One-bedroom suite
View into the pool
Escape to the Junior Suite Pool View, a tranquil haven for up to two guests. Embrace the comfort of a fully equipped kitchenette and unwind in the embrace of a king-size bed with luxurious CocoMat mattresses and plush linens. Delight in the elegant bathroom featuring deluxe amenities. Step out to the courtyard, where you can relax with a cup of coffee or a glass of wine—an inviting retreat ideal for a serene and budget-friendly escape.
Classic
4 guests
Balcony
Equipped kitchen
View into the garden
Experience comfort in the Classic Room, a spacious haven for up to four guests. Unwind in the stylish living room with cozy sofa beds and enjoy garden views. The fully equipped kitchen invites culinary delights, while the tranquil bedroom, adorned with a king-size CocoMat bed and luxury linens, ensures a restful night's sleep. Modern amenities and a deluxe bathroom complete the exceptional stay.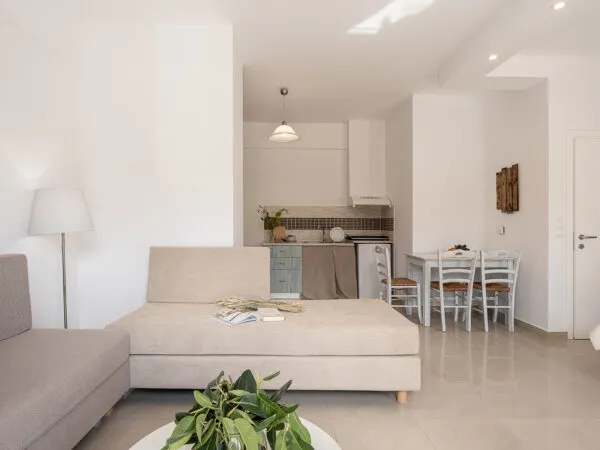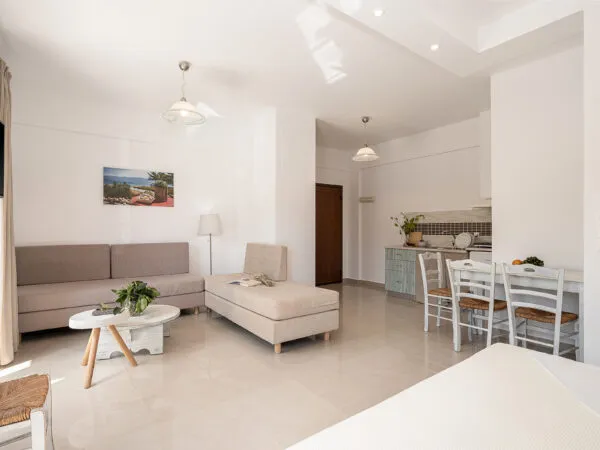 Classic Sea View
3 guests
Equipped kitchen
One-bedroom suite
View into the sea
The Classic Sea View Room offers spacious comfort for up to 3 guests. Unwind in the thoughtfully designed interior, featuring a fully equipped kitchen, a lavish king-size bed with CocoMat mattresses, and deluxe amenities in the modern bathroom. Two large windows frame side views of the serene sea, ensuring a tranquil and rejuvenating experience.
Junior Sea View Suite
2 guests
Balcony
Kitchenette
One-bedroom suite
View into the sea
Discover a romantic hideaway in the Junior Sea View Suite. Tailored for couples, this serene retreat welcomes up to two guests. Experience the allure of a fully equipped kitchenette, a luxurious king-size bed with CocoMat mattresses, and an elegant bathroom with deluxe amenities. The spacious balcony offers breathtaking sea views, creating the perfect spot to unwind with coffee or wine.
Family Sea View
6 guests
Kitchenette
Private terrace
Two-bedroom suite
View into the sea
Discover the ultimate family retreat in our Family Sea View apartment. Spanning 100 sq.m across two levels, it offers a master bedroom with a king-size bed, a second bedroom with two full-sized single beds, and a fully equipped kitchenette. Rejuvenate on the outdoor terrace with mesmerizing sea views, perfect for sun-soaked moments and shared memories. Experience coastal bliss in this spacious haven overlooking the azure Cretan Sea.
Suite Sea View
4 guests
Balcony
Kitchenette
One-bedroom suite
View into the sea
Experience the majesty of the Cretan Sea from the Sea View Suite. This spacious apartment offers a fully equipped kitchenette, a king-size bed, and two cozy sofa beds to accommodate up to four guests comfortably. Luxuriate in the embrace of CocoMat mattresses and indulgent bed linen. Step onto your private balcony, bask in the enchanting sea vistas and immerse yourself in pure tranquility.
Deluxe Sea View Suite
2 guests
Balcony
Kitchenette
One-bedroom suite
View into the sea
Indulge in the Deluxe Sea View Suite, an epitome of contemporary elegance and high comfort. Unwind in the tastefully decorated interior, featuring a fully equipped kitchenette and a bedroom with a king-size bed adorned with luxurious CocoMat mattresses and bed linen. Outside, the fully furnished terrace reveals breathtaking vistas of the Cretan Sea and the charming Sitia harbor—a tranquil and luxurious retreat for up to 2 guests.
Services and facilities
Taste the flavors
Breakfast
Awaken your senses with a delectable breakfast experience at Porto Kaza. Begin your day by crafting your breakfast in the fully equipped kitchen, using locally sourced and delightful ingredients. Savor your meal in the privacy of your room, or opt for the convenience of ordering for doorstep delivery. Start your mornings on a lovely note, setting the perfect tone for your restorative days ahead.
About sustainability
Citrus, the fruit of Promise, indicates that the property is noticeably eco-conscious as many areas of sustainability are addressed.
Explore the location
Situated in the captivating destination of Sitia, Crete, Porto Kaza beckons you to explore a world of year-round allure and timeless charm. A mere 70 km east of Agios Nikolaos, this enchanting area offers a passage to the famed Vai palm forest in the summer. Discover myriad pleasures as you wander through its winding streets adorned with traditional architecture, uncovering hidden beaches, archaeological sites, and an array of shops and seafront eateries.
Immerse yourself in Sitia's rich cultural tapestry, where landmark events like the Mediterranean festival captivate the curious traveler. Embark on outdoor adventures, from family-friendly hikes to thrilling kitesurfing and stand-up paddleboarding. As you arrive at Sitia harbor, marvel at the awe-inspiring Kazarma Fortress, offering panoramic views of the city's splendor.
Nestled close to Kazarma Fortress and the old Venetian neighborhood, Porto Kaza invites you to experience unique seaside living, a peaceful oasis just moments away from the city center. Allow the alluring charm of Sitia to captivate your senses as you unravel the treasures of this timeless destination, knowing that the comfort and tranquility of Porto Kaza await your return.