Regal courtyards and sunbaked traditional houses, at Riad Zineb
Riad Zineb takes you back to the yesteryears of Marrakech; be it geometric carved doors, Fassi-embroidered curtains or pastries served in ceramic ware. Riad Zineb was once the home of Morrocan merchants. This explains the name of the old street- 'Derb Chmaa', translating to a candle in Arabic.
A swirl of ancient wooden doors leads you across different rooms. Daytime sunshine is best enjoyed at the outdoor swimming pool and a rooftop terrace with panoramic views of the surrounding Medina. Highlighting artisanal decoration unique to Morocco like zellige, painted and sculpted wood, and wrought ironwork, it's almost like you're in an 'Arabian Nights' story with colourful carpets, gold-framed mirrors, and magic lamps.
What we liked the most
Enjoying stunning views of souks and minarets from the rooftop terrace
Taking a bicycle excursion into Marrakech
Distinct art styles, no room is like the other
Helpful hotel staff that plans different activities - you can go hiking at Mont Toubkal or get your dose of nature at Valley Ourika
Rooms Overview
Live as ancient sultans once did, amidst Aladdin shiny lamps, diva beds, lush carpets and so much more. Private bathrooms in each room, coupled with a range of services- massage and hammam rooms. Each of the 8 rooms open to a common patio, viewed through the windows.
Standard Room
3 guests
View into the patio
Spacious and lavish at once, the standard room includes a double bed or two single beds.
The room also features sound-proof construction, air-conditioner, and non-smoking policy,
Superior Room
3 guests
View into the patio
Quite regal, this room hosts an array of collectables, equally matched in its level of comfort. Perfect for a couple and accommodates a third person by the addition of a single bed with fancy wooden partitions-sliding doors.
The room also features sound-proof construction, air-conditioner, and non-smoking policy,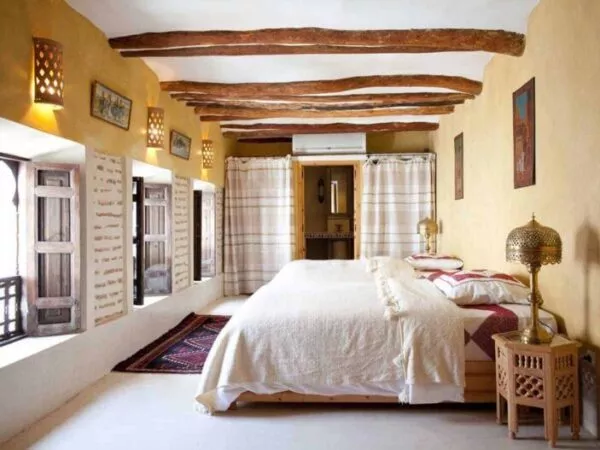 Junior Suite
3 guest + child guests
View into the patio
Wrought-iron chests with wooden doors, a mini library, and vintage gold goblets at the Junior Suite make you feel like royalty. Located on the first floor, it holds either a double bed and single bed or 3 single beds.
The room also features sound-proof construction, air-conditioner, and non-smoking policy,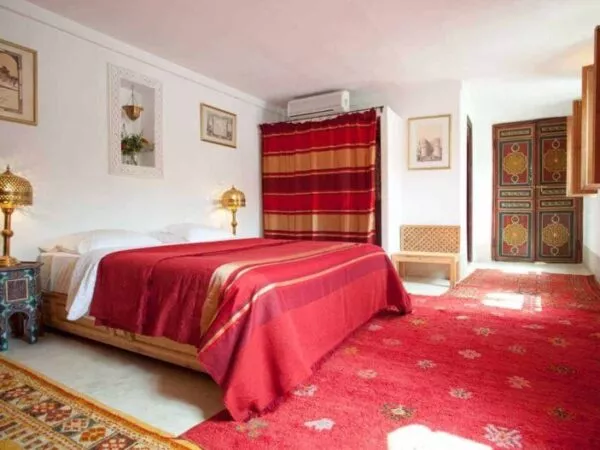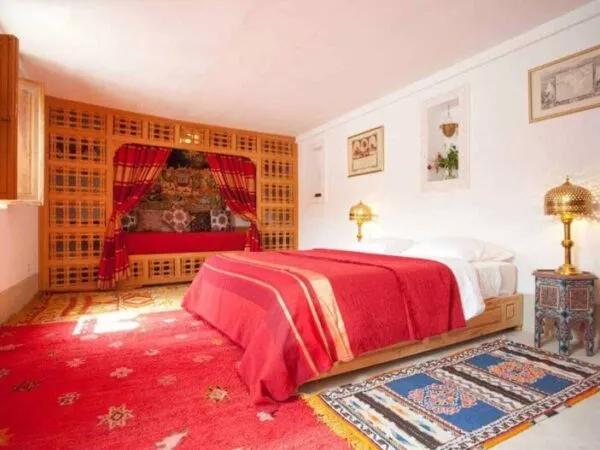 Taste the flavors
Table d'hôte
Enjoy sumptuous meals at the terrace, prepared in the hotel's kitchen. More traditional dishes can be ordered a la carte. Candied figs, fried almonds and dates in gleaming goblets, spiced tagine meat in special earthen pots transport you to the palaces of the Sultans in the bygone eras.
You can also enjoy Moroccan cuisine at Riad Karmela (part of Riad Zineb), located 100 meters away; Chef Saleh creates Moroccan cuisine with modern elements
Breakfast
Wake up to a decadent, buffet-style breakfast that highlights specialities- pancakes and bread, along with seasonal fruits, homemade jams and freshly squeezed juices.
Breakfast is served in the hotel's restaurant or on the terrace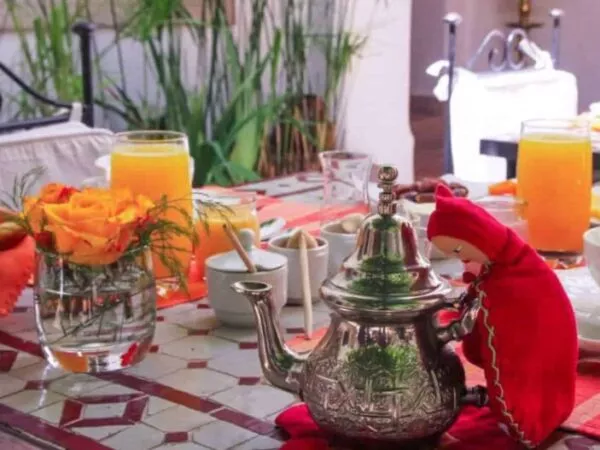 Focus on sustainability
Like the fig tree roots, the property is constantly addressing many sustainable tourism areas and excelling in most fields.
Sustainability comes as part of Dar Zineb's DNA.
Even though sustainability was not trendy by the time the building was refurbished, the original 17th-century architecture helped to temper the air inside thanks to the thick walls, small windows opening to the patio.
Here we carefully manage to offer the best local experience through activities involving the neighbouring community and only local products are offered to the guests
Explore the location
Staying at Riad Zineb offers a head-start to reach Marrakesh's wonders. Check out Jamaa El Fna Square and Koutoubia Mosque with dazzling minarets of 77 meters, an essential symbol of Muslim art. Stroll past colourful souks safekeeping treasures from past eras. Visit the Orientalist Museum, the Boucharouite Museum, and Dar Si Said museum that showcases wooden crafts and pottery. Enjoy a paperback in the expansive patio that is adorned with an array of orange trees.
Book a trusted local driver for your transfer to and from the hotel, and introduce you to the destination, pre-order travel essentials, and get all your questions answered before or during the trip. Choose the stops, visit the attractions, and don't waste any time waiting. We've partnered with Welcome Pickups, the first company to deliver a holistic, in-destination travel experience.