With a world full of exquisite wine, divine cheese, ancient woodwork and well-known textiles, Arachova is woven with wonderful pursuits. Illustrated by captivating colourful landscapes, this nook of Central Greece is straight from godsend. 
Admire the traditionally-tainted awe-worthy architectural style, history-rich stone-hewed houses and replete red-brick roofs. Soak up the scintillating contrast of natural splendour that paints the background and dazzle yourself in the dream-like destination. 
From the stunning ski slopes and myriad mountain activities to the authentic charm and revelling cuisine scene, Arachova is a bliss-inducing bucket list location. And better yet, it's pinned across the country as a local-loving holiday destination, rather than a big-time tourist trap. So if you're looking to get off the grid, get exploring and sample local life, visiting this gorgeous part of Greece will not disappoint. 
Taste 
Melded with a mind-blowing gastronomy scene, this city offers visitors the chance to taste authentic flavours and palatable plates. Relish your senses in exquisite cuisine and share a sensory experience you'll never forget. 
Traverse the teeming cobblestone streets and stumble upon some of the country's most traditional taverns. Sample sweet treats in hive cafes, sip on coffee in kafeneia (coffee shops), test your taste buds in a gourmet shop and prance into a fine dining restaurant. 
Arachova encapsulates the perfect chance to get intimate with a loved one over a shared plate of local specialities. Try out a kontosouvli (large chunks of pork, onion, tomatoes and peppers on a skewer) and push the boundaries with a kokoretsi (stuffed lamb intestine with organ meats). 
Appeal your vegetable-loving side with sarmades (stuffed grape leaves), hilopites pasta and handmade trahanas. Don't miss a major highlight, the well-known hard rind cheese by the name of formaela. Sweeten things up with classic yoghurt and honey or juicy local fruits. 
Sip
There's no doubt Arachova is a gastronomy-inclined visitors' haven, but what further ameliorates this top-notch destination is the delectable selection of divine wines. Whether you're after something that packs the punch or a simple specialist wine, this part of Greece oozes wine culture. 
Don't miss out on the city's fantastic favourite, a Parnassos local wine known as the red Mavroudi. Pinned for its full-bodied, high alcohol content and deep red colour, this wine is a must-try. Pair it perfectly with a selection of local cheeses, or better yet, exquisite homemade desserts. 
Explore
Coined as a stunning winter destination and a summer hot spot, Arachova is an all-around adventure-lovers paradise. Whether you want to dive into the teeing traditional villages, uncover the rich history, or learn about local living, discovering the delightful depths couldn't be any easier. 
This dreamy mountain escape offers endless opportunities. Fusing ancient architectural gems and teeming things to do, travellers are spoiled for choice in Arachova. Dive into the depths of Ancient Delphi, learn about life in the UNESCO-listed Byzantine Monastery of Osios Loukas, and step outside the city realms to seaside havens like Itea and Galaxidi. 
Meander through the myriad finds in the Ethnographic Museum, admire the frescoes-filled Church of Agios Ioannis and get mind-boggled by the history-inundated Corycian Cave. 
With kids 
If you're jet-setting off to Arachova with children, exploration and adventure don't have to come at a cost. This dynamic destination offers visitors the chance to get a grip on activities for all ages, all with stunning natural scenery painting the background.
Enjoy a picnic in Mount Parnassos with some local ingredients, play a board game with the kids in the city centre, and indulge in a delicious meal in a local tavern. During the wintertime, families can take advantage of the slippery slopes in Mount Parnassos and get involved in a sweaty session of skiing or snowboarding.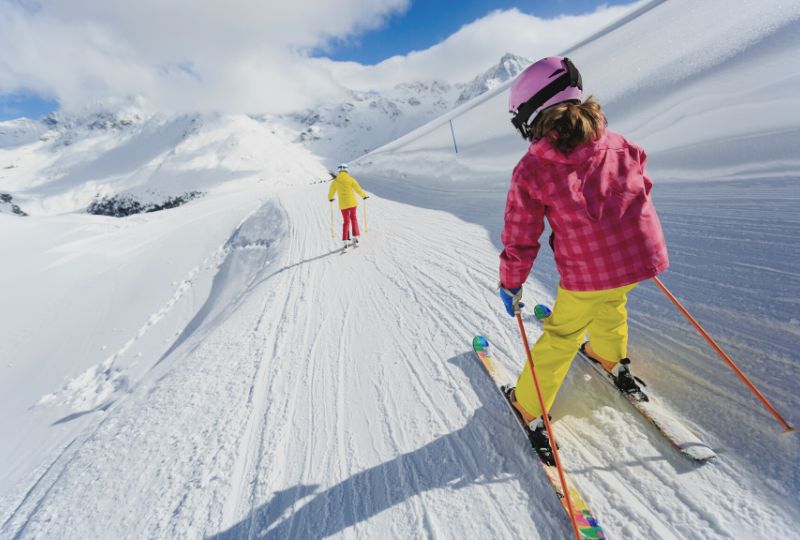 Throughout the Christmas season, kids and parents alike can enjoy the jolly sounds and jingle bells clashing at the local ice skating rink. Children can hop on a sledge ride and additionally try their luck snowballing or making a snowman. 
Be active
Crowned with curvaceous mountain tops, snow-capped ski spots and lush natural splendour, this region is a straight-up feast for the senses. Get lost in the sublime scenery's striking pursuits and set out on a spine-tingling adventure you'll never forget. 
If there's one thing that's a must on every local's list, it's hiking the heaving hilltops and vast terrain of Mt. Parnassos. This piece of paradise is inundated with idyllic valleys, ancient gems, colourful wildflowers and teeming natural trails. Scope the pinnacle points and mountain peaks to get a glimpse of the region's most bewildering landscapes. 
Pack your gear and enjoy the pleasant climate on offer in this part of Central Greece. Discover the Arachova-Parnassos route, winding through the whimsical forests, ancient sites, Mana Springs, Corinthian Gulf and Baindánis rock. 
Set out on a wintertime delight through the snow-covered ski resorts. Hit the heights on a snowboard, learn to ski with a local instructor and make snow angels as you rest and recuperate. Parnassos, Kelaria, Gerondovrachos and Fterolakka are four of the region's biggest buzzing spots. 
Satisfy your adrenaline cravings and get your heart pumping on mountain biking tours through the mystical mountains, test your limits rock climbing the serrated sites and get in touch with yourself in a local yoga centre. 
Shop 
For a mesmerising mountain hideaway, this dynamic destination is surprisingly sandwiched with stellar shopping opportunities. Arachova is home to a handful of high-quality local products that are sure to leave you with a souvenir or two. Get a grip on the local specialities, honey-dripped koulourakia, pancake-like tiganites and fried formaella. Take home a local olive oil, classic pasta, sweet honey or Arachovian wine. 
Don't miss shopping for locally-made wool carpets, shoulder bags, footwear and the array of accessories that can only be found here. Visitors can expect nothing short of high-quality and unique finds when shopping in this region of Central Greece. 
Stay
Endowed with ever-enchanting boutique hotels, Arachova is nothing short of a hotel connoisseur's haven. Marvelling mountain views, jacuzzi-jointed suites, traditional architectural gems and cosy cocoons, you name it, it's here. But with so many options on offer, knowing what's worth it can be quite a challenge. 
Stay amongst the most spectacular sights and scale in on serenity in Almond House Arachova. Flaunting an enticing modern flair and topped with an old-school charm, this boutique hotel hones in on the very best experiences. Perched on emerald-coloured mountains, this luxury-inducing escape boasts mouth-watering gastronomical pursuits, relaxing bubbling jacuzzis and standout sumptuous suites.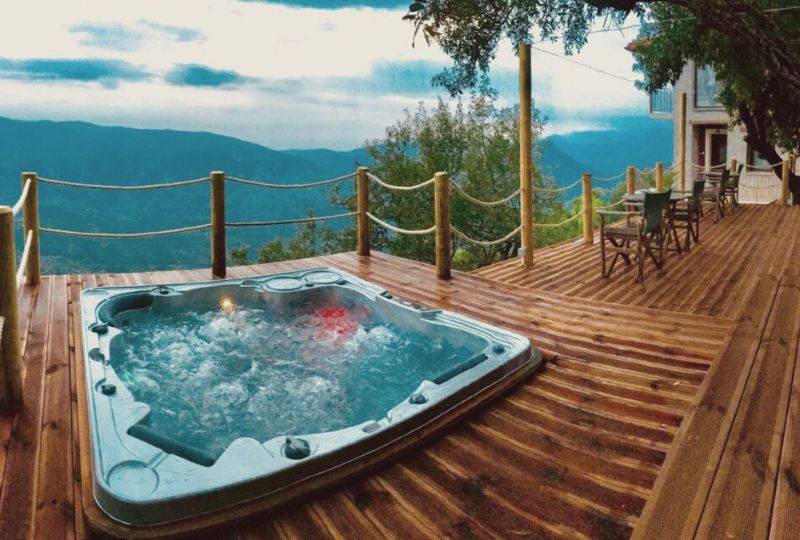 Pinned for its perplexing personality, Rock Dandy Arachova is another one of the region's revelling boutique stays. Straddling stone-built villas and vistas of the veritable valley and undulating mountains, this cosy respite makes for a top-notch stay. Visitors can expect timeless elegance, pristine panoramic views and classic architecture with a more modern feel. 
Sitting among the top of the ranks, Aldia Suites Arachova promises quaint, country-esque living at a luxurious level. This boutique hotel is relaxing, homey and authentic, offering guests the chance to experience the more local side of traditional Arachova. Contemporary finishes, warm tones and convenient amenities make this serene spot the best all-rounder. 
Hemmed with hefty mountain hideaways, luxe stays, riveting activities and off-the-radar forays, this nook of Greece is the perfect melting pot for those seeking adversity. Whether you're looking for invigorating adventure, sublime scenery, traditional cuisine or rich culture, Arachova makes for a stellar sojourn.