Contents
Marrakech, the "Red City," is a mesmerizing and lively destination situated in the southwestern corner of Morocco. With a wealth of history, breathtaking architecture, delectable cuisine, and bustling markets, it is no surprise that Marrakech is a beloved tourist spot. From wandering the labyrinthine alleys of the Medina to indulging in the luxurious relaxation of a traditional hammam, the opportunities for exploration and adventure in this enchanting city are endless.
In this guide, we will explore some of the top things to do in Marrakech, including visiting historic sites, shopping at vibrant markets, and experiencing the local culture. Whether you're a first-time visitor or a seasoned traveler, Marrakech is sure to leave a lasting impression.
Best things to do in Marrakech
Marrakech, a city rich in both history and culture, presents an array of iconic landmarks that not only showcase stunning architecture but also provide a window into the city's unique past and traditions. From grand palaces to ancient tombs, visitors to Marrakech will find an abundance of historical and cultural treasures to explore.
Koutoubia Mosque
One of the most iconic landmarks in Marrakech is the Koutoubia Mosque. Built in the 12th century, this mosque is the largest in Marrakech and is an excellent example of Moroccan architecture. The mosque's minaret is the tallest in the city and is often used as a reference point for travelers. Visitors are not allowed inside the mosque, but the exterior is open to the public and is a popular spot for tourists to take pictures. 
Bahia Palace
The Bahia Palace was constructed in the late 1800s by a wealthy Moroccan nobleman. It is considered a prime example of the ornate architecture and intricate tilework commonly found throughout the city. You can take a tour of the palace and gain insight into the luxurious lifestyle of Moroccan nobility by exploring its many courtyards and rooms, each of which is adorned with intricate tilework, stucco, and woodcarvings. The palace is open to the public and is a must-see attraction for those interested in Moroccan architecture and culture.
Saadian Tombs
The tombs, which were uncovered in 1917, are thought to hold the remains of individuals from the Saadian dynasty, a ruling family in Morocco during the 16th and 17th centuries. The Saadian Tombs are open to the public and offer a glimpse into the funerary customs of the Saadian dynasty. They are a testament to the skills of Moroccan artisans, as the intricate tilework and stucco decorations are truly breathtaking. 
Jardin Majorelle
The Jardin Majorelle is another must-see landmark in Marrakech. This garden was created by French painter Jacques Majorelle in the 1920s and is now owned by the fashion designer Yves Saint Laurent. It is a peaceful oasis in the midst of the bustling city and is a popular spot for tourists and locals alike. Filled with exotic plants, fountains, and a small pond, it is the perfect place to relax and soak up the beauty of Marrakech. 
Jemaa el-Fna square
The square is a hub of activity, with street performers, food vendors, and traditional music filling the air day and night. Discover traditional Moroccan markets offering a wide range of goods, from aromatic spices to traditional clothing. The square is busiest at night when lit with colorful lights, and the atmosphere is lively.
A visit to Marrakech would only be complete with a visit to the souks or markets of the city. The souks are a labyrinth of narrow streets lined with shops selling everything from spices and textiles to jewelry and pottery. The souks are a great place to experience Marrakech's vibrant culture and energy and pick up a unique souvenir or two.
This Islamic school was built in the 14th century and is considered to be one of the most beautiful examples of Moroccan architecture. The school is open to the public, and visitors can explore the intricate tilework and stucco decorations that adorn the walls and ceilings. The school's courtyard is also famous for taking beautiful pictures.

Taste – Restaurants in Marrakech
Whether you're looking for traditional Moroccan street food or a fine dining experience, this enchanting city has something to offer. Make sure to try some traditional Moroccan drinks, such as mint tea and spiced coffee. Marrakech is certainly a food lover's paradise.
Find one of Marrakech's most traditional and authentic dining experiences at the city's many street food vendors. These vendors offer a wide range of dishes, from traditional Moroccan tagines and couscous to modern street foods like falafel and shawarma. You can also find a variety of sweet treats, such as baklava and m'semen, a type of Moroccan pancake. 
Another popular option is the city's many traditional Moroccan restaurants, known as riads. These restaurants are typically housed in traditional Moroccan homes and offer a more formal dining experience. Many riads feature open courtyards or gardens and often have live music or dance performances. Some of the most popular dishes on the menu include tajine, a slow-cooked stew made with meats, vegetables, and spices, and couscous, a traditional grain dish that is often served with various meats and vegetables. 
For those looking for a more contemporary gastronomic adventure, Marrakech also has a growing number of international restaurants. You can find everything from Italian and French cuisine to sushi and Mexican food. Some of the best restaurants in Marrakech include Le Jardin, a Mediterranean-inspired restaurant located in the heart of the city, and Le Trou Au Mur, which serves melt-in-the-mouth mechoui roasts and "Tagine of the Day".
Discover the variety of traditional Moroccan coffeehouses, known as cafes, throughout the city. These cafes often feature outdoor seating and are popular spots for locals and tourists alike to relax and enjoy a cup of coffee or tea. Some popular cafes in Marrakech include Café des Épices, located in the heart of the city's spice market, and Café Clock, known for its traditional Moroccan music performance.
Nightlife – Bars in Marrakech
Being an Islam Nation, there are limited bars and clubs found around Morocco. Even so, the influence of tourists has brought hints of nightlife into Marrakech, and rooftop bars are now twinkling well into the night.
One of Marrakech's most popular nightlife hotspots is the famous Djemaa el Fna square. This UNESCO World Heritage site is home to a bustling market during the day, but at night it transforms into a lively outdoor party. Enjoy traditional Moroccan music and dance performances while sipping on mint tea or a local beer. Street vendors also sell a variety of food and drinks, making it the perfect spot to sample some local delicacies.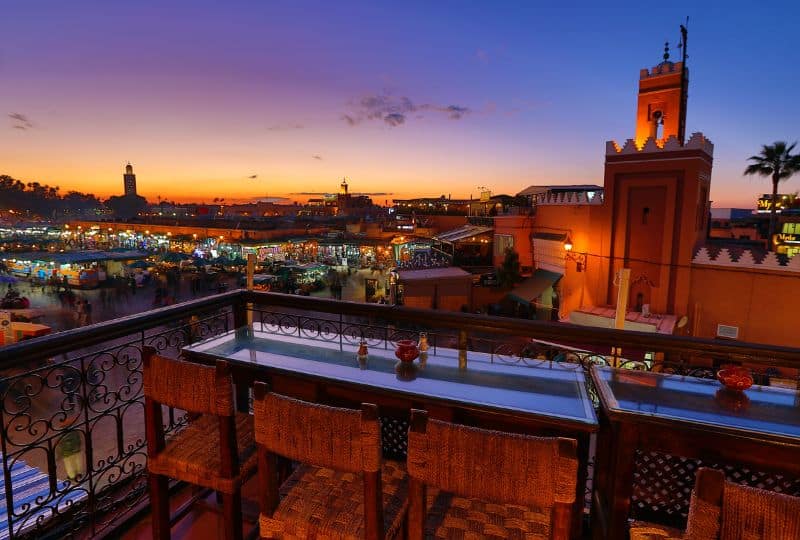 The rooftop bars in Marrakech offer stunning views of the city while enjoying a cocktail or glass of wine. The Mandarin Oriental, La Mamounia, and the Royal Mansour are just a few luxury hotels offering rooftop terraces with breathtaking views of the city. These bars are popular spots for tourists and locals alike, making them a great place to socialize and meet new people.
If you're looking for a more traditional Moroccan experience, head to one of the many riads (traditional Moroccan houses) that have been converted into bars. These intimate spaces offer a cozy and authentic atmosphere, and many feature live music or belly dancing performances. 
For those who enjoy something more laid-back, the bars and cafes in the Gueliz neighborhood offer a more relaxed and casual vibe. This trendy neighborhood is home to various bars, cafes, and restaurants, making it the perfect spot to grab a drink and people-watch. Some popular spots include Baromètre Marrakech, Chesterfield Pub, and Le 68.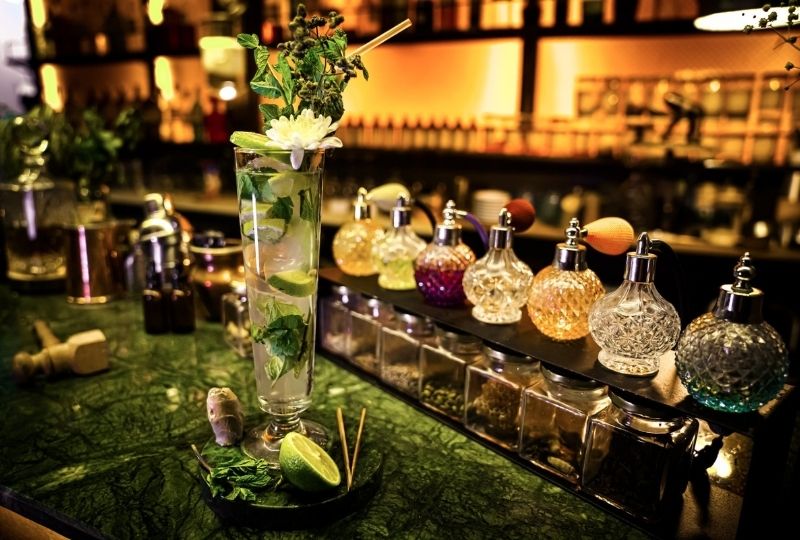 A drink of choice for many locals is mahia, a brandy made with figs and flavored with anise. For the non-alcoholic variety, try out Moroccan mint tea. It's found on every menu around Marrakech and is made with black tea leaves, fresh mint, and sugar in boiling water. You may be surprised by the sweetness, but you will come to love this refreshing and energizing tea.
Shop – Souks in Marrakech
One of the city's main attractions is its markets and souks, a must-see for any visitor. The markets and souks in Marrakech offer a unique and authentic shopping experience, with a wide variety of goods, including textiles, ceramics, jewelry, spices, and much more.
The souks, or traditional marketplaces, are located in the heart of the city and are made up of a maze of narrow streets lined with shops and stalls. The souks are divided into different sections, each specializing in a specific type of goods. For example, the Souk Semmarine is known for its textiles, while the Souk des Teinturiers is famous for its dyeing workshops.
The souks are not only a great place to shop but also to experience the local culture and traditions. Visitors can watch artisans at work, haggle with shopkeepers, and sample local delicacies. The souks are also great for finding unique and handmade items, such as traditional Moroccan slippers, babouches, and colorful ceramics.
In addition to the souks, Marrakech has several modern markets and shopping centers, such as the Marrakech Plaza and the Gueliz. These places offer a more contemporary shopping experience, with a wide range of international and luxury brands and local boutiques.
It's also worth noting that the souks in Marrakech can be pretty overwhelming, with so much to see and so many people to navigate. It's a good idea to go with a guide, or at least have a rough plan of what you want to see, to make the most of your visit.
Stay – Hotels and Riads in Marrakech
Marrakech is a city of contrasts, where traditional and modern styles combine to create a unique and enchanting atmosphere. Hotels and Riads in Marrakech offer guests a chance to immerse themselves in the culture and history of this magical city while enjoying all the comforts of home. Whether you choose a luxurious hotel or a charming Riad, you will be surrounded by the beauty and elegance of Marrakech. The city is a true feast for the senses, and staying in one of its hotels or Riads is the perfect way to experience it.

Riads are traditional Moroccan houses that have been converted into guesthouses or hotels. They are typically located in Medina, the old city of Marrakech, and offer a unique and authentic experience. They are often decorated with traditional Moroccan decor and feature courtyards and gardens, making them the perfect place to relax and unwind after a day of exploring the city. Many Riads also offer rooftop terraces with stunning views of the city, making them ideal for sunset drinks. Here are some of the best Riads in Marrakech.
Discover the epitome of luxury and elegance with our handpicked selection of the Top Riads in Marrakech. Immerse yourself in the rich culture and history of this captivating city while indulging in the finest accommodations.
Chill
Just outside of Medina, you'll find Le Jardin Secret or the Secret Garden. Sitting hidden amongst a 19th-century palace complex, traditional Islamic gardens punctuated by Arabesque tiled fountains, ceramic pots filled with plants, and fragrant flowers from all over the world are found. The gardens are a perfect place to relax into the slow pace of nature, letting the bustling city feel miles away.
Even within the city, you can find hidden sanctuaries perfect for slowing down – hammams. Found on every street, hammams play a significant part in the culture of Marrakech. Most Moroccans will visit a hammam twice a week, cleansing the skin and soul. If you head to a local hammam, you will need your own scrub. In this case, going to a hammam catered to westerners will still be well worthwhile, and you'll get a wonderful steam treatment while learning about the history of hammams.
The weather in Marrakech
The city experiences a desert climate, with hot summers and mild winters. During the summer months, temperatures can reach up to 40 degrees Celsius, making it essential to wear lightweight and breathable clothing. It's also important to wear a hat and sunglasses to protect yourself from the sun. In the evening, temperatures tend to cool down, making it a good idea to bring a sweater or jacket. 
In the winter months, temperatures can drop to around 10 degrees Celsius during the day and even lower at night. It's important to bring warm clothing, such as a sweater, jacket, and a scarf, to keep you warm during the cooler evenings. It's also advisable to bring a waterproof jacket or umbrella, as Marrakech experiences occasional rain during the winter months.
Transportation in Marrakech
Transportation in Marrakech can be a unique and exciting experience. The city is known for its vibrant and bustling streets, and getting around can be quite an adventure. The most popular mode of transportation in Marrakech is by foot, with the city's winding streets and narrow alleys making it easy to explore on foot. If you are looking for a faster mode of transportation, several options are available for rent throughout the city, including bicycles, mopeds, and cars.
Taxis and tuk-tuks are also widely available, with the latter being a popular choice for tourists looking to experience the city's traditional transportation. The city's public transportation system, including buses and trains, is also well-developed and efficient.
Transportation in Marrakech can be a fun and memorable experience, allowing visitors to fully immerse themselves in the city's culture and charm.
Day trips from Marrakech
Marrakech is a city brimming with history, culture, and charm, but for those looking to escape the hustle and bustle of the town, a day trip is a perfect solution. The surrounding area is home to myriad natural and artificial wonders, each offering a unique and unforgettable experience. Let your imagination wander as you embark on an adventure that will leave you with memories to last a lifetime.
The Sahara Desert
A day trip from Marrakech to the Sahara desert is a journey that takes you from the bustling city to the vast expanse of one of the world's most iconic landscapes. The journey begins early in the morning as you leave the hustle and bustle of Marrakech behind and head toward the desert. The drive is a breathtaking experience as you pass through the Atlas Mountains and the rolling hills of the Moroccan countryside.
As you approach the desert, the landscape begins to change. The lush greenery gives way to vast stretches of sand dunes, and the colors of the landscape shift from shades of green to gold and orange. The sense of space and isolation is overwhelming, and you cannot help but feel awe at the desert's beauty and majesty.
Once you reach the desert, you will have the opportunity to explore the dunes on a camel or a quad bike. The feeling of riding through the desert is truly unforgettable. The gentle sway of the camel as it plods through the sand, or the thrill of the quad bike as it races across the dunes.
As the sun begins to set, you will be treated to one of the most spectacular sights you will ever see. The sky turns a deep orange and red as the sun dips below the horizon, and the shadows of the dunes stretch out across the sand. The silence of the desert is only broken by the occasional call of a desert bird, and you will feel as though you're the only person in the world.
After the sun sets, you will return to Marrakech, but the memories of the desert will stay with you forever. A day trip to the Sahara desert is an experience you will never forget. It's a journey that takes you to the heart of one of the world's most beautiful and mysterious landscapes and a chance to escape the hustle and bustle of everyday life.
Ourika Valley
Ourika Valley is just an hour's drive from Marrakech and is known for its beautiful landscapes, traditional Berber villages, and tranquil waterfalls. Take a guided tour to explore the valley and learn about the local culture and way of life. Along the way, you can also stop at a traditional Berber house for a delicious homemade meal.
The Atlas Mountains
The Atlas Mountains outside of Marrakech offer a breathtaking and peaceful escape from the hustle and bustle of the city. Hike through the stunning mountain range, take a scenic drive, or stay in a traditional Berber village for an authentic cultural experience. The mountains also offer a chance to experience traditional Moroccan culture and hospitality, as well as beautiful views and natural landscapes.
Ouzoud Waterfalls
Ouzoud Waterfalls is a natural wonder that will leave you breathless. The cascading waterfalls, surrounded by lush greenery, provide a serene and peaceful atmosphere. Take a dip in the crystal clear waters or hike to the top of the falls for a panoramic view. This stunning natural attraction is a must-see when visiting Morocco and is located two and a half hours away from Marrakech.

Essaouira
Another day trip option is to the city of Essaouira. This coastal city is located on the Atlantic Ocean and is known for its charming medina, beautiful beaches, and delicious seafood. Explore the city's historic fortress, stroll along the coast, take a boat tour to see the local wildlife, and surf the Atlantic waves.
Volubilis
Volubilis, a UNESCO World Heritage Site, is a stunning ancient Roman city that tells the story of a once-thriving empire. The well-preserved mosaics and ruins transport you back in time, offering a glimpse into the opulent lifestyle of the Romans. The rolling hills and lush greenery surrounding the city add to its natural beauty, making it a must-see destination for history and nature enthusiasts alike.