Wander a city drenched in history and fall in love with the captivating culture of Marrakech that draws you in and holds you tight. Smells of homemade bread, fresh orange blossoms and mint tea waft down narrow streets as you find yourself happily lost in a maze of souks. Since Marrakech has become a well-loved tourist destination, it's important to do your research before immersing yourself in the always-bustling city. Take a look at our Insider Guide to Marrakech to ensure you'll get well off-the-beaten-track as you explore Morocco.
Best things to do in Marrakech
Taste
Mouth-watering smells of bold spices are apparent in every corner of Marrakech. Especially as you meander amongst the many food stalls of Medina, selling everything from freshly squeezed orange juice to cooked lamb heads. Not all food stalls are created equally, though. To seek out the best, find where local families and couples outnumber the tourists.
Marrakech's most common dish, couscous, is found at the majority of stalls and restaurants. For one of the tastiest, head to Nomad, an old carpet store that's been converted into a rooftop restaurant four stories tall. Serving modern Moroccan cuisine, you'll find traditional dishes with touches of international influence.
Or, if you can find it, Ksar Essaoussan. Hidden in a spectacular riad in the outskirts of Medina, awaits some of the finest food in Marrakech. Once inside, the dining options are simple. You'll have the choice of a small set menu or a large set menu. Opt for the small, and you'll leave well-fed from traditional Marrakech food.
Sip
Being an Islam Nation, there are limited bars and clubs found around Morocco. Even so, the influence of tourists has brought hints of nightlife into Marrakech, and rooftop bars are now twinkling well into the night. A drink of choice for many locals is mehia, a brandy made with figs and flavoured with anise.
A perfect place to try out mehia is Barometre. From first glance, this bar oozes a speakeasy type of atmosphere. The door is a giant B, which also happens to be the only sign a restaurant is near. Inside, leather accents and knowledgeable bartenders are happy to chat and craft you a speciality cocktail.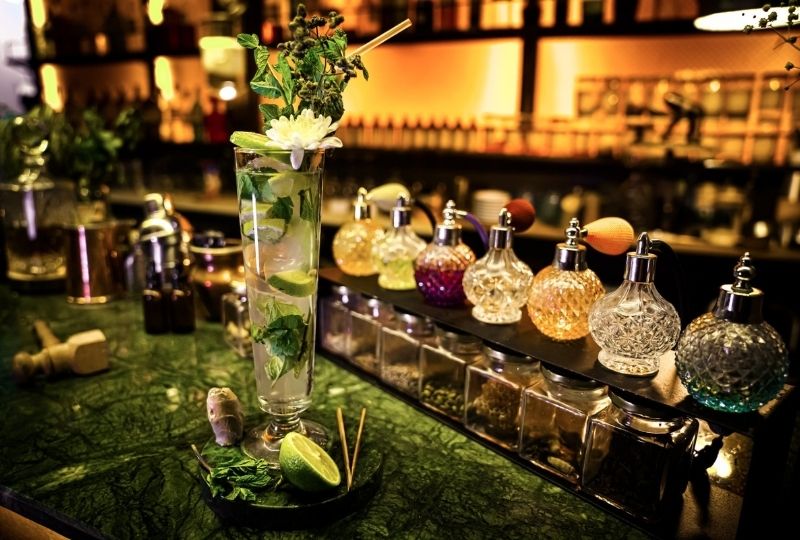 For the non-alcoholic variety, try out a Moroccan mint tea. It's found on every menu around Marrakech and is made with black tea leaves, fresh mint and sugar with boiling water. You may be surprised by the sweetness. However, you'll come to love this refreshing and energizing tea.
Explore
No visit to Marrakech would be complete without a trip to Jemaa el-Fna square. Set in the heart of the city, it's a feast for all the senses. Street food stalls serve traditional Moroccan fare, medicine men attempt to cure you of all ailments and acrobats somersault across the square, capturing your attention. For the full experience, head to Jemaa el-Fna square after dark when snake charmers, belly dancers and other unique oddities perform.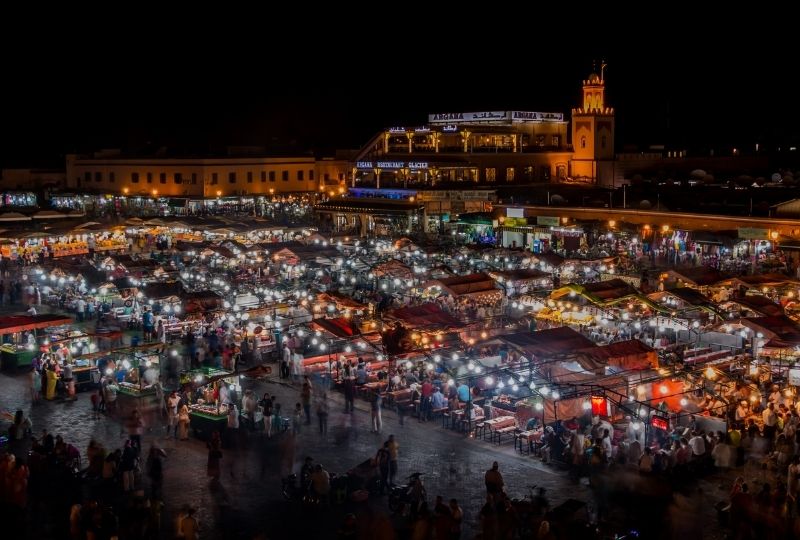 On a quieter note, a visit to Tiskiwin Museum will provide a much more relaxed cultural experience. The museum displays items from Morocco's trading past, with much from Berber culture. Pottery, leather and brassware are arranged in different rooms, depending on their influence, allowing one to see how each culture influenced modern Moroccan culture.
Shop
If you're on the hunt for souvenirs or to get your hands on some fantastic cooking spices, a visit to the Medina souks is your solution. Here you'll find a plethora of spices, including saffron, turmeric, cumin and coriander lined up like powdered jewels in rows with scoops ready at the side. Other vendors sell Aladdin style bejewelled slippers, footstools and colourful djellabas – traditional long hooded robes adorned by many locals.
Slightly further afield, you can experience authentic Morocco, well away from the tourists. At Quartier des Tanneurs, huge vats are filled to the brim with dyes of all colours as men dip leather into them before hanging the fabric on nearby buildings to dry. Numerous leather shops sit close by, selling handbags, clothing and shoes curated from fabric dyed earlier that month.
For something more grandeur, make a trip to Grand Bijouterie, located along the streets of the Mellah. Here gold is still sold by weight, and ornate necklaces and rings fill the shop. Each piece made with a hand-crafted touch showcases beautiful Moroccan art.
Chill
Just outside of Medina, you'll find Le Jardin Secret or the Secret Garden. Sitting hidden amongst a 19th-century palace complex, traditional Islamic gardens punctuated by Arabesque tiled fountains, ceramic pots filled with plants and fragrant flowers from all over the world are found. The gardens are a perfect place to relax into the slow pace of nature, letting the bustling city feel miles away.
Even within the city, you can find hidden sanctuaries perfect for slowing down – hammams. Found on every street, hammams play a significant part in the culture of Marrakech. Most Moroccans will visit a hammam twice a week, cleansing the skin and soul. If you head to a local hammam, you will need your own scrub. In this case, going to a hammam catered to westerners will still be well worthwhile, and you'll get a wonderful steam treatment while learning about the history of hammams.
Party
While all-night parties might not be a common sight in Marrakech, you'll still find vibrant bars both locals and tourists can enjoy if you know where to look. From early evening, L'Auberge Espagnole starts filling up, especially when there's a sports game on. This Spanish influenced bar serves mainly tapas and tap beer and tends to get rowdier as the night continues.
Slightly further afield, in the Old City, Jemaa El Fna serves up refreshing drinks in an exciting yet relaxed atmosphere. Live music and performances are set throughout the night, and with an open-air terrace, you can sip a cold beer while watching the lights flicker across the city. When you're hungry, order fresh sushi off the bar menu.
Stay
Avoid hotels and opt to stay in a boutique hotel or a riad – a traditional Moroccan house. These are dotted around the outskirts of Medina and in Mullah and provide the ideal stay bathed in peace and culture. Many are built around a central courtyard with lush gardens and water features and offer a genuine Moroccan culture often missing in hotels. To find your perfect stay, check out these best boutique hotels in Marrakech. We handpicked three unique boutique hotels for you: Riad Zineb, Riad Karmela Princesse and Riad Dar One.