Riccardo of the Locanda al Colle shared with us his philosophy of family-like hospitality, the importance of eco-sustainability, and his passion for collecting vintage furniture to create a unique and rejuvenating escape in the Italian countryside.
A Return Home Inspires a New Passion
To Riccardo, the Mediterranean, and Versilia, Tuscany will always be home. As an adult, his life took him aboard, and he spent 20 years living and exploring the world. Eventually, home called him back. He settled again among the vibrant landscape of Italy that had informed so much of his early life. A friend was refurbishing an ancient farmhouse when Riccardo returned home and asked for his opinion.
Riccardo had many thoughts and became involved in the project. Now 12 years later, Locanda al Colle is his everything. He has no regrets about returning to the simplistic life and rolling hills of Tuscany.
"It's been a lightness of being, coming back, for me"
Riccardo comments, pondering his choice to move back to his hometown.
A Boutique Hotel That Is More Than Just A Bed
Riccardo, an avid traveller, seeks out small, unique, and intimate hotels. He uses these experiences as constant inspiration for the Locanda al Colle. He remarks that most "boutique" hotels are just big hotels. They do not contain a spark of the place you are visiting.
"That's what I look for. I don't like big hotels unless we are talking legendary ones. I've stayed in so many for work, and that experience made me crave for something different."
Riccardo recalls fondly the first time he felt that a hotel could be different and unique. "The first time I entered a designer hotel, it looked like an apartment lobby. It was The Mondrian by André Putman in the '80s in NY. There I understood hotels could be inspirational and exciting and not just a business overnight stay," Riccardo says. Riccardo has carried this idea of hospitality with him throughout life and into his hotel.
Exceptional Hospitality is Richardo's Gift to People
Hospitality is essential to Riccardo. When asked what the DNA of his brand was, Riccardo said,
"Uniqueness and attention to detail with no barriers between guests and us."
You can feel this when you stay at the hotel. It feels like returning to a family house where you are staying with friends. Food also is fundamental. Riccardo sources all the food, ingredients and wine locally in Tuscany. These simple yet impactful actions are ways he gives back to his community.
"The winter sun on my face always makes me smile. I'm most happy when a satisfied guest wants to return."
There is a sophisticated yet elegant warmth to the Locanda al Colle. Riccardo's love of memories and vintage speak to this. He explains that "90% of furniture are antiques, brought back from my life abroad and also sourced through the Italian markets, fairs and galleries." As you wander through the rooms, your eyes linger on the art deco chair and 1950's table.
The warm earth tones of the rooms offer peace and space to breathe and the pops of colour reflect the vibrant landscapes of Tuscany. Nestled in an ancient olive grove, and a step away from the sea, the magic of the Locanda al Colle embraces you.
A Hotel Where Eco-Sustainability is a Way of Life 
Not only is the hotel beautiful, serene, and relaxed, it's eco-friendly.
"During the renovation, we let ourselves be guided by the green soul of the Locanda, aware that every step, however small, can be decisive. Energy-saving well as a duty for the planet is a lifestyle for us, and aim to be pursued every day."
Riccardo proudly explains that sustainability is one of the essential founding elements of Locanda al Colle. He says, "It's been on our cards since opening 12 years ago." Solar panels power the hotel. One significant accomplishment was the elimination of plastic water bottles. Instead, fresh, great-tasting water comes from a hotel osmosis filtration system.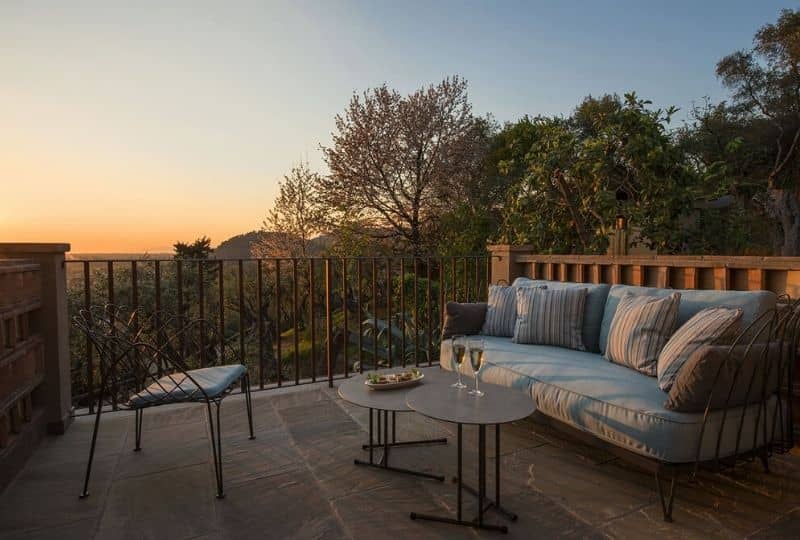 Riccardo's passion for sustainability comes out of a duty to the planet.
What makes you smile? The winter sun on my face always makes me smile. I'm most happy when a satisfied guest wants to return.
Where do you get your energy?  It is from the nice people who come to stay and the jokes and laughs we share.
What is the best moment of the day? I get it in the early morning when everything is still to be made and to happen.