Discover the allure of Crete, the largest and most captivating Greek island, as we unveil the 17 best beaches that await your exploration in 2023. In this idyllic paradise, sun-drenched shores and turquoise waters form a mesmerizing backdrop for an unforgettable beach experience. From secluded coves to lively coastal hotspots, Crete's beaches offer something for every traveler.
Crete's reputation as a haven of natural beauty and cultural heritage precedes it, making it a must-visit destination for beach lovers. The island's diverse landscape showcases a range of stunning coastal gems, each with its own unique charm. As you wander along the powdery white sands and soak up the warm Mediterranean sun, you'll be captivated by the panoramic vistas that stretch before you.
Pack your sunscreen and embrace the spirit of exploration as you venture into the captivating world of Crete's beaches. Let the gentle rhythm of the waves lead you to paradise, where azure waters meet sun-kissed shores in perfect harmony. Get ready for an unforgettable experience as you discover the best beaches in Crete for 2023.
Best Beaches in Crete – Chania
Glyka Nera Beach
Glyka Nera Beach, nestled in the Sfakia region of southern Crete, is a hidden gem surrounded by majestic mountains. Accessible by boat from Sfakia or Loutro or via the E4 hiking trail, the beach offers a mesmerizing sight. Its name, "Sweet Waters," comes from the freshwater springs that emerge next to and within the sea. The turquoise waters of Glyka Nera, crystal-clear and icy, add to its allure. The beach boasts vibrant blue tones and is lauded as one of Europe's most beautiful beaches. A pebbly shore welcomes visitors to this secluded paradise, embraced by cliffs towering up to 500 meters above. Adventurous souls can embark on a challenging hike from Sfakia or Loutro, reaching the beach in 30 to 60 minutes. The path from Sfakia, though demanding, is well-maintained as part of the E4 trail. Immerse yourself in the breathtaking beauty of Glyka Nera Beach, an enchanting destination that promises an unforgettable experience.
Find the beach here.
Elafonisi Beach
Elafonisi Beach is a popular and enchanting destination that offers a truly unique experience. With its breathtaking turquoise waters, pink sands, and stunning landscape, Elafonisi stands out as a remarkable coastal paradise. Situated at the southwestern tip of Crete, this narrow peninsula gives the illusion of a separate island and has been designated as a protected area within the Natura network. While its ecological significance has suffered due to high tourist numbers, Elafonisi remains a remarkable ecosystem, home to endemic plant species, white lilies, threatened sea daffodils, and nesting grounds for loggerhead sea turtles. The beach itself boasts picturesque surroundings, with other beautiful white sandy beaches nearby. The sand takes on a rosy hue due to crushed seashells, and a shallow lagoon forms, offering warm and calm waters ideal for children. Elafonisi Beach is a must-visit destination, captivating visitors with its natural beauty, tranquility, and unique charm.
Find the beach here.
Kedrodasos
Located just a mere kilometer west of the famous Elafonisi Beach, Kedrodasos is a magnificent and unspoiled paradise. With its tropical allure, featuring cedar trees and sandy beaches, this secluded gem stands apart from the typical European scenery. Spanning about 110 acres, it offers a pristine landscape of white sands and smooth rocks, free from any nearby development. As one of Greece's last untouched havens, Kedrodasos Beach enchants visitors with its serene beauty. However, its remote location requires responsible behavior, urging beachgoers to leave no trace by taking their litter with them. Here, nature's splendor invites discerning travelers to immerse themselves in a captivating and unforgettable escape.
Find the beach here.
Balos Lagoon
Balos Lagoon, located 56km northwest of Chania town, is a breathtaking coastal paradise that attracts visitors from around the world. This famous lagoon is formed between the Gramvousa Peninsula and Cape Tigani, beneath the towering Geroskinos mountain range. Its turquoise and emerald waters, wild natural beauty, and exotic landscape have made it the most photographed beach on the island. The lagoon features white sandy beaches, shallow and warm waters ideal for families, and even areas with a beautiful pink color from crushed seashells. As you venture further from the shore, the waters deepen and cool, perfect for snorkeling. Balos and its surrounding area are part of the Natura protection program, housing rare flora and fauna. However, recent years have seen the appearance of a makeshift beach bar and umbrellas, despite its protected status. Accessible by boat from Kissamos or by land, Balos Lagoon is a captivating destination for those seeking beauty and tranquility.
Find the beach here.
Domata Beach
Located 7 kilometers east of Sougia and 58 kilometers south of Chania in the region of Tseses lies the enchanting Domata Beach. A hidden gem that can only be accessed by boat, this beach offers a captivating and secluded escape. As you set foot on its shores, you'll be mesmerized by the fine, glistening pebbles and the azure blue waters, often veiled in a gentle haze caused by underground freshwater springs. Nestled in the heart of the White Mountains National Park, Domata Beach remains untouched by roads or any modern infrastructure, urging visitors to come prepared. The towering pine trees that overlook the beach provide natural shade and camping opportunities, albeit at a distance from the sea. It's likely to be just you, the sea, and the sun, with the added spectacle of a unique natural monument. Jagged cliffs resembling rooftops have been sculpted by the relentless motion of the sea, wind, and the vast quantities of sand and pebbles brought by the Klados and Flokos gorges that merge into this captivating shoreline. Domata Beach promises an idyllic and otherworldly experience that will leave you spellbound.
Find the beach here.
Where to stay in Chania
Best Beaches in Crete – Rethymno
Agios Pavlos Sandhills
Agios Pavlos Sandhills, located in southern Rethymno, is a mesmerizing beach with towering sand dunes descending from the mountains. Its breathtaking sunsets make it one of the country's best. The locals refer to it as "Alatsogremi". This sandy paradise is nestled between the Melissas Cape and the Akoumianos River mouth, creating a wild and enchanting landscape. Agios Pavlos Sandhills offers a surreal experience with its vast sand dunes and few umbrellas, providing opportunities for shade within the striking caves. Despite its size, the beach never feels crowded, and visitors can even opt for naturism. The only challenge may be the occasional waves the frequent western winds stir up. Nonetheless, the beauty of the sunset in this area is unmatched. Agios Pavlos Sandhills is a must-visit destination for its awe-inspiring scenery and tranquil ambiance.
Find the beach here.
Skinaria Beach
Skinaria Beach, situated near Lefkogia village and Plakias, is a true paradise that ranks among the top beaches in the region. With its fine grayish-beige sand and pebble shoreline complemented by crystal-clear aquamarine waters, Skinaria offers an idyllic coastal experience. The beach is known for its rich marine life and impressive underwater visibility, making it a popular destination for divers. Nature flourishes both on land and in the water, with two streams creating small marshes and the seabed boasting abundant flora and fauna. The rugged rocky terrain surrounding the beach creates a stunning contrast against the serene sea. While a portion of the beach is well-equipped with amenities, including umbrellas, sunbeds, and showers, there is also a spacious free area for those who prefer a more laid-back experience. Skinaria Beach is a true gem that captivates visitors with its natural beauty and inviting waters.
Find the beach here.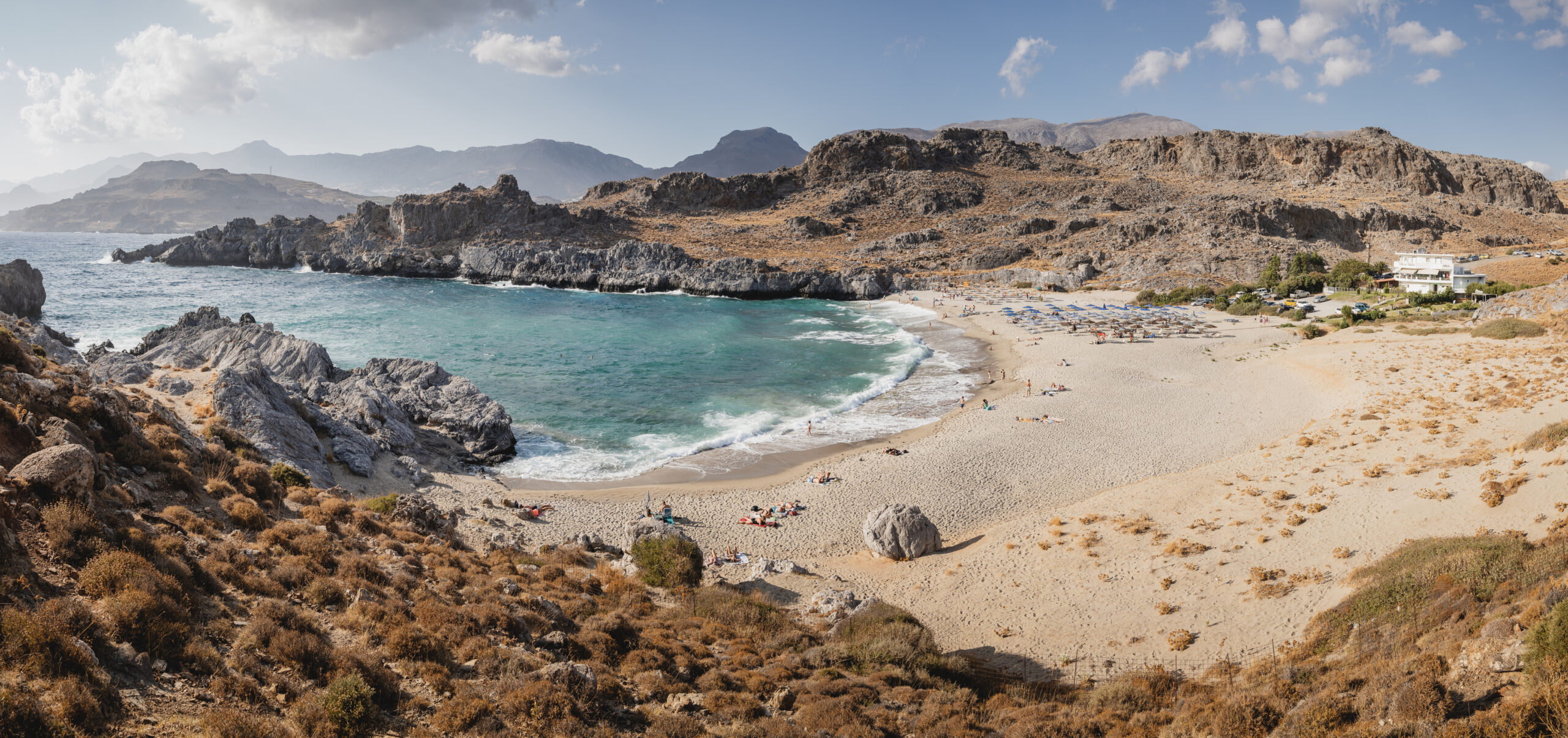 Souda Beach
Souda Beach, located southwest of Rethymno, is a captivating coastal gem nestled at the mouth of a lush valley. Its coarse sand stretches along the final frontier of the Plakias coastal front, merging seamlessly with Giáliá Beach. Souda is nourished by the Phoinikas River, which drains the slopes of Kryoneritis and Tsilivdikas mountains, boasting clusters of Cretan palm trees that make it a sanctuary for this unique species. The name "Souda" derives from the Latin word for narrow passage, referencing the Phoinikas Valley. While the beach offers a mesmerizing panorama, occasional gusty winds make it challenging to stand. With its picturesque location, Souda Beach invites visitors to immerse themselves in its enchanting beauty and embrace the harmonious blend of verdant landscapes and the glistening sea.
Find the beach here.
Preveli
Discover the captivating allure of Preveli Beach, a slice of paradise nestled in the mesmerizing region of Southern Crete. This renowned beach, also known as Lake Preveli or Finikas lures thousands of visitors each summer with its enchanting beauty. Picture yourself strolling along the banks of the mighty Megapotamos amidst the second-largest palm forest in Crete, casting a spell on all who venture there. As the river gracefully flows, it forms a serene 500-meter-long lagoon, a year-round oasis of shimmering water. Lose yourself in the cool shade of palm trees, traversing the path that leads to the breathtaking Kourtaliotis Gorge. Preveli Beach is a haven where nature's grandeur intertwines with timeless tranquility, inviting you to immerse yourself in its captivating embrace. Surrender to the allure of Preveli Beach and let its spellbinding beauty leave an indelible mark on your soul.
Find the beach here.
Where to stay in Rethymno
Best Beaches in Crete – Heraklion
Agiofarago Beach
Agiofarago Beach, located south of Heraklion near Matala, is a unique and captivating destination. Accessible by a scenic hike through the legendary Agiofarago Gorge or a boat ride from Kaloi Limenes, the beach is a hidden gem waiting to be discovered. Its pebble-covered shoreline and crystal-clear, calm waters offer a picturesque escape. The majestic cliffs of Kapsala frame the beach, while a natural arch emerges to the west. Explorers can also venture east to scale the cliffs and reach the marine lake of Vourvoulitis, which connects to the open sea. Along the way, you'll encounter large caves once inhabited by ascetics and the sanctuary of Saint Anthony with its refreshing spring. Agiofarago Beach invites you to immerse yourself in its tranquil beauty, where nature reveals its secrets in a breathtaking display of rugged landscapes and serene waters.
Find the beach here.
Kommos Beach
Kommos Beach, situated between Matala and Kalamaki, is a stunning stretch of coastline in Crete. It was once the ancient harbor of Phaistos and boasts gray sandy shores, making it one of the largest and cleanest beaches in the region. Just a short drive from Matala, Kommos is located near the village of Pitsidia and forms the southernmost part of the Mesara Gulf. While the beach is exposed to occasional western winds, it remains a captivating destination. The northern section, known as Potamos, has been a popular spot for nudists for many years. Surrounding the area are tamarisk trees and barren lands, as Kommos is within a protected archaeological zone. South of the archaeological site, there is an organized beach with amenities such as umbrellas, sunbeds, restrooms, and a beach bar. The picturesque landscape features tamarisk trees and sand dunes adorned with beautiful white lilies that bloom towards the end of summer.
Find the beach here.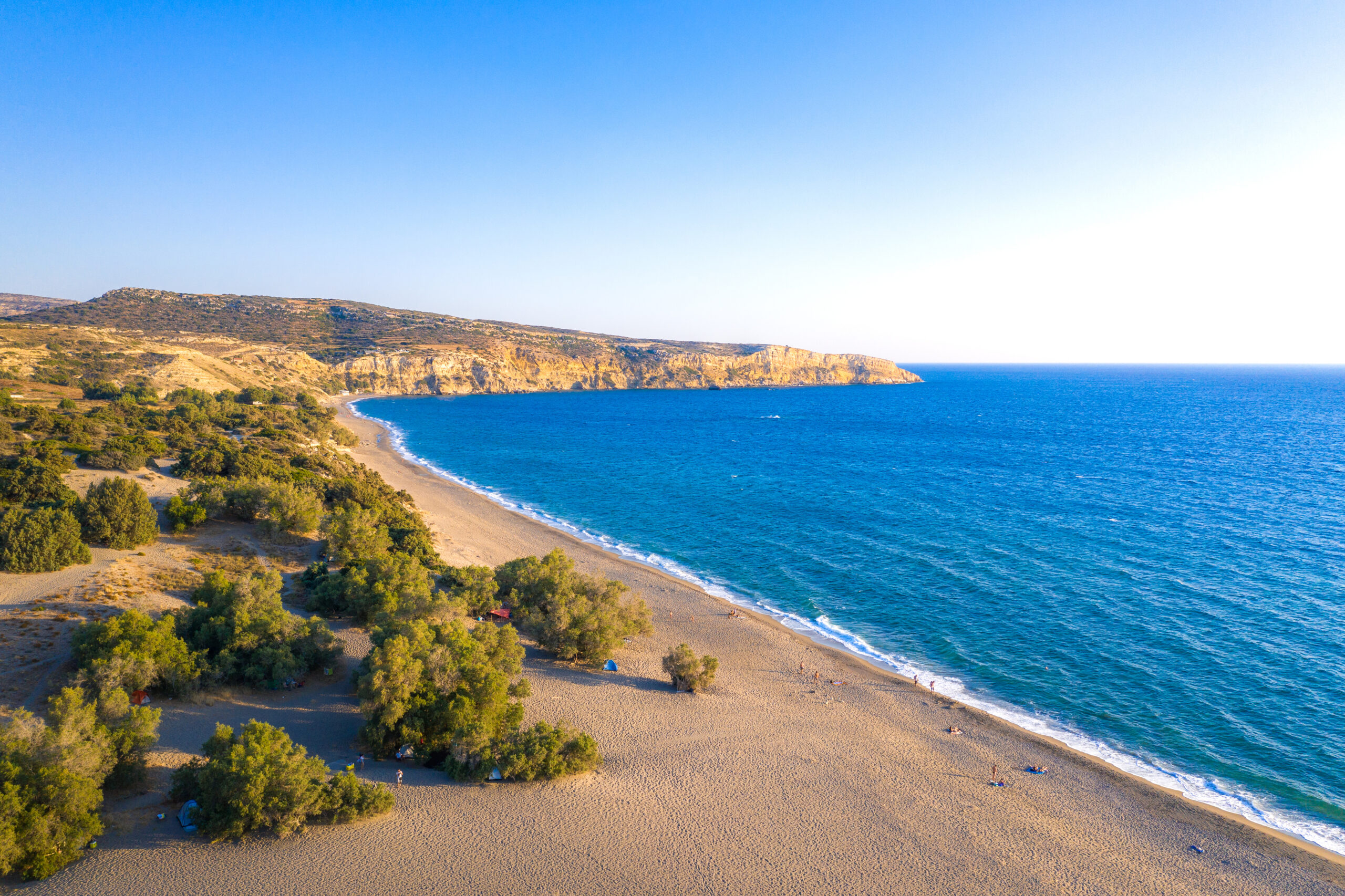 Trafoulas
Trafoulas Beach is a secluded coastal paradise located near Lendas in Crete. Surrounded by the magnificent Trafoulas Gorge, this hidden gem offers a serene and untouched escape. To reach the beach, a scenic drive on a dirt road from Lendas leads to a pathway descending into the gorge. A 15-20 minute hike takes you to the stunning Psili Ammos beach, known for its pristine beauty. The beach remains largely deserted, except for occasional campers and a Dutch painter couple who have made their home in one of the caves. The eastern section of the beach features caves that offer shade and serve as rock climbing spots. Trafoulas Beach invites visitors to bask in its tranquility, admire its panoramic views, and discover the secrets hidden within its cliffs. It is a place where time seems to pause, allowing you to immerse yourself in the unspoiled wonders of nature.
Find the beach here.
Tripiti
Experience the allure of Tripiti Beach, a hidden gem nestled along Heraklion's southern coast. Embark on a thrilling journey down winding dirt roads, adding an adventurous touch to your quest for this enchanting paradise. Whether you choose the route from Lenta's port, with its mesmerizing Cape of Tráfoulas revealing authentic Cretan landscapes, or the path from Vasiliki in Mesara, where the Asterousia Mountains and the captivating Saint Savvas olive grove embrace you, the anticipation builds. As you approach the shoreline, prepare to be mesmerized by the tranquil expanse of pebbled beauty and the captivating emerald waters that beckon you to dive in. Seek refuge under the scattered tamarisk trees, offering a peaceful respite from the sun's rays. To the west, the proud cape of Fylakas awaits, adorned with mystical caves that lend their name to this beach. Though unorganized, a charming taverna adds a touch of authenticity, ensuring that your visit to Tripiti Beach will be an unforgettable experience.
Find the beach here.
Where to stay in Heraklion
Best Beaches in Crete – Lasithi
Karoumes Bay
Unveiling its splendor 110 kilometers east of Agios Nikolaos and 29 kilometers southeast of Sitia, Karoumes Bay beckons with a magnetic charm that tantalizes the senses. As you set foot on its pristine shores, a symphony of soft pebbles whispers beneath your feet while the turquoise waters invite you to surrender to their tranquil embrace. Sunlight dances through the canopy of trees, casting playful shadows and offering refuge from the warm caress of the Mediterranean sun. On the northern edge, stoic rocky sentinels stand guard, imparting a sense of ancient wisdom to this untouched sanctuary. Karoumes Bay, a haven of seclusion, offers respite from the clamor of urban life, a sacred space where time stands still. Venture further, and a secret unfolds—a duo of clandestine coves, mere whispers of paradise, hidden just a stone's throw away. Accessible only on foot, the rugged terrain protects this gem from the masses, ensuring an unparalleled escape into serenity. 
Find the beach here.
Kolokitha Beach
Nestled in the enchanting region of Elounda, approximately 16 kilometers from the captivating town of Agios Nikolaos, lies the breathtaking beach of Kolokitha. Here, azure-green waters gently caress the pristine white sand, creating a paradise-like and exotic panorama that will transport you to a realm of sheer tranquility. Kolokitha, a small islet, stands proudly across the Spinalonga Peninsula, just 12 kilometers north of Agios Nikolaos and in close proximity to Elounda. Between these two shores, a sheltered, windless bay is formed, harboring the picturesque sandy cove of Kolokitha. A short pathway leads you to the turquoise waters of this hidden gem, located beneath the modern sanctuary of Agios Loukas. However, in recent years, the beach has attracted a significant influx of visitors despite its modest size, owing to the numerous tourist boats from Elounda that include it in their daily itineraries. It is advisable to avoid peak hours to appreciate the idyllic serenity that Kolokitha has to offer fully.
Find the beach here.
Voulisma 
Nestled along Crete's southeastern coast, Voulisma is a breathtaking gem known for its tropical-like turquoise waters, velvety soft sands, and lush emerald slopes. This postcard-perfect beach, also called Golden Sand, is renowned as one of the most stunning on the island. Its pristine white sands create a mesmerizing palette of exotic blues and greens. While well-organized, occasional debris can wash ashore due to its orientation. However, a tranquil refuge awaits at the secluded cove on the bay's western edge. Towering above Voulisma is Vrokastro Hill, adorned with the remnants of an ancient Minoan city. Surrender to Voulisma's allure, where time stands still, and the rhythmic waves merge with the beat of your heart.
Find the beach here.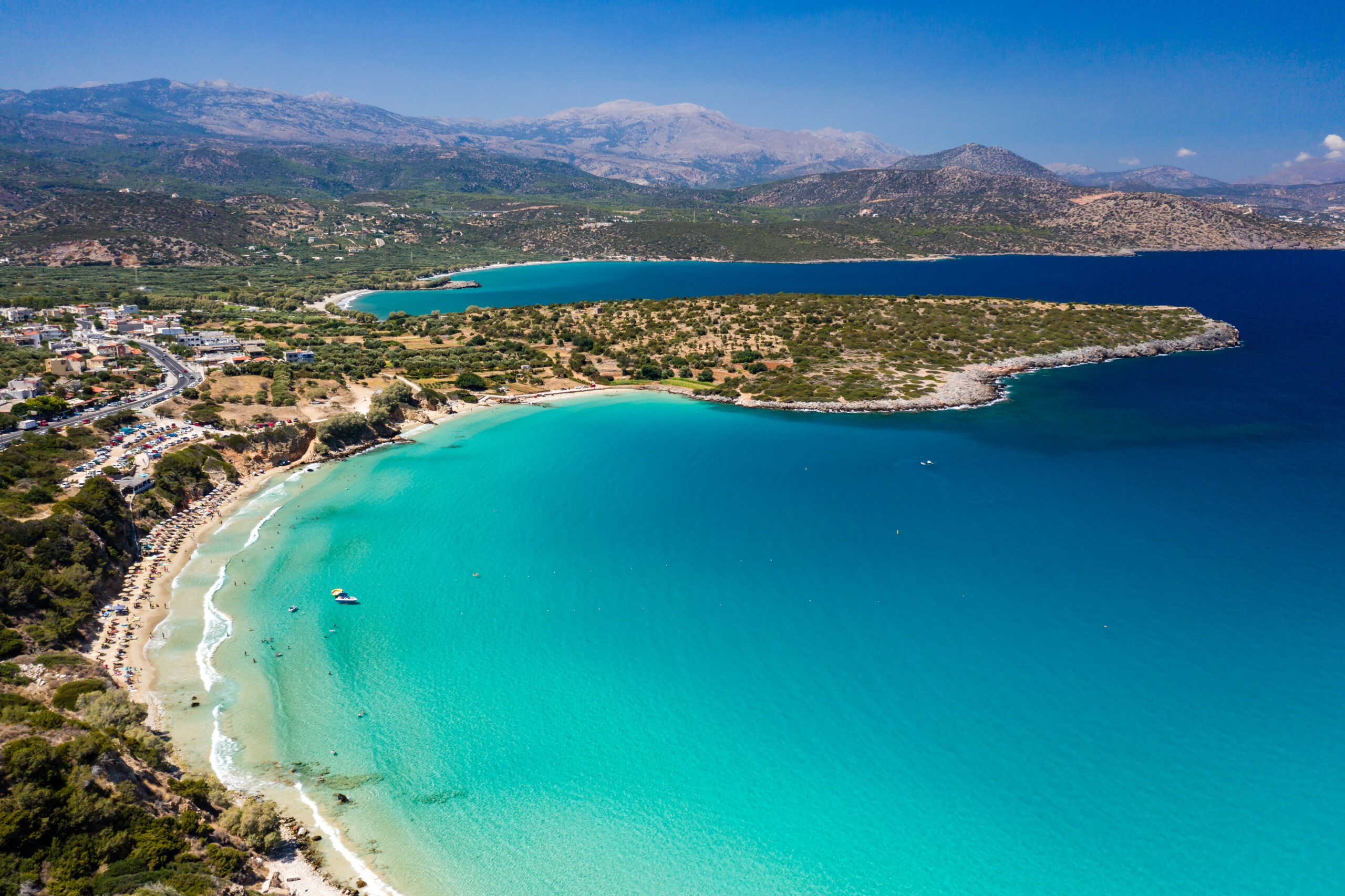 Vai Palm Beach
Experience the allure of Vai Palm Beach, a slice of paradise tucked away on the eastern coast of Crete. Nestled on the Sidero Cape, this beach is a tropical oasis unlike any other in Europe. Picture yourself surrounded by a majestic palm forest, with thousands of Cretan palm trees swaying gently in the breeze. As you venture closer to the sea, a pristine sandy shoreline awaits, caressed by the salty waters that flow from the earth. The picturesque landscape is further adorned by charming islets, the Peristerovrachoi, adorning the horizon. Vai Beach offers a well-organized oasis with umbrellas, showers, and water sports facilities, ensuring a comfortable and enjoyable stay. If you seek tranquility, a hidden gem lies just a short distance to the north—a breathtaking sandy beach where you can escape from the world. 
Find the beach here.
Where to stay in Lasithi