Akrolithi Boutique Hotel, a traditional-meets-contemporary retreat at the edge of the sky and sea
"The edge of the rock" is the meaning behind the name Akrolithi, the perfect reflection of the hotel's dreamy location on top of a hill overlooking the endless blue, creating a sense of being on the edge of heaven and sea.
With an antiquated façade exuding austere beauty, the stone-built tower houses honour the traditional architectural style of Mani, taking you on a journey to another time. Open the door to your suite or studio, and you'll be greeted by luxurious décor and rustic beauty, a space of blissful relaxation.
The owner comes from a family of hoteliers and built Akrolithi Boutique Hotel with a respect for the land and regional culture. It's the first hotel in Mani to be Green Key certified for sustainability. You'll savour authentic flavours prepared with local or self-grown produce. Ask for insider tips from the staff to experience Mani like a local, and discover the region's natural wonders, picturesque villages, and Byzantine architecture.
With the breeze carrying the scent of sage and citrus, and the sound of waves lapping not far away, you'll enjoy your favourite drink on your private veranda with the azure backdrop of the sea and sky, relaxing in bliss.
Enjoying the certified traditional Greek breakfast on the terrace with a panoramic view of the sea and sky
Unwinding in the personal outdoor jacuzzi while taking in the beautiful scenery
Savouring delicious traditional dishes made with organic produce from Akrolithi's garden, like Mani's specialty 'tsoukti' pasta and the local musk fillet with orzo
Exploring idyllic villages and natural wonders of Mani on a hike or bike tour
Having your breath taken away by the exquisite décor, architectural design, and warm Greek hospitality
Rooms Overview
Lavishly decorated with paintings by Greek artists and luxurious furniture in neutral shades, with rustic elements of exposed stones and wooden ceiling beams, the suites are the perfect havens for supreme relaxation. As a nostalgic nod to the past, each suite is named after a Greek word commonly used in the olden days. Newspapers and magazines are available daily upon request and in every suite a private veranda and a view that will take your breath away.
Pelena – Junior Suite Panoramic Sea View
2 guests
Panoramic View
Private terrace
Velvet furniture in the classic English style exudes luxury, black pieces contrast elegantly against the serene beige, with an exposed stone accent wall adding a touch of rustic charm to this luxurious retreat. The wooden door leads to your furnished private veranda, the best spot for watching the magical sunset.
Vroulea – Junior Suite Panoramic Sea View
2 guests
Panoramic View
Private terrace
Clean white walls, exposed stones, wooden furniture, and classic English elements come together to form this serene space where you can unwind and recharge. Sink into the soft sofa to have your afternoon coffee, or you can take it outside to enjoy with a panoramic view of the sea and coastline.
Kamari – Junior Suite Panoramic Sea View
2 guests
Panoramic View
Private terrace
Soft, quilted furniture in neutrals and the traditional bordered floral rug bring luxury and English-inspired elements to this room, while shades of pastel blue and energetic turquoise liven up this space, bringing a sense of playfulness in this calming room. You'll wake up to the sound of waves lapping in the distance and a view like no other.
Kazika – Junior Suite Panoramic Sea View
2 guests
Panoramic View
Private terrace
Rich wooden tones and furniture with traditional designs contrast against the elegant beige wall, creating a luxurious yet welcoming vibe. With a quilted velvet sofa nestled in the arched alcove, you can enjoy endless moments of peace and tranquillity in this cosy space or the panoramic view outside.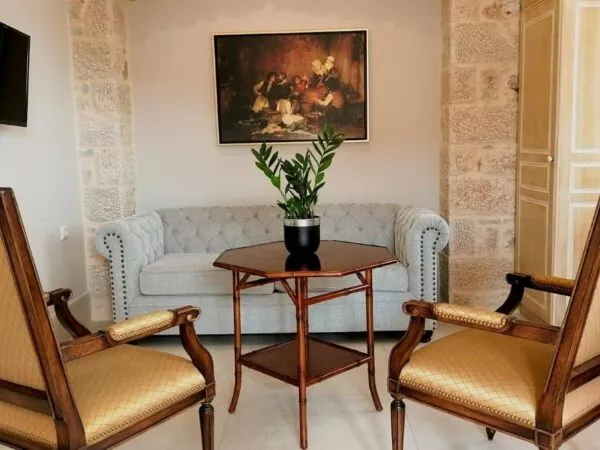 Elia (Olive) – Junior Suite Panoramic Sea View
2 guests
Panoramic View
Private terrace
Peace, fertility, sapience, euphoria and welfare are all symbols of the olive, and they are also the design elements of this luxurious suite. The vibrant accent wall mural pops against the elegant cream-coloured palette. Along with traditional designs, luxurious accents, and a panoramic sea view, you'll have a truly unforgettable stay here.
Vika – Junior Suite Panoramic Sea View
2 guests
Jacuzzi
Panoramic View
Wake up to the warm Mediterranean sun peeking through the semi-sheer curtains. Sleek black pieces bring a contemporary twist to this suite, while curves of cream-coloured furniture soften the look with a dash of romanticism. Step out to the veranda and into your private jacuzzi, where you can unwind and take in the gorgeous view with a glass of regional wine in hand.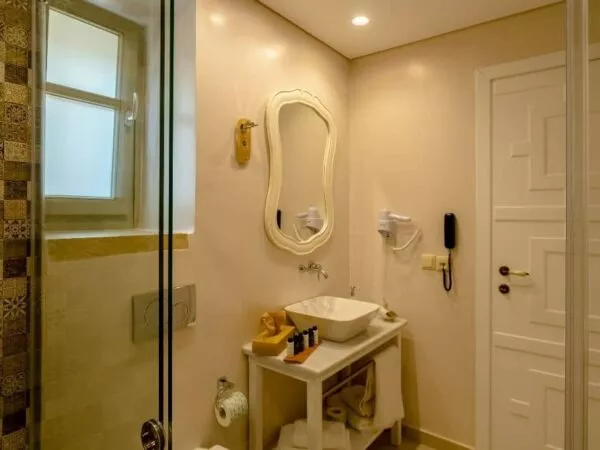 Limeni – Deluxe Suite Panoramic Sea View
2 guests
Panoramic View
Private terrace
Earthy tones dominate this welcoming space. Rustic wooden furniture and exposed stone walls blend perfectly with luxurious velvet and intricate designs, resulting in a relaxing suite that entices you to stay in. Remember to head out to your private veranda overlooking the sea and sky, where you can bask in the warm sun with your favourite drink in hand.
Petrompeis – Deluxe Suite Panoramic Sea View
2 guests
Panoramic View
Private terrace
Open the wooden door and you'll be greeted with a lavishly decorated suite that inspires calmness. The high vaulted ceiling and exposed wooden beams and stone walls exude rustic beauty and warmth, while the quilted velvet pieces and elaborately carved details on furniture bring in luxe. With a veranda all to yourself, you can enjoy an unobstructed view of the sea anytime.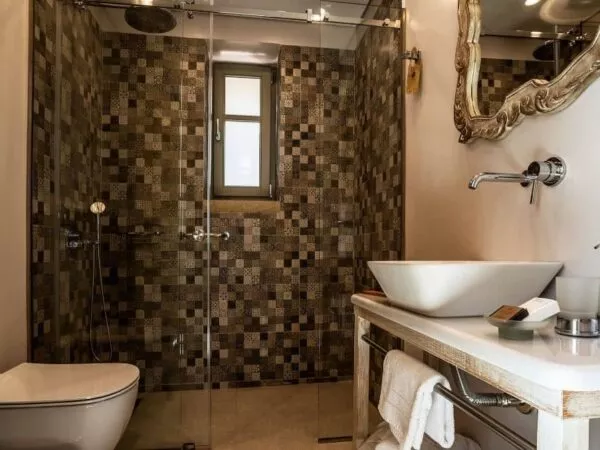 Ploumi – Deluxe Suite Panoramic Sea View
2 guests
Panoramic View
Private terrace
Gold floral patterns with blue butterflies adorn the wall with pink curtains draping over the quilted headboard of the bed, creating a romantic suite straight from your dreams. With a glass of Idylle Rosé in hand, you can watch the setting sun tinge the sky in oranges and purples, and daydream about what's to come the next day.
Maniatissa – Deluxe Suite Panoramic Sea View
2 guests
Panoramic View
Private terrace
Exposed stone walls and wooden accents bring warmth and rustic charm, while quilted classic furniture and intricate wood carvings add a hint of romanticism to this deluxe suite, ideal for relaxing and daydreaming. Head out to the private veranda, where you can take in the view of majestic mountains against a gorgeous azure backdrop.
Taste the flavors
Traditional Breakfast
Traditional dishes, handmade sweets, and organic greens from the garden – you'll be individually served authentic Mani flavours in the morning on the terrace with a panoramic view, or in the comfort of your luxurious suite.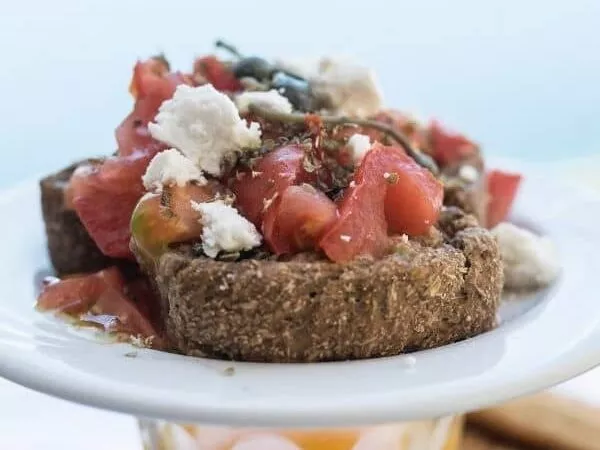 Restaurant
Inspired by the culture and local produce, the menu is full of authentic regional flavours that will tickle your tastebuds. You'll savour dishes prepared with old family recipes and organic produce from the vegetable garden, as well as native Hellenic wines that go best with these regional delicacies.
Anartygo Café-Bar
Here, you can ask for your favourite drink along with hand-made sweets to go with the view. Try cocktails inspired by Mani's herbs and colours and the homemade lemonade, freshly squeezed from hand-picked lemons from the garden and highly recommended by the owner.
About Sustainability
Like the fig tree roots, the property is constantly addressing many sustainable tourism areas and excelling in most fields
Akrolithi's efforts to protect the environment is recognized internationally, as it is the first hotel in Mani to receive the Green Key award of eco-friendliness.
Akrolithi replaces many single-plastic use products, equips rooms with eco-friendly amenities, and uses eco-friendly cleaning chemicals and pesticides.
Sustainability is the foundation of Akrolithi. The building pays homage to the traditional architectural style of Mani and is constructed with mainly eco-friendly, recycled, and local materials.
As an energy-conscious hotel, Akrolithi implements many systems to save water and energy consumption, and the buildings are also designed to be energy-efficient.
You'll enjoy meals and drinks prepared with locally sourced and organic products, and the staff will give you insider tips for experiencing the region like a local.
Explore the location
On the outskirts of the village Oitylo, Akrolithi is your seaside escape from the mundane. You'll hike on the staff's recommended scenic trails, explore picturesque villages on a bike tour, or drive to the beautiful Diros Caves 30 minutes away. The ancient castles and magical landscapes of this region will take your breath away. You'll get the best view on a boat tour, and for a dash of excitement, try water sports and horse riding.
Book a trusted local driver for your transfer to and from the hotel, and introduce you to the destination, pre-order travel essentials, and get all your questions answered before or during the trip. Choose the stops, visit the attractions, and don't waste any time waiting. We've partnered with Welcome Pickups, the first company to deliver a holistic, in-destination travel experience.