Journey into the 19th Century: Archontiko Michael's Eco-Friendly Haven in Pelion
Nestled in the picturesque landscape of Pelion, Archontiko Michael is a unique eco-friendly hotel that takes you back to the 19th century. With a charming wooden bridge and a traditional gate, the hotel greets you with open arms, inviting you to explore and indulge in its old-world charm.
Archontiko Michael is a quiet ecotourism hotel that offers a range of indoor and outdoor experiences perfect for those seeking peace, tranquility, and a connection to nature. It is housed in a beautiful traditional building that dates back to 1868 and was lovingly renovated in 2016 to retain its traditional architecture and character.
The philosophy of Archontiko Michael is centered around quality accommodation, relaxation, and privacy. Each guest is treated like royalty, with the staff going above and beyond to ensure your stay is unforgettable. The mansion also implements sustainable practices to protect the environment and support the local community and economy.
If you want to delve into the local culture and traditions or unwind amidst the stunning natural scenery, this unique eco-friendly hotel is the ideal destination.
What we liked the most
The charming traditional building dating back to 1868

The peaceful and tranquil natural surroundings

The luxurious and comfortable accommodations

The sustainable practices implemented by the hotel

The connection to local culture and traditions

The unforgettable experiences offered both indoors and outdoors
Rooms Overview
Archontiko Michael offers a range of unique and comfortable accommodations perfect for families or groups of friends. The accommodations include family rooms and apartments, all featuring a cozy fireplace and stunning garden views. The hotel also offers easy access and parking, free Wi-Fi, and autonomous heating in all areas. Guests can enjoy many complimentary amenities, including daily cleaning service, and relax in the comfort of these charming, traditional accommodations.
Levanda Room
2 guests
View into the garden
The Levanda Room is a cozy and romantic space perfect for couples. The room features a double bed and a private bathroom with a lovely garden view. Traditional walnut wooden floors and stone-built shelves add to the ambiance, while the matching "unroofed" ceiling creates a cozy atmosphere. Enjoy a relaxing stay with amenities such as an electric kettle for drinks and a vegan breakfast provided.
Archontikon Suite
5-6 guests
Equipped kitchen
Two-bedroom suite
View into the garden
View into the mountains
Perfect for families, couples, or groups of friends, the Archontikon Suite is a luxurious and spacious apartment on the first floor of Archontiko Michael. The apartment boasts two bedrooms, one overlooking the forest with a double bed and the other offering sunset views with two single beds. The living room features a cozy fireplace and a convertible sofa bed, while the well-equipped kitchen looks out onto the beautiful garden.
Archontikon Suite provides a unique and comfortable experience and stunning views from every angle with its double frontage.
Studio Aloe
2-3 guests
Equipped kitchen
View into the garden
Enter into the serene retreat of Studio Aloe at Archontiko Michael, where tranquility awaits. This open-plan studio is an idyllic haven catering to families of three. With its independent street-level access from the captivating garden, Studio Aloe ensures both accessibility and privacy. Immerse yourself in the peaceful ambiance as you take in the verdant landscape and the gentle murmurs of the nearby stream.
Equipped with a fully furnished kitchen, a cozy double bed, and a comfortable sofa, this studio invites relaxation and contentment.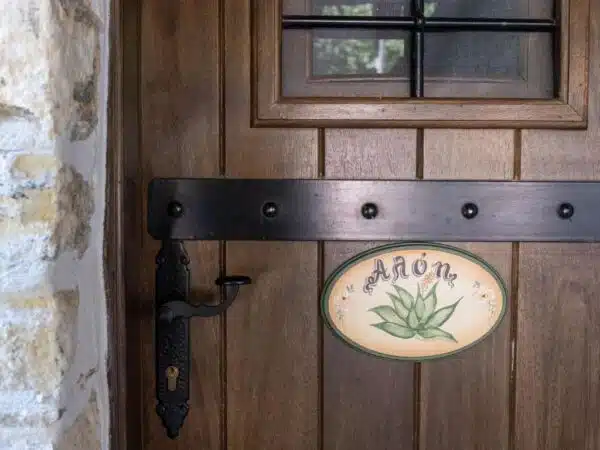 Anemoni Apartment
4 guests
Equipped kitchen
View into the mountains
The Anemoni Apartment, located on the ground floor, offers a delightful sanctuary for families with 1-2 children. This independent apartment spans 30 m² and presents a warm and inviting atmosphere. It comprises a cozy bedroom with a comfortable double bed, a private bathroom, and a living room featuring a sofa that easily converts into two beds. The exquisite walnut and Mt. Pelion stone flooring adds a touch of rustic elegance.
Indulge in picturesque views of the surrounding woods and mountains, and utilize the well-equipped kitchen in the living room.
Taste the flavors
Breakfast
Indulge in a delightful breakfast experience at Archontiko Michael, where you can create your own exquisite morning feast. Enjoy a selection of local, vegan, and fair trade breakfast snacks that tantalize your taste buds while you soak in the breathtaking views and embrace the serenity of the surroundings.
Start your day off right with a beautiful breakfast that nourishes both your body and soul, providing the perfect beginning to a day filled with tranquility and exploration.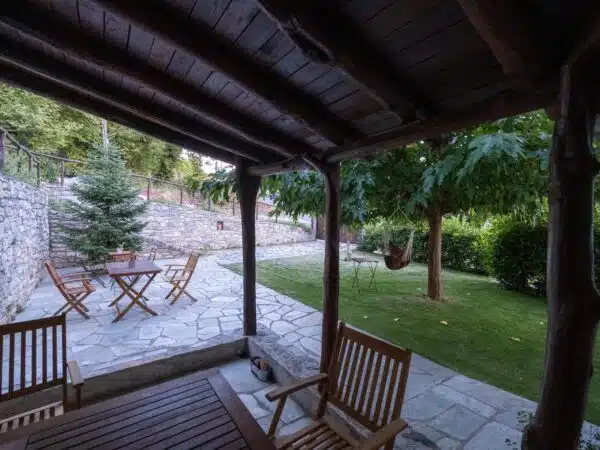 About sustainability
Olive Tree is often a symbol of success, as sustainability seems embedded in the property's identity and DNA.
Archontiko Michael is committed to sustainability in all aspects of its operation, ensuring a harmonious blend of luxury and eco-friendliness. Here are the key points highlighting the hotel's sustainable practices:
Eco-friendly Practices: The hotel implements various eco-friendly practices, including the use of green cleaning agents, energy-efficient lighting, and water-saving mechanisms.

Local and Sustainable Sourcing: Archontiko Michael prioritizes local and sustainable sourcing for food, supporting local producers, and offering ethical, fair trade, and organic options.

Waste Reduction: The hotel actively works towards waste reduction by eliminating plastic usage, minimizing food waste, and using large-sized eco-friendly dispensers for toiletries.

Energy Efficiency: Energy-saving measures are in place throughout the hotel, such as autonomous heating systems, limited shared spaces to conserve energy, and the use of bioclimatic design for natural insulation.

Future Sustainability Projects: Archontiko Michael has plans for future projects, including introducing electric bicycle rentals to reduce car usage and creating a "Children's Garden" where kids can plant trees and plants with support from local nurseries.
Explore the location
Nestled in the picturesque village of Vizitsa, Archontiko Michael offers a captivating escape surrounded by a rich cultural tapestry and breathtaking natural beauty. Step into a world of enchantment as you explore the well-preserved cobblestone lanes adorned with beautiful old manors and stone fountains boasting intricate marble decorations. Immerse yourself in the architectural wonders of the 18th and 19th-century three-story private residences, exemplifying the unique charm of Mount Pelion.
Stroll through the village's charming central square, adorned with buildings that have graced the lenses of countless photographers. Experience the essence of authentic Greek hospitality as you discover the deep culture, history, and wisdom that permeate every corner of Vizitsa. The village, harmoniously integrated with its natural surroundings, offers a myriad of footpaths leading to the Bridge de Chirico, old train stations, and neighboring mountain and seaside villages.
Embrace the tranquility of this idyllic location, far from the bustling crowds of mass tourism, and revel in the serenity and relaxation that defines the pace of life in Vizitsa. The village serves as an ideal base for exploring the wonders of Mountain Pelion, with its strategic position allowing for convenient excursions to various surrounding sights. 
Should you desire the beauty of the mountains or the allure of the sea, Vizitsa entices you with its mesmerizing natural landscapes, one-of-a-kind cobblestone streets, invigorating freshwater springs, and alluring trails.
Archontiko Michael invites you to savor this truly enchanting neighborhood, where each step unveils a new layer of tranquility, elegance, and connection to nature