A dreamy boutique tucked away among lemon groves and lush greenery
Nestled deep in the countryside of Andros on a three-acre plot peopled with luscious fruit trees is the charming Ktima Lemonies. Like something from a rustic reverie, the lovingly restored farmhouse is home to Nelly and Michalis, whose gentle warmth infuses the old stone walls with a sense of inviting cosiness. This is a place where you are free to just be.
Set apart from the main town down a winding road, the sprawling estate is yours to explore, read, relax and simply be. Wander through the trees, plucking ripe apricots from the low-hanging branches until you arrive at the tranquil pool where you can cool off from the hot summer sun. Sleep in total calm in one of the four suites, decorated according to Nelly's country-style design flare. When you awake, a long and languorous day stretches out in front of you, starting with an abundant breakfast composed of local produce.
Take a rambling hike through the countryside, visit the beach or drive into town to experience Greek island life before returning to the irresistible peace of Ktima Lemonies, where the lemon trees, sweet and fragrant, have been awaiting your return.

Mark McIntyre
08:07 17 Jun 21
A unique and exceptional place to stay in Andros. Chic design surrounded by nature, minutes from lovely Chora, within easy reach of beautiful beaches, and a breakfast of dreams. And everything is made infinitely better by Nelly who is simply the best host we've ever met.

Jean-Baptiste Perrin
08:49 26 Jun 19
I don't often give 5 stars to any place, but this place deserves it. It is one of these combinations of lovely location, great service, kind people, quality of accommodation and simply stunning landscape that you can rarely find. I recommend the rooms near the swimming pool in the garden, under the lemon trees. The only caveat is that it's preferable to have a vehicle which can handle the sometimes complicated Andros roads, especially if you want to reach one of the beaches. Otherwise, it's perfect and in close proximity to the main town.

Wood Privacy
17:10 04 Aug 18
One is lucky in life to stumble upon "Heaven on Earth." This is one such place. It's like returning to the Garden of Eden, thanks to hostess Nelly and her husband. They give perfect advice for activities and restaurants to visit on the island of Andros. The establishment is truly an oasis of peace, relaxation, tranquility, and offers the much needed opportunity to return to what makes this Earth so precious. The rooms offer quiet and private respite while also offering a super comfortable bed and hot shower with a lovely selection of Greek beauty products. It felt as if we were visiting a health spa. Breakfast is a feast of pure Greek magic, offering products sourced locally if not from Ktima Lemonies itself. Everything was exactly what we needed after a 24 hour journey from Washington DC, and we couldn't have found a better place to start our Greek vacation. Highly recommended to couples, aspiring writers and poets, and small families. (Not recommended for those who have physical disabilities or problems climbing stairs. Being cat and kitten friendly also recommended.)
What we liked the most
The converted pig-sty suite, with its beautiful slate ceiling.
The rustic, farmhouse touches throughout the home.
The strong sense of welcoming hospitality that emanates naturally from Nelly and Michalis.
Accepting a glass of homemade limoncello from Nelly before you head into town.
Savouring a spoonful of creamy yoghurt with a dollop of handmade plum compote at breakfast.
Rooms Overview
Each of the four rooms has its own particular charm, typified by Nelly's unique touches of farmhouse chic. Cosy yet luxurious, the floors are made of terracotta and the bathrooms are composed of smooth stone. All of the bedsheets are Egyptian cotton and this, combined with the reigning atmosphere of total peace, make for a heavenly night's sleep.
Piggies Suite
2 guests
View into the courtyard
Located right next to the pool, with a view onto the courtyard, this suite is named after its former occupants. A converted pigsty, the ceiling is composed of old slate and the room has a cosy, rustic charm. Comprising an en-suite with a marble sink and a stone shower, it's perfect for a relaxing couple's trip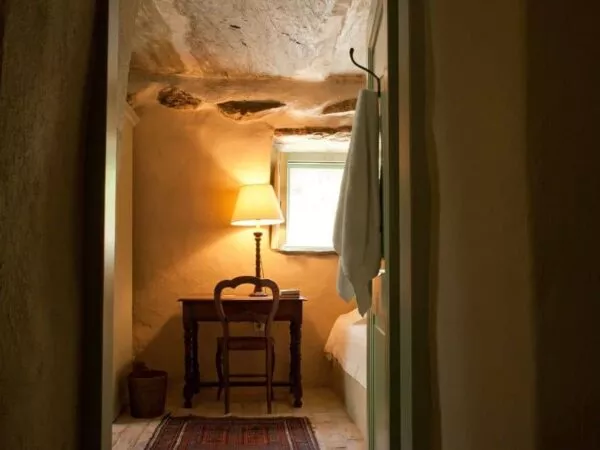 Garden Room
2 guests
Private access
Private terrace
Located in the heart of the estate's garden, the natural shades of green and stone in this room reflect the leafy surrounding environment. Separate from the main house, this room offers some privacy and total peace, ensuring moments of supreme relaxation.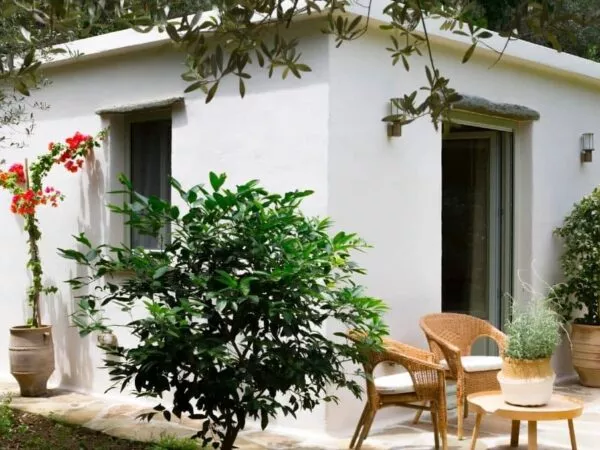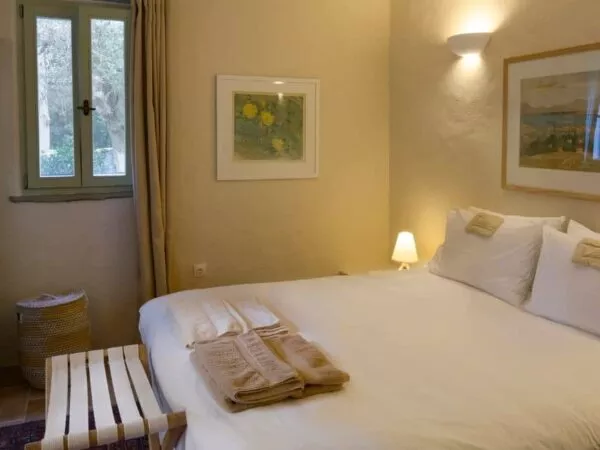 Crickets Room
2 guests
Private access
Private terrace
On your private patio in the evening, lie back and listen to the music of the insects that gave this room its name, before heading in for a restful sleep on your Egyptian cotton sheets. With its cool terracotta floors, pastel shades and touches of farmhouse chic, this room is a triumph of cosy countryside charm.
Swallows Suite
4 guests
Private access
Two-bedroom suite
A two-bedroom suite that's perfect for families, this room has a unique lilac-painted bathroom with stone features. Elsewhere, you'll find terracotta floors, antique furniture and a general sense of pared-down tranquility. Step from your king-size bed to the shady courtyard for a revitalising cup of coffee after a long and restful sleep.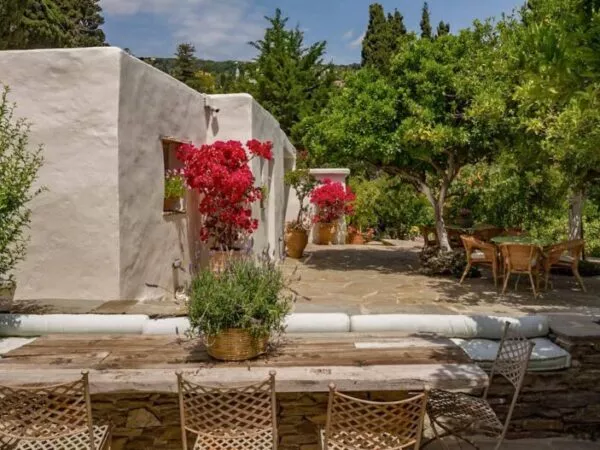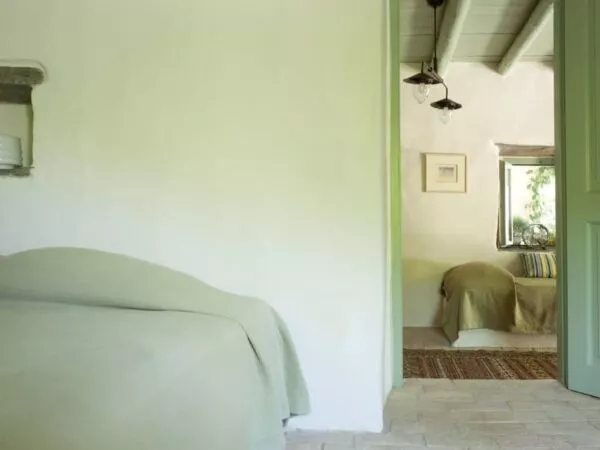 Taste the flavors
Dining at Ktima Lemonies
Breakfast at Ktima Lemonies is meant to be savoured. Taken on the peaceful terrace under the shade of the fruit trees, with the scent of blossom and bergamot filling the air, the setting is rather heavenly. Add to that a veritable banquet of home-made jams from the estate's own fruit trees, sticky cakes and tarts fresh from the oven, velvety Greek yoghurt and a full cheese board and you've got breakfast that's truly fit for a king. Although no other meals are served at Ktima Lemonies, guests are welcome to prepare a picnic lunch.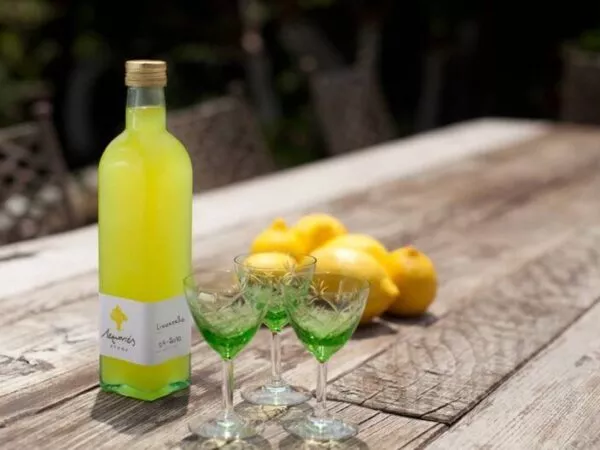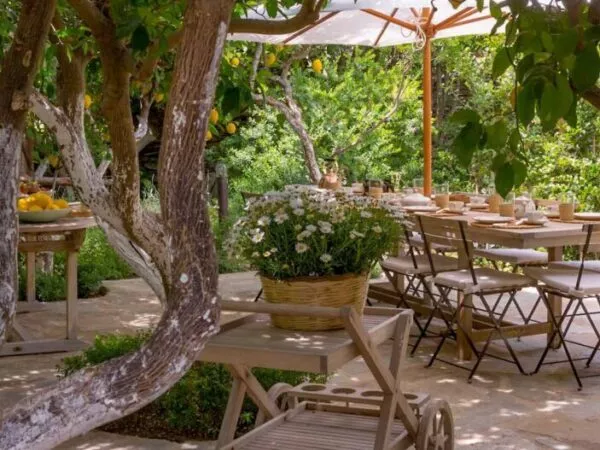 Focus on sustainability
Like the fig tree roots, the property is constantly addressing many sustainable tourism areas and excelling in most fields.
Ktima Lemonies is a sanctuary, where you can enjoy Mediterranean nature's peacefulness. Organic seasonal fruits, vegetables and herbs are cultivated. And the property produces its own organic olive oil and wine.
The guesthouse was built with local schist stone for the exterior walls while the interior is made of recycled bricks. Only eco–friendly plastering and painting are used. The guesthouse is mainly decorated with furniture from French flea markets.
For the operations, only eco-friendly solutions such as steam are used to clean the rooms. The Guesthouse recycle their waste, including the garden trimming that is composted
Moreover, eco-responsible activities are proposed to the guests: Hiking, bird watching, exploring wild beaches and traditional villages. But also cultural events such as local exhibitions and performances at the open-air theatre
Explore the location
Tucked away down a winding stone path, the hotel finds itself a little removed from the nearby town. Take a 5-minute drive to the quiet village of Lamyra and drift lazily down the old stone streets, marvelling at the churches and fine houses. The area around the hotel is ideal for long hikes and at Chora, Andros's capital, has plenty of beaches and attractions and is located only a few minutes away by car.