Villa Veneziano: A Luxurious Venetian Retreat Overlooking the Ionian Sea
Welcome to Villa Veneziano, a luxury retreat nestled on a hillside overlooking the stunning Ionian Sea. This magnificent villa was built in 2009 by Russian shipbroker Sergei Kauzov in memory of his wife, Christina Onassis. The villa is a testament to their love and embodies their passion for beauty, luxury, and design.
The villa's unique Venetian architecture is infused with elements of Byzantine design, creating a beautiful and elegant space that is both luxurious and functional. The villa comprises five exquisite suites, each decorated with exceptional style and attention to detail. With the capacity to accommodate up to 12 people, this is the perfect place for large groups of friends or families to relax and unwind in style.
As you step inside, you will be greeted by a spacious, inviting living area adorned with unique artwork and lighting. The dining room and kitchen are equally impressive, with ample cooking, dining, and entertaining space. The villa's patio resembles a beautiful monastery full of vibrant flowers and lush greenery where guests can unwind and enjoy a drink.
Large windows and an archway open onto the exterior spaces, offering panoramic views of the Ionian Sea and surrounding islands. The garden, with its BBQ area and beautiful pool house, is the perfect place to spend long summer days, while the shaded outdoor sitting areas offer a peaceful retreat from the sun.
The jewel in the crown of Villa Veneziano is undoubtedly the magnificent pavilion with its private infinity pool and Jacuzzi. Here, you can relax and rejuvenate while taking in the breathtaking views of the sea and surrounding islands.
The stunning hillside location and breathtaking views of the Ionian Sea 

Relaxing in the private infinity pool and jacuzzi

Exploring the beautifully landscaped garden

Enjoying luxury and functionality, with exceptional style and attention to detail evident in every aspect of the design.

The location is serene and tranquil while still providing convenient access to numerous fascinating nearby sites.

Hosting events and celebrations of all kinds, from social gatherings and ceremonies to corporate incentives and meetings
Rooms Overview
At Villa Veneziano, guests can choose from five exquisite luxury suites, each fully furnished and decorated with an exceptional, stylish design that emphasizes luxury and functionality. The suites are unique in style and character, yet all offer the same intimate feeling and luxurious amenities.
Each suite is designed with an elegant, modern aesthetic that seamlessly blends natural elements with traditional Venetian touches. The spacious and inviting living areas provide the perfect space for guests to relax and unwind, while large windows and archways open onto the exterior spaces, offering stunning views of the surrounding Ionian Sea.
Whether traveling with family or friends, Villa Veneziano's exquisite suites provide the perfect space to create unforgettable memories and experience the very best that Lefkada has to offer.
One-bedroom Suite(x5)
2 guests
One-bedroom suite
View into the countryside
View into the garden
View into the sea
Each suite boasts a comfortable king-size bed with soft, natural linens and a spacious en-suite bathroom with a shower and all necessary amenities, including a hairdryer and pool towels. Enjoy the garden view from the suite's windows while staying cool with individually controlled air conditioning and central heating.
Stay connected with free Wi-Fi internet access and stay entertained with cable-satellite TV and a flat-screen TV. With elegant design and comfortable furnishings, the suites at Villa Veneziano create a tranquil and sophisticated ambiance that you will adore.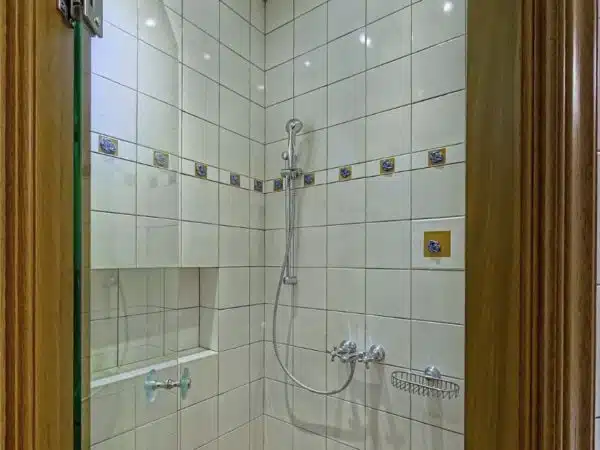 Taste the flavors
Breakfast
Start your day at Villa Veneziano with a delicious breakfast served a la carte. Savor fresh, locally-sourced ingredients while enjoying the stunning views of the Ionian Sea and Skorpios island. If you prefer to cook your own breakfast, the beautiful spacious kitchen is at your disposal. Whip up a tasty meal using the freshest ingredients and create a breakfast that suits your personal taste. Whether you choose to enjoy a leisurely breakfast on the patio or in the comfortable dining room, Villa Veneziano ensures that your day will start off on the right foot.
Chef on demand
Experience the ultimate culinary journey with the "Chef on demand" option at Villa Veneziano. The chef will cater to your every culinary desire, crafting delicious meals that will satisfy even the most discerning of palates. Indulge in the freshest and highest quality ingredients sourced from local markets and prepared with an expert touch. Whether you are in the mood for a classic Greek dish, a Mediterranean delight, or an international fusion creation, the chef will tailor a menu to suit your preferences. Savor your meal al fresco on the patio, with a glass of wine and stunning sea views as the perfect accompaniment.
Citrus, the fruit of Promise, indicates that the property is noticeably eco-conscious as many areas of sustainability are addressed.
Explore the location
The island of Lefkada is a paradise for those who love to explore and indulge in outdoor activities. From beautiful beaches to mountain trails, there is something for everyone. Just a few minutes away from Villa Veneziano, you will find the popular village and marina of Nydri. Take a stroll along the charming promenade or enjoy a cup of coffee while watching the yachts come and go. You can also take a boat tour to the neighboring islands of Meganissi, Kalamos, and Kastos, or even rent your own boat and explore the coastline at your leisure.
For those seeking adventure, there are plenty of water sports available such as windsurfing, kiteboarding, and snorkeling. The west coast of Lefkada is famous for its picturesque beaches with crystal-clear waters, such as Porto Katsiki, Egremni, and Kathisma. Hike to the top of Mount Stavrota for a breathtaking panoramic view of the island, or visit the picturesque traditional villages of Karya, Sfakiotes, and Eglouvi.
After a long day of exploring, return to the peaceful sanctuary of Villa Veneziano and unwind with a refreshing drink on the patio or take a dip in the infinity pool while enjoying the stunning views of the Ionian Sea. Whether you prefer adventure or relaxation, the location of Villa Veneziano offers the perfect balance for a memorable vacation on the beautiful island of Lefkada.