For such a small island, Djerba takes you on a journey of dreams, authenticity and enjoyment. Djerba is one of the first tourists' destinations in Tunisia and the Djerbeya, as we call the locals, always welcome them with an open heart. They continuously find new ways to get a taste of the authenticity and charm of their land away from the hustle of the tourist spots.
We asked Dorsaf, a local about the ideal day on the island: follow our insider guide to Djerba to explore the island like a local.
Things to do in Houmet Souk
After watching the beautiful colours of the sunrise over the beach, head to Djerba's Marketplace in the old town. There are many things to do in Houmet Souk, you can spend shopping and walk around the narrow whitewashed streets. Before buying anything we would recommend that you watch the locals bargain over home-grown products like pottery, handmade rugs and Qoffas traditional hand-woven baskets. 
Once you are there stop by Patisserie Mhirsi to grab a coffee and a millefeuille. You can also act very local and buy a Khobza, a sort of big baguette, as no proper Tunisian meal can happen without bread serving. Then make a detour to Zanguet El Fan, a lesser-known street in Houmet Souk where local artists and painters have been sharing their talent, the walls in the street contain calligraphy, paintings and Graffiti.
When it's lunchtime, while we are in Houmet Essouk, we love having lunch at El Fondouk, in the old town,  for its amazing architecture combining traditional, historic and modern features. We usually order a couscous Bel kadid and take time to walk through the space to discover details of traditional architecture or the ongoing art exhibition.
If you are in a hurry grab a bite in Restaurant Elbo5, a popular restaurant in Djerba that makes the best Ojja Merguez – A tomato sauce-based dish with eggs and Merguez, Tunisian sausages -, make sure to get Harissa dipped in olive oil as an appetizer.
Do not get too full yet; the journey of making your stomach happy is never over in Djerba. From there, you can go to Stellina for gelato, or buy some traditional sweets from Patisserie Masmoudi.
Insider guide to Djerba Hood
Later in the afternoon head to Erriadh village, in the centre of the island where Muslim and Jewish communities, live in complete harmony and simplicity – as Djerba is the largest Jewish enclave in the region. In the Jewish quarter Hara Sghira, you can distinguish Jewish houses with the Fish "Houta" in front of their doors, but the architecture is fairly the same as in the old town.
Stroll around Djerba Hood, as the old streets were brought back to life with a mesmerising piece of street art. Then walk through the street food of Hara Kbira. You have to try a hot Brika from Brik El Hara Ishak a street food spot that has a unique way to prepare these Tunisian fried dumplings.
Stroll around Djerbahood, as the old streets were brough back to life with mesmerizing piece of street art.
Continue you walk until you reach Synagogue Ghriba. This is the oldest synagogue in Africa and the Jewish destination for pilgrimage. When your step foot, the harmony of the designs, the earthenware decorated walls and the local touch put into it will astound you. You can find a guide in the synagogue to tell you more about the history of this place and the traditions and customs of Jewish families in Djerba.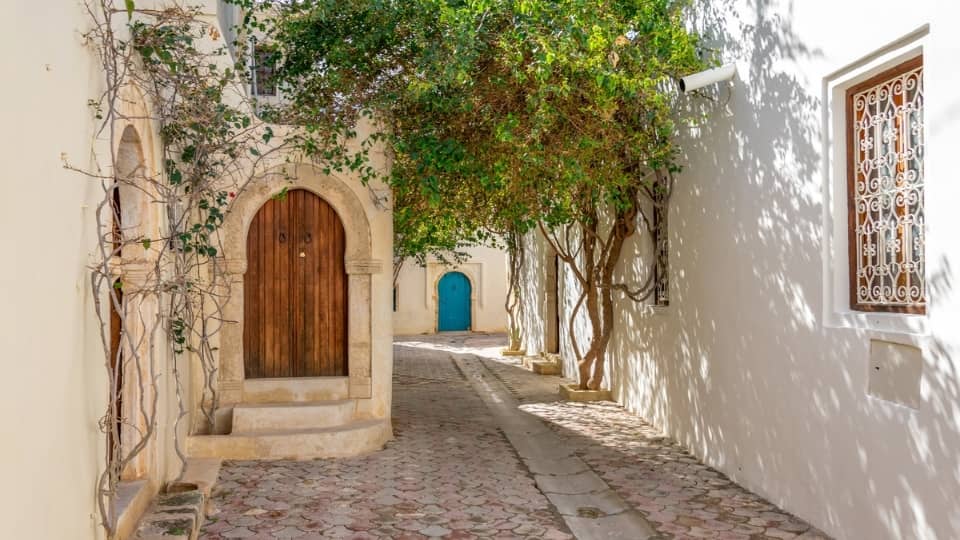 Island life by the sunset
When you ask locals what is your favourite thing about Djerba, they will say golden hours! And the best place to be at in that time is Sidi Yeti Beach. You can watch kids jumping off the bridge and flamingos dancing around in a grand spectacle while the colours of the sky are gradually changing as the sun is kissing the ocean. It is a true treat to the eye and heart.
During the night, Djerba reveals its vivid and fun side by its beach parties and nightclubs. If you are up for nice traditional soirees or vibrant modern nights, hit Cyclone where you can dance along with mainstream music, drink refreshing cocktails and eat delicious food.