As Marketing Director of Grupo Hotel Pulitzer, Laura Salvador is an integral part of the Pulitzer family. Committed to the hotel's values and vision, she describes why it is essential to sustain a soulful and homey atmosphere while seamlessly integrating with the essence of the city in which it resides.
Meet Laura Salvador, the Marketing Director of Grupo Pulitzer Hotels. Laura is from Catalonia Spain, born and raised in Barcelona. This eclectic city has provided her with first-hand knowledge of how a city vibe can translate into a hotel experience where guests can feel at home in the place they are visiting.
"The Pulitzer Barcelona is a stone's throw from Plaza Catalunya; it shares and reflects the attitude of the city and is surrounded by the best cultural attractions."
Speaking with Laura, it is easy to hear the enthusiasm and knowledge that goes into the branding and positioning of the hotels. With Pulitzer hotels in Barcelona, Paris and Buenos Aires, each city is unique, but the heart and ethos of the brand remain consistent. Grupo Pulitzer assesses everything to match what you want when travelling – from the hotel location to the finer details in each room to the staff interaction and spaces throughout the property.
Creating a place where you want to be
From healthy and local slow food to music that creates a mood, Laura believes a boutique hotel has charm and personality that can't be found in other standard hotels. Every day should be special, yet you should be able to expect a rhythm and routine that puts you at ease and makes you feel at home. Pulitzer Hotels pride themselves on always greeting guests with a smile, calling them by their name and speaking their language.
"Everything in Grupo Pulitzer has its own charm and personality; for us, it's crucial to create spaces where people want to be."
The unique spaces throughout the hotels reflect how important it is for them to create places where you want to spend time with family, friends, and colleagues. From their rooftop terraces and restaurants to comfortable lounges and cafes, Pulitzer makes sure that the best morning light accompanies good coffee, and that great music enhances the scene.
"Far from being a collection of rooms, the Pulitzer is a place with a pulse, where there are always things happening."
How the #PulitzerCommitment guides the brand's sustainability
Grupo Pulitzer believes that simply existing is not enough but that we all must commit to thoughtfully engaging with everyone and everything around us, including our planet. The Pulitzer Commitment is a motto guiding the brand throughout everything they do to ensure they plan for the future and remain sustainable.
"We needed to engage, in a very real way, with our people, with our city, and – why not – with our planet"
The hotel group focuses on health, sustainability, recycling, and social action. Laura believes hotels should not only be sustainable establishments – although this is critical – they also must promote health and quality of life, including improving guests' well-being. The Hotel Pulitzer Barcelona has held the Biosphere Responsible Tourism certification since 2015 and is the first hotel in the world to have achieved Healthia Certification, which identifies hotels that offer their guests the opportunity to eat a healthy and balanced diet throughout their entire stay.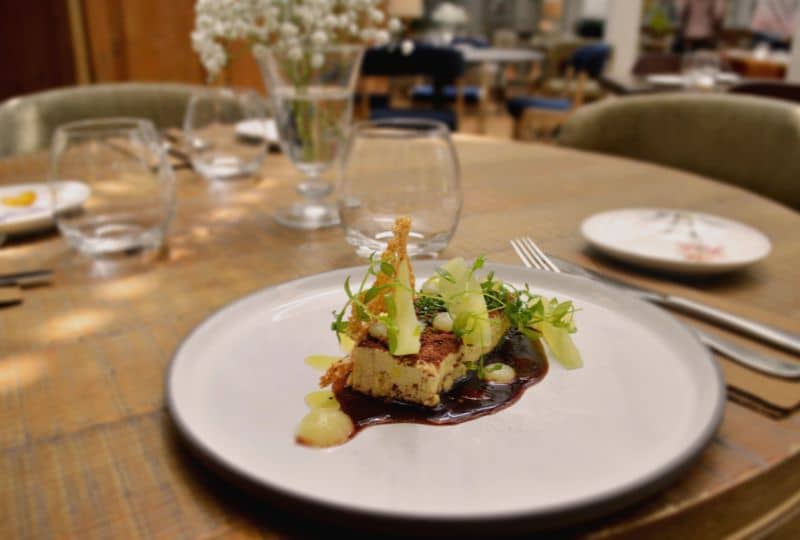 Furthermore, in January 2017, the Pulitzer was chosen as one of the Top 10 best hotel sustainability and rehabilitation projects in Spain, seeing off competition from more than 80 candidates.
These sustainable achievements do not stop at the Pulitzer hotel doors. Through collaborations with NGOs and institutions such as the Doctor Clavel Foundation, the Sant Joan de Déu social project, the Esperança Foundation, the Spanish Cancer Association, and others, they support the planet and disenfranchised groups as much as possible.
How does Laura's travel style fit with the Pulitzer vibe?
When we asked Laura what her ideal hotel stay would be like, it might be no surprise that she'd like to stay in a boutique hotel with a group of close family members and friends.
She mentions a mix of cultural attractions and leisure, a slow-food experience balanced with wellness services such as yoga or massages and a touch of nature.
"A stay where I can feel relaxed but at the same time can discover the place as a local."
Laura is acutely aware that unique experiences make the memories of a trip stand out. Intimate touches such as local art and music, a good drink created by a friendly bartender, or a cosy place to relax after a day of exploring, are the quintessence of a boutique hotel and travelling. As Laura describes:
"At the end, a place where I can Feel Alive."
What is the best moment of the day?
Breakfast with my chai latte
Where are you dreaming to go next?
Marrakech
What makes you smile? / What makes you happy?
The sea
Where do you get your energy from?
People, family