Brimming with baffling architecture, light-filled interiors, mouth-watering cuisine and eye-catching art, Hotel Pulitzer Barcelona is something seriously special. Nestled in the beating heart of the bustling city, this boutique hotel in Barcelona is home to an inundating inventory of idyllic opportunities, pinning it as one of the city's most scintillating sojourns.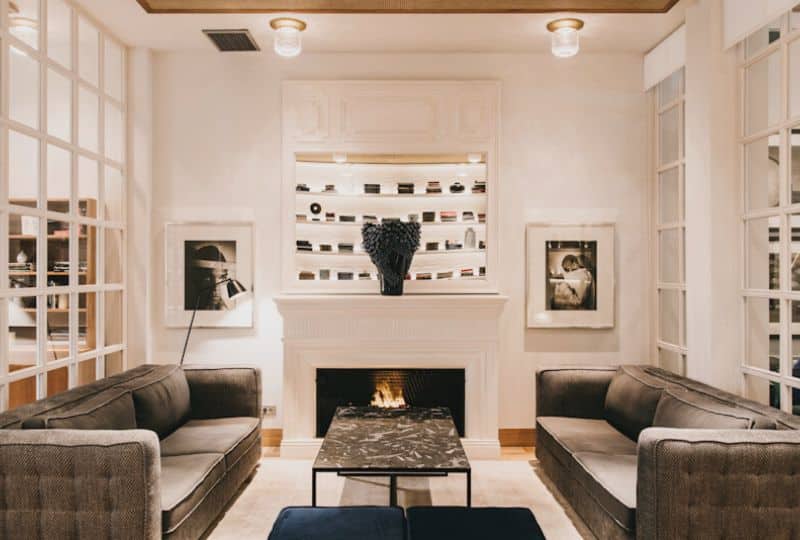 Crowned with a captivating contemporary design and friendly faces, Hotel Pulitzer Barcelona is topped by its delectable gastronomy scene, buzzing rooftop terrace and stellar commitment to sustainability. Culture vultures, art enthusiasts, music lovers and environmentally conscious travellers, this is a gem worth tuning in for. Here are 8 Reasons to Stay at this beautiful boutique hotel in Barcelona. 
Reason #1: Jam it out to live music on the Pulitzer Terrace 
Cemented with bold furniture, eye-catching design and a verdant plant scene, every nook and cranny of the Pulitzer Terrace is full of character. With a wealth of international and local DJs, as well as live musicians and funk groups gracing the scene, visitors can expect veritable fun and good vibes. 
Foodies, there's no need to fear – Hotel Pulitzer Barcelona is brimming with alluring appetisers, mouth-watering burgers and delicious desserts sure to keep you satisfied. Test your taste buds with the chargrilled banana, dip the slow-cooked ribs in fresh chipotle sauce and try out the delectable lemon pie. 
From May to October, the Hotel Pulitzer Barcelona hosts groovy beats every night of the week. Mondays and Tuesdays are the more casual, laid-back nights, with playlists carefully compiled but the hotel's specialist music consultant. Wednesdays host independent artists and live concerts, featuring some of Barcelona's best electronic, funk and pop grounds. 
Thursday through to Sunday sees scintillating DJs sprawl the scene, offering up nifty beats sure to keep you on your feet. Unwind with an Aperol Spritz, listen to the melodies and soak up all the scenery! 
Reason #2: Step outside the hotel right into the heart of the Barcelona 
Sitting on the cusp of the famous Las Ramblas and Paseo de Gracia, this unique boutique hotel in Barcelona is surrounded by idyllic gems all around. Stroll down to Gaudi's Casa Batllo and Casa Mila, grab a fresh snack at the Mercado de la Boqueria, get lost in the cobblestone streets of the Gothic Quarter and bask in a day at Barceloneta beach.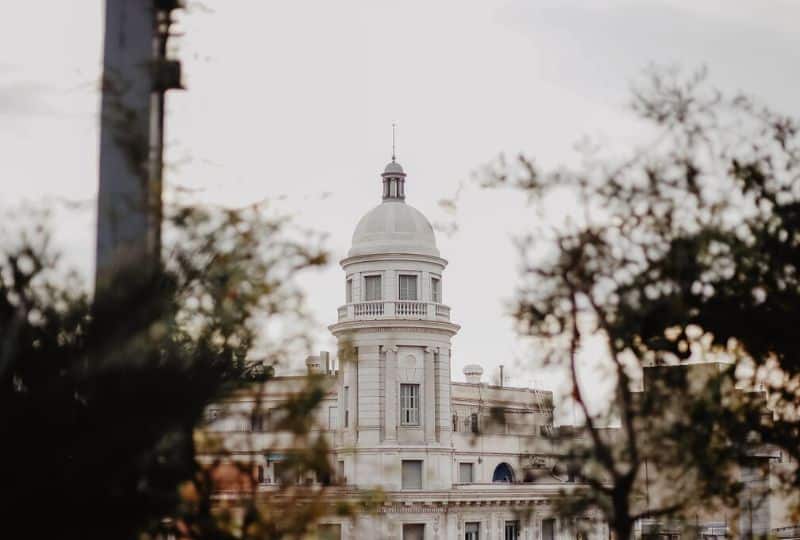 A day out on the town couldn't be easier, thanks to the central location and teeming transport network. Ask a staff member for their tips on taking the metro, bus, train and tram. 
Reason #3: Admire the sustainability that's ingrained in its roots 
Hotel Pulitzer Barcelona places a strong emphasis on sustainability, action, recycling and overall well-being. With a Responsible Tourism Certificate, this boutique hotel in Barcelona goes above and beyond to live up to its name. 
Single-use plastics don't hold any place on the premises and sustainable technology (solar panels, LED lights, etc.) is prioritised. Alongside waste reduction, eco-friendly products and working hand in hand with the local community, Hotel Pulitzer Barcelona frames the perfect foray for any environmentally-conscious traveller. 
Reason #4: Indulge in an in-room massage 
Yes, you read that right. Mind-boggling massages, all from the comfort of your suite. Take your vacation to the next level and choose between a deep tissue massage or a traditional, therapeutic massage. 
This special boutique hotel in Barcelona understands the importance of well-being, and that's why they offer massages to liberate yourself from unwanted stress. This boutique hotel values health, additionally offering yoga classes and personal trainers for those who are interested.  
Reason #5: Eat organic at the Greenhouse Restaurant 
Replete with a rich Mediterranean flair, Hotel Pulitzer Barcelona carries the same charismatic vibes all the way into their Greenhouse Restaurant. With a wealth of freshly-picked, organic ingredients making up the majority of the dishes, it's safe to say that the fusion of flavours is off the charts. 
Visitors can expect vibrantly-coloured, palatable plates that are pieced together by Catalonia's most coveted chefs. Kick back in this plant-filled piece of paradise, taste the flavours of the past with some heirloom vegetables, enjoy a fresh catch of fish and put the cherry on top by pairing it with a Catalonian wine. 
Enjoy Hotel Pulitzer Barcelona's classic Spanish Menu del dia – a three-course meal that is sure to delight. Take your pick between five different entrées, a main dish and a dessert. Each week, the menu is adapted according to seasonal and market availability. It doesn't get much fresher than this! 
Reason #6: Delight in the sleek design and modern features 
Carved with contemporary design, plant-fringed features and quirky details, this boutique hotel is a mecca for the ultimate Barcelona experience. The idyllic interior effortlessly interplays with the bustling exterior, falling into sync with the city's vibrant rhythm. 
Hotel Pulitzer Barcelona harbours an eccentric curation of ceramic tiles, rich leather, earthy wood and lush shrubs, and don't forget to peek out the curtain-draped windows for some stellar city views. 
Feel the effortless flow from the green-graced, garden-like restaurant and vibrant rooftop terrace, and pour into the pristine comfort and contemporary design of your sleek suite. 
Reason #7: Get access to one of the city's most exclusive gyms 
If you want to sprinkle a bit of movement into your vacation in Barcelona, then this boutique hotel in Barcelona has all the answers. With access to Holmes Place Fitness Centre, you can enjoy a sweat-fuelled morning sure to set your serotonin levels on fire. Break a sweat in the fitness area, try out a new sport, do some laps in the swimming pool, relax in the jacuzzi and wind down in the sauna. 
Reason #8: Kick your day off on the right foot with a buffet breakfast at Hotel Pulitzer Barcelona
There's no better way to begin your day than by fueling up at the colourful breakfast bar. This exceptional boutique hotel in Barcelona hosts a wide expanse of goodies, and there's seriously something to satisfy every type of food lover.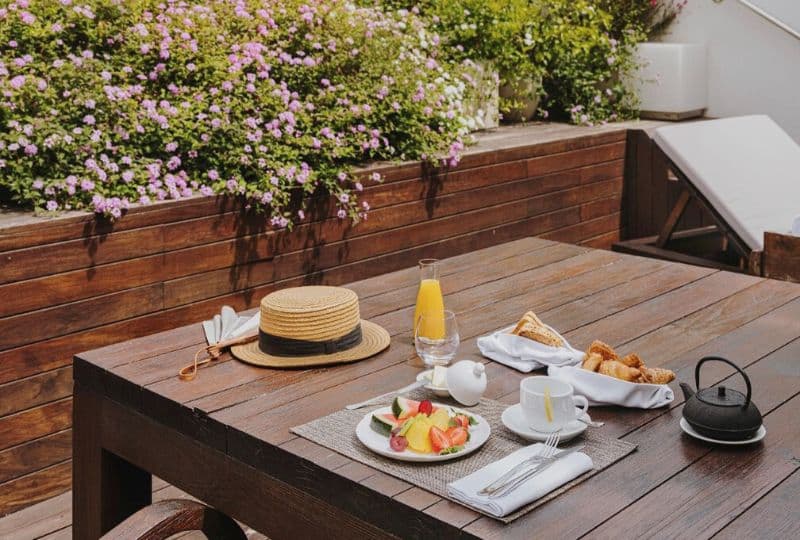 For a taste on the more traditional side, enjoy the selection of Spanish cured meats and cheeses, a classic bocadillo, or even granola with yoghurt. Appease your taste buds with some freshly made quiche or omelette, a sandwich, or even pair a poached egg with some avocado and salmon.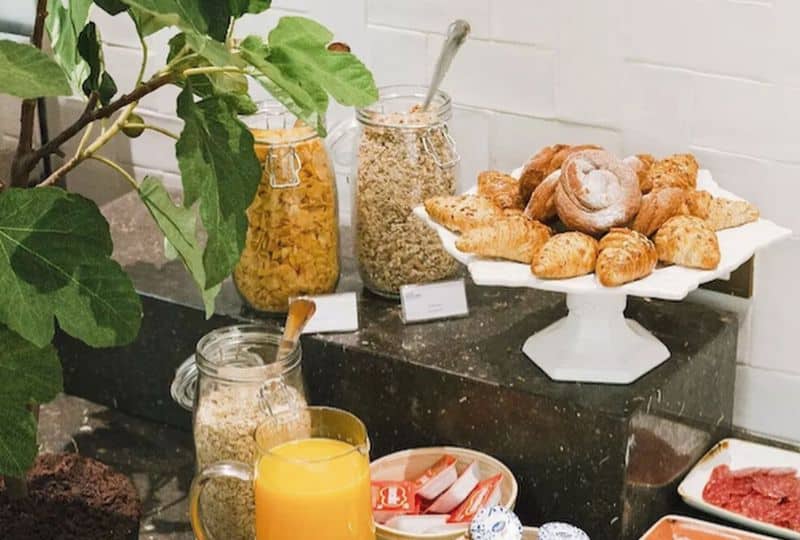 Top off the experience with freshly squeezed juice and a frothy cappuccino, or warm up in the cooler months with an organic tea. 
Hotel Pulitzer Barcelona boasts a blend of Catalan architectural features, contemporary touches, mouth-watering cuisine and appealing art. The sheer combination of this idyllic inventory creates an experience like no other, and it's guaranteed to leave guests crawling back for more.