In a country whose famous seaside towns are often heaving with tourists, Sibenik is truly one of Croatia's hidden gems. Perched unassumingly alongside a vibrant azure bay, this charming harbour town is a treasure trove of delightful surprises. Follow our recommendations of the best things to do in Sibenik and make the most of your trip to Croatia. 
Explore the old town

The old town of Sibenik reveals itself along rambling Venetian alleyways and meandering stone staircases, which open up to picturesque squares and flower-adorned street corners. Crowned by no less than four ancient fortresses, the old town is flanked by the historical symbols of its tumultuous past. Yet despite its long century-spanning story, this is a city in which to discover a burgeoning fine–dining scene, buzzing nightlife and, a little out of town, some unforgettable landscapes.
Discover St. Lawrence monastery's Medieval Garden
After an impressive restoration project by renowned landscape architect Dragutin Kiš, the St. Lawrence monastery's Medieval Garden re-opened in 2007. This is a beautiful place in which to spend a quiet morning wandering the immaculate pathways, appreciating the cocktail of scents from lush flowerbeds and patches filled with medicinal plants. Head down for your morning coffee at the garden's café and you'll find yourself feeling utterly at peace for a day of wandering.   
Savour
 Adriatic cuisine
 in some of the best restaurants in Croatia
Sibenik showcase some of the best restaurants in Croatia. With both a dazzling array of fresh fish and seafood and regional delicacies such as white truffles and mouth-watering sheep's cheeses, the local cuisine is intriguingly delicious. Restaurant Tinel is an endearing spot and a firm favourite for all occasions, from date nights to group dinners. 
There's an elevated terrace framed with plants and elegant white umbrellas and the menu consists of rustic local fare. Centring mainly around fish and seafood, neither the aromatic truffle pasta nor the fried baby calamari is to be missed, so it's best to go with a friend or two, so you can share some dishes. 
For an exquisite evening, visit the hushed luxury of Peligrini, twice voted the best restaurant in Dalmatia. The chef proudly sources his ingredients from the abundant local terroir and ekes out every nuance of flavour from even the humblest of produce. Located in a majestic stone building, you can watch the magic happen in the open kitchen or sit outside on the terrace overlooking the city as you inhale the scent of a complex Croatian red and sample Dalmatian delights from Peligrini's signature delicately coloured plates.  
V
isit Krka National Park

Experience the replenishing power of nature Set off early one morning for a visit to Krka National Park. Similar but not nearly as crowded as the Plitvice National Park near Zagreb, this natural wonder features rippling silver lakes and thundering waterfalls in a lush paradisiacal setting. Dive into the Skradinski Buk lagoon, home to 17 glittering waterfalls and spend an afternoon floating happily in the sun.
If it's too cold for swimming, take a boat trip along the river and you can spot the 16th–century Visovac monastery, set on its very own island. The National Park spans about 35km and there are lots of trekking and hiking trails from which to spot wondrous flora and fauna – the latter including wolves and golden eagles.  
Visit
Cathedral of St James,
 stunning representation of Croatian history
A trip to Sibenik wouldn't be complete without a look at the Cathedral of St James, whose golden cupula dominates the city's skyline. A masterpiece in Renaissance and Gothic architecture, the church took 100 years to complete. Something of a structural miracle, the building was constructed exclusively from stone – no wood, nails or bonding components were used – and it has withstood an earthquake as well as considerable shelling from Serbian troops in the late 1980s (although it did require some restoration in 1991).
The most interesting aspect of the Cathedral of St James is on the façade, where the heads of 71 ordinary citizens carved in stone sit gracefully, looking down at the passers–by below.  
Enjoy the seaside
One of Sibenik's best features is its coastal location. As well as the small but beautifully formed Banj beach, which is right in town, you can venture 10km away to the peaceful, pebbled Zaboric beach, which is divided into three sections. Here, rent a pedalo and spend a highly enjoyable afternoon drifting atop the crystal-clear waters. 
Get the best of
Sibenik
 nightlife 
Begin your exploration of the town with a late afternoon at Krešimir IV wine bar. A triple threat comprising a beautiful terrace overlooking the sea, a fun and cosy atmosphere often punctuated with music from live bands and a fabulous selection of supremely underrated Croatian wines, this is an ideal spot in which to get a feel for the town. The bar's walls are often lined with artwork courtesy of local artists and as well as the wine they also serve excellent coffee and a host of Croatian craft beers. In short, this is a pretty cool place to spend an afternoon gazing down at the harbour below as the walls of the St. Francis Monastery tower impressively behind you.  
Later, head to Vintage Bar, a local favourite where an effervescent crew of mixologists serve classic and contemporary cocktails. There's an adorable terrace lined with blue and white chairs, which fills up every evening with a crowd of revellers, chatting and laughing over one of the bar's fantastic Negronis.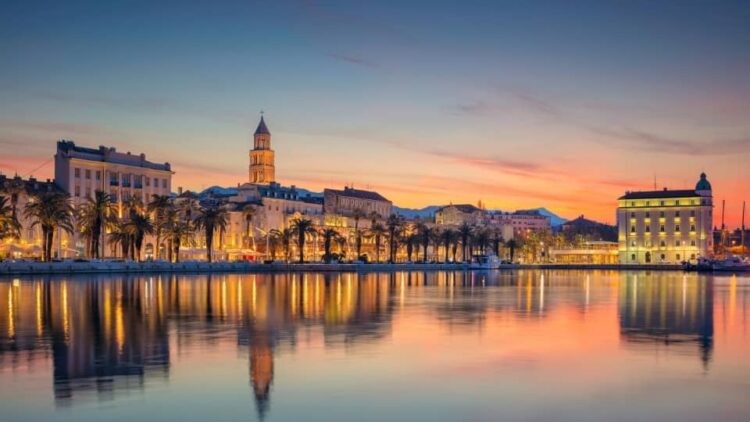 Arriving in Sibenik, you feel a hint of promise shimmering in the air. The peaceful walls of the old town stand proudly, steeped in centuries of fascinating history and the topaz waters of the Adriatic lap quietly at the shore. Yet this city is alive with innovation and beauty, every corner revealing something new, something exciting, something to remember… 
Discover our selection of boutique hotels to stay in Croatia and the old town of Sibenik