An elegant country filled with contrasts, Malta will draw you in and entice all your senses with spectacular views, delicious food and intriguing history. Spend days basking on hidden sandy beaches, afternoons wandering vibrant narrow streets and evenings sipping premium cocktails overlooking the Mediterranean Sea.
One could spend a lifetime looking at architectural marvels, discovering cafe's tucked amongst Valletta's labyrinth of streets and exploring the stunning underwater world just off the island's coast. Yet, it takes some local knowledge to reveal the best of the island. With our insider guide to Malta, you'll soon realise the depths of possibilities in this small archipelago.
Taste
If you're getting ready for a trip to Malta, be prepared to face temptation after temptation. Food is a huge part of Maltese culture, and it's nearly impossible to pass up the incredible smells coming out of every kitchen. Maltese bread is especially a local favourite, with a flavourful crunchy crust on the outside and the softest white bread on the inside. It makes the perfect companion for the famous stuffat tal-fenek, a traditional rabbit stew.
An ideal spot to sample the many distinctive Maltese foods is at the Farmer's Lunch restaurant located in the peaceful gardens of the Limestone Heritage. Indulge in homemade pasta, sample the smooth Maltese gbejna cheese and try one of the many rabbit dishes before roaming around the limestone temples dotted around the gardens.
Later, head into the ancient walled city of Mdina where you'll find Coogi's. As you sit in the quaint courtyard fit for a fairy tale, it's easy to forget the outside world exists. Grapevines act as a ceiling, and wind chimes sway in the soft breeze providing the perfect ambience to enjoy a hearty lunch.
Sip
A favourite pastime of many locals is enjoying a cold Cisk Lager in the afternoon sun. Since 1929, Cisk has been well-loved by residents of the island for its drinkability and refreshing flavours. While it's illegal to drink on the beach, you'll find Cisk Lager at every restaurant and bar. To sample one in style, head to Hugo's Terrace rooftop bar. Overlooking St George's bay and the surrounding skyline, locals and tourists alike come here to enjoy a relaxing afternoon drink and embrace its vibrant atmosphere well into the night.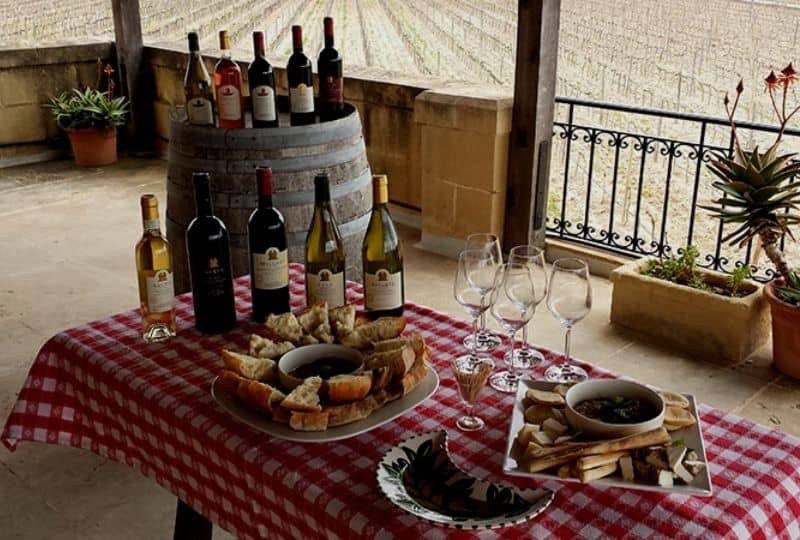 If you prefer wine, you're not out of luck. Deemed the world's smallest winemaking country, Malta is surprisingly packed full of outstanding wine. One of the best comes from Meridiana Wine Estate, built on a second world war airfield. Stop by on a sunny afternoon and soak in the views as you sip some of Malta's finest wines. Try their Fenici Rose on a hot summer day, which boasts strawberry and cherry aromas.
Explore
While Malta's total area expands only 316 square kilometres (122 square miles), there are more than enough unique parts of the island to keep you busy. From fascinating museums and remnants of World War II to rugged coastlines, there is something for everyone.
For a dip into the rich history of Malta, visit the Casa Rocca Piccola museum in Valletta. This privately owned palazzo was originally built for a Knight of Malta and is now home to the de Piro Family, who happily opens their door for viewing. Next, head below the city to the Lascaris War Rooms. Once the island's HQ of the second world war, tunnels and chambers are now open to the public and wandering the labyrinth of tunnels is a must for any history buff.
Those who prefer to stick to modern times can take to the water to see Malta from a new angle. Hop aboard a water taxi in Valletta and head to the Three Cities (Birgu, Senglea and Cospicua). Costing only two euros, compared to around 15 euros for a tourist harbour cruise, it's a great way to mingle with locals and take in the grandeur of Valletta at the same time.
Shop
For a small island, Malta is bursting with unique shops, malls and markets. Whether you're a casual buyer of handicrafts or are looking for the latest fashion trend, you'll have no problem finding yourself the perfect item. Located in the middle of Valletta is Savoy Shopping Arcade, which is filled to the brim with Maltese designer boutique shops. Wander the brightly lit stores showcasing exclusive dresses, handmade footwear and intricate jewellery.
If you're on the hunt for local souvenirs and artefacts, head to Ta'Qali Crafts Village. Located in a former wartime airfield, you can wander around for hours watching glassblowing, goldsmiths crafting beautiful jewellery and artists creating their next masterpiece. When hunger strikes, stop for a bite at a local food stall and watch the many shoppers meander by. If you happen to be in Valletta on Sunday, take a walk through the Valletta Sunday Market, which sells everything from handmade table cloths to restored antiques.
Party
As the sun sets over Malta, once quiet rooftops come to life with live tunes and happy Mediterranean chatter. The capital of Valletta is split by three main streets (Republic, Merchant and Strait Street), each with its distinctive party atmosphere.
Strait Street is particularly a favourite amongst locals, known for its deep-rooted history as a party street when British sailors would bar-hop down to the Gut (Strait Street). For wine lovers, Trabuxu is located in a 400-year old stone vaulted cellar and offers an endless list of wines. After, head to Bridge Bar and dance the night away to live jazz with incredible views of Grand Harbour.
For an ultimate night of fun, head to the neighbouring island of Gozo. Home to La Grotta, one of the most unique nightclubs in Malta. Built into a natural cave with indoor and outdoor dance floors, time seems to vanish, and before you know it, daylight appears over the horizon.
Chill
The beach is never far away when you're visiting Malta. The options are endless for finding your small slice of paradise to roll out your towel and let the Mediterranean sun warm your skin. If you fancy a short boat ride, hop on the ferry to Comino island, famed for its Blue Lagoon. Tourists and locals alike flock to the crystal clear turquoise waters, but head to one of the many other sandy beaches dotted around the island, and you'll be greeted by only a handful of other keen beachgoers.
Further afield, on the West coast of Malta, is the secluded Ġnejna Bay. While it's the go-to beach for those living in the nearby village of Mġarr, it's rare to spot other tourists at this hidden gem. Surrounded by scree slopes, featuring shallow waters and home to just enough food kiosks to keep your stomach from grumbling, it's the ideal place to settle in for an afternoon of pure relaxation. If you've rented a car, keep an eye out for other hidden beaches along the coast. You'll never regret pulling over for a quick meander; you might just find your next favourite spot to chill.
Stay
With Malta's small size, no matter where you stay, you'll have relatively easy access to the island's different marvels. Mosta, in northern Malta, is home to incredible views and gives you access to all the amenities without being in the heart of the bustling capital city. Or, for a peaceful stay in pure paradise, Qala on Gozo Island is as charming as it gets. Either way, a boutique hotel in Malta is the perfect way to immerse yourself in the fascinating culture ever so apparent in this tiny archipelago.