Passion and perseverance held close at heart
As Manager of the Hotel Pulitzer Paris, Gabriel Petcou studied in both Belgium and Romania, before moving onwards to the 9th district of Paris, France. He began observing, learning and working his way up to higher positions, before scoring a role as Deputy Manager in the boutique hotel. As a true testimony to his eclectic efforts and indisputable dedication to service, he was further promoted to Hotel Manager.
''We do our best to accompany the guest, surprise them, make them feel at home and prepare their stay the best way possible.''
Thanks to his array of experience in the Parisian hotel field, Gabriel Petcou has a rich tapestry of insider knowledge and local tips that can take any great vacation to the next level. He's found a way to integrate all the highlights and hot spots, but with a more local twist.
With an emphasis on ameliorating an authentic experience both inside and outside the hotel, Pulitzer Paris is entrenched with welcoming faces, just to have you feeling right at home. The staff go above and beyond to tend to your needs so that your travels are nothing short of eminently effortless.
Punctilious, personalised service that sheds a ray of light on the Pulitzer
As an integral part of Hotel Pulitzer Paris, Gabriel Petcou works tirelessly to meld Mediterranean hospitality, lavish living and impeccably individualised experiences sure to spark the desire within.
''Our aim is to personalise the experience so that our guests enjoy all our common spaces and to recommend unique places in the city to experience them like a local. We are committed to the traveller.''
One of the things that set this boutique hotel aside from the rest is the inextricable emphasis on creating and fostering an innovative space.
With charm and character fringing both private suites and shared spaces, Hotel Pulitzer Paris works towards cultivating a peaceful respite where guests can feel at ease. From the dazzling design to the indoor garden, everything is precisely manoeuvred to generate an all-enticing ambience.
Salient and sumptuous details sure to kindle a reaction
This 19th-century edifice is deeply rooted in the replete history of Paris, and it's managed to retain elegant details and subtle finishes that still tell the tales of time. Nestled in the heart of the city, fairly close to the Grands Boulevards, this boutique hotel offers an artistic respite away from the hustle and bustle.
Gabriel points out that the patio in particular is a stellar spot to rewind after a day out sightseeing. The surrounding district proffers a proverbial stitch in time, so exploring the perplexing panoply of options couldn't be any easier, especially with the help of Gabriel and his friendly staff.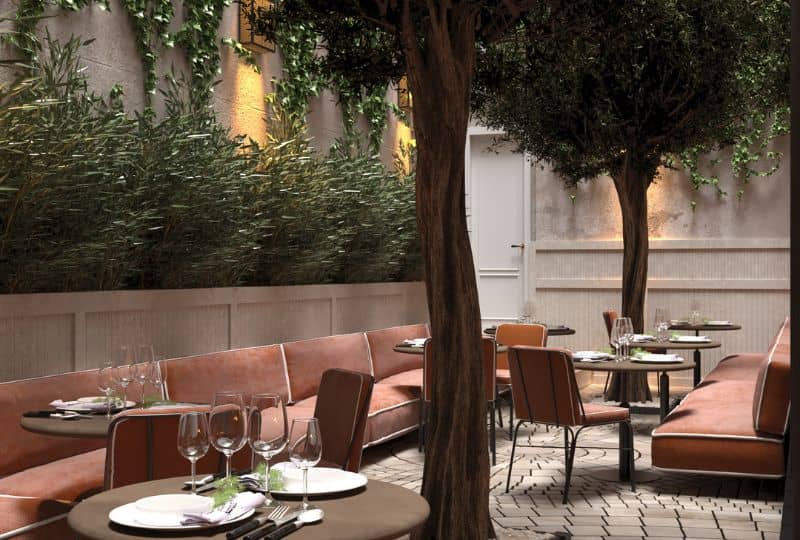 Whether you're looking for transfers to the airport, activities for families, tickets to museums, or to simply bask in a Parisian breakfast from the comfort of your hotel room, Gabriel assures that this boutique hotel has got you covered.
''Our lovely 44 rooms have the Parisian charm while being very comfortable and adapted to any kind of visitor (business trip, family, couple).''
The attention to detail is further highlighted in the hotel's delightful culinary scene. Gabriel makes note of the exquisite expanse on offer, stating it as one of the best ways to take a deeper dive into the local culture.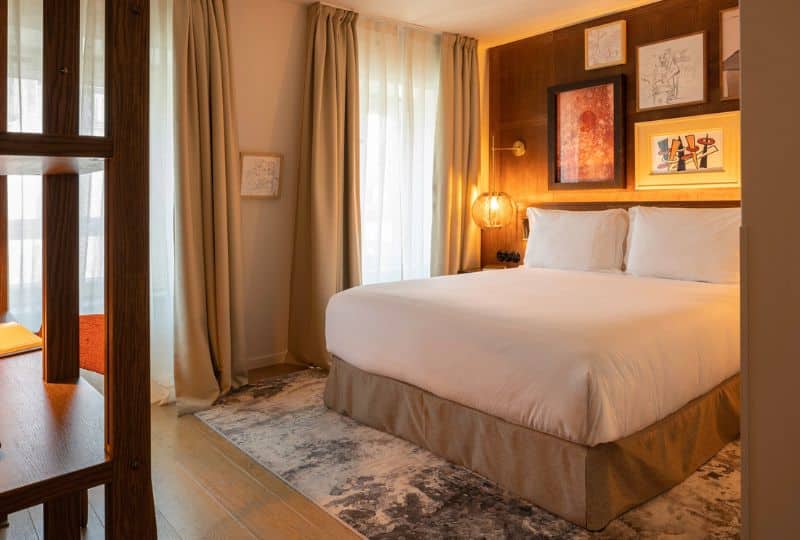 From the freshly-picked, seasonal vegetables, to the Mediterranean fish and top-quality meat, every last ingredient has been thought out in detail. Created by gastronomy-intrigued connoisseurs, the Pulitzer boasts a delectable fusion of French and Catalan-Spanish cuisine. There is no doubt that guests are guaranteed palatable plates sure to satisfy their taste buds. Gabriel's personal pick? The cheesecake!
How does Gabriel's travel style fit with the Pulitzer vibe?
After taking a deep dive into Gabriel's personal travelling preferences, it comes as no surprise that he's an ardent advocate for warm service and attention to detail. He indulges in immersive, intimate hotel stays himself, and that's exactly what he provides in his day-to-day service.
''We have great staff looking to make your stay outstanding, detail-oriented and always prepared to help.''
Gabriel Petcou really accentuates the value of adapting to accommodate each guest's needs, and he's committed to navigating the network of challenges with this held at heart. As his personal values align with those of the Pulitzer Paris, he's managed to provide a congenial environment where some of the city's most coveted workers come together with the same goal in mind.
What is the best moment of the day? Morning
Where are you dreaming of going next? Turks and Caicos Islands
What makes you smile? / What makes you happy? Jokes and family
Where do you get your energy from? Success