As one of the most visited cities in the world, it seems like no corner of Paris is off the grid. Yet, the city that is beloved for its romantic and bohemian flair has plenty of vibrant outcrops where one can explore the hidden side of the city. Forget about the mainstream things to do in Paris and explore quirky museums, charismatic bars, and atmospheric restaurants in the hidden alleyways across the city of love.
Enjoy this inside guide to Paris to see where to go and what to do if you want to take sightseeing in Paris to another level. C'est la vie!
Taste
As the city with the second most Michelin-starred restaurants in the world (113 to be exact), you are bound to be sent on a culinary expedition like no other. French cuisine is also one of the most celebrated in the world so eating your way through Paris is non-negotiable. UNESCO has recognized the way of eating and enjoying food in France as an Intangible Cultural Heritage so it is clear how intertwined French culture is with their food.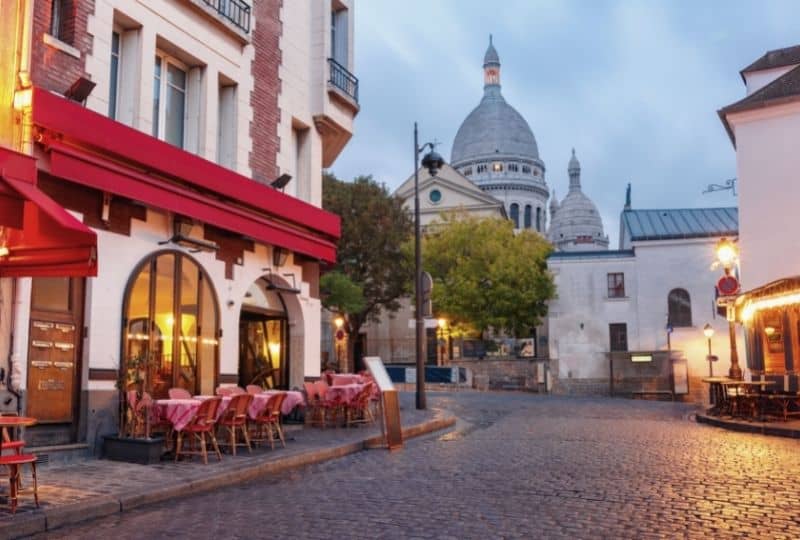 The city is overflowing with "secret" eateries where your effort in locating them will be richly rewarded with an abundance of delectable dishes. There is a string of French staples you need to indulge in including a buttery croissant, garlicky escargot, hearty onion soup, and your body weight in cheese.
The Seine has a small island that many locals don't even know about, Île St Germain. Visit Restaurant L'île on the island to enjoy the marvellous gardens and their chic brasserie-style menu. If you are after a view, head to the top of Tour Montparnasse and take a seat at Ciel De Paris for a show-stopping view of the city which includes all the major landmarks.
Seek out restaurants in Paris that are more than a century old for an unbeatably authentic experience. A La Petite Chaise dates back to the 1600 and still serves traditional dishes like soup and beef tartare in their cosy dimly-lit establishment on Rue de Grenelle.
Sip
It doesn't get much more Parisian than sitting at a café, sipping on an espresso, watching the world go by. Paris is known for its open air-cafes cafes lining the cobbled streets, especially the vibrant cafés in Montmartre. Bonne Franquette, Le Progres, and La Maison Rose are just a few of the magical spots in the area.
Wine and Paris, are two star-crossed lovers that share an unbreakable bond. Caves Legrand is a wine bar that has seen 5 generations of sommeliers pass through, bringing some of the best boutique wines to Parisians. La Buvette is a newer bar that also hones in on smaller wine producers and keeps the traditional wine bar feeling intact.
The French particularly enjoy cognac but if this strong spirit is too much to handle on its own, order a Pineau Des Charentes, a fortified spirit made from cognac.  Between all the champagne, wines, ciders, and fine spirits flowing through the streets of Paris, you will be hard-pressed to experience a moment of thirst.
Explore
The list of major monuments in Paris seems endless with landmarks like the Eiffel Tower and Louvre jumping to mind instantly. But there are scores of hidden attractions that can hold their own on any Parisian itinerary. Experience sightseeing in Paris in a new light by tapping into some of the wonderful lesser-known attractions in Paris.
Le Squat du 59 Rue de Rivoli is one of the most unique art museums in Paris where artists create their masterpieces on the walls of the building. Rue Crémieux is a picture-perfect street to wander through, similar to Portobello Road in Notting Hill. The Catacombs are an immensely popular attraction but venture a bit further to Petite Ceinture, the city's abandoned railway line, for a hauntingly beautiful hidden gem.
The city has plenty of major ecclesiastical attractions but it is some of its lesser-known religious sites that are worth writing home about. Saint Serphani Church of Sarov, Church of St-Etienne-du-Mont, and the Grand Mosque of Paris are all magnificent sites to visit.
Stay
There is nary a neighbourhood in Paris that isn't worth visiting so carefully assess your travel needs to find the perfect place to stay. There is a boutique hotel in Paris around every corner, each with a dynamic interpretation of the city's many marvellous attributes. Iconic stays at places like the Pulitzer Paris will offer you unsurpassable luxury while highlighting the many fantastic artistic and cultural aspects of Paris.
To be close to the most famous museums in Paris stay in the 1st Arrondissement or 7th Arrondissement or head to Montmartre to be at the heart of Paris's romantic bohemian paradise. In the 11th Arrondissement, you can enjoy a vibrant local vibe with great undiscovered restaurants while Marais is the place to be for a happening nightlife scene and big-name shopping. Families enjoy staying in Saint Germaine on the left bank with a healthy mix of local shops and tourist spots.
Browse through our curated collection to find a boutique hotel in the neighbourhood of your choice.
Be Active
If walking countless miles between the monuments in Paris isn't enough activity for you, the city also has many outdoor spaces where exercise is possible. Peddle or run on the banks of the Seine to soak up some of the most splendid scenery in the city. Here, you can even rent a bike that charges your phone while you pedal.
The city has placed exercise equipment all across its green spaces and parks and you can find a great collection in the Luxembourg Gardens. Jardin du Luxembourg has lovely jogging areas too. If this is not enough, simply walk up 270 steps to the Sacre Coeur to get your heart racing and enjoy a magnificent view once you reach the top.
Shop
Another iconic aspect of Paris is the multitude of French fashion houses that line the high streets. But the city's many markets and boutique stores add to its authentic charm. The Flower and Bird Market along the river is one of the most colourful displays in the city while Merci Concept Store is a hidden shopping paradise that oozes charm from every angle.
Marché aux Puces de St-Ouen is only open on weekends and has been described as the biggest flea market in the world while Marché d'Aligre is one of the oldest in the city. Les Puces de Montreuil is another flea market that is much less famous so there is still an abundance of treasures to be found for true antique aficionados.
Chill
Paris remains one of the world's major cities so one is often left looking for a quiet space to escape the bustling streets. There might be many things to do in Paris but sometimes a little quiet time is all the spiritual needs.
Parc Des Buttes-Chaumont offers just that with a multitude of greenery, waterfalls, viewpoints, and bridges to enjoy. The Zadkine Museum Courtyard is another hidden space where you can simply enjoy the lush gardens and admire the art placed among them.