Escape to Serenity: Discover Luxury and Tranquility at Amor Hideaway Villas in Santorini
Welcome to the breathtaking Amor Hideaway Villas in Santorini, where modern luxury and Cycladic architecture converge to create the ultimate holiday experience. This brand-new complex of five luxurious villas is nestled in a secluded spot near the charming capital of the island, Fira, offering privacy and tranquility in equal measure.
As soon as you step into your villa, you'll be enveloped by the soothing atmosphere and stylish decor that blends seamlessly with the island's unique character. Whether you're traveling with your significant other, family, or friends, each villa has been designed to cater to your needs and preferences, ensuring a memorable stay in Santorini.
Take in the stunning views of the Aegean Sea from your villa's private terrace, or relax in the refreshing waters of the swimming pool, which is exclusively available for villa guests. The staff is always on hand to assist you with anything you might need, from recommendations for local attractions to arranging transportation and excursions.
Santorini is a dream destination for many, and Amor Hideaway Villas is the perfect starting point to explore this charming island. Let the warm sun, cool sea breeze, and the island's unique energy guide you on a journey of discovery and create unforgettable memories that will last a lifetime.
Experience the best of Santorini at Amor Hideaway Villas, where every moment is designed to make you feel pampered and relaxed.
The tranquil and secluded location near Fira offers privacy and relaxation.

The stylish Cycladic architecture fuses modern amenities with traditional design.

The private terrace provides stunning views of the Aegean Sea.

The attentive and welcoming staff ensures a memorable stay.

Ideal for romantic escapes, family holidays, and friend getaways.

Convenient access to local attractions and transportation.
Rooms Overview
Amor Hideaway Villas is a luxury complex that blends traditional Cycladic accents with modern amenities to provide guests with the ultimate Santorini experience. With only 5 units available, each villa boasts a unique and elegant design that highlights luxury and functionality. The villas are fully equipped with all the necessary facilities, including a fully equipped kitchen, satellite TV, and free internet. The private pool and large furnished sunny terrace are perfect for guests to unwind and enjoy panoramic views of the Aegean Sea. The twice-daily maid service ensures that guests always come back to a pristine villa.
Villa Aqua
6 guests
Balcony
Equipped kitchen
Panoramic View
Private access
Private pool
Private terrace
Spanning over a generous expanse, the Aqua villa features a private pool with a sun terrace and a fully equipped kitchen. The villa boasts three bedrooms accommodating up to six people, with two double beds and two single beds. Indulge in the comfort of the dining and seating areas and take a dip in the private swimming pool with a sun terrace.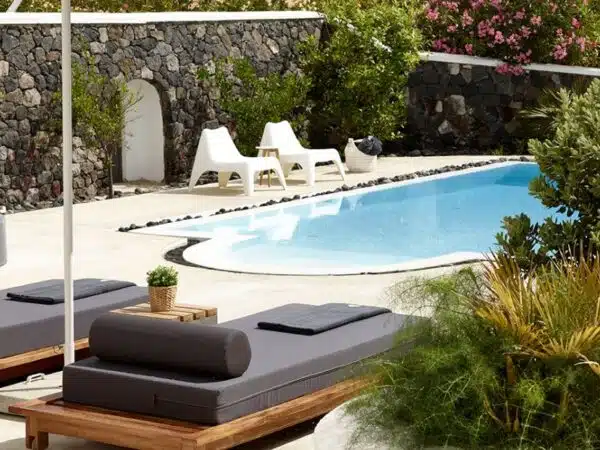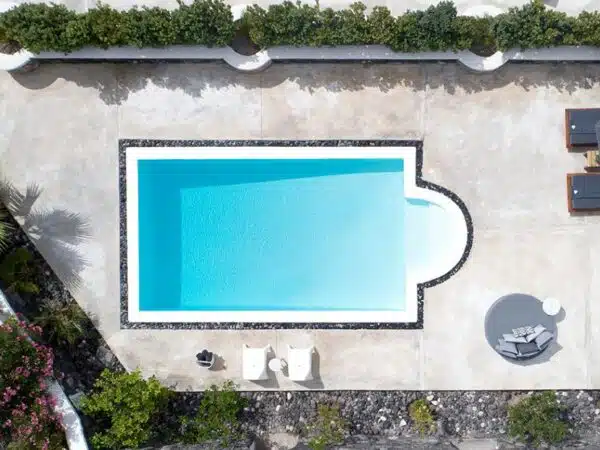 Villa Petra
6 guests
Balcony
Equipped kitchen
Panoramic View
Private access
Private pool
Private terrace
At Villa Petra, you can bask in luxury and comfort with your own private pool and sun terrace. Enjoy modern amenities such as a 32″ flat-screen satellite TV and DVD player, and cook up a storm in the fully equipped kitchen. Choose to have breakfast served privately in the villa or by the pool and take advantage of room service. The villa boasts 3 bedrooms, 3 WCs, and a private bathroom, with one bedroom featuring a relaxing bathtub. The dining and seating areas provide ample space for guests to unwind, while the private swimming pool and sun terrace offer the perfect spot to soak up the sun.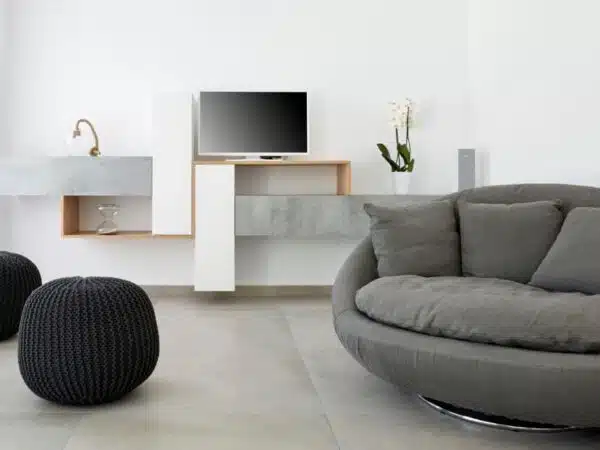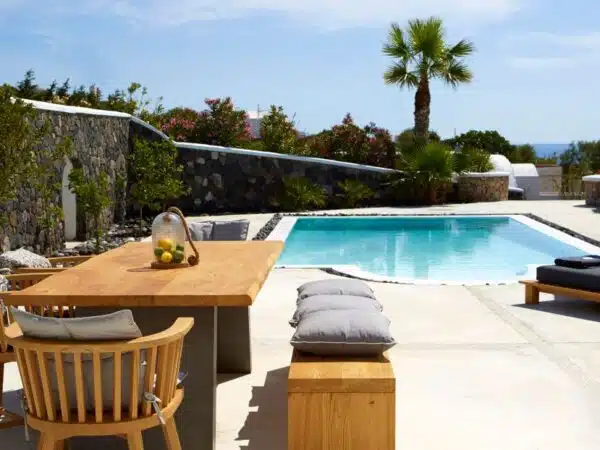 Villa Phos
6 guests
Balcony
Equipped kitchen
Panoramic View
Private access
Private pool
Private terrace
Phos villa offers a luxurious stay with a private pool and stunning sea views. The modern decor creates an ambiance of comfort and style. The villa is equipped with satellite TV, Wi-Fi, and air conditioning. Guests can enjoy daily maid service, bathroom amenities, and pool towels. A fully equipped kitchen, dining, and seating area provide the ultimate experience. The villa offers 3 bedrooms, a private bathroom, and a bathtub in one bedroom. Iron and baby cots are available upon request. The perfect destination for a family getaway or a romantic escape.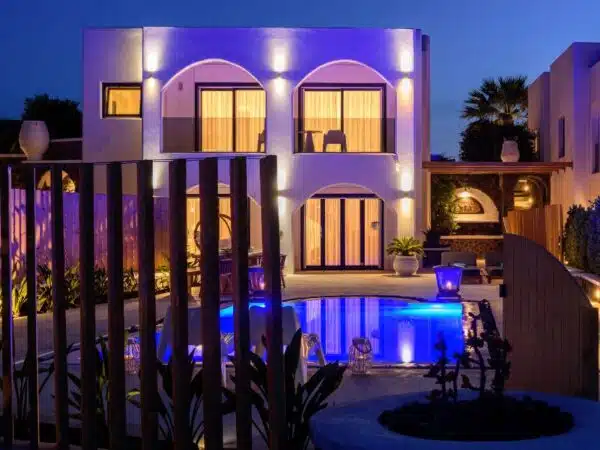 Villa Cave Stone
4 guests
Balcony
Equipped kitchen
Panoramic View
Private access
Private pool
Private terrace
Cave Stone Villa at Amor Villas is perfect for a luxurious and relaxing holiday in Santorini. With two bedrooms, this villa can accommodate up to four guests, making it perfect for couples or small families. Enjoy the lovely and spacious outdoors with a private pool, or opt for breakfast served privately in the villa or by the pool. Room service is also available for your convenience. The villa is equipped with a fully equipped kitchen, dining area, and living room and features an outdoor swimming pool with sun loungers for ultimate relaxation.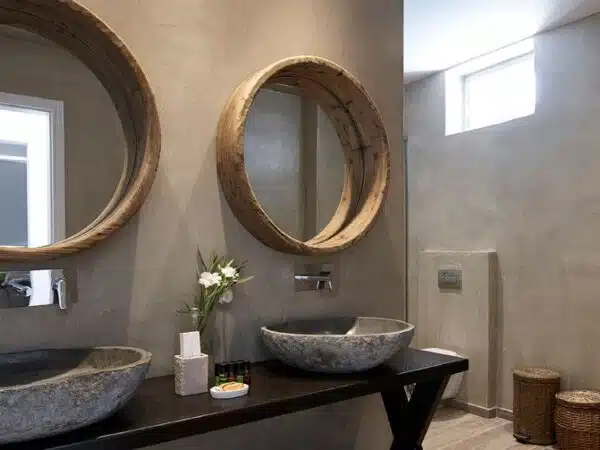 Villa Ammos
2 guests
Balcony
Equipped kitchen
Panoramic View
Private access
Private pool
Private terrace
The Ammos villa in Santorini is a dreamy and tranquil retreat for couples seeking a romantic getaway. With its modern and comfortable design, soft mattresses, and private outdoor pool, this villa offers a luxurious and intimate setting to relax and unwind. Enjoy the convenience of room service and the option of a private breakfast served in the villa or by the pool.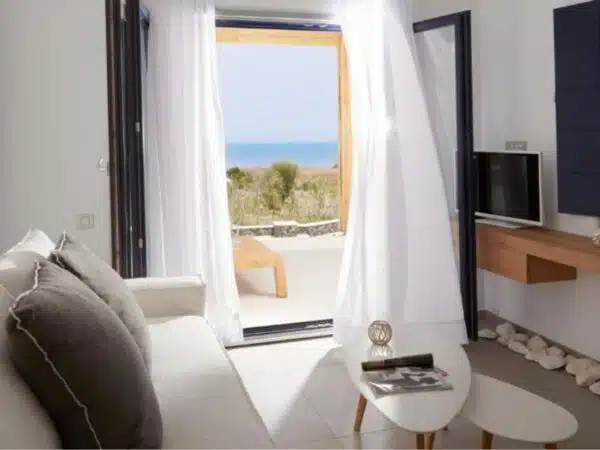 Services and facilities
Taste the flavors
Breakfast
Indulge in a delicious and energizing breakfast experience in Santorini. Select your preferred sweet and savory dishes, from traditional recipes to vegan options, and start your day off right. All breakfast options are handmade with love and care to ensure maximum satisfaction. With pre-booking available, you can tailor your breakfast to your exact tastes and preferences. Fuel your engines with mouth-watering combinations, and begin each day with a smile!
Romantic Dinner
Indulge in a once-in-a-lifetime dining experience with your loved one. The Romantic Dinner package offers top-notch restaurant service quality right in the privacy of your own villa. Savor each bite while admiring the breathtaking views of Santorini. Whether you want a candlelit dinner by the pool or an intimate setting inside your villa, Amor Hideaway Villas will make sure your romantic evening is unforgettable
Citrus, the fruit of Promise, indicates that the property is noticeably eco-conscious as many areas of sustainability are addressed.
Explore the location
The location surrounding Amor Hideaway Villas is a true paradise waiting to be explored. Take a stroll through the picturesque streets of Fira, the capital of Santorini, where you can find a wide range of restaurants, cafes, and shops. Just a few kilometers away, you can visit the traditional village of Oia, known for its stunning sunset views and unique architecture. For those who love nature, the volcanic beaches of Perissa, Kamari, and Red Beach are a must-visit. And for wine lovers, the nearby villages of Megalochori and Pyrgos offer the chance to sample some of the finest wines produced in Greece.
Explore the area like a local!
In addition to the many activities available in the surrounding area, Amor Hideaway Villas offers a prime location for exploring the island. Rent a car or ATV and drive along the scenic coastal road, taking in the breathtaking views of the Aegean Sea. Or, for a more relaxed pace, book a private sailing tour or cruise to explore the island from the water. With so much to see and do, Santorini truly is a destination like no other.