Stately hospitality awaits you at El Palauet, a small palace in the heart of Barcelona
On the most exclusive street in Barcelona, Passeig de Gràcia, surrounded by grandeur, history, and a lively atmosphere, sits one of the city's most regal hotels. El Palauet, a grand manor from 1901, offers guests unequalled hospitality and luxury in its 6 stunning suites.
Throughout the property's 3 floors there are still eye-catching throwbacks to its magnificent past. Stained glass windows, carved stone, floral ceiling reliefs, and an intricate wood carved staircase fill the spaces with an air of stateliness while being balanced by contemporary furniture offering the utmost comfort.
El Palauet is renowned for its highly personalised service, from an assistant to a personal shopper to an in-suite chef. Enjoy an exclusive spa experience or rooftop cocktail overlooking the atmospheric street below all from the comfort of this boutique hotel. The rooftop is also where you will find the exclusive spa with an open-air Jacuzzi, a Finish sauna, and masseuses.
Each detail of your stay has been curated to provide the utmost comfort and memorable stay. There simply is no other way you will want to experience Barcelona.

Jorrit Roskam
06:35 03 Oct 21
What a stunning building! The interior is really great! The suite's are really spacious!

Violeta Delgado
22:27 01 Jun 18
Beautiful building located on the highest part of Passeig de gracia. Stay tuned on their activities, they do some expositions and afterworks 🤗

Jyoti Chugani (BelleBarcelone)
15:28 17 May 15
Situated on Pg De Gracia, touching Gran de Gracia, you can find a beautiful moderniste five storey palatial house by Pere Falqués- Pere Falqués known for his lamp post benches on Pg De Gracia among other artworks. Now it is the exclusive Palauet, the perfect fusion of contemporary and vintage: a unique experience to stay while visiting Barcelona.The Palauet has six suite rooms apartments of 150m2 each, that you can book for two days and more. It has all the comfort and services you need, a well equipped kitchen, concierge and personal assistant service. The perfect design of the Palauet is accompanied by beautiful artworks by the likes of Phillip Starck and other grand designers.
What we like the most
Sipping on the best Spanish wines at the rooftop bar
Looking up at the stunning neo-classical ceiling details
Receiving a personalised gift, bag, and notebook upon arrival
Having all needs looked after by the personal assistant
Indulging in exclusive meals prepared in-suit by the chef
Rooms Overview
Rooms utilize the ultimate modern amenities in an elegant historic setting of El Palauet boutique hotel. Tall ceilings with floral reliefs, stained glass windows, and wrought-iron balconies are met with designer furniture, sleek kitchens, and high-end technology.
Barcelona Suite
4 guests
Balcony
Two-bedroom suite
View into the city
Light floods in through the remarkably large doors that lead out to the suite's two balconies. The tall ceilings and doors with floral reliefs are played off against the sleek contemporary designer furniture filling each living space.
Milan Suite
4 guests
Balcony
Equipped kitchen
Two-bedroom suite
Indulge in views of the Convent of Pompeii and Tibidabo Mountain through the stained-glass windows framing the modern décor. Relax in a chronotherapy equipped bathroom or stretch out on the artful mosaic balcony.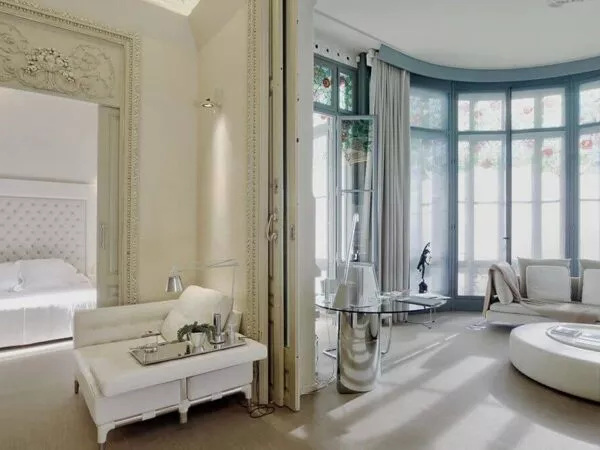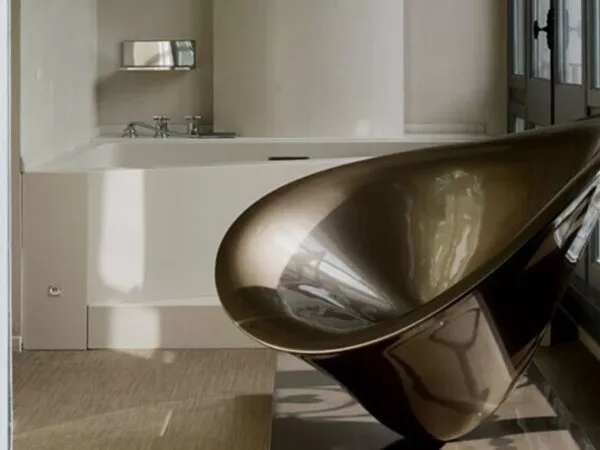 Amsterdam Suite
4 guests
Balcony
Equipped kitchen
Two-bedroom suite
View into the city
Enjoy unspoiled views of the grand Paseo de Gracia from the suite's two balconies. Each room has an en-suite bathroom, fully renovated to reflect the hotel's modern influences. Rooms are connected with a spacious living room flooded in natural light reflecting off the tall ceilings.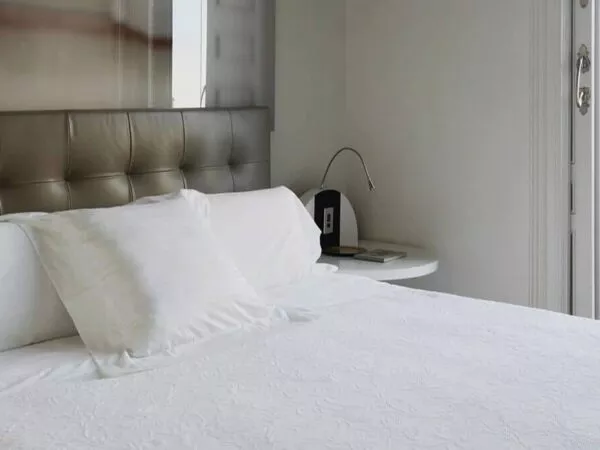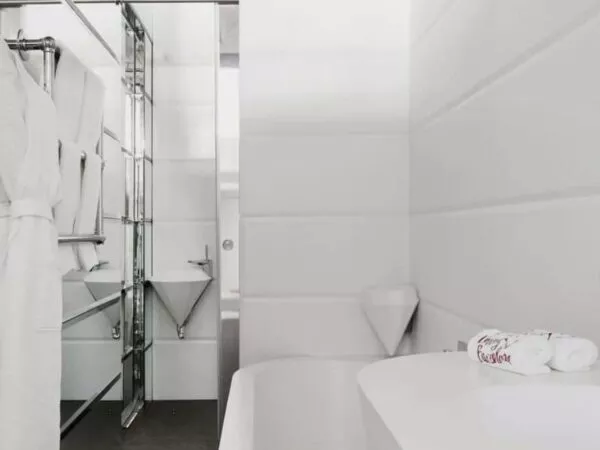 Londres Suite
4 guests
Balcony
Equipped kitchen
Two-bedroom suite
View into the city
The semi-circular stained-glass window makes a grand impression, framing an equally spectacular view. Soak up the Barcelona sun and views from your private balcony or cuddle up in the spacious living room to enjoy the home cinema system.
Paris Suite
4 guests
Equipped kitchen
Two-bedroom suite
View into the city
Enjoy an elegant breakfast in the contemporary dining room or soak in the historic sites of Barcelona from one of the three balconies in the suite. Chrome and mirror details in the bathrooms also give the full luxury spa experience.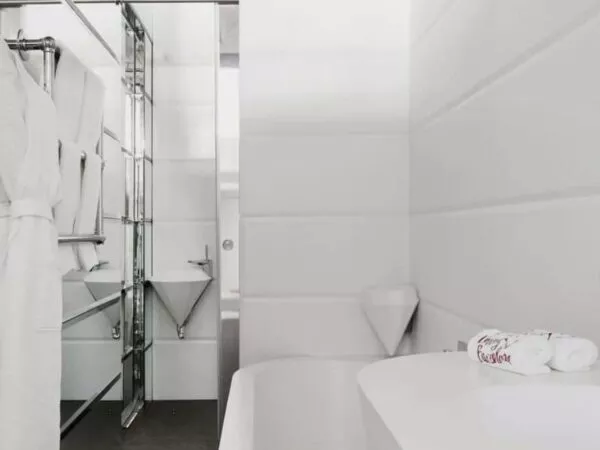 Saint Petersburg Suite
4 guests
Balcony
Equipped kitchen
Two-bedroom suite
View into the mountains
The floor to ceiling windows with stained glass details fill the space with bright light for a calming atmosphere. The bathtub provides even more serenity with its chronotherapy capabilities and the living space is spacious with tall ceilings and luxurious furnishings.
Taste the flavors
Dining on demand
The private Chef will create a special menu based on your tastes and use of local products. You just have to indulge in exclusive meals prepared in-suit while watching the sunset from your balcony.
Rooftop Bar
The exclusive rooftop terrace is an oasis in Barcelona. Enjoy creative craft cocktails and bar snacks over sunset as the city passes by. Some nights guests are even treated to delightful live music.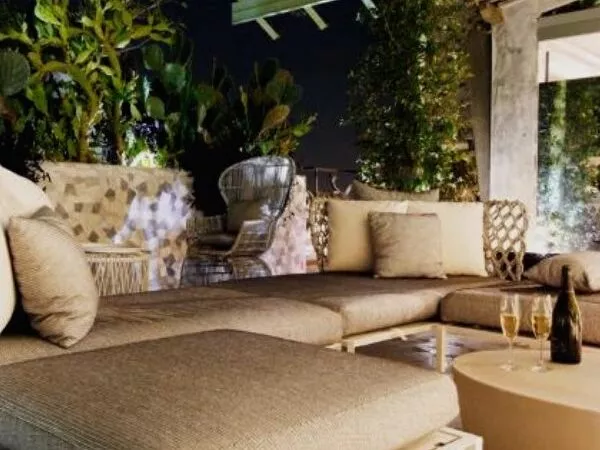 Breakfast
Wake up to the smell of a freshly cooked breakfast as staff will prepare a scrumptious meal in your suite. Breakfast can be continental or you can order from the menu for something more personalised.
About sustainability
Citrus, the fruit of Promise, indicates that the property is noticeable eco-conscious as many areas of sustainability are addressed
Great care has been taken to incorporate the building's original designs.
The hotel promotes the local culture and destinations with exclusive deals and packages.
They are making use of eco-friendly amenities in the rooms.
Locally sourced and organic products are sourced for wholesome and healthy meals.
Explore the location
El Palauet is in one of the most exclusive neighbourhoods in Barcelona. Passeig de Gracia is a street famous for its abundance of boutiques, world-class restaurants, and overall beauty. There are more than 400 restaurants within walking distance as well as some of the city's most iconic landmarks like La Sagrada Familia and Casa Batlló.
Book a trusted local driver for your transfer to and from the hotel, and introduce you to the destination, pre-order travel essentials, and get all your questions answered before or during the trip. Choose the stops, visit the attractions, and don't waste any time waiting. We've partnered with Welcome Pickups, the first company to deliver a holistic, in-destination travel experience.