Rustic charm meets modern luxury at Perivoli Country Hotel, an oasis in the Greek hills
High above the coastal city of Nafplio, perched atop a verdant hillside is the Perivoli Country Hotel and Retreat. A sanctuary of tranquillity so divine that it doesn't seem real. The landscape is undeniably breathtaking, but the hotel itself is not easily outshined. Its grand country house exterior is balanced by a minimal, modern interior that retains many traditional features. In the reception, a high beamed ceiling arches elegantly over the cosy lounge complete with a heavy stone fireplace. Outside, the patio boasts a pristine swimming pool beside which guests can eat, drink and relax all day.
At Perivoli Country Hotel, eating and drinking well is of primordial importance. The Farm to Table restaurant is resolutely committed to using sustainable and local produce. Sommeliers are always on hand to suggest pairings, as well as organize tantalizing tours through the surrounding vineyards.
What we liked the most
Coming back from a hike in the mountains and enjoying a well-deserved meal and a bottle of wine
Waking up to the calming view of the Greek countryside
Enjoying Sunday brunch on a hammock by the poolside
Sipping a late-evening drink on the roof terrace listening to the gentle singing of the crickets.
Choosing a book from the library to read by the fire
Rooms Overview
The rooms at Perivoli Country Hotel stand out with their soothing natural tones, restored original features, and beautiful views, achieving a careful balance of modern design and classic comfort. Every luxury is lovingly attended to, from the orthopaedic mattresses to the eco-friendly toiletries and fluffy bathrobes.
Upper floor room
2 guests
Balcony
View into the mountains
With a stone fireplace nestled into the corner, a modern yet cosy design and a view of the sparkling pool from the patio doors, this room harmoniously combines the hotel's past with the present. Take in the surrounding natural beauty from your private balcony as you sip your morning coffee, before freshening up in the elegant ensuite.
Pool level room
2 guests
Private terrace
View into the pool
This room is resplendent in shades of light teal highlighted by the dark wood of the original ceiling beams. Your versatile private terrace has sun loungers and allows you to access directly to the pool. The ensuite bathroom features a modern shower and eco-friendly soaps.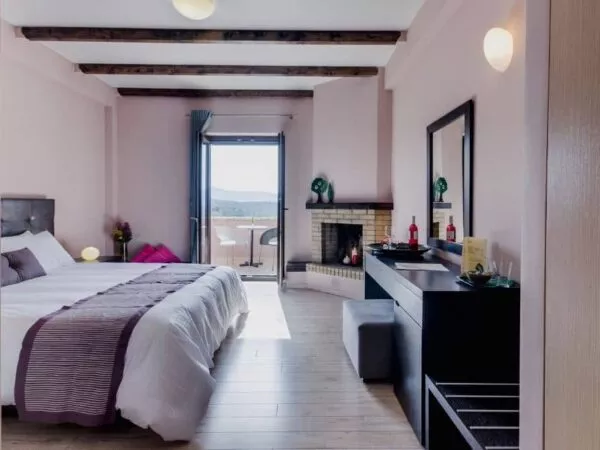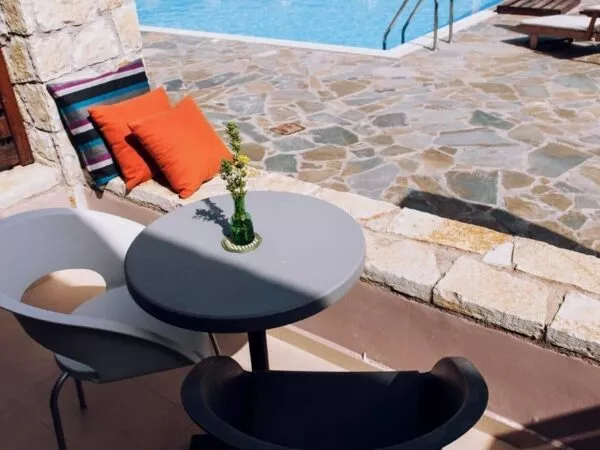 Triple room
3 guests
Panoramic View
Reduce mobility friendly
Comprising a large double bed and an extra single bed, this room features a spacious ensuite and plenty of storage. Olive green walls complement the light stone of the fireplace and the rich brown of the ceiling beams, providing a beautiful backdrop for the magnificent view visible from your private terrace.
Deluxe two-bedroom apartment
4 guests
Equipped kitchen
Two-bedroom suite
A real home-from-home, the apartment has everything you need for a relaxing vacation. Composed of a fully-equipped kitchen, living and dining space, an en-suite, and two bedrooms, it is ideally suited for families and is decorated according to the hotel's signature understated elegance.
Taste the flavors
Breakfast
In the morning, you can truly immerse yourself in the flavours of the surrounding environment such as fresh-squeezed juice from the orange trees, local honey, and seasonal fruits. Breakfast is served on the terrace and includes typical delicacies such as crumbly Feta cheese, spinach pies, and delicate "spoon sweets", all served alongside a fragrant cup of Greek coffee.
Farm to Table Restaurant
At lunch and dinner, the Farm to Table Restaurant is charged with dazzling your tastebuds. At midday, an informal a la carte selection is available while in the evening a fabulous three-course meal is prepared according to the seasonal produce and the chef's creativity. Just before dinner, you can come down for Aperitivo hour where cocktails and snacks are served Italian-style to put you in the mood for that evening's meal.
Perivoli Bar
Serving cocktails and an excellent selection of Greek wines, the Perivoli bar has both outdoor and indoor seating areas. Escape to Perivoli's rooftop terrace for a truly magical moment and an unparalleled view of the sea.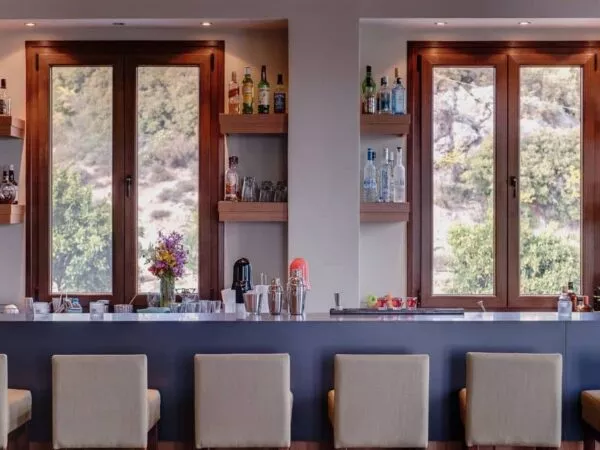 Focus on sustainability
Like the fig tree roots, the property is constantly addressing many sustainable tourism areas and excelling in most fields.
Perivoli Country hotel's architecture and design respect traditional building practices. The building includes many energy-saving features from thermal insulation, double-glazed windows to light sensors and timers.
Biological cleaning for wastewater is also appreciated in a property sit amidst nature.
The hotel dining offer highlights local flavors and organic produce. You will be served a traditional breakfast with handmade delicacies from local growers as well as the delicious dishes of the Farm-to-Table Restaurant.
Surrounded by orange groves and olive trees, Perivoli hotel offers nature-based attractions from hiking to biking as well as wine tours and olive oil tasting visits.
Explore the location
Perivoli Country Hotel & Retreat can be found in the tiny village of Pyrgiotika, a privileged location that feels remote and peaceful while being only a 10-minute drive from the city of Nafplio.
From the hotel, you can explore the majestic natural environment either on foot, by bike, or even on a horse. The Argolis region is home to some breathtaking archaeological sites as well as stunning beaches and is known for its rich local produce. Nearby Nafplio is a gorgeous harbour town, home to amazing restaurants, bars, and museums. The closest airport is in Kalamata, around 2 hours drive away.