Your trip to Peloponesse will certainly lead you to visit Nafplio. Lights twinkle gently, reflected in the clear waters of the bay as you stroll along a coastal road. You look up and see a majestic castle sitting atop a hillside like the crest of a wave.  Follow our insider guide to Nafplio, and discover this beautiful city like a local.
Wander
Most of the town is pedestrianised and this, as well its narrow, winding streets, make it a place that was made for flâneurs. You might take an amble through the old town, where vibrant magenta bougainvillaea cascade over the stone walls of the houses and neoclassical mansions perch alongside elegant Venetian houses.  
You might take an adventurous hike up the 857 steps to the Palamidi castle, one of the town's three fortresses, from which you'll be awarded an unparalleled view of the port, the sea and the surrounding landscape. Regardless of where you are headed, make sure to tie your laces tight because Nafplio is best explored on foot.   
Visit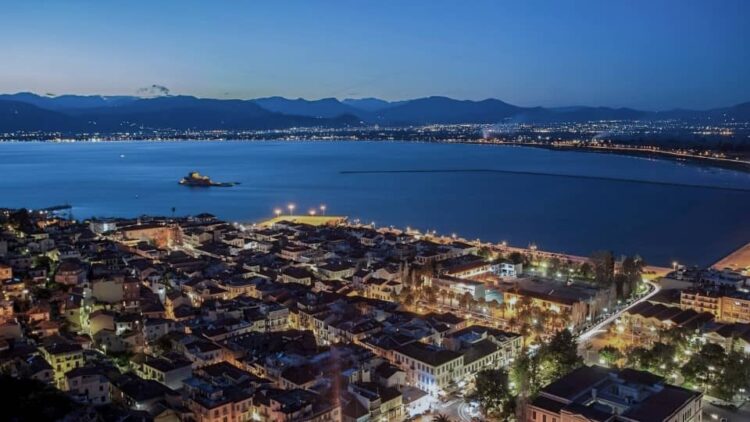 Pay a visit to one of the oldest churches in Nafplio, Agios Georgios, inside which you can gaze upon a magnificent replica of the Last Supper, painted by one of Da Vinci's apprentices.  
Don't miss the Sandalopoieio, a fascinating sandal workshop fashioning traditional handmade leather sandals created according to the methods of the old shoemakers. There's also the Sxizas Art Gallery, where the eponymous brothers showcase their marble sculptures and oil paintings. 
As night begins to fall and Nafplio begins to glow in the late evening light, visit the central Syntagma Square. A historical landmark in itself, its diverse architecture comprises a mix of cultures from the Venetian-style Archeological Museum to the neoclassical old Parliament and the Trianon Theatre, housed inside an original Ottoman-era mosque.   
Dine
Thankfully, in Greece, you are never too far from a café and Nafplio offers plenty of places to rest in between all that pavement pounding. For breakfast, try Kalimera: a tiny spot where the owners serve pots of jewel-coloured homemade jams made from local fruit alongside buttery pastries, yoghurt and granola. 
For a lunchtime feast head to Psiras, tucked away in the winding streets below the Palamidi. This family-run tavern has a good shot at being the most picturesque restaurant in town, enchanting diners before they've even tasted the food. Order some local wine and tuck into Greek classics such as meatballs in rich tomato sauce, flaky mizithra cheese pie and succulent roast pork. 
Finish your evening with a traditional meze-style meal at O Noulis, where owner and chef Andrianos will advise you on the day's freshest choices. Delights such as marinated anchovies, delicate zucchini fritters and stuffed vine leaves await in this local favourite.  
A wonderful visit to Nafplio is completed only once you've indulged in one of the town's sweet treats. Circle back around to Syntagma square, where the choice is yours between a velvety ice cream from legendary Antica Gelataria Di Roma or a typical Greek dessert of loukoumades – doughnuts dripping in luscious honey or smooth chocolate – from the Kentrikon café.  
Or, after all that walking, why not have both?  
Chill
 Round off the morning with a trip to the bountiful Farmers' Market, which takes place on Wednesday and Saturday mornings. The land around Nafplio is incredibly rich and this is one of the best markets in the country, full to the brim with glistening rows of fresh fish, juicy local oranges and lemons as well as some divinely salty, crumbly feta cheese.  
Is it Sunday night? The sun is setting and you, like so many other of the town's residents, are participating in the weekly volta: a Sunday evening promenade typical in the Greek town of Nafplio. 
When you visit Nafplio in the afternoon, take a walk along to Arvanitia Beach, whose white pebbles contrast magically with the rippling topaz waves. Take a seat at the buzzing Blublanc beach bar and sip a cappuccino freddo in between delicious dips into the azure water. Back in town, early evening calls for a visit to some local shops. At the Karonis wine shop, daily wine tastings are held, making it the ideal place to sample some of the country's fine wines and maybe pick up a few bottles to take home.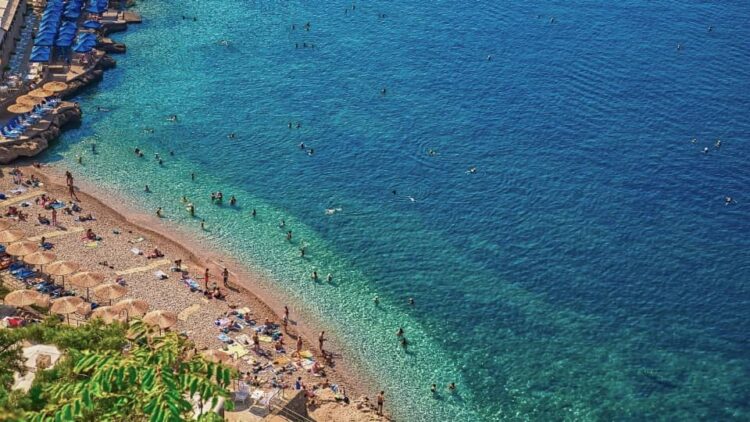 Stay
For your trip to Peloponnese, there are many wonderful boutique hotels to plan your stay. You can stay by the seaside or may prefer to head to the countryside and the hills of Argolis to enjoy panoramic views into the valleys.