Experience the Magic of Santorini at Rock Villas: Your Perfect Island Getaway
Rock Villas Santorini offers a world of beauty, history, and luxury for even the most discerning guests. This villa is situated in the charming Emporio village, where you can immerse yourselves in the local culture and history. The villa comprises two levels, which can be rented separately or as a whole, providing flexibility.
Both levels are decorated with art crafts and traditional elements, providing a unique and authentic experience. The signature eco-friendly bathroom and bedroom amenities offer a touch of luxury while also being mindful of the environment.
What truly sets Rock Villas Santorini apart is the level of attention and care given to each guest. Every detail is carefully considered to create a unique and unforgettable experience. Upon request, indulge in a sensory experience with thoughtfully prepared and beautifully presented meals, from breakfast to candle-lit dinner, adding a touch of luxury to your stay.
Enhance your travel experience with the seamless services provided by the professional partners of Rock Villas. Satisfy your adventurous side by embarking on a sailing cruise, renting a car, or exploring inland. Indulge in relaxing massages or invigorate your soul with aqua yoga and live meditation music.
Rock Villas Santorini offers a journey into luxury, calmness, and simplicity, where modernity meets tradition. The villa provides a unique and authentic experience that will leave guests with sweet memories of their time spent in Santorini.
What we liked the most
The stunning views of the surrounding landscape

The luxurious amenities in every room

The candle-lit dinner adds a romantic touch

The unique and authentic decor and furnishings

The thoughtful and attentive guest service

The spacious outdoor areas
Rooms Overview
Rock Villas's rooms exude comfort and sophistication, providing a serene atmosphere for a restful stay. The naturally and technically ventilated interiors ensure that guests are comfortable at all times, and the air conditioning adds an extra layer of comfort. 
The Upper level, "Rock Legend", boasts three private bedrooms with queen beds, accommodating up to 7 people, while the lower part, "Rock Myth", features a large double bedroom and a romantic single bedroom with an "en suite" sitting area. Each room is beautifully decorated with traditional elements and signature eco-friendly amenities.
Rock Legend Villa
6 guests
Balcony
Connecting rooms option
Equipped kitchen
Panoramic View
Private access
Private pool
Private terrace
The unique domed Rock Legend Villa showcases a perfect blend of traditional Aegean Sea architecture and modern design, providing a luxurious and harmonious environment. The villa's spacious patio and terrace offer stunning views of the medieval castle "Kasteli" and the surrounding landscape.
The fully equipped kitchen accommodates up to 10 people, while the three private bedrooms with queen beds provide comfort and sophistication. Guests will appreciate the natural and technical ventilation, and the four air conditioners ensure maximum comfort. With its dreamy and handpicked decoration, Rock Legend Villa is the ultimate retreat for those seeking balance, joy, and freedom of expression.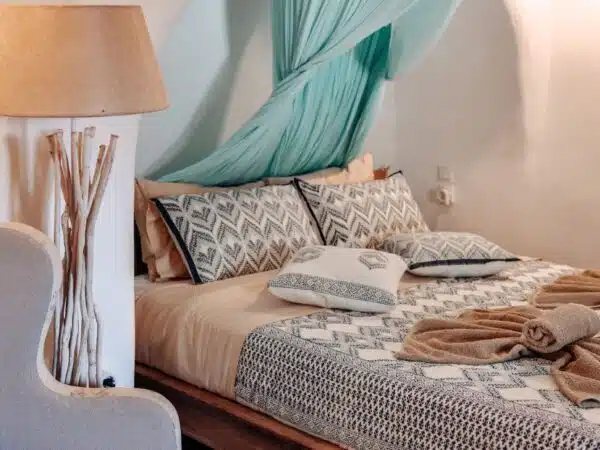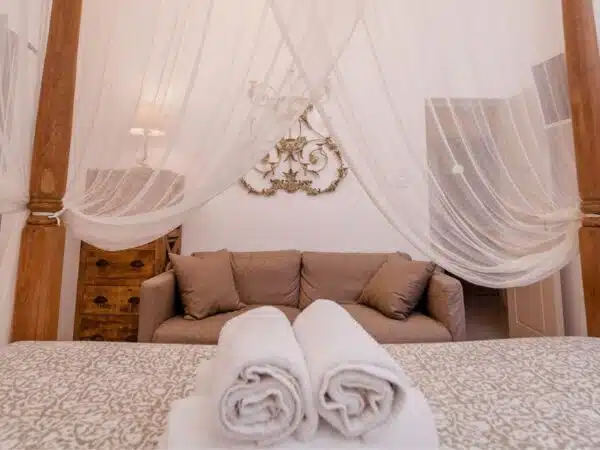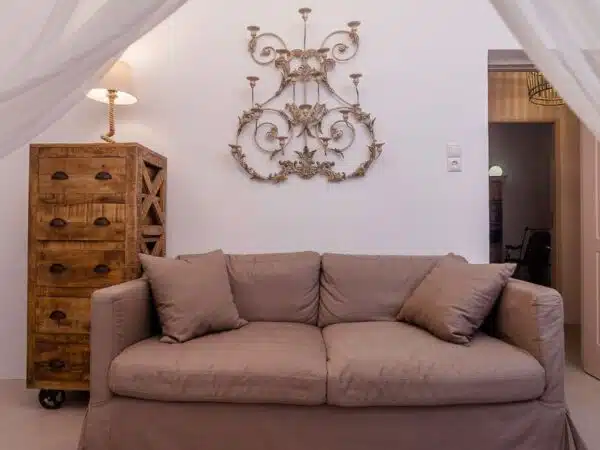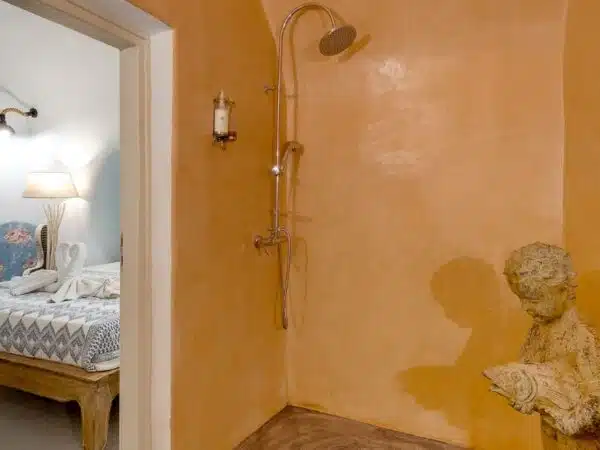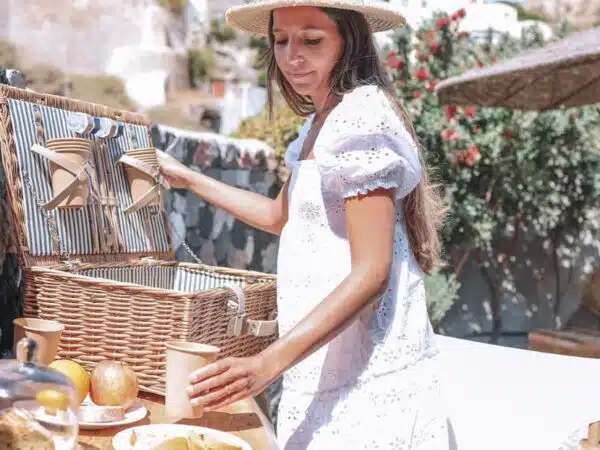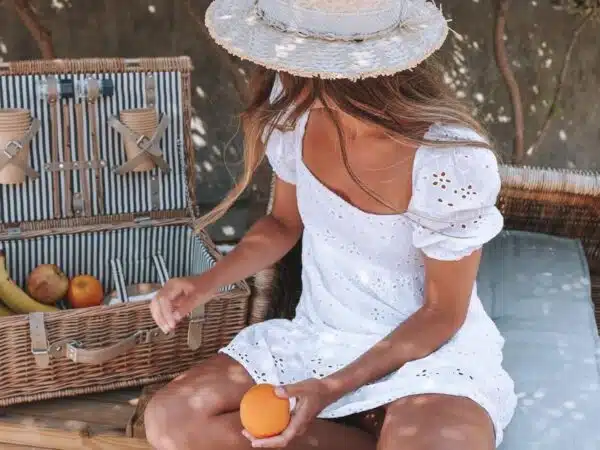 Rock Myth Villa
5 guests
Connecting rooms option
Jacuzzi
Private access
Private terrace
View into the city
View into the mountains
Indulge in the tranquility and luxury of Rock Myth villa, located on the lower level of the Rock Villas complex. With its spacious and comfortable design, this 110 sq.m. villa is perfect for up to 5 guests seeking a peaceful getaway. The indoor jacuzzi adds a touch of glamour and relaxation, while the spacious kitchen and sitting area provide all the comforts of home.
The villa boasts a large double bedroom and a romantic single bedroom, both with their own en suite sitting area. With its blend of modern and traditional design, Rock Myth offers a unique and unforgettable experience for those seeking a rejuvenating escape in Santorini.
Rock Villas Complex
11 guests
Balcony
Equipped kitchen
Jacuzzi
Panoramic View
Private pool
Private terrace
Rock Villas Complex consists of both villas, Rock Myth and Rock Legend. The 240 sq. m villa can accommodate up to 10 guests and can be rented as a whole or separately. The property features five comfortable and sophisticated bedrooms, two fully equipped kitchens, three bathrooms, and two big-size outdoor jacuzzis.
The villa's tranquil ambiance, along with the stunning view of the renowned medieval castle "Kasteli," offers an environment of unusual freedom of expression that makes you feel mindful, joyful, and balanced. It is the perfect place to relax, find peace of mind and renew your body and soul.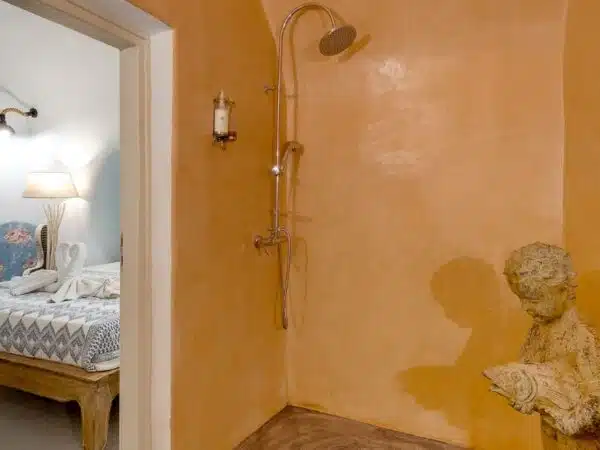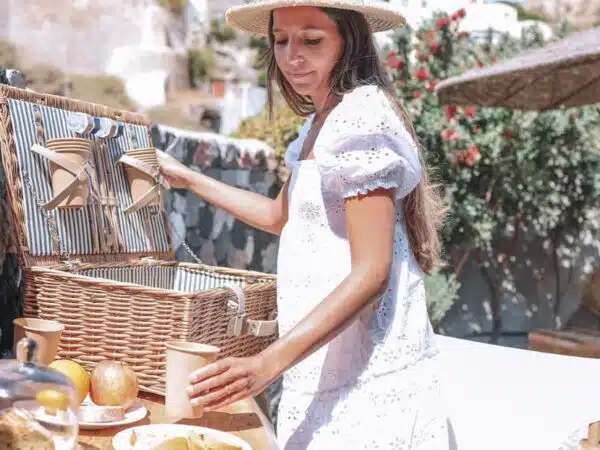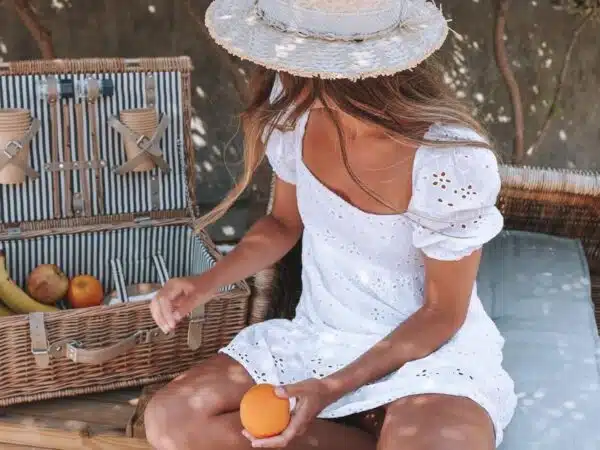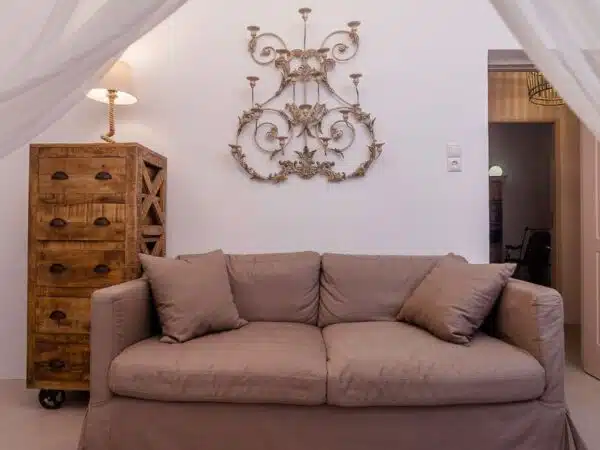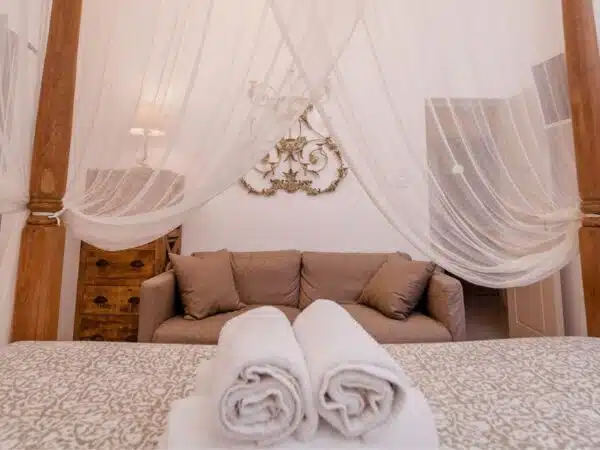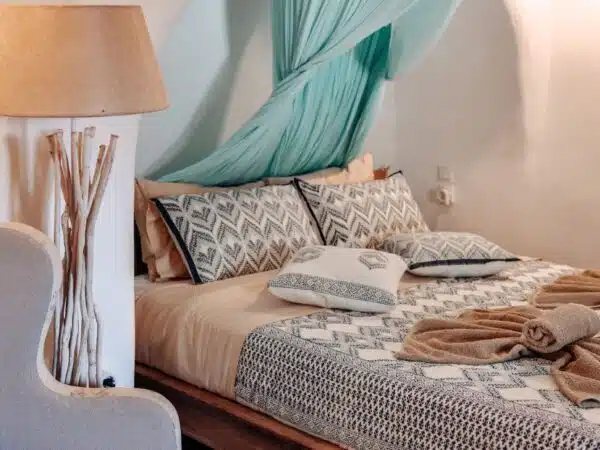 Taste the flavors
Upon Request
Experience the ultimate in luxury and comfort during your stay at Rockvillas Santorini by indulging in a delicious breakfast or dinner upon request. Start your day with a mouth-watering breakfast served on your private terrace overlooking the medieval castle "Kasteli". Or, wind down in the evening with a delectable dinner crafted from fresh, locally-sourced ingredients and prepared just for you. The dedicated staff will ensure your dining experience is both memorable and enjoyable.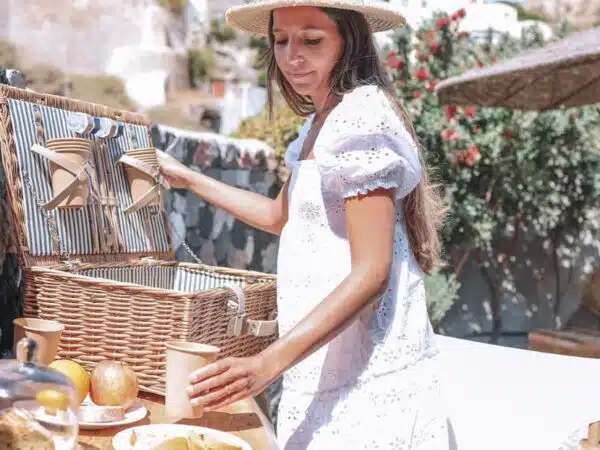 Exclusive Cooking Class
Discover the culinary secrets of Santorini in an exclusive cooking class that promises to transport you to the heart of the island's vibrant culture. Learn how to prepare authentic local dishes in a warm and welcoming environment, surrounded by stunning views and friendly people. Cooking is not just about food; it's a celebration of life!
Like the fig tree roots, the property is constantly addressing many sustainable tourism areas and excelling in most fields.
Explore the location
The Emporio neighborhood, where Rock Villas Complex is located, offers a unique combination of tranquility and cultural richness that makes it an ideal destination for travelers looking to immerse themselves in the local way of life. 
Explore the area like a local!
Emporio's traditional architecture has been carefully preserved over the centuries, and the village still boasts narrow paths, medieval castles, and small shops that evoke a sense of timeless simplicity. Visitors will find themselves surrounded by wild shrubs that are typical of the Aegean environment, adding to the unique character of the village.
In addition to its natural beauty, Emporio offers a convenient location that provides easy access to many of Santorini's most popular destinations. The village is just 20 minutes from Fira airport, making it an ideal home base for travelers who want to explore the island's many attractions. 
 The famous Black Beach of Perissa is also nearby, offering a variety of water sports and beach bars that are perfect for a day of fun in the sun. Whether you're looking to unwind in a peaceful and welcoming environment or explore the rich cultural heritage of Santorini, Emporio and the surrounding area offer something for everyone.