Amid snowy slopes and wooden luxury lies Le Chardon Val d'Isere, a charming mix of chalets
Located in one of the French Alps, somewhere in Val d'Isere, Le Chardon Val d'Isere offers both comfort and excitement. The family-run hotel has its Le Chardon mountain lodges situated strategically to offer you serenity and solace.
As you hop off your shuttle into Val d'Isere, the snowy winds immediately transport you into awe. Take some time to admire your surroundings and step into your chalet, where another world of wonder awaits you. Revel in the stunning decor evident across the walls and the beams that magnetize attention with their beauty.
Step into your fine dining area and have your gourmet chef prepare an unforgettable dish to tingle your tastebuds. Then slide into the comfy sofa in your lounge area and snuggle right next to the warmth of the fireplace.
When the kids return from their exclusive morning ski, the hotel's chefs prepare a sumptuous and healthy meal for them. And, of course, they provide just enough treats to whet their sweet tooth.
Your chosen chalet steals your attention as each is designed with skillfully crafted stone and wooden decor, complementing the home-away-from-home aura of the atmosphere.
The chalet will drive you into astonishment with at least one bubbling hot tub. And when you're up for indoor relaxation, hop into one of the en suite bathrooms and slip into a tranquil bath.
Complete your holiday with a visit to L'Escape Killy and ski your troubles away. Or steer clear of the skis and slide close to the art in an exquisite gallery or the French patisserie classes. If you choose, Le Chardon Val d'Isere will surely have you returning on your next skiing trip.
Watching the daily display of avalanches while relaxing in Lafitenia's hot tub

Savouring the luscious 3-course meals prepared by the Le Chardon mountain lodges' chef at the end of the day

The personalized and homey concierge service of our chalet manager and his team

Warming up by the fireplace in the open-plan sitting room of our chalet

Experiencing artistic wonder at the art galleries in Val d'Isere
Rooms Overview
Le Chardon Val d'Isere has everything twisted in style and elegance when talking rooms. The beauty of your stay in the French Alps begins the moment you step into the Le Chardon mountain lodges. The 32 rooms span the Le Chardon, Mistral, Lafitenia, and La Bergerie Chalets.
Chalet Le Chardon
20 guests
En-suite spa
Private access
View into the mountains
Right in the heart of the Le Chardon mountain lodges lies the luxurious chalet perfect for a corporate, friend, or family holiday, Chalet Le Chardon. The wooden beams and brick stone walls decorate every nook and cranny of this chalet. Each room has modern amenities and exquisite bathrooms to ensure maximum comfort.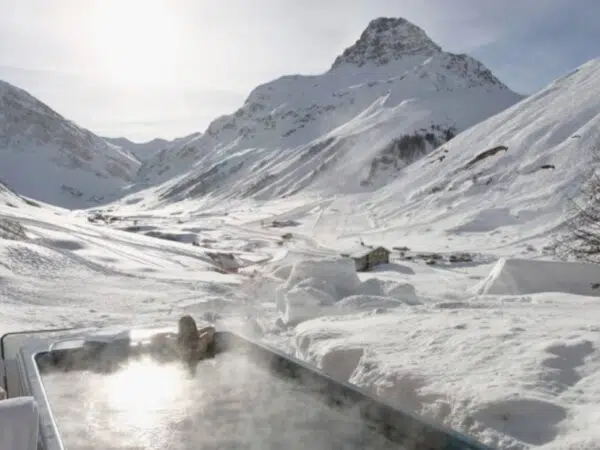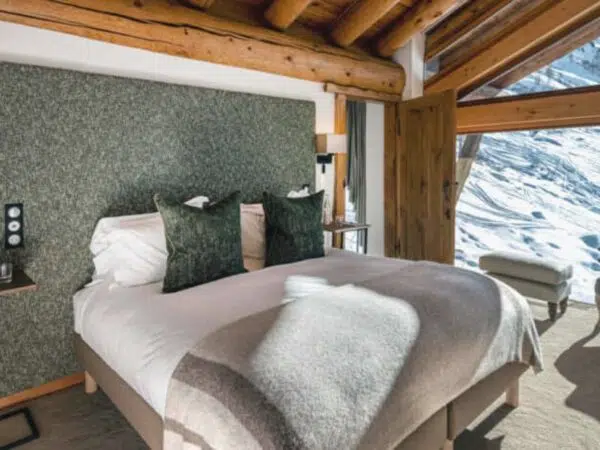 Chalet Mistral
14 guests
En-suite spa
Private access
View into the mountains
The Le Chardon Val d'Isere's Chalet Mistral caters to your relaxation senses with the open log fire that rests in the TV room. Enjoy a soothing massage in the private wellness area while the kids play across the building. Then tickle your taste buds with a delicious five-course meal crafted by the Le Chardon Val d'Isere in the fine dining area.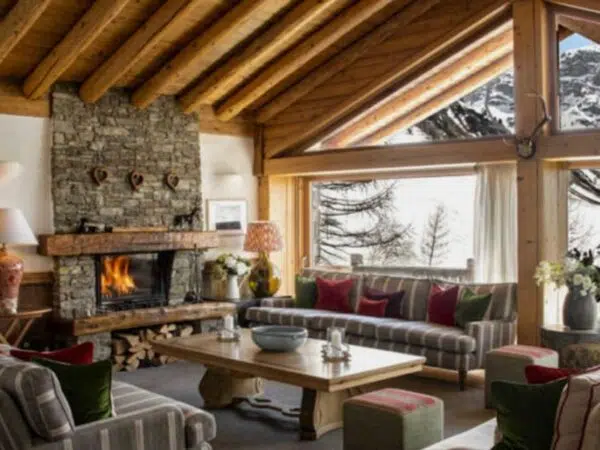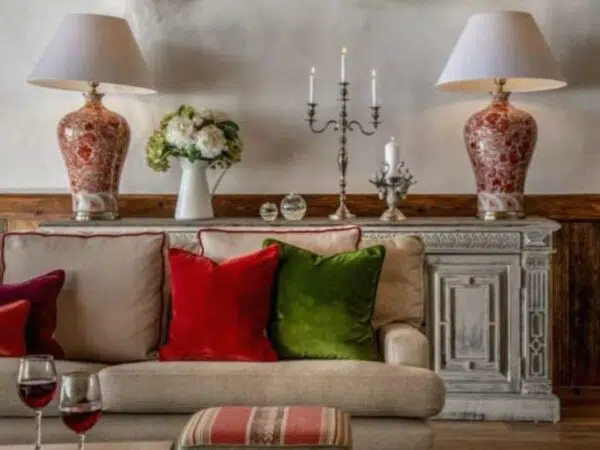 Chalet Lafitenia
12 guests
En-suite spa
Private access
View into the mountains
Grab a glass of champagne and waltz to the private terrace or balcony where you can take in the fresh snowy air. Enjoy a delicious meal prepared by your gourmet chef on the table while admiring the faintly lit candle melt. Then settle into your cosy bed in one of the 6 bedrooms.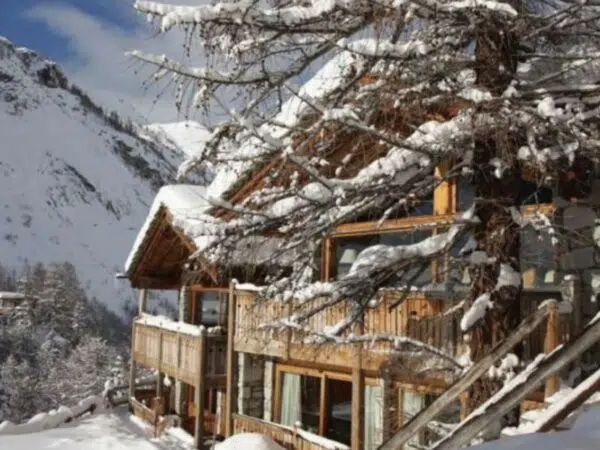 Chalet La Bergerie
13 guests
Private access
View into the mountains
On the Le Chardon, mountain lodges lie Chalet Le Bergerie, a gorgeous edifice that rests on a 17th-century "Bergerie" or shepherd's hut. Relax in the lounge after a long day's skiing or head to the separate cinema room to binge on your favourite shows.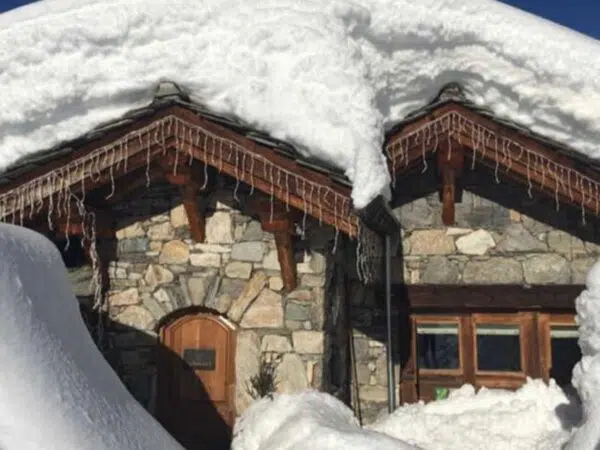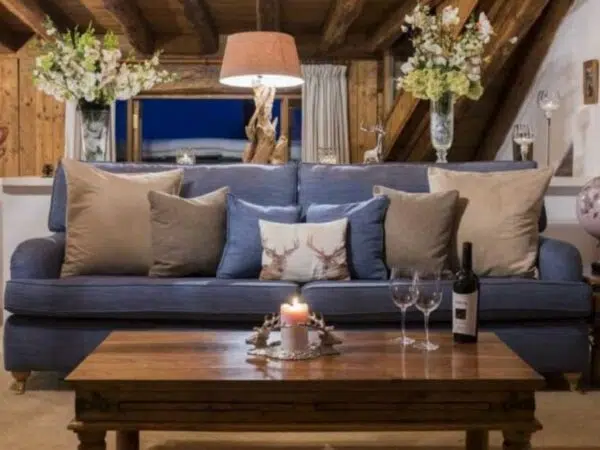 Taste the flavors
Breakfast
You can start your day with a sumptuous breakfast amidst the cool Val d'Isere air. Choose from one of the locally sourced yoghurts, a fresh fruit platter, or something special from the chef's menu at Le Chardon Val d'Isere, such as blueberry buttermilk pancakes or egg benedict.
Evening meal
When your exploration of Val d'Isere ends, enter your dining area and enjoy a delicious meal specially crafted by your own gourmet chef. You could begin with scallops with a Jerusalem artichoke puree and end with an orange cheesecake or whatever appeals to you on the menu.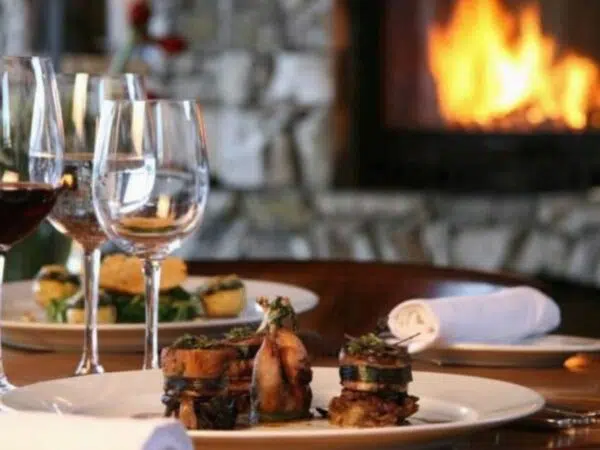 About sustainability
Thyme, the treasured herb, indicates that the property follows local legislation with regard to the environment and has implemented a few eco-friendly common practices.
Le Chardon Val d'Isere has its skilled chefs craft each meal with the inclusion of locally sourced ingredients.

The Le Chardron mountain lodges pride themselves on connecting their guests to the locality and specialities of Val d'Isere.
Explore the location
Val d'Isere isn't a host to top skiing competitions for nothing, and Le Chadron Val d'Isere is right in the centre. Take an early drive with Le Chadron Val d'Isere's chauffeurs to L'Espace Killy for a memorable ski event. Or you can ditch the skiing and focus on Parapente, ice climbing, or a classic French cooking class.
Geneva, Ryon, and Chambery airports are each located 3 hours from Le Chardon Val d'Isere, while rail service to Paris, Bourg St. Maurice lies 40 minutes from Val d'Isere.