Domaine de Castell de Blés: Romantic, Family-Friendly Retreat
Domaine de Castell de Blés is a rustic yet stylish mansion house that offers a romantic, peaceful retreat and family-friendly getaway. Walking through the grounds, centennial trees flank pretty terraces and a crystalline swimming pool where lazy days can be spent. Surrounding, ancient vineyards line verdant landscapes, orchards bloom with peaches and apricots, and majestic horses graze in fields beneath an idyllic Pyrenean mountain backdrop. The elegant mansion's interior emanates a chic retro vibe.
Unusual artifacts pepper the lobby and games room, and a sweeping red-carpeted staircase leads to guest rooms and suites. A peaceful reading area offers respite from the midday sun, and myriad terrace spaces allow you to soak up picturesque vistas of the great outdoors. Activities can be enjoyed inside and outside the boutique hotel, with beauty treatments available poolside or in your room; plus, there are walking, cycling, fishing, and even helicopter rides on offer.
What we liked the most
Easy access to historic Perpignan, sandy beaches, and Pyrenean villages.
Aquamarine swimming pool, beautiful gardens, and plenty of family-friendly activities.
Characterful, yet modern guest rooms with park and countryside views.
Organic breakfast is taken on the garden terrace with home-made bread, jams, and pastries.
Opportunity to explore the local area with curated walks, helicopter rides, and cycling tours.
Rooms Overview
Castel de Blés has 5 spacious rooms and 2 cottages overlooking beautiful, ancient tree-lined parkland, allowing guests to wake up to spectacular views every day. Each room is spacious, yet cozy – a home-away-from-home, a combination of contemporary and traditional styles equipped with all the little extras you could possibly desire during your stay.
Decorated with original hardwood floors, wooden ceiling beams, and interior shutters, this spacious modern room with traditional flourishes is the perfect place for relaxation. Stylishly dressed in crisp white linens, painted in muted heritage shades, and with exquisite park views, it's the ideal room for a romantic stay.
Family Suite
2 to 6 guests
Two-bedroom suite
A spacious guest suite of 60m2 with two separate adjoining rooms for privacy. Perfect for extended family or friends, this generous suite is modern, light, and airy with traditional wood beams, hardwood flooring, and traditional touches like antique chandeliers and ornamental tables.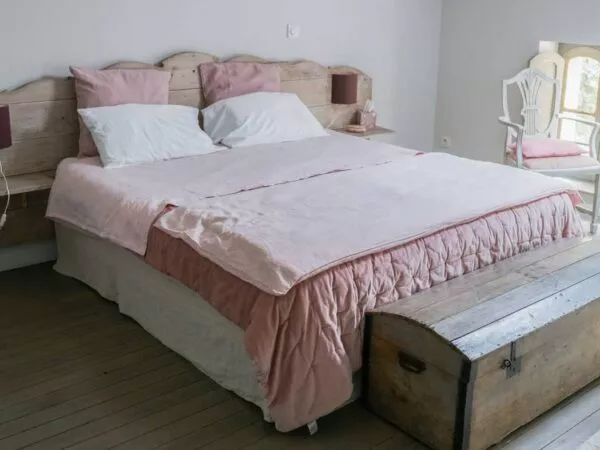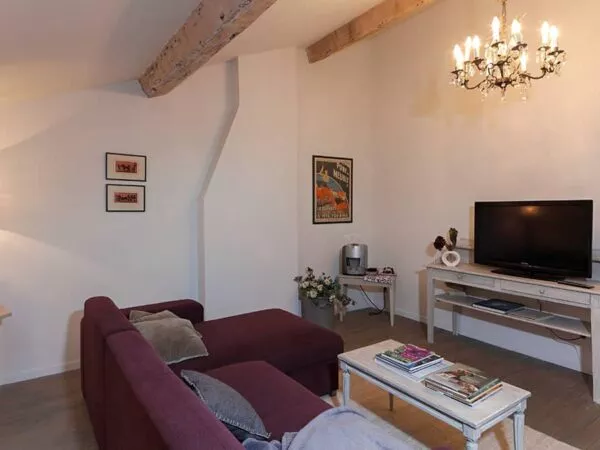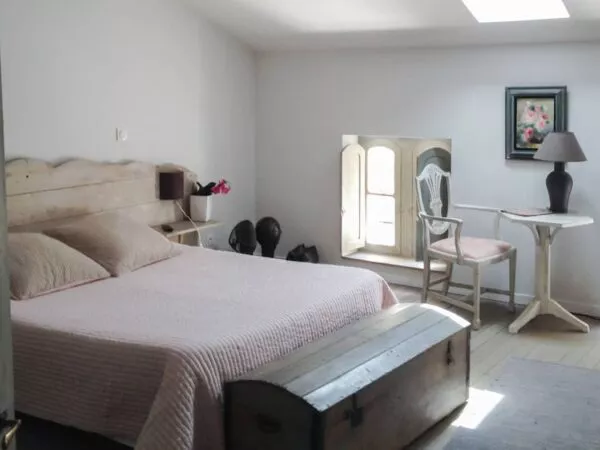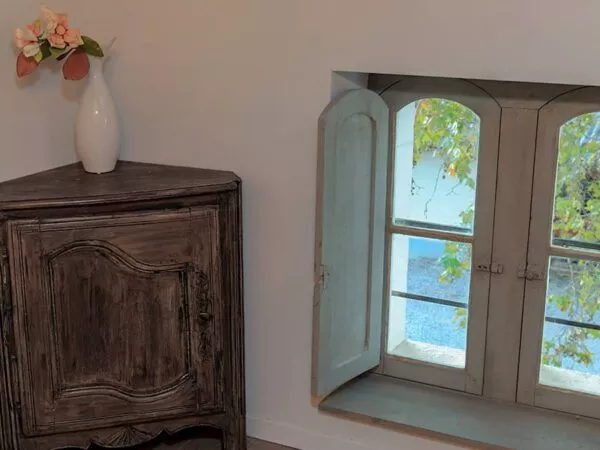 Delightfully spacious guest room characterized by half-timbering, wood floors, and windows with original shutters. The room is decorated in rich amethyst shades with muted pale greys and light wood. It features a super king bed, lounge with convertible small double sofa bed, and en-suite facilities. Views are of the centennial trees and pretty parkland.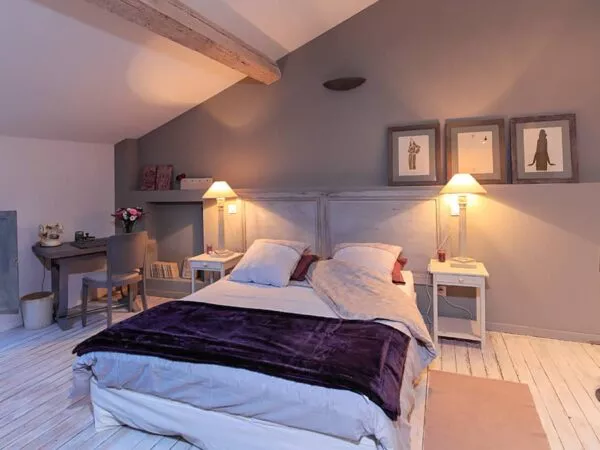 Lou Suite
2 guests
View into the courtyard
A cosy, characterful room designed for 2 people decorated in neutral colour tones with antique furnishings and charming flourishes throughout. This romantic room offers en-suite facilities, beautiful courtyard views, and cailleroux architecture typical of the region. It boasts little extras too, such as towelling bathrobes and air conditioning to ensure a comfortable stay.
This ambient guest room is decorated in muted lilacs and heritage greys and adorned with rich textiles and floor-to-ceiling windows boasting park views. There's a large lounge area complete with TV, a standalone dressing area, and the elegant room is punctuated with unique antique furnishings throughout.
Taste the flavors
Self-catered meals
You also have the freedom to prepare your own lunches and evening meals in the kitchen or use the outdoor barbeque. Throughout the day, tea or coffee is available and the hotel kitchen and barbeques are at your disposal.
Morning Catalan Feast
Good conversation, hearty Catalan breakfasts to start the day with!
Served in the quaint dining area or alfresco on the terrace, you will enjoy a wholesome Catalan breakfast consisting of cakes, bread, cereals, eggs, cheeses, fresh fruit, and juice and organic jams.
Focus on sustainability
Like the fig tree roots, the property is constantly addressing many sustainable tourism areas and excelling in most fields.
With its 2 hectares domain of greenery, Domaine Castell de Blé offers to experience nature.
The restored building kept the traditional architecture features adapted to the climate: thick stone walls, wood ceilings. The rooms are furnished sustainably giving a "second life" to the furniture.
The domain is ticking all eco-friendly boxes: no single-use plastic, renewable energy systems are installed, waste water is treated and reused while trimmings and food are composed.
Sustainability is making the guest's experience unique as you are invited to enjoy fresh eggs from the domain, and fresh local produce for the evening's tapas and barbecue.
You could also enjoy the company of the domain's chicken, horses, and peacocks. Sustainability as an experience!
Explore the location
Set on the outer fringes of Saint-Génis-des-Fontaines, 25 minutes' drive south of Perpignan and 15 minutes from sandy beaches of Argelès-Sur-Mer, Castel de Blés is in a prime location from which to explore the romantic Occitanie region. Explore the town's Romanesque church and former Benedictine Abbey of Saint-Michel, delve deep into medieval history at nearby Elne, or venture to the coast and marvel at cobbled streets and scenic views of Collioure which captured the canvasses of Picasso and Matisse.
Read more in our insider guide to Perpignan
Book a trusted local driver for your transfer to and from the hotel, and introduce you to the destination, pre-order travel essentials, and get all your questions answered before or during the trip. Choose the stops, visit the attractions, and don't waste any time waiting. We've partnered with Welcome Pickups, the first company to deliver a holistic, in-destination travel experience.