Unveiling the Hidden Gem: Ionia Suites, A Captivating Journey in Rethymno
Discover a hidden gem in the heart of Rethymno, where Ionia Suites awaits to whisk you away on a captivating journey. Nestled in a quiet part of town, this enchanting haven is just steps from the glistening beach, inviting you to immerse yourself in the soothing embrace of the sea.
Step into the enchanting realm of Ionia Suites and feel an immediate sense of serenity and sophistication. Let the gentle breeze carry the subtle fragrance of the ocean as the radiant sun paints a shimmering glow over the meticulously curated reception areas.
Awaken your senses at the wine bar-café, a haven of delights where rich aromas mingle with the melodic hum of conversations. Savor exquisite treats, decadent pastries, and soul-warming beverages, all artfully crafted to ignite your taste buds and transport you to a world of pure indulgence.
Indulge in the embrace of pure comfort as you retreat to your elegantly appointed room. Immerse yourself in a symphony of modern amenities, while the soothing ambiance invites you to surrender to a restful slumber.
For those seeking ample accommodations, the junior and executive suites offer a spacious retreat adorned with tasteful furnishings and a comfortable living area, perfect for families or groups of friends seeking a shared adventure.
Embrace the allure of Ionia Suites, and let it unlock the secrets of Rethymno for you. Allow the staff to guide you as you embark on an unforgettable sojourn, where the echoes of history blend seamlessly with modern luxuries. Every moment in Ionia Suites is imbued with the essence of true hospitality.
What we liked the most
Steps from the beach in a quiet part of town

Luxurious accommodations with modern amenities

The warm and welcoming café and bar-restaurant

The impeccable and high-standard customer service

A symphony of comfort with air-conditioned rooms and modern facilities

Convenient location for exploring Rethymno's culture and history
Rooms Overview
Indulge in the epitome of comfort and luxury at Ionia Suites. Ionia's collection of 20 exquisitely decorated suites is designed with meticulous attention to detail, ensuring a delightful stay for even the most discerning traveler. Each suite is thoughtfully furnished with care, providing a haven of elegance and modernity. Ionia Suites cater to every need, from couples seeking a romantic escape to families and friends embarking on a memorable journey. Experience the perfect fusion of refined elegance, impeccable service, and daily cleaning.
Junior Suite
2-3 guests
Balcony
Equipped kitchen
One-bedroom suite
Step into the lap of luxury with the Junior Suites at Ionia Suites. These spacious retreats span 40 square meters and seamlessly blend Renaissance elegance with modern elements, creating a cosmopolitan ambiance that delights the senses. Unwind in the comfort of a well-appointed bedroom featuring a double bed or twin beds. The fully equipped kitchen and inviting living room with a sofa, accommodating two additional guests, provide ample space for relaxation.
Executive Suite
4 guests
Balcony
Equipped kitchen
One-bedroom suite
Unveil a world of unparalleled opulence in the Executive Suite, where every detail is meticulously crafted to elevate your stay. This expansive 50-square-meter haven embodies the very essence of refined hospitality, whisking you away to a sanctuary of elegance and tranquility. Awaken in the luxurious bedroom, graced with a sumptuous double bed or twin beds, promising restful nights and sweet dreams. Delight in the fully equipped kitchen and inviting living room, offering abundant space to unwind.
Family Suite
5 guests
Balcony
Equipped kitchen
One-bedroom suite
Reduce mobility friendly
Embark on an unforgettable family getaway in the Family Suite, where luxury and comfort intertwine to create an authentic hospitality experience. Spanning across 55 square meters, this suite offers ample space for up to 5 guests to relax and unwind. Discover a well-appointed bedroom with a choice of a double bed or twin beds, a fully equipped kitchen for preparing delightful meals, and a cozy living room with a sofa that can accommodate two.
Immerse yourself in the warmth of this suite, where cherished moments and memories await.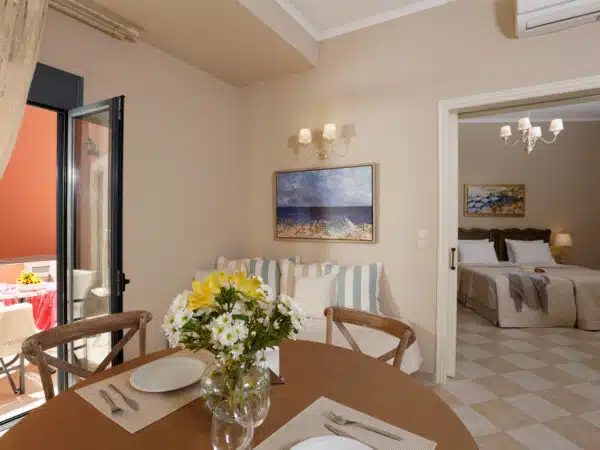 Deluxe Studio
2 guests
Balcony
Equipped kitchen
One-bedroom suite
Escape to serenity in the Deluxe Studio, where tranquility and comfort intertwine. Spanning 30 square meters, this stylish retreat offers a haven of calmness and relaxation in a peaceful environment. Unwind in the cozy bedroom with a comfortable double bed or twin beds. The fully equipped kitchen allows for convenient meal preparation, while the bathroom provides a refreshing oasis.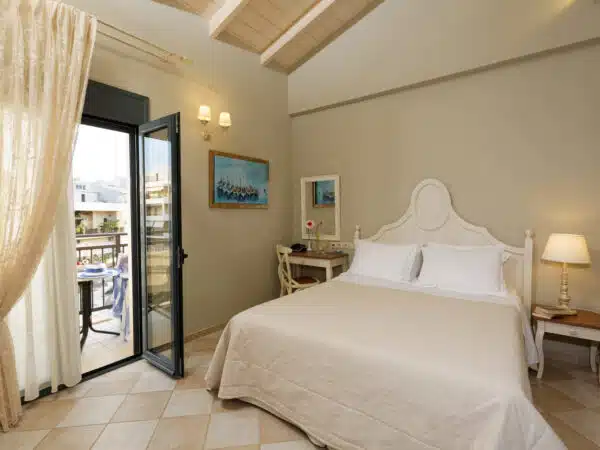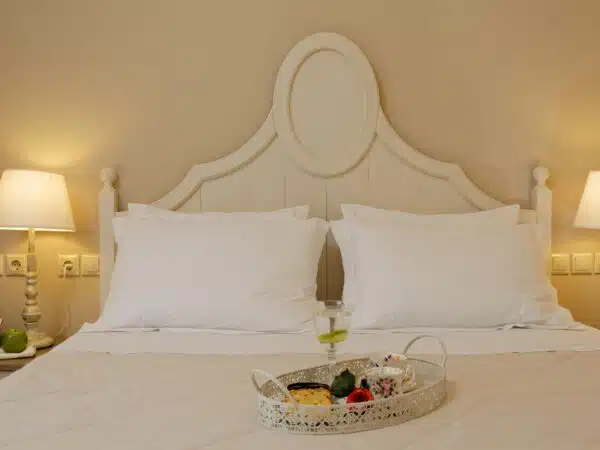 Taste the flavors
Breakfast
Start your day with a delightful culinary journey at the restaurant of Ionia Suites. Nestled on the ground floor, the restaurant invites you to indulge in a breakfast buffet from 7:30 a.m. to 10:30 a.m. Immerse yourself in a comfortable and pleasant environment as you savor fine and cosmopolitan cuisine flavors. The warm and hospitable staff ensures impeccable service, while early breakfast requests are accommodated upon your desire.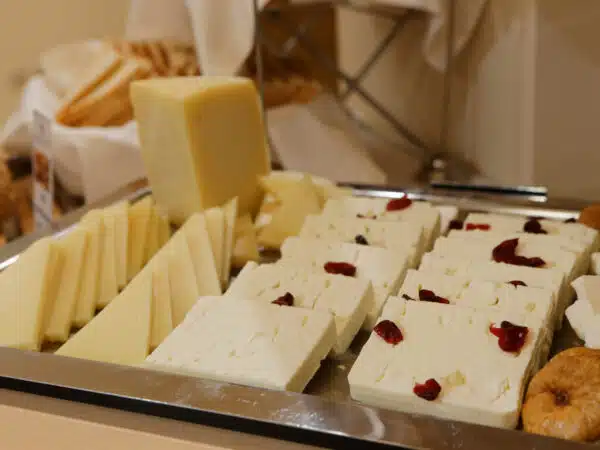 Wine Bar-Café
Escape to the captivating haven of the Wine Bar-Café, where European charm intertwines with warm hospitality. Indulge in delectable snacks, tempting sweets, and a selection of warm drinks and refreshing beverages throughout the day. If you seek a tranquil spot to relax, a place for business meetings, or a delightful gathering with friends, the café is the perfect setting. Immerse yourself in its inviting ambiance, and let time slow down as you savor every moment.
About Sustainability
Citrus, the fruit of Promise, indicates that the property is noticeably eco-conscious as many areas of sustainability are addressed.
Explore the location
Lose yourself in the rich tapestry of Rethymno, where Ionia Suites is nestled amidst a beautiful neighborhood that blends Venetian charm, Ottoman landmarks, and cultural treasures.
Discover the allure of the old town as you wander through narrow streets, soaking in the Venetian atmosphere. Admire the picturesque Venetian harbor and its majestic Fortezza castle while savoring the cool water from the Fountain Rimondi—delight in the sight of Ottoman landmarks like the Ibrahim Mosque and the minaret of Valide Sultana.
Explore Rethymno like a local!
Uncover the island's cultural treasures as you explore archaeological sites and museums. Immerse yourself in the vibrant cultural scene, with various events and festivals taking place, including the Renaissance Festival, the Wine Festival at the Municipal Garden, and captivating theatrical and musical performances.
Indulge in the breathtaking beauty of Rethymno's beaches and be captivated by the mesmerizing sunset along the shoreline. Take memorable photos at Rethymno Marina, capturing the city's enchanting backdrop.
For those seeking further adventures, the nearby Monastery of Arkadi, Preveli Monastery, Ideon Andron, and natural wonders like the Kourtaliotis Gorge and Kotsifou Gorge await. Explore