Welcome to Rethymno, a picturesque city located in the heart of the island of Crete, Greece. As you wander through the charming alleys of this ancient city, you'll discover a rich history, stunning beaches, delicious food, exciting nightlife, and thrilling outdoor activities. Rethymno is a must-visit destination that offers a unique experience to every traveler. This guide will take you through everything you need to know to make the most out of your stay in Rethymno, Crete.
Contents
History of Rethymno
Rethymno is a city with a fascinating and complex history that spans thousands of years. The city's origins can be traced back to the Minoan period, one of the most significant civilizations in ancient Greece. The Minoans were renowned for their sophisticated architecture, art, and culture, and their influence can still be seen in many of Rethymno's ancient buildings and monuments.
In the centuries that followed, Rethymno was conquered by a succession of empires and civilizations, including the Romans, Byzantines, Venetians, and Ottomans. Each of these periods left its mark on the city's culture, language, and architecture, resulting in a unique blend of styles and influences that can be seen in its streets and buildings.
One of the most significant periods in Rethymno's history was the Venetian occupation in the 16th century. The Venetians transformed the city into a center of trade and commerce and built many impressive buildings, including the Fortezza, the city's most iconic landmark. The Fortezza was built to protect the city from Ottoman invasion and served as a military outpost, a prison, and a barracks.
The Ottomans occupied Rethymno for over two centuries and also left a significant mark on the city's culture and architecture. During this period, many mosques, hammams, and other public buildings were constructed, reflecting the Ottoman's unique style and influence.
Despite the city's turbulent past, Rethymno emerged as a thriving cultural and commercial center in the 19th century. The city's streets and buildings underwent significant renovations, and new public spaces and landmarks were constructed. Today, Rethymno is a vibrant and dynamic city that blends its rich cultural heritage with modern amenities and attractions. Its history is reflected in its many landmarks, museums, and festivals, making it a fascinating destination for anyone interested in culture, history, and adventure.
Things to do in Rethymno
Explore the Old Town of Rethymno, an enchanting maze of narrow alleys and streets lined with impressive Venetian and Ottoman architecture. Strolling around this historic neighborhood is a must-do activity in Rethymno. You'll feel like you've been transported back in time to a different era as you admire the beautifully preserved buildings, churches, and monuments. Don't forget to take a break in one of the many cafes and tavernas and try some local treats, such as bougatsa or dakos.
Visit the Fortezza Castle, a prominent landmark that towers over the Old Town of Rethymno. As you climb up to the top of the fortress, you'll be rewarded with stunning panoramic views of the town and the sea. The castle is a well-preserved example of Venetian military architecture and was built in the late 16th century to protect the town from pirate attacks. Take your time to explore the fortifications, the bastions, and the dungeons, and imagine what life was like for the soldiers who once lived there.
Stroll along the Venetian Harbour of Rethymno, a picturesque and lively spot that's worth a visit at any time of the day. Take a walk along the quayside and admire the traditional fishing boats, yachts, and colorful buildings that line the waterfront. If you're lucky, you might catch a glimpse of the local fishermen mending their nets or unloading their catch. In the evening, the harbor comes alive with music, laughter, and the delicious aroma of grilled seafood.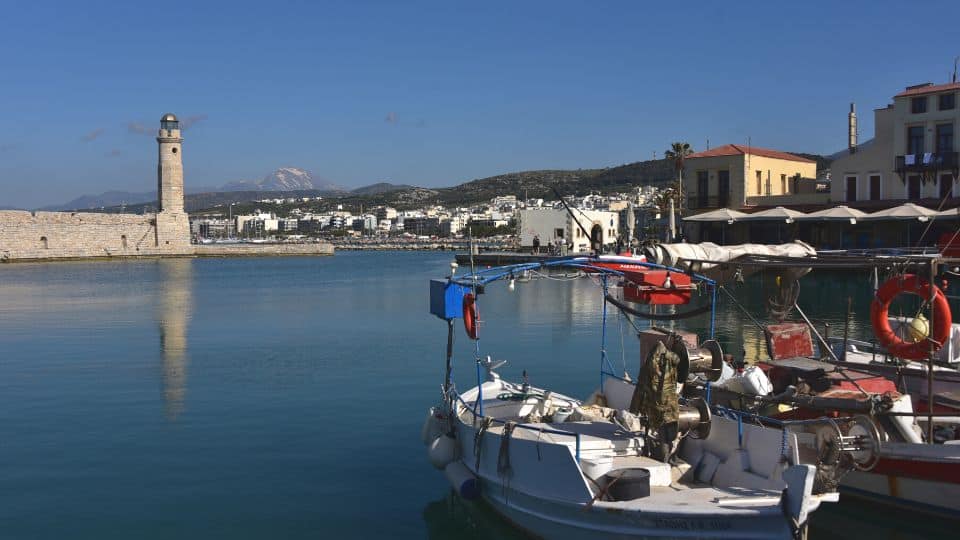 If you're interested in history, don't miss the chance to visit the Archaeological Museum of Rethymno. The museum's collection includes artifacts from the Minoan, Hellenistic, and Roman periods, as well as exhibits from the Byzantine and Venetian eras. You'll be able to admire ancient pottery, sculpture, and jewelry, as well as everyday objects that provide a glimpse into the lives of the people who lived on the island thousands of years ago.
The Rimondi Fountain is a beautiful Venetian monument that dates back to the 17th century. Located in the center of the Old Town, it's a popular meeting spot for locals and visitors alike. The fountain is adorned with carved lion heads and features three spouts that represent the three seasons of the Cretan year.
Explore the Neratze Mosque, a well-preserved example of Ottoman architecture that's now used as a music conservatory. As you step inside the mosque, you'll be impressed by the intricate details of the interior, including the impressive dome and the decorative tiles. Take a moment to imagine the history of this building and the role it played in the town's past.
The Venetian Loggia is a beautiful building that was once used as a meeting place for the Venetian nobility. Today, it houses the Municipal Gallery of Rethymno, which features a collection of contemporary art and photography. The building itself is a work of art, with its arched windows, carved decorations, and imposing facade.
Visit the Monastery of Arkadi, one of the most important religious monuments in Crete and a significant symbol of Cretan resistance to the Ottoman rule. The monastery played a crucial role in the 1866 rebellion, and its heroic history is still remembered and celebrated today. Inside the monastery, you'll find a museum that houses a collection of artifacts and exhibits that recount the monastery's history.
Taste – Restaurants in Rethymno
Greek cuisine is known for its simplicity, freshness, and quality of ingredients. In Rethymno, you'll find an abundance of traditional tavernas and modern restaurants that offer a wide range of dishes to suit all tastes and budgets. From fresh seafood to mouth-watering meat dishes and vegetarian options, Rethymno has it all.
One of the most popular traditional dishes in Rethymno is the Cretan salad, which is made with fresh vegetables, feta cheese, and olive oil. You can also try the famous dakos, which is a local version of bruschetta made with rusk bread, tomatoes, feta cheese, and olive oil. Another must-try is the grilled octopus, which is served with lemon and olive oil, and is a true delight for seafood lovers.
For meat lovers, Rethymno has plenty of options, such as souvlaki, which is grilled meat on a skewer, and gyros, which is a popular Greek street food made with meat and served with pita bread, tomatoes, and tzatziki sauce. You can also try the local lamb chops, which are cooked to perfection and served with potatoes and vegetables.
If you're looking for something sweet, don't miss the chance to try loukoumades, which are small Greek donuts served with honey and cinnamon. Another popular dessert in Rethymno is baklava, which is a sweet pastry made with layers of phyllo dough and nuts.
When it comes to restaurants in Rethymno, there is no shortage of options. For a traditional Greek experience, head to the old town and visit one of the local tavernas, such as Avli or Prima Plora, which serve authentic dishes made with fresh, local ingredients. For a modern twist on Greek cuisine, try out places like 7 Thalasses or Alekos, which offer creative dishes and a stylish ambiance.
No matter where you decide to eat in Rethymno, you're sure to find something delicious and satisfying. Just be sure to leave room for some raki, a local spirit that is often served at the end of a meal and is a great way to end your culinary adventure in Rethymno.
Cretan cuisine is famous for its delicious and healthy dishes, and taking a cooking class in Rethymno is an excellent way to learn more about it. You'll get the chance to visit local markets, select fresh ingredients, and prepare traditional recipes with the help of an experienced cook. Some classes even offer the opportunity to enjoy the meal you've prepared in a beautiful setting, such as a vineyard or a beach.
Finally, Crete has a long tradition of winemaking, and taking a wine-tasting tour is an excellent way to sample some of the island's best wines. You'll visit local wineries, learn about the wine-making process, and taste a variety of wines, including red, white, and rose. You'll also get the chance to pair the wines with local cheeses and other snacks, which will enhance your experience and give you a taste of the island's culinary delights.
Nightlife in Rethymno
When the sun sets, Rethymno comes alive with a buzzing nightlife scene that caters to all tastes and preferences. The city's nightlife scene is truly vibrant, and there are many options to choose from when you want to spend a fun evening out.
For a relaxed night out, Rethymno's old town has a variety of bars and cafes that offer a cozy and intimate atmosphere where you can sip cocktails and people-watch. Some of the popular options include small tavernas that serve traditional Greek drinks and dishes. These tavernas are perfect for a laid-back night with friends or a romantic evening out. You can wander around the old town and explore different bars or cafes that appeal to you.
Cretan music is a vibrant and joyful expression of the island's cultural heritage, and attending a traditional music night is a fantastic way to immerse yourself in it. Many tavernas and cafes in Rethymno host live music events featuring local musicians playing traditional instruments such as the lyra and the laouto. You'll be able to dance, sing, and clap along with the locals and experience the sense of community that is so important in Cretan culture.
If you're looking for a lively atmosphere, head to the beachfront area of Rethymno, where you'll find a range of clubs and bars that stay open late into the night. This area has a great vibe, especially during the summer months when the beach is lively and packed with people. You can enjoy a refreshing drink at one of the many bars or clubs and dance the night away. Keep in mind that the party in Rethymno goes on until the early hours of the morning, so pace yourself and enjoy the experience.
Rethymno also has several music and dance clubs that cater to different preferences. You can check out places that specialize in different genres of music, from traditional Greek music to contemporary hits. Whatever your musical preference is, there's a club for you.
It's worth noting that many bars and clubs in Rethymno are seasonal, so if you're visiting in the off-season, be sure to check which spots are open before you head out.
Rethymno's nightlife is a lively and exciting scene that you won't want to miss. The atmosphere is friendly, and the locals are always happy to help you find the perfect spot for your night out. So get ready to explore and have a great time in Rethymno's vibrant nightlife.
Stay – Hotels in Rethymno
Rethymno offers a diverse range of accommodation options to suit every traveler's preferences, including a number of boutique hotels that provide a unique and personalized experience. These hotels are typically housed in historic buildings such as traditional houses or old mansions and offer comfortable and stylish accommodations that have been tastefully renovated to preserve their original character.
Boutique hotels in Rethymno are characterized by their intimate atmosphere and personalized service, making them a great choice for those who are looking for a more authentic and customized experience. The rooms are often individually designed with attention to detail and offer a unique combination of traditional and modern elements. While the rooms may be smaller in size, they make up for it with their character and charm.
A perfect example is Thalassa Boutique Hotel, a gem nestled in the heart of Réthymno city, Greece, that provides an exclusive beachfront experience. With its rich history spanning over 150 years, this charming boutique hotel exudes a tranquil and inviting atmosphere. The lounge area boasts natural stone architecture and warm earthy tones, while the suites offer stylish furnishings and a magnificent ocean view. The 7 Thalasses Restaurant provides a unique dining experience with a menu that features fresh seafood dishes and a wine collection to tantalize your taste buds. 
Relax on the private beach or enjoy the heated outdoor swimming pool before heading to the Euphoria Health Spa for a rejuvenating Hamman massage. The hotel's helpful staff is always available to provide suggestions for local attractions, making it easy to explore the exciting Cretan culture that surrounds Thalassa Boutique Hotel. This hotel is perfect for couples and travelers seeking quality and comfort to enhance their overall experience.
Be Active – Outdoor Activities around Rethymno, Crete
Rethymno is a great destination for outdoor enthusiasts, with plenty of activities and attractions to enjoy. The region's natural beauty and diverse terrain make it an ideal place for a variety of outdoor activities, including hiking, cycling, water sports, and more.
Explore the Melidoni Cave, a natural wonder located about 25 kilometers from Rethymno. The cave is steeped in history and mythology and is said to have been the site of ancient rituals and sacrifices. Today, it's open to visitors who can explore its impressive rock formations, stalactites, and stalagmites. The cave is also home to a memorial dedicated to the people who lost their lives during the Ottoman occupation.
One of the most popular outdoor activities in Rethymno is hiking, with a range of trails available for all levels of fitness and experience. The E4 European Long Distance Path, which stretches across Europe, passes through the region, offering a great opportunity to explore the local landscape on foot. Some of the most popular hiking trails in Rethymno include the Samaria Gorge, the Imbros Gorge, and the Kourtaliotiko Gorge, all of which offer stunning views of the local flora and fauna.
Cycling is another popular outdoor activity in Rethymno, with a range of routes available to suit all levels of cyclists. The region's picturesque countryside and charming villages make it an ideal place for leisurely rides, while the challenging mountainous terrain offers a more strenuous experience for experienced cyclists.
For those who enjoy water sports, Rethymno has plenty to offer. The clear blue waters of the Mediterranean Sea are perfect for swimming, snorkeling, and scuba diving, while the local rivers and lakes offer great opportunities for kayaking and paddleboarding. Jet skiing and parasailing are also available for those who are looking for an adrenaline rush.
Other popular outdoor activities in Rethymno include horseback riding, rock climbing, and canyoning, all of which offer unique and exciting ways to experience the local landscape.
The Best Beaches in Rethymno
With crystal-clear waters, golden sands, and stunning scenery, Rethymno's coastline offers something for everyone. From secluded coves to bustling beaches with plenty of facilities, visitors are spoilt for choice. Let's explore some of the region's best beaches and what makes them unique.
Preveli Beach: This stunning beach is located in the south of Rethymno and is known for its picturesque scenery and clear blue waters. The beach is surrounded by palm trees and lush vegetation and is a great place to relax and soak up the sun. There's also a nearby river that runs into the sea, which is a popular spot for swimming and kayaking.
Preveli is a popular destination that can get crowded during the high season. A great way to avoid the crowds and admire the beach from a different perspective is to take a boat trip from Rethymno.
Amoudi Beach: This small beach is located on the eastern side of Rethymno and is known for its crystal-clear waters and peaceful surroundings. The beach is surrounded by cliffs and rock formations, which provide a beautiful backdrop for swimming and sunbathing. There are also a few tavernas nearby, where you can grab a bite to eat or a refreshing drink.
Bali Beach: This is one of the most popular beaches in Rethymno and is known for its golden sands and calm waters. The beach is surrounded by small coves and rocky cliffs, which provide a sheltered environment for swimming and sunbathing. There are also a few bars and restaurants nearby, where you can enjoy a meal or a drink while taking in the beautiful views.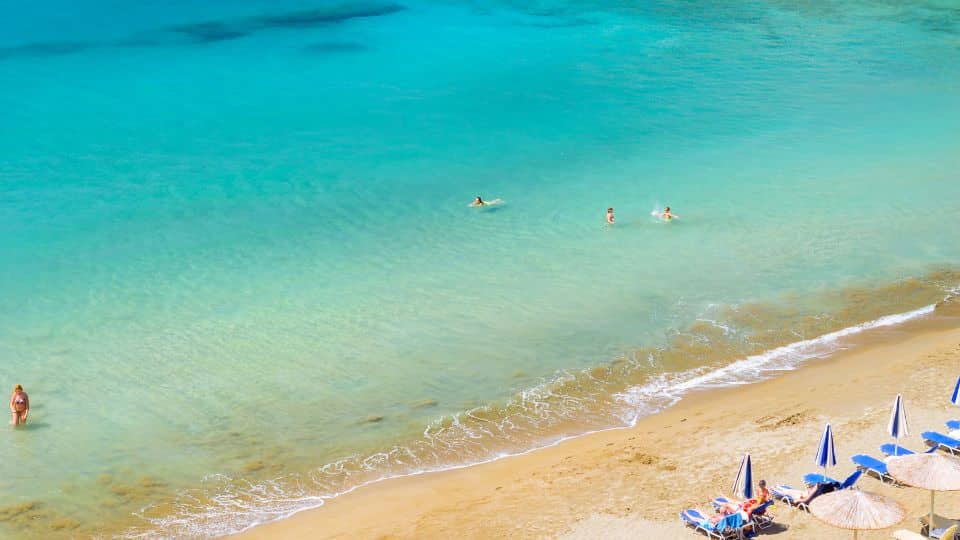 Spilies Beach: This secluded beach is located on the western side of Rethymno and is known for its rocky cliffs and crystal-clear waters. The beach is accessible only by boat or by a steep footpath, which adds to its secluded and peaceful atmosphere. There are no facilities on the beach, so be sure to bring everything you need for a day in the sun.
Geropotamos Beach: Located around 20 km east of Rethymno, Geropotamos Beach is a long sandy beach with crystal-clear waters, surrounded by impressive rocky formations. The beach is perfect for swimming and sunbathing, but it's also a great spot for snorkeling and scuba diving. There are a few beach bars and tavernas in the area, making it a great place to spend the day.
Plakias Beach: Plakias Beach is a long, sandy beach located around 40 km south of Rethymno. The beach is known for its crystal-clear waters and stunning scenery, with a backdrop of rugged hills and mountains. It's a great place for swimming and sunbathing, but it's also a popular spot for windsurfing and other water sports. There are plenty of beach bars, restaurants, and cafes in the area, making it a great place to spend a full day.
Rodakino Beach: This small beach is located in the south of Rethymno, and is known for its crystal-clear waters and beautiful scenery. The beach is surrounded by cliffs and rocks, which provide a beautiful backdrop for swimming and sunbathing. There are a few tavernas nearby, where you can enjoy a meal or a drink while taking in the beautiful views.
These are just a few of the best beaches in Rethymno, and there are many more to discover. Whether you're looking for a secluded cove or a bustling beach with plenty of facilities, you're sure to find something to suit your tastes in this beautiful region of Crete.
How to get to Rethymno
Rethymno is easily accessible from other major cities in Greece. If you're coming from Athens, you can take a direct flight to Chania or Heraklion International Airport, both of which have regular flights from Athens. The flight from Athens to either airport takes about 1 hour, and once you arrive, you can take a bus or taxi to Rethymno.
If you're traveling from other major European cities, you can find direct flights to either Chania or Heraklion airport. Both airports are well-connected to other European destinations and have regular flights from various airlines.
Another option is to take a ferry from Athens or other Greek islands to the port of Rethymno. The ferry journey from Athens to Rethymno takes around 9 hours, but the trip is worth it for the scenic views of the Aegean Sea.
If you're traveling from other Greek islands, such as Santorini or Mykonos, you can take a ferry to either Chania or Heraklion and then take a bus or taxi to Rethymno.
No matter how you decide to get to Rethymno, the journey is an enjoyable one with stunning views of the Mediterranean and the beautiful island of Crete.
Transportation in Rethymno
If you want to explore Rethymno city, walking is the best option as it's a small city with narrow streets that offer a charming experience. You can take a stroll around the Old Town, visit the Fortezza fortress, and walk along the Venetian harbor. If you want to visit other places around Rethymno, you can take a bus from the main bus station, which is located near the city center.
Buses in Crete are generally reliable, and you can find a bus schedule posted at the station. The buses run regularly and connect Rethymno with other major cities and smaller villages. You can also take a taxi, which is a convenient option for short distances or if you're in a hurry.
If you want to explore more of the island at your own pace, renting a car or a scooter is a great option. There are plenty of rental companies in Rethymno, and you can choose from a variety of vehicles. Keep in mind that in Crete, you drive on the right side of the road, and the roads can be narrow and winding. Make sure to drive carefully and always wear a seatbelt.
Day trips from Rethymno
Rethymno is not only a wonderful destination in itself but also a great base for exploring the rest of Crete. There are many day trips that you can do from the city, which offer diverse experiences for travelers. One of the most popular day trips is to the city of Chania, which is located about 60 kilometers from Rethymno.
Chania is a picturesque city with a Venetian harbor, an old town, and many cultural attractions. Visitors can stroll around the narrow streets, visit the museums, and enjoy the local cuisine. One of the highlights of the city is the Archaeological Museum of Chania, which showcases the rich history and culture of the region. Discover everything there is to know about Chania on our Insider Guide.
Another great day trip is to the traditional village of Argyroupoli, located about 20 kilometers from Rethymno. The village is known for its natural springs, which create a series of waterfalls and pools. Visitors can swim, relax, and enjoy the peaceful atmosphere. The village is also famous for its tavernas, which serve delicious local dishes made with fresh ingredients.
Agia Galini: Located about an hour and a half from Rethymno, this beautiful village is set in a sheltered bay and has a rich history dating back to the Minoan era. Stroll along the promenade, browse the boutiques and galleries, and enjoy a meal in one of the seaside restaurants.
When to visit Rethymno
Rethymno is a great destination all year round, as the city offers different experiences depending on the season. During the summer months, the beaches are packed with tourists, and the city's nightlife is in full swing. You can enjoy the warm weather and take part in many outdoor activities, such as water sports, boat trips, and hiking.
If you're not a fan of crowds, consider visiting Rethymno during the shoulder season, from April to June or September to October. During these months, the weather is still warm, and the sea is pleasant for swimming, but the crowds have thinned out, and the prices are lower. You can enjoy the city's many cultural attractions and still take part in outdoor activities without having to worry about the crowds.
If you're looking for a unique experience, visit Rethymno during the Carnival in February. This is one of the most colorful and festive times in the city, where the streets are filled with colorful parades, music, and dancing. The carnival is a great way to experience the local culture and to see the city come to life with joy and celebration. You can join the locals in their traditional costumes and take part in the many parties and events that are organized throughout the city.