The Julina Boutique Living is the perfect mix of welcoming charm and refined luxury.
With nine regal suites artfully arranged around a central courtyard, a stay at this place is like being hosted by a friendly yet ever-so-glamorous family. Your hosts, Carmen and Chris, fell in love with the gorgeous house at first glance and are always delighted to welcome their new and returning guests. Being firmly rooted in the day-to-day life of the old town, they are dedicated to providing visitors with an authentic glimpse into their beloved Mosta.
Drift in one of the sumptuous beds draped in splendid tones of purple, red, and blue, and in the morning, enjoy an exquisite breakfast in the courtyard or the opulent dining room. Julina Boutique Living Hotel represents a magical getaway if you are looking to spend some time in a truly magnificent home and explore the wonders of Malta. You will not only feel the warmth of Julina's welcome, but neighbors' friendly and interested attitudes contribute to a special experience.
What we liked the most
Running into Carmen in the dining room and being invited to share in her meal
Falling asleep in the magnificent bed complete with a high-end mattress, bedding and pillows
Strolling around the architectural splendour of Mosta Dome
Peacefully sipping your morning coffee on the terrace
Visiting the Mosta market on Monday morning
Rooms Overview
The nine individually styled suites at Julina Boutique Living are decked out in lush fabrics and glowing in jewel colours and each suite's name reflects a piece of the charming B&B's story.
Heidi
3 guests
View into the courtyard
Fall asleep in the velvety red sheets under the glittering chandelier in the Heidi suite, named after a treasured family friend. The room blends pale blue with hints of bold crimson, evoking fire and ice,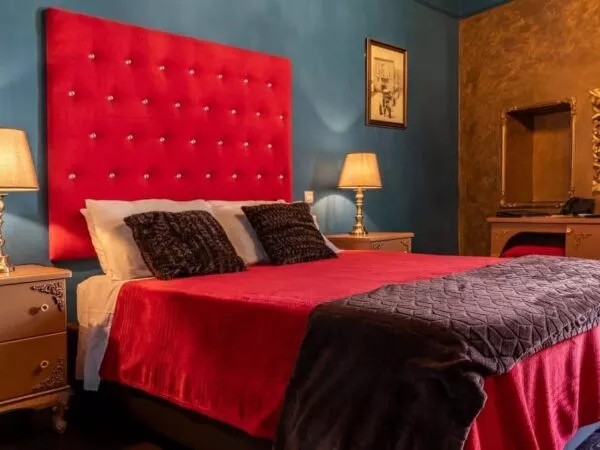 Cikku & Geremija
3 guests
Balcony
View into the courtyard
Cikku is named after Chris' father, he has shown a great deal of support while being a master of errands and odd jobs; while Geremija is the bank manager who helped gibing life to Chris and Carmen's dream. In these suites, you get to relax on your private balcony with outdoor seating or enjoy a spacious interior, glowing in warm shades of ochre.
Katrin, Zaru & Guzeppa
2 guests
View into the city
Lavish fabrics and tones of sapphire and gold give these suites a positively regal atmosphere. Katrin is Carmin's mother name who is a true figure of care and support, Zaru is Carmin's father, who had undertaken all the woodwork, and Guzeppa is a dear friend to the owners.
Roza
4 guests
Balcony
View into the city
The King Suite, Roza, was named after the previous owner of the building, as a tribute to her lovely soul. You can take a moment to refresh on the private balcony or relax inside on one of the plush armchairs, surrounded by hints of ochre and topaz and polished mahogany furniture.
Taste the flavors
Dining options
All day long, you are free to use the dining room for other meals. Whether it is a surprise to a loved one, a birthday celebration or a cosy family dinner, Chris and Carmen are more than willing to be part of your special day and to make it unforgettable. Dinners, decorations, unique atmospheres, all can be planned in a blink of an eye!
The Breakfast feast
Breakfast is served in the dining room or enjoyed in the courtyard and includes a delightful array of classic Continental options. Enjoy delicious Maltese coffee with a selection of fresh fruits or juice, croissants, homemade jam and cheese, just what you need to be ready for a day of exploring!
If you have any special dietary requirements, let your hosts know in advance and they will do their best to accommodate.
Focus on sustainability
Like the fig tree routs, the property is constantly addressing many sustainable tourism areas and excelling in most fields.
Julina Boutique Living is hosted in a traditional Maltese house. The house was refurbished while taking care of the local and traditional character.
The interior is uniquely made of sustainably sourced furniture, entirely selected from antiques and handmade wooden pieces handcrafted by the owner's father.
The charming B&B is managed along with the rhythm of the village life and is totally embedded into the local community.
Explore the location
Julina Boutique Living is located in the old town of Mosta is an off-the-beaten-track, in the centre of Malta. It is a great location for visitors wanting to truly explore all corners of the island, as transport links are excellent. Discovering the town reveals winding cobbled streets, typical Maltese houses and a variety of coffee shops to stop into and get to know the locals.
The bus stop located next to the hotel allows visitors to reach Valletta, Citadelle and many of the island's stunning beaches and lakes. Valletta airport is located just 15 mins drive away.
Book a trusted local driver for your transfer to and from the hotel, and introduce you to the destination, pre-order travel essentials, and get all your questions answered before or during the trip. Choose the stops, visit the attractions, and don't waste any time waiting. We've partnered with Welcome Pickups, the first company to deliver a holistic, in-destination travel experience.
Discover Other Hotels