Captivating Vistas and Serene Luxury: Discover the Beauty of Kalesma in Mykonos
Surrender to the charm of Kalesma, a mesmerizing sanctuary nestled in the enchanting realm of Mykonos. With an allure that captures the essence of the island's rich heritage, this luxury boutique hotel invites you to embark on an exclusive Mykonian experience unlike any other.
As you arrive at Kalesma, you'll discover a collection of whitewashed houses meticulously designed to resemble a picturesque Mykonian village. Perched gracefully upon the Mykonian earth, this privately owned haven exudes an air of timeless elegance. The property gently cascades down a slope, unveiling breathtaking vistas of Ornos Bay. Here, you'll relish the rare opportunity to witness sunrise and sunset from the same vantage point.
Drawing inspiration from Cycladic architecture, this boutique hotel harmoniously blends tradition with contemporary elements. The result is a captivating fusion of sleek, minimalist interiors crafted with locally sourced materials. Every corner of this ethereal retreat exudes the delicate balance between modernity and reverence for ritual and tradition. Luxurious in its offerings, Kalesma gracefully embraces an unpretentious elegance, providing a sanctuary where comfort and luxury coexist.
Within the confines of the property, every detail has been thoughtfully curated to create a seamless tapestry of indulgence. As you surrender to the gentle Mediterranean breeze, allow yourself to revel in the spontaneity of a Mykonian vacation. Whether you seek serenity by the poolside, embark on culinary adventures through tantalizing Greek cuisine, or explore the vibrant nightlife of Mykonos, Kalesma is your gateway to an extraordinary vacation.
Experience the true essence of Mykonos at Kalesma, where the fusion of timeless mythology and refined indulgence paints an exquisite canvas of everlasting memories.
What we liked the most
Panoramic vistas of Ornos Bay and breathtaking sunrise and sunset views

Thoughtfully designed whitewashed houses resembling a charming Mykonian village

An exquisite blend of modernity and traditional Cycladic architecture

Luxurious interiors with sleek and minimalist designs using local materials

Unpretentious grace that embraces guests with warmth and comfort

Culinary delights with irresistible Greek cuisine and exceptional dining experiences
Rooms Overview
Kalesma unveils an exquisite array of accommodations, each showcasing its unique allure. With 4 Kalesma Suites (One-Bedroom), 13 Kalesma Suites Sea View (One-Bedroom), and 8 Kalesma Villas Sea View (One-Bedroom), every retreat is a haven of tranquility. The grand Apollon Villa (Three-Bedrooms) and Artemis Villa (Four-Bedrooms) stand as testaments to unrivaled opulence. Indulge in a private, heated pool while relishing panoramic sea views, al fresco dining areas, and poolside sun loungers. Embrace luxurious minimalism, bask in serenity, and discover a sanctuary where world-class comforts blend seamlessly with Cycladic charm.
Kalesma Suite
3-4 guests
One-bedroom suite
Private pool
Private terrace
View into the garden
Step into the realm of serenity with the Kalesma Suite One-Bedroom. This exquisite sanctuary exudes contemporary design and reawakened Mykonian aesthetics. Immerse yourself in the spacious interior adorned with bespoke furnishings and natural materials. Awake to the sun's gentle caress and indulge in a restful night's sleep on the king-sized bed. Embrace the art of relaxation in the luxurious bathroom, complete with a freestanding bathtub offering captivating pool views. Outside, a private heated infinity pool beckons, accompanied by an outdoor kitchen and dining areas, all framed by lush Cycladic gardens.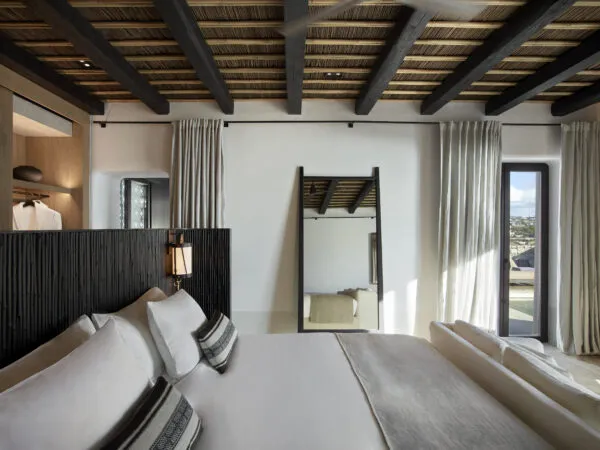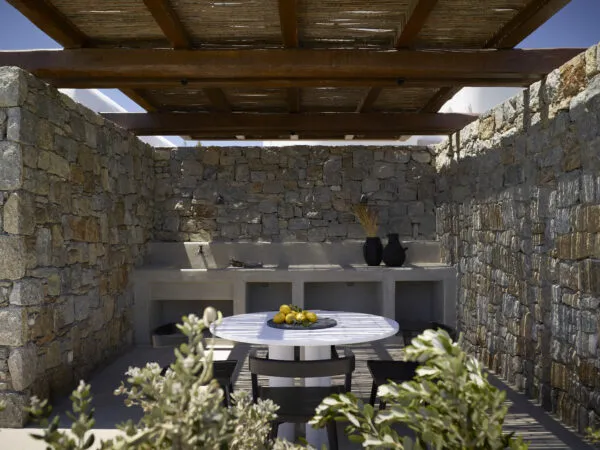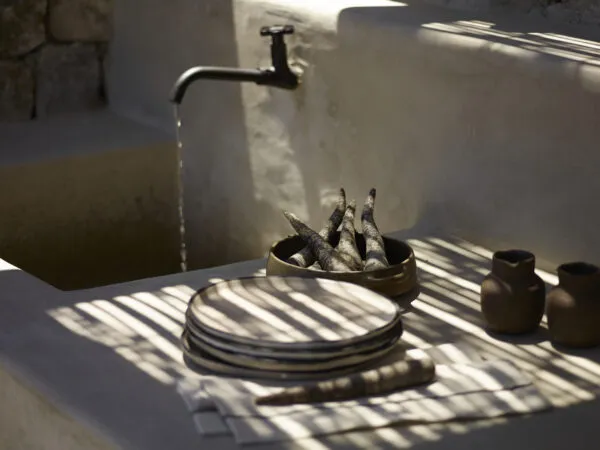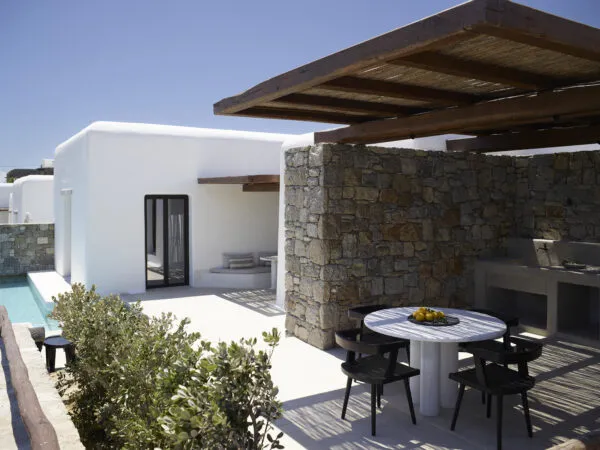 Kalesma Suite Sea View
3-4 guests
One-bedroom suite
Private pool
Private terrace
View into the sea
Elevate your senses in the Sea View Kalesma Suite, where luxury and breathtaking vistas converge. Step onto your expansive 90m² private terrace, embraced by the gentle caress of the Aegean Sea. Immerse yourself in the serenity of your own heated pool, basking in the glow of a majestic sunrise. With delicate decor, natural materials, and tranquil tones, this suite embodies the genuine essence of Mykonos. Unwind, rejuvenate, and surrender to the enchantment of a truly unforgettable escape.
Kalesma One-Bedroom Villa
3-4 guests
Private pool
Private terrace
View into the sea
Experience pure bliss in the Kalesma One-Bedroom Villa, a minimalistic sanctuary designed to immerse you in the essence of Cycladic serenity. Step onto your private terrace, where an expansive garden unfolds, embracing a heated infinity pool and captivating sea views. With organic design and natural materials paying homage to Mykonian tradition, this villa invites you to indulge in tranquility, relishing the harmonious blend of luxury and rugged aesthetics.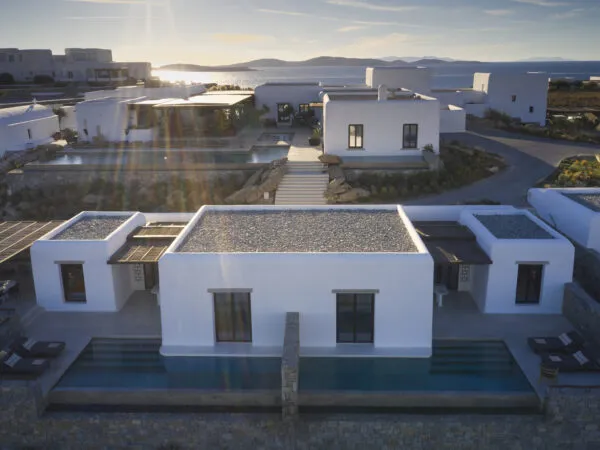 Kalesma Apollon Villa
6 guests
Equipped kitchen
Private pool
Private terrace
View into the sea
Enter a realm of grandeur and tranquility at Apollon Villa, a luxurious home-away-from-home on Mykonos. This expansive 240m²/2600 ft² sanctuary beckons with serenity and island elegance, accommodating up to 6 adults. Immerse yourself in the seamless harmony of natural elements, luxurious furnishings, and soothing color palettes. Three light-filled bedrooms embrace you, while a vast living area, fully-equipped kitchen, and captivating sun terrace with a private heated pool invite cherished moments of togetherness amidst Mykonos' enchanting magic.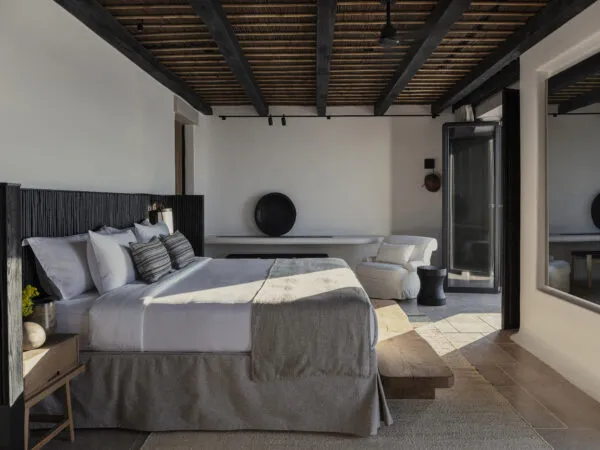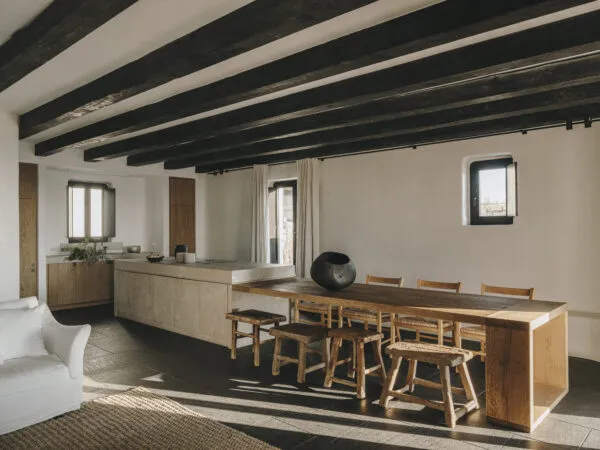 Kalesma Artemis Villa
8 guests
Equipped kitchen
Private pool
Private terrace
View into the sea
Welcome to Artemis Villa at Kalesma, an extraordinary sanctuary where majestic views of the Aegean Sea intertwine with a luxurious sense of privacy. This four-bedroom villa spans 240m², accommodating up to 8 guests in a space that exudes comfort and intimacy. Adorned with elegant design, it invites you to experience elevated island living. Step onto the sun terrace, immerse yourself in the private heated pool and surrender to the enchanting allure of uninterrupted peace. Artemis Villa, inspired by the goddess of the hunt, is a true embodiment of a Mykonian home.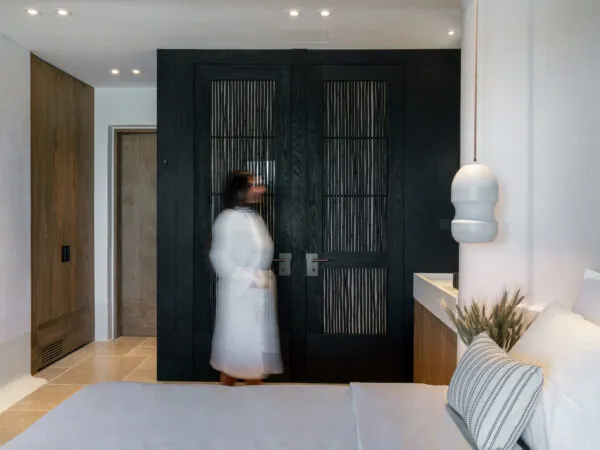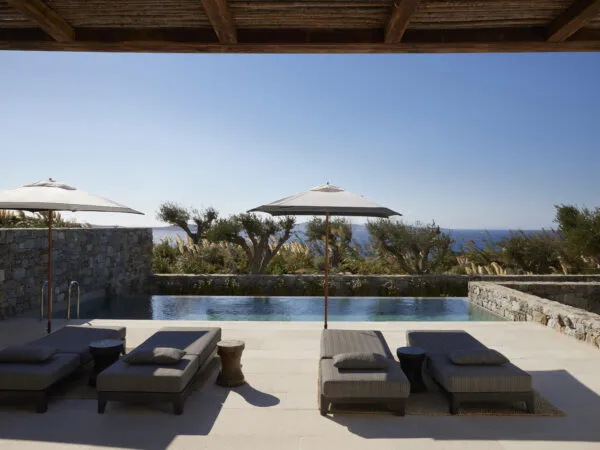 Kalesma Leto Villa
14 guests
Equipped kitchen
Private pool
Private terrace
View into the sea
Experience the pinnacle of luxury at Leto Villa, the crowning jewel of Kalesma Mykonos. This magnificent retreat merges the best of Apollon and Artemis Villas, offering an expansive 480m² / 5200ft² space for up to 14 guests. Leto Villa envelopes you in natural materials and elemental design, harmonizing with Kalesma's signature charm. Bask in the embrace of ample open-plan living areas, stylish dining rooms, and lounges, where cherished moments unfold. With private heated pools, sun-kissed lounges, and captivating Aegean vistas,
Leto Villa sets the stage for unforgettable gatherings and treasured memories with your loved ones.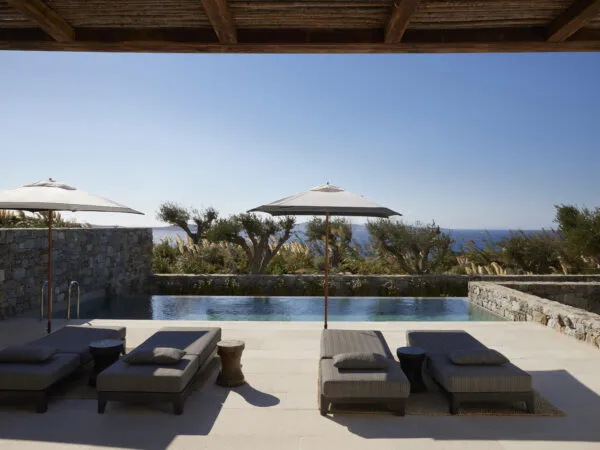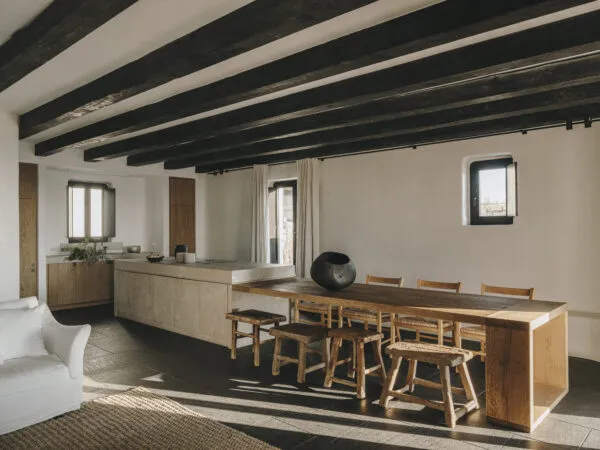 Taste the flavors
Pere Ubu Mykonos Restaurant
Indulge in delicious culinary creations and laid-back luxury at Pere Ubu Mykonos. Odes to Cycladic tastes, flavors, and smells come alive in this all-day restaurant. From the aroma of freshly baked bread to shared meals among friends, Pere Ubu Mykonos offers a high-quality menu crafted by Executive Chef Costas Tsingas. Experience small 'mezes' by day and a vibrant social hub with innovative drinks and tantalizing bites by night. Embodying Kalesma's ethos of hospitality, Pere Ubu Mykonos welcomes both hotel guests and island visitors with open arms.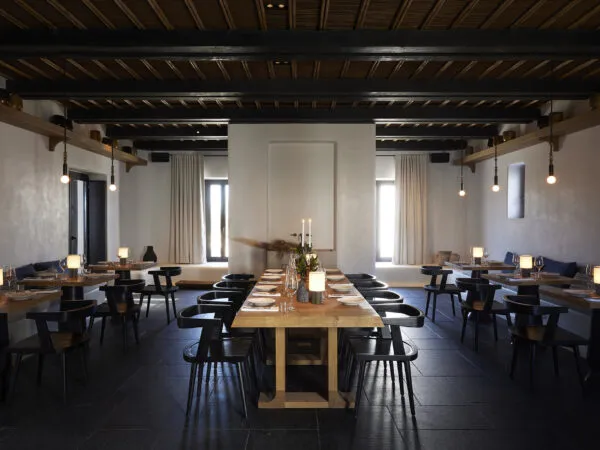 Pere Ubu Mykonos Pool Bar
Pere Ubu Mykonos Pool Bar beckons with panoramic views and poolside pleasures. By day, bask in the sun-drenched ambiance and unwind by the inviting pool. As night falls, revel in the enchanting atmosphere of the adjacent bar, where breezy beats and refreshing cocktails create a captivating experience. Indulge in this idyllic setting, where unforgettable moments await beneath the starlit sky.
Aloni Sunset Lounge
Aloni Sunset Lounge, nestled within the embrace of Kalesma, is an enchanting haven of fireside shades and breathtaking Mykonian sunsets. Embrace the allure of secluded tranquility as you gather around the warm, inviting fire pit. Let the intimate ambiance and heightened sense of romance captivate your senses as the sun paints the sky over the mythical Delos island.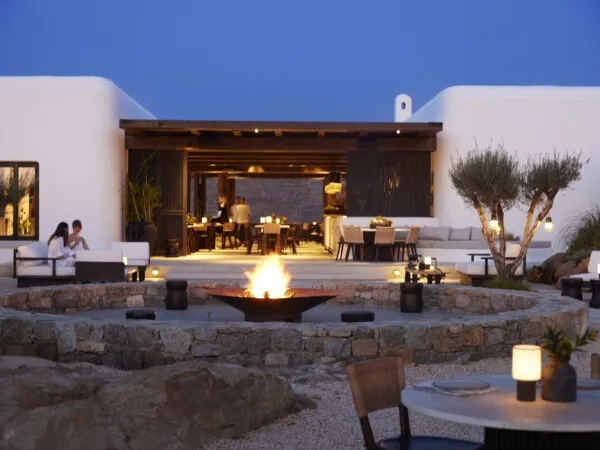 Private Dining
Indulge in intimate dining experiences under the twinkling stars at Kalesma. Let the skilled chef curate a delectable feast tailored to your desires, whether it's a romantic candlelit dinner or a milestone celebration. Relish in the exquisite flavors of the island, presented with refined elegance. From private suite dining to special events, Kalesma crafts unforgettable culinary moments for special occasions.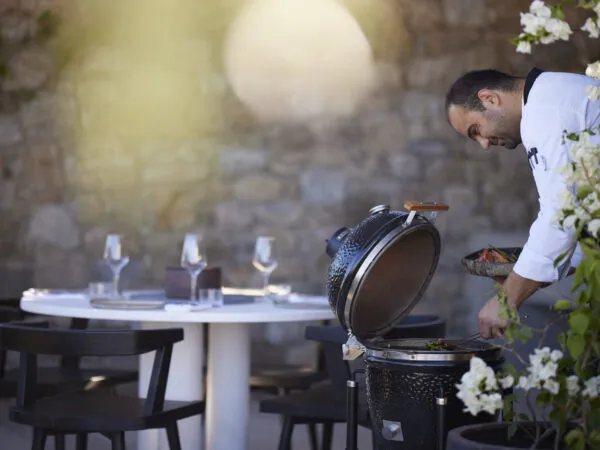 About Sustainability
Olive Tree is often a symbol of success, as sustainability seems embedded in the property's identity and DNA.
Kalesma Mykonos is committed to sustainability in its operation, ensuring a harmonious blend of luxury and eco-friendliness. Here are the key points highlighting the hotel's sustainable practices:
Energy Saving: LED lighting, motion sensors, freon-free cooling technology, and plans for solar panels and electric vehicles.

Community Engagement: Supporting local businesses and educating guests about the culture and heritage of Mykonos.

Conservation & Preservation: Eco-friendly cleaning products, water conservation, and guest-controlled linen/towel change.

Food Management: Emphasis on regional produce, minimizing food waste, and sustainable gastronomic offerings.

Use of Materials: Natural construction materials, local aesthetics, and contemporary twists blend harmoniously.

Health and Wellbeing: Premium organic bathroom amenities, yoga sessions, meditation classes, and rejuvenation at Kalesma Spa.

Waste Management: Single-use plastic-free, refillable toiletry dispensers, recycling practices, reusable keycards, and on-request newspapers.

Water Conservation: Full-capacity washing machines, water-saving toilets, rainwater collection for gardens, and pool water recirculation.
Explore the location
Nestled in the beautiful neighborhood of Aleomandra, Kalesma Mykonos offers a perfect blend of serenity and access to vibrant attractions. Just a 5-minute drive from the lively Mykonos Town, guests can immerse themselves in the enchanting atmosphere of the winding streets adorned with charming white-washed houses and vibrant bougainvillea.
Explore the area like a local!
Discover the iconic windmills that overlook the harbor, and indulge in the lively ambiance of Little Venice, where seafront cafes and bars create an ideal setting for sunset cocktails. For sun-seekers, the nearby Ornos, Psarou, and Platys Gialos beaches beckon with their pristine white sands and turquoise waters. Whether partaking in exhilarating water sports or simply lounging under the Mediterranean sun with a refreshing cocktail, these beaches offer relaxation and rejuvenation.
As night falls, Mykonos transforms into a world-renowned nightlife destination that must be experienced. From chic beach bars to high-end nightclubs, the island offers a vibrant scene that keeps the energy alive until dawn.
When it's time to retreat from the bustling streets, Kalesma Mykonos awaits, offering a tranquil ambiance, luxurious amenities, and unparalleled comfort.
Experience the best of both worlds at Kalesma Mykonos, where you can immerse yourself in the lively ambiance of the town or escape to a peaceful haven. Discover the seamless fusion of local authenticity and refined aesthetics for a memorable stay in this idyllic Greek paradise.