A secluded nature haven in a warm Mediterranean climate, La Villa Duflot Hotel & Spa provides a peaceful oasis that refreshes tired travellers
Nestled in the beautiful city of Perpignan, La Villa Duflot harmoniously intertwines Catalan and medieval architecture to present an enchanting space. Also embedded in its simple décor are intricately designed paintings and sculptures that pay homage to the French artists of old. 
Adorning the Villa Duflot's surroundings are tall palm trees, cypresses, sweet-smelling eucalyptus, and orange plants. With each unique feature, this boutique hotel unveils a fascinating 4-star experience that is sure to soothe the fatigued mind. 
Admire the cosy ambience of the nature park and stroll into the charming reception area. Settle into one of the lovely rooms available and discard the stress of the journey by napping on the soft king-sized bed.
Then begin a new day by teasing your gastronomical senses with freshly prepared breakfast served on your private terrace. 
Indulge in fine dining at the luxurious bar that has an alluring view of the poolside. At nighttime, unwind in the intimate atmosphere of the lounge which boasts captivating furniture pieces designed by Jean Lurcat. 
A fragrant selection of cocktails and wines lines the menu of the gourmet restaurant and with each bite of the decadent cuisine, you are taken a step further into the wondrous delight that is La Villa Duflot Hotel & Spa.    
Indulging in a restorative hammam massage at the Nuxe Spa

Enjoying exquisitely prepared gourmet dishes that would delight the taste buds

Taking a refreshing soak at the spacious outdoor swimming pool

Delving into the intricately designed art décor and ethereal paintings that surround Villa Duflot

Conducting meetings and important presentations in one or all of the five meeting rooms 

Relishing the excellent selection of drinks at the lounge and pool bar
Rooms Overview
With a focus on privacy and elegantly decorated spaces, each of the 29 rooms in the La Villa Duflot presents wholesome situations where comfort is the number one priority. Calm, earthy tones, vibrant colours, and subtle art pieces all merge to create an alluring atmosphere that soothes as well as refreshes the guests. 
DELUXE ROOM
2 guests
Balcony
View into the patio
A step into this room welcomes you to a pleasant environment. Signature wooden designs that accentuate luxury and the brick-painted flooring add a charming touch to this exquisite space.
Relax on a sturdy armchair and immerse yourself in the views from the balcony. Alternatively, you can choose to let loose with a drink from the minibar while you unwind with soft music.
EXECUTIVE FAMILY ROOM
3-4 guests
Private terrace
View into the patio
Unveiling complimentary colour tones, two queen-sized beds for maximum relaxation, and a captivating view of the lush green scenery on the hotel's grounds, this Executive Family Room is quite a delightful place to stay in. Enjoy steaming breakfast on the private terrace and wash away gritty particles from your night's rest in the spacious bathtub.
EXECUTIVE ROOM
2 guests
Private terrace
View into the patio
As a cosy space featuring rose-gold hues and a warm ambience, the Executive Room caters to guests with an eye for tasteful furnishings and breathtaking views. Enfold yourself in an atmosphere of refinement and elegance.
Admire the expanse of the pool from your private balcony and engage in some light reading with the classic study chair and table by the bed. To end your day, you can opt for a refreshing shower and then catch up on TV programs while reclining on the lovely king-sized bed.
SUITE AND MINI SUITE JACUZZI
4 guests
Jacuzzi
Private terrace
For a dual suite, this set of rooms comes intertwined with impressive features. The suite offers an exciting living area for a family with children alongside some amazing perks thrown in.
Acquaint yourself with the hotel through the views from the private terrace. Next, sip chilled champagne while taking an enjoyable soak in the jacuzzi. A study area is also available for last-minute and emergency work situations. Due to the proximity of Nuxe Spa to the suite, after a stressful day, guests can go for a rejuvenating spa session.
Taste the flavors
Breakfast
Begin your day with a daily dose of mouthwatering dishes crafted solely to fulfil your nutritional needs. Indulge in the sweet and savoury spread that includes delectable homemade fruit jams, crispy croissants, a selection of bread, Iberiano cheese, and fresh fruits straight from the morning markets.
To ensure a well-rounded palate, cold cuts and eggs are also available. Additionally, to improve the gastronomic experience of guests, there are options to either dine at the bar or on the private terrace of their rooms.
La Villa Duflot Gourmet Restaurant
Authenticity and a transient cuisine based on seasonal products make this gourmet restaurant a standout one. Each flavourful bite transports you to a happy place. Have your fill of tasty anchovies, lamb dishes, juicy fruits, and vegetables that are cut up to make delicious salads.
The aesthetics of the space complete this beautiful experience, you would be served with antique jars and a terrazzo tray that dates back to the 1950s. Both sections of the restaurant meld to deliver an exceptional experience.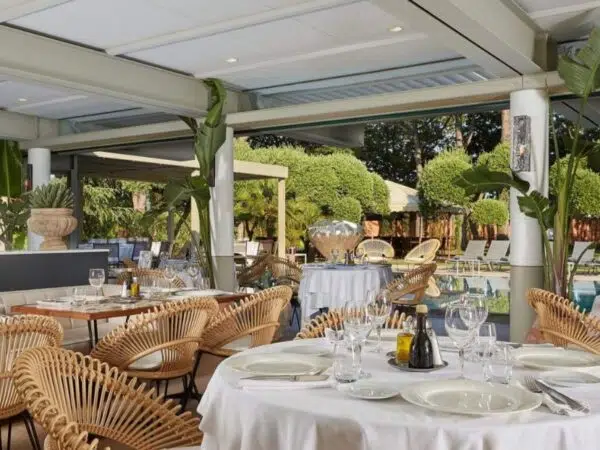 Bar And Lounge
A blend of appetizing cocktails, wines, enjoyable aperitifs, and sandwiches among other excellent food options makes this location a place to visit. Choose what you enjoy best and munch on your meal under the transparent glass roof of the bar.
On the other hand, the lounge is a more intimate area that you can use to relax, and sip a digestif before heading out to dinner.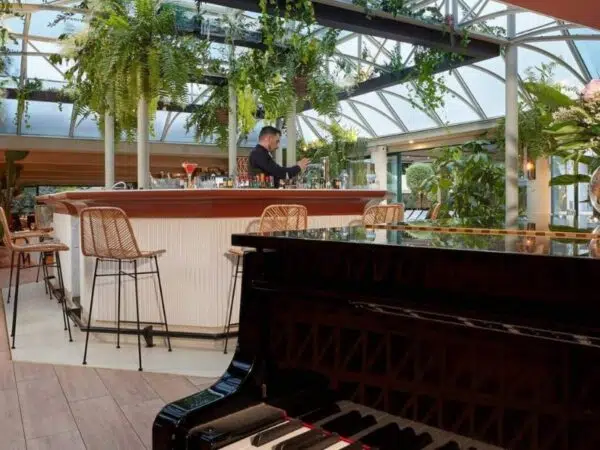 About sustainability
Like the fig tree roots, the property is constantly addressing many sustainable tourism areas and excelling in most fields.
An eco-friendly practice that La Villa Duflot has put in place is the preservation of ancient artwork such as sculptures, ceramic plates, light fixtures, and antiques that have been present since the 19th Century.

To prepare the delicacies that the gourmet restaurant is known for the ingredients are taken fresh from the market. All products are locally sourced which in turn provides revenue for the farmers and other artisans. 

The boutique hotel is surrounded by a vast selection of trees and natural vegetation that serves as a major tool to reduce air pollutants. 

Located at a central point to other historical sites, the La Villa Duflot provides a stream of visitors which helps to sustain the maintenance of these valuable cultural centres and relics of the past. 
Explore the location
La Villa Duflot is surrounded by many star attractions. To find out how wine is made, you can stroll through the wine routes of Corbieres which would lead you to 32 wineries that are still in production of the delicious brew. In addition, each route would take a day to get through, so be sure to lace up your sturdy boots before you begin exploring. 
Explore the Perpignan like a local!
For history buffs and lovers of culture, a visit to the Museum of Prehistory which is 35 minutes from the hotel is also recommended. Other wonderful pursuits would be taking a train ride to the city of Carcassonne, a trip that would take 60 minutes to complete. However, the adventure would be worth it. 
Book a trusted local driver for your transfer to and from the hotel, and introduce you to the destination, pre-order travel essentials, and get all your questions answered before or during the trip. Choose the stops, visit the attractions, and don't waste any time waiting. We've partnered with Welcome Pickups, the first company to deliver a holistic, in-destination travel experience.