The city that spans across two continents has a fierce reputation as a bustling metropolis where cultures have mingled across millennia. This unique amalgamation of cultures makes Istanbul a city rich in history and tradition, perfect for adventurous spirits.
But when you look past the iconic spires of the Blue Mosque and the brimming corridors of the Grand Bazaar, you will find scores of off-the-radar locations that take you deeper into Turkey's fantastical past and plenty of thrilling things to do in Istanbul. Enjoy an insider guide with the best things to do in Istanbul to ensure you don't miss a beat when exploring this crazy-wonderful city.
Explore things to do in Istanbul
Between the Greek, Roman, Byzantine, and Ottoman reigns, Istanbul has been left with a wealth of historic treasures. The city was once the capital of the Eastern Roman Empire (Constantinople) but Islamic roots date back centuries and are still dominant today.
Hagia Sophia and the Blue Mosque live up to their reputations of grandeur and are still the most visited sites in the city but it is well worth exploring some of the lesser-known parts of the Asian bank for equally impressive finds.
The Topkapi Palace was once the ostentatious summer home of sultans and Küçüksu Palace is a neo-baroque treasure from the 1800s. There are definitely many things to do in Istanbul.
Taste
Turkish cuisine is no stranger on the international foodie map but the authenticity of the food in Istanbul is unsurpassable. It all starts with a humble Turkish breakfast served with the all-important Turkish Coffee beside tomatoes, cucumber, eggs, bread, cheese, and preserves.
This meat-heavy cuisine takes great pride in its unique preparation styles and labour-intensive cooking methods. Succulent Kuyu Kebabı is a whole lamp slow-cooked over a special pine-branch fire that gives the meat a distinct flavour and Iskender Kebap is the famous rotating spit responsible for juicy döner meat. Both dishes are essential parts of any indulgent Turkish feast.
An Adana Kebab is one of the most revered meat dishes in Turkey and strict protocol has to be followed to be able to serve this kebab made from lamb meat and tail fat. Head to the Beşiktaş neighbourhood to dine at Adana Sofrası Ciğer ve Kebap Salonu, one of the best regional restaurants in the city.
One would be remiss to not end the day off on a sweet note with some Baklava. Dainty layers of phyllo pastry are soaked in honey or syrup and layered with nuts for the most iconic Mediterranean sweet treat.
Sip
Turkish coffee is a world-renowned elixir with a fascinating preparation process. This thick and strong brew is made in a copper Cezve (a long-stemmed brewing vessel) and heated over hot sand. Watching the coffee bubble to the brim as the sand rapidly heats the 1:1 coffee and water mixture is hypnotising.
Turkey also has the highest tea consumption per capita in the world, but not just any tea will do. Tea here is highly caffeinated to match the intensity of the coffee and has a dark red hue called "tavşan kanı" that translates to "rabbit blood".
If you are looking for something truly unique to Turkey, seek out a cup of Ayran, a bubbly yoghurt drink. It is a fascinating taste combination as the yoghurt is slightly sour with a salty tinge. Keep an eye out for Yayik ayran, the homemade version, for the most authentic serving.
If the high levels of caffeine aren't enough, add some high-octane fuel to the fire with a shot or glass of Raki. It has a high alcohol content and is made from white grape pumice and anise seeds. "Lion's milk" as it is colloquially called is best served chilled or diluted with some water.
Almost every street corner in Istanbul has a pomegranate juice station. This idyllic fruit is a symbol of abundance in Turkish culture, a charming anecdote given its wealth of availability. There are many other drinks unique to Turkey, many of which are made from fermented products like Şalgam Suyu (fermented turnip juice) and Boza (fermented grains).
Shop
Although there are plenty of high-end shops to appease avid shoppers, the pinnacle of shopping is still the Grand Bazaar. It is one of the oldest and biggest covered markets in the world. Selling just about anything and everything. Put your bargaining skills to the test as you try to find unique souvenirs of the traditional kind.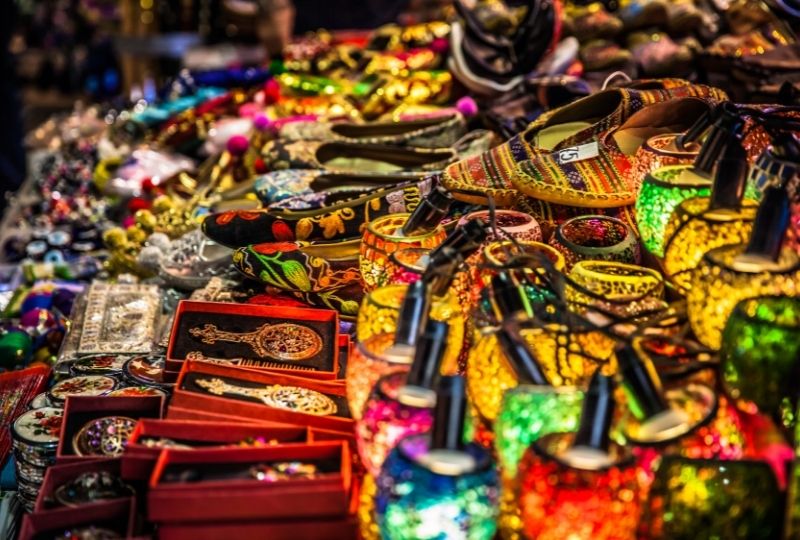 The Spice Bazaar, or Egyptian Bazaar, is also close by and serves up a sensory overload of note. The thick aroma of spices fills the corridors of this bustling market where you should be on the hunt for the finest Turkish Delights, a highly sought-after rosewater candy. Feriköy Flea Market and Organic Bazaar is a popular stop for people on the hunt for antiques and organic goods.
Taksim Square and its surrounding streets have jumped into the 21st century with scores of high-end and modern shopping opportunities. But the best shopping in Istanbul is still independently owned shops where traditional colours and styles meat contemporary designs.
Nightlife in Istanbul
Istanbul has a fast pace that is kept alive all through the evening thanks to its illustrious nightlife scene. Everything from wine & dine experiences to high-energy nightclubs feature all around the city.
Sortie is an elite collection of bars and restaurants with magnificent views across the city while Club 29 is an exclusive hangout for the who's who of Istanbul. The Bosporus is also lined with fashionable venues with unbeatable views like Anjelique nightclub and 29 Ulus.
Kadıköy has become the chicest neighbourhood in Istanbul with tons of cosy bars and restaurants melting together the old and new influences of the city. One of the pioneering spots in the neighbourhood is Arkaoda where you can enjoy a trendy cocktail from a velvet armchair. It is located on Kadife Sokak the main street in the neighbourhood for all things nightlife related.
Chill
Take a break in Istanbul's most magnificent park, Gülhane Park. In the spring, thousands of Tulips bloom in vivid displays across the park. Belgrad Forest is another of Istanbul's most valued green spaces with more than 1300 acres of wooded splendour. It also has a 6.5km track where joggers and walkers can unwind and enjoy the fresh air.
No trip to Istanbul is complete without a visit to a traditional Turkish bath or Hamam. Here you will experience a full-body scrub like no other, the best way to rejuvenate your tired skin. Kılıç Ali Paşa Hamamı is almost 500 years old and has recently undergone a major renovation to restore it to its former glory.
Stay
Istanbul is divided into two distinct sides, the European side to the east, and the Asian side to the west, divided by the Bosporus river.
Sultanahmet is the cultural and historic heart of the city where most of the major attractions are found, perfect for first-time visitors to this megacity. Stay at Ibrahim Pasha, a small boutique hotel, which is a fusion of two turn-of-the -20th-century Ottoman homes. Eminonu is just a little east of Sultanahmet and still close to most major attractions but has the added benefit of a pier for quick ferry access.
Karakoy was once a rundown port district but has been given a second lease on life as it is now the chicest area in town with a humming nightlife scene and plenty of unique hangout spots. Galata and Beyoglu are also among the favourited areas for revellers and budget-conscious travellers. If budget is not a problem and a contemporary flair is more your style, have a look at the high-end hotels around Taksim Square for a luxurious stay in modern Istanbul.