Kolonaki neighbourhood in Athens is the aristocratic area of the city centre. Kolonaki means little Column in Greek referring to the 2-meter column in Kolonaki square. We asked a real Athenian to be our guide to Kolonaki and tell us how to spend the perfect day in the area. Here you will discover a variety of small galleries and museums, concept stores, local restaurants, Greek designer boutiques and luxurious trendy brands. Let's follow our guide to Kolonaki!
Explore Kolonaki neighbourhood in Athens with a local guide
Do you want to discover Kolonaki? Say no more! I am happy to walk you through MY Kolonaki, but make sure to wear comfortable shoes: located on the slope of Mount Lycabettus, the area is all about hills and stairs. I usually keep my fancy heels safe with me in a bag while commuting! I hope you didn't have a heavy breakfast as I am inviting you to try the heavenly Greek spinach pie and cheese – a classic morning treat – at the Lykavittos bakery.
Climb to Mount Lycabettus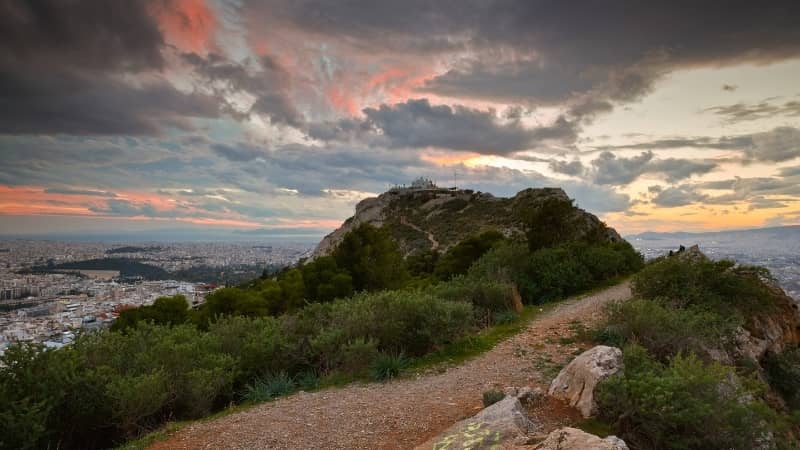 Let's head to Mount Lycabettus – See? Your sneakers are coming in handy already! Get ready to walk uphill and be rewarded with the most amazing panoramic view of the city, the surrounding hills, Piraeus (the port) and the sea! This is a classic walk for Athenians looking to escape the urban hustle and bustle. I come here often in the evening to check out a concert or an art performance in the theatre located at the top of the hill.
Shop some local produce and discover Greek gastronomy
Going downhill, I would stop at Yoleni's, a conceptual space dedicated to Greek gastronomy. I consider this place to be the temple of local artisanal products! I have a confession to make: I never leave empty-handed and always end up bringing home a new sort of olives, some honey with pine & Chios mastic, Cretan handmade biscuits or wild olive oil. Why not have a fresh and light lunch here?
Once the sun starts going down, I would suggest trying Greek street food. So let's take a walk to Kalamaki Kolonaki Lycabettus. The place is very simply laid out with limited seating options but the food is amazing! You can't possibly leave without trying the baked feta and their famous Souvlaki!
If you prefer a more refined option or are carving Mediterranean food, Scala Vinoteca would be a good choice to enjoy dinner time over gourmet dishes and a glass of wine.
Wander in Kolonaki streets or head to the National Gardens
In the afternoon, let's just wander for a while in the scenic streets, among oleander and orange trees. Enjoy walking in the chic sloping avenues, taking in concept stores and restored old mansions. You will no doubt meet politicians or artists as Kolonaki is unashamedly the see-and-be-seen area! Your legs may be tired by now, so we should head to Kolonaki Square, take a seat at a café's terrace, order a Frappe (iced coffee) and… just watch people come and go! The place is always buzzing and will give you a good taste of the opulent Athenian lifestyle.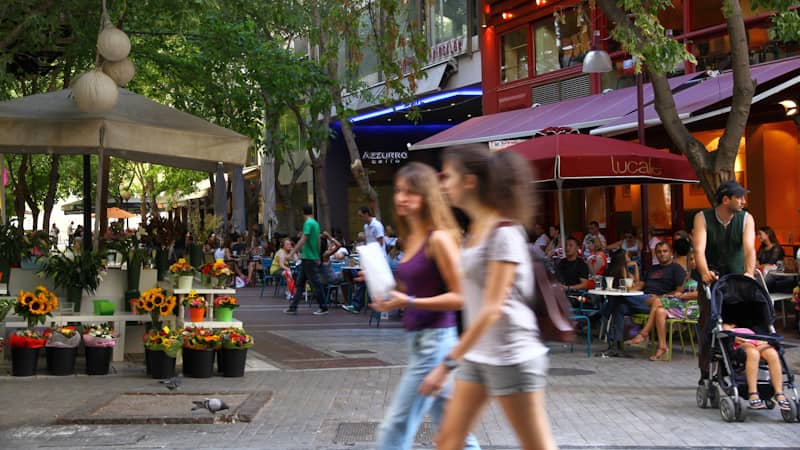 If you would like to keep up your exercise routine while visiting Athens, then head to the National Gardens – located next to the Parliament Building – for a good run through the winding paths and the shady trees.
Enjoy the nightlife
And then it's time to discover the nightlife! You have plenty of choices in the area. My preferred destinations are Jazz in Jazz, an amazing music bar, or Hippopotamus, a perennial fixture in the Athenian nightlife scene.
Where to stay in Kolonaki
Kolonaki neighbourhood in Athens is a good choice for a stay in the city centre. Check The Boutique Vibe's selection of boutique hotels in Athens and stay within walking distance of restaurants, cafes, bars, museums and shops.