Immerse yourself in renaissance-era opulence right in the heart of Florence, courtesy of Al Palazzo di Camugliano
Hidden away from the hustle and bustle of the city, yet just a short walk from many of Florence's main attractions, the darling Palazzo di Camugliano offers you an enchanting glimpse into a noble lifestyle of the 16th Century.
A wonderful equilibrio of privacy and access, this gem of a residence is the epitome of sophistication and regalness. Offering eleven different suites to choose from, all lavishly bedecked with era-specific furnishings, high ceilings, and fine art, the Palazzo di Camugliano may be small in size but large in personality.
The majestic home away from home also boasts two sitting rooms, a frescoed dining room, and a buffet room, which all guests can enjoy. 
As a patron of this boutique hotel, you also have access to the charming inner roof garden. The hanging garden, adorned with climbing plants and lanterns, is the perfect hideaway.
Enjoy a cup of tea before you embark on the day's adventures or, perhaps, an aperitif after a full day of taking in city landmarks, including the Ponte Vecchio bridge and Piazza della Signoria square, both of which are less than a mile away. 
Admiring Palazzo di Camugliano's architecture and decor, which honour the grandness of its renaissance origins

Exploring Florence's many attractions, including Uffizi Gallery and Strozzi Palace, all within walking distance

Taking time to unwind by the fire with a good book from the boutique hotel's collection in hand

Lounging in the hanging garden with a cup of tea, a delicious meal or a glass of wine

Enjoying a pamper session at the Palazzo di Camugliano's on-site spa
Rooms Overview
Further enriched by the era-appropriate furnishings and variety of renaissance art that adorns the walls, any of the 11 suites at Palazzo di Camugliano encourages you to envelope yourself with true luxury. Benefitting from being in the city's centre, you can enjoy views of nearby attractions, including the Duomo, from your window.
Suite
4 guests
View into the garden
Take things up a notch with the suite, which features a separate living room, a soaking tub and direct access to the garden.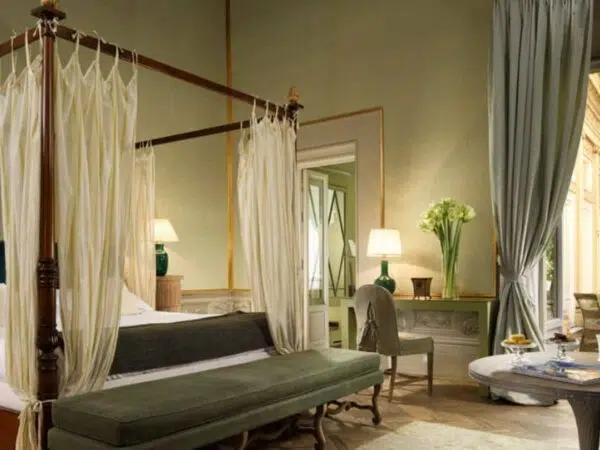 Junior Suite King
3 guests
Connecting rooms option
One-bedroom suite
Live in the lap of luxury with this 90 sq. metre room, which comes with a king-sized bed, a living room with an armchair, a separate dining area and the possibility of an adjoining room.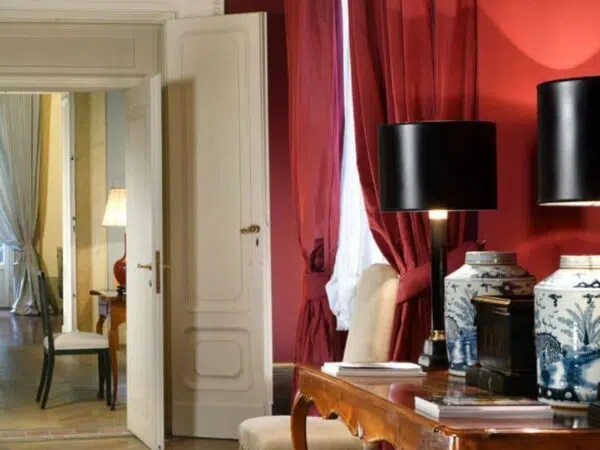 Junior Suite
3 guests
Connecting rooms option
One-bedroom suite
At 50 sq/ metres, the junior suite covers a lot of ground at the Palazzo. This sprawling suite, boasting baroque stuccos and parquet floorings, also has the option of an adjoining suite for larger parties, along with the Palazzo's many amenities. Moreover, this suite has a living room, giving guests plenty of room to lounge and rest indoors.
Prestige Room
2 guests
View into the city
The Prestige Room once served as the palace's dining room, and guests can enjoy the ample space that the original structure provides. At 35 sq/m, this room offers a sitting area, an all-marble bathroom with both shower and tub, and classic furnishings, with modern comforts and parquet flooring.
Deluxe King
2 guests
Reduce mobility friendly
Once the Palazzo's kitchen, the Camino room boasts vault ceilings sitting 4 metres high and the original chimney hood from the 16th Century.
Deluxe
2 guests
Reduce mobility friendly
In keeping with the stately theme at the Palazzo, the deluxe offers a refined yet spacious option for two guests. With the possibility of a double bed or two singles, this 30 sq/m suite offers a wardrobe, living area with armchairs, bathroom in marble with shower and bathtub, hairdryer, bathrobe, slippers and vanity set.
Studio
4 guests
Kitchenette
Open-plan suite
Also known as the Loft, the mezzanine floor apartment gives you all the amenities you need to feel at home – from a separate living room, to a dining area, and a kitchenette complete with a fridge and cookware.
Taste the flavors
Dinner at the Palace
Whether it's a romantic dinner for two; a gathering of friends, or a momentous occasion of some kind, you can reserve one of the Palazzo's dining halls for a deliciously regal ceremony of your choosing; featuring exquisite external catering.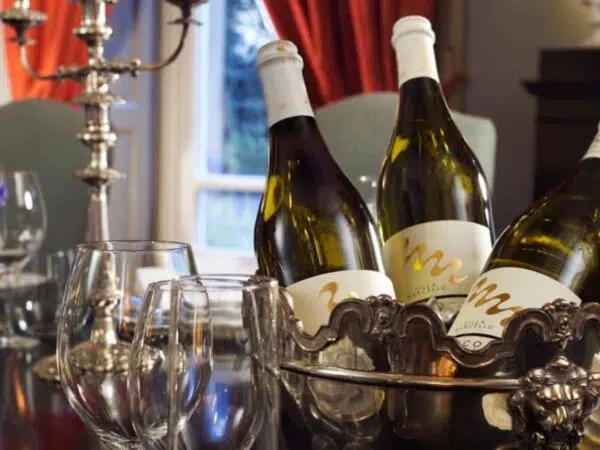 Breakfast
Whether you're in one of the dining rooms or in the hanging garden, you can enjoy the Palazzo's rich a la carte breakfast menu complete with sweet and savoury options; first-quality cold cuts and cheeses; homemade pastries and customised dishes made that morning.
Tea Time
Tea time is a sacred time at the Palazzo — it is a time of pause; your chance to take a breather from that full schedule of activities. Accompany your homemade pastry with a beverage from the boutique hotel's generous menu of quality teas and infusions. And perhaps after, a cheeky aperitif.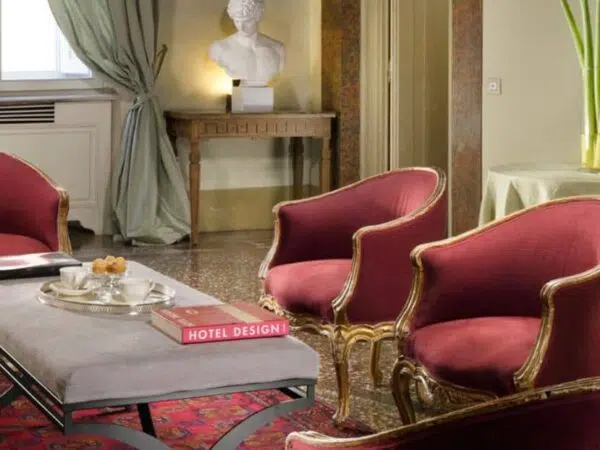 About sustainability
Like the fig tree roots, the property is constantly addressing many sustainable tourism areas and excelling in most fields.
Built within a centuries-old castle, the Palazzo Di Camugliano gains sustainability points for preserving the building's integrity. In addition, each of the suites in the boutique hotel features furnishings created using new and restored materials.

With its location in the heart of the city, the Palazzo di Camugliano encourages walking and biking around, reducing the use of cars around the city. 

The Palazzo di Camugliano is a champion of local businesses - every tour and recommended activity highlights local companies.

The boutique hotel's concierge is an encyclopaedia of local knowledge about ecosystems, history, and culture.

One of the biggest attractions of the property is its hanging garden, a haven of greenery.
Explore the location
With all of Florence's main attractions a pochi passi (a few steps away), you benefit from direct and easy access to many exciting sites. Embark on a walking tour - or rent a bike - with help from the dedicated concierge.  
The Palazzo Di Camugliano overlooks Via Del Moro and is 100 metres away from the Piazza di Santa Maria Novella. Another 100 metres down from that is Via Dè Tornabuoni, recognised as the most luxurious shopping street in Florence. 
Approximately 60% of the world's most important works of art reside in Italy, and Florence is home to about half of that, so why not curate your own walking art tour? The Uffizi, a prominent gallery in Florence, is a few 100 metres away and a perfect starting point for your artventure. 
Explore the area like a local!
Everything you'll hope to see is simply a short stroll away, but if city life proves to be a little to go, go, go for you, you can arrange a quiet retreat in the exclusive Tenuta di Camugliano, in the Tuscan countryside.
Book a trusted local driver for your transfer to and from the hotel, introduce you to the destination, pre-order travel essentials, and get all your questions answered before or during the trip. Choose the stops, visit the attractions, and don't waste any time waiting. We've partnered with Welcome Pickups, the first company to deliver a holistic, in-destination travel experience.