A Mykonian Haven of Comfort and Beauty: Brilliance Suites Mykonos
Located on the beautiful island of Mykonos, the Brilliance Suites Mykonos boutique apartments offer an exceptional accommodation experience that is both luxurious and comfortable. The Cycladic architecture of the building, combined with its sleek Mykonian ambiance, creates a stunning visual impression. The Greek aura that permeates the hotel lends an air of elegance and sophistication, making it an ideal destination for those seeking a refined and exclusive holiday experience.
The Brilliance Suites Mykonos are the epitome of luxury living, designed with meticulous attention to detail and a commitment to creating a truly unforgettable experience. Each of the three modern luxury suites has been carefully crafted to reflect the famous traditional Mykonian style, creating a harmonious blend of old-world charm and contemporary design. The hotel's exclusive services and amenities further enhance the guests' comfort and convenience, ensuring that every moment spent here is one to be cherished.
Indulge in the sophisticated elegance and unparalleled comfort of the Brilliance Suites Mykonos, where attention to detail and thoughtful amenities create an unforgettable travel experience. From the stunning vistas of the Aegean Sea to the unparalleled hospitality of the hotel staff, every aspect of your stay at the Brilliance Suites Mykonos is designed to exceed your expectations and leave you with memories that will last a lifetime.
Stylish, Aegean-inspired design with Cycladic architecture

Elegant, traditional island decor with a Mykonian style

Modern luxury accommodation with meticulous attention to detail

Personalized, attentive care with exclusive services

Stunning Aegean Sea views amidst natural beauty

Intimate, luxurious, and exclusive boutique atmosphere
Rooms Overview
Get ready to indulge in the lap of luxury with the modernly decorated suites at Brilliance of Mykonos. Each of the three suites is tastefully designed in soft colors, providing a comfortable and quiet environment for ultimate relaxation. You'll find all the amenities you need for the perfect vacation, including a private terrace, air conditioning, flat-screen TV, a fridge, and a coffee machine. 
Whether you're lounging on your terrace or strolling through the garden, you'll be surrounded by a serene and tranquil atmosphere that will leave you feeling refreshed and rejuvenated. Come experience the ultimate vacation of your dreams at Brilliance Suites Mykonos.
Brilliant Topaz Suite
2 guests
Jacuzzi
One-bedroom suite
Private access
Private pool
Private terrace
View into the garden
This one-bedroom suite boasts a spacious private terrace with a sparkling pool, offering a peaceful retreat for up to two guests. The sleek and stylish interior design with carefully curated lighting creates an elegant and serene ambiance. Enjoy a restful night's sleep on the extra large double bed, and wake up to the sun shining on your private oasis.
Perfectly suited for couples seeking a romantic getaway, the Brilliant Topaz Suite is sure to leave a lasting impression.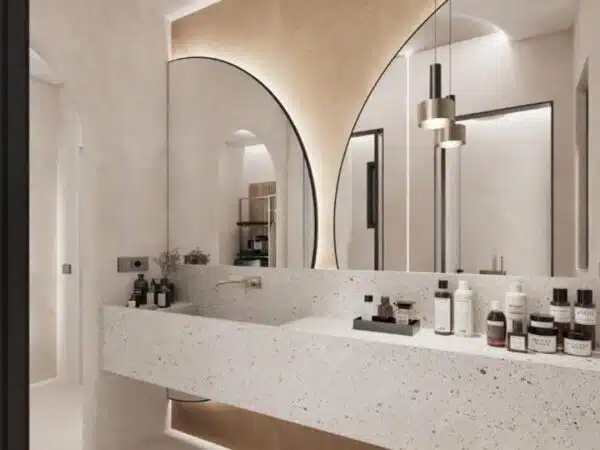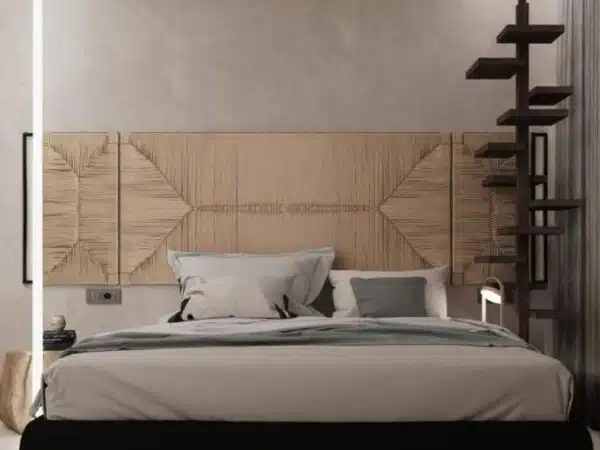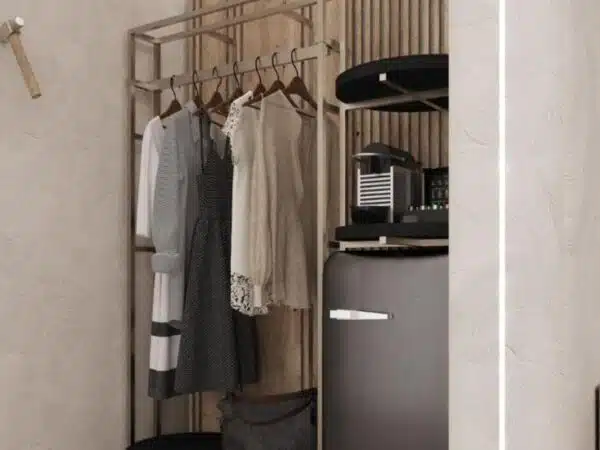 Executive Ruby Suite
2 guests
Jacuzzi
One-bedroom suite
Private access
Private pool
Private terrace
View into the garden
Executive Ruby Suite features a spacious and beautifully appointed sitting area, perfect for relaxing after a long day of sightseeing. With a private terrace and pool, you can soak up the stunning views of the surrounding landscape in complete tranquility. The interior design is a seamless blend of classic and contemporary styles, creating a truly unique and sophisticated atmosphere. The plush king-sized bed and opulent bathroom provide the ultimate comfort and luxury.
Ideal for couples seeking a romantic escape, the Executive Ruby Suite is an exquisite retreat that will leave you feeling rejuvenated and refreshed.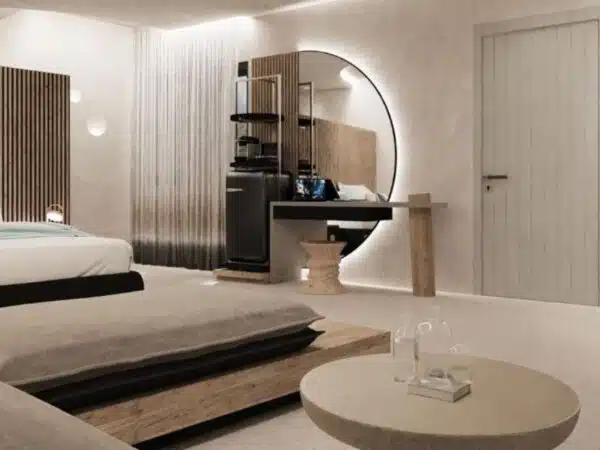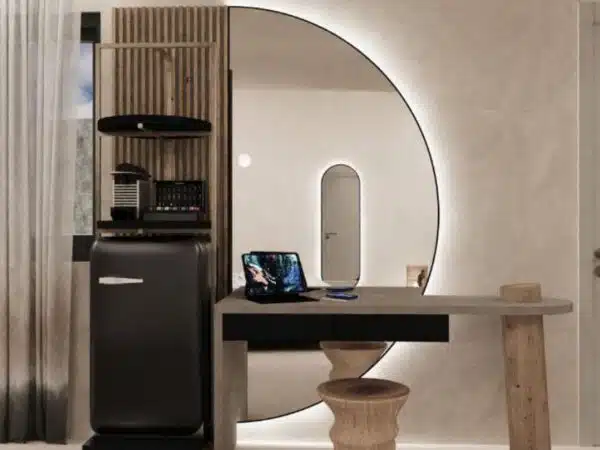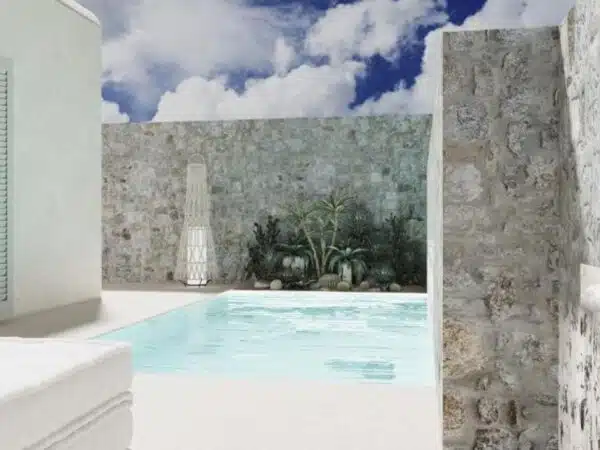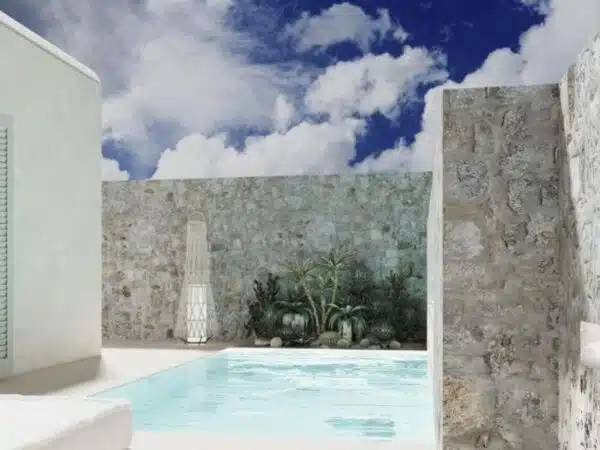 Deluxe Zirkon Suite
2 guests
Jacuzzi
One-bedroom suite
Private access
Private pool
Private terrace
View into the garden
This beautifully decorated suite features a sitting area located just steps away from the glass door that leads to your private terrace and pool. With wooden furniture and unique decor, the interior exudes warmth and comfort.
At 38 square meters, the Deluxe Zirkon Suite may be smaller than the other two suites, but it is no less luxurious. Relax in the plush double bed, or unwind in the sleek and stylish bathroom. Enjoy a refreshing dip in the sparkling pool, or simply soak up the serene ambiance of your own private paradise. The Deluxe Zirkon Suite offers a tranquil escape that is sure to delight and inspire.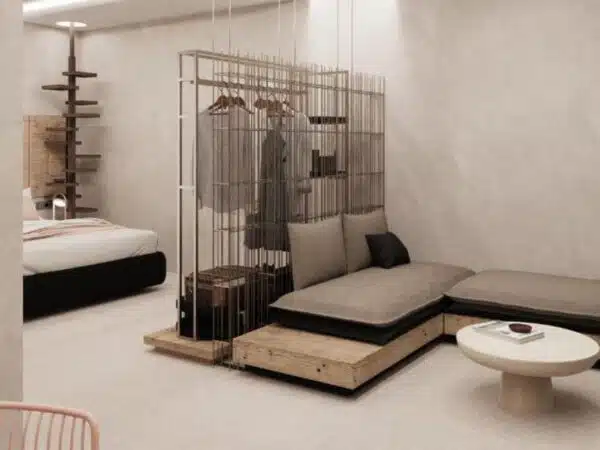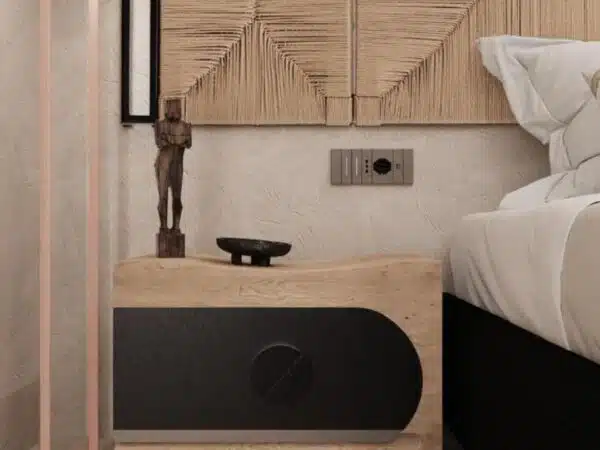 Taste the flavors
Private Meal
Indulge in a truly unforgettable dining experience with the Private Meal service at Brilliance Suites Mykonos. Upon prior request and consultation with the owner, a private chef will prepare a bespoke menu for you and your guests. Savor the exquisite flavors of fresh, locally-sourced ingredients, expertly prepared and presented in an adjacent, separate, specially designed dining area next to your suite. Immerse yourself in the luxurious ambiance of the stunning surroundings while enjoying the utmost privacy and exclusivity. Please note that this exceptional service incurs an extra cost
Citrus, the fruit of Promise, indicates that the property is noticeably eco-conscious as many areas of sustainability are addressed.
Explore the location
The area surrounding Brilliance Suites is a captivating blend of traditional Cycladic architecture, stunning beaches, and bustling nightlife, providing endless opportunities to explore and indulge.
Take a leisurely stroll through the winding streets of Mykonos Town, where you'll find charming white-washed houses adorned with colorful bougainvillea and an array of designer boutiques and chic cafes. Marvel at the iconic windmills that overlook the harbor, or soak up the vibrant atmosphere of Little Venice, where the seafront cafes and bars offer the perfect spot for sunset cocktails.
For those seeking sun and relaxation, the nearby beaches of Ornos, Psarou, and Platys Gialos are just a short distance away, with their pristine white sands and turquoise waters. Indulge in a range of water sports, or simply bask in the Mediterranean sun with a refreshing cocktail in hand.
And as the sun sets, Mykonos truly comes to life, with its world-renowned nightlife that's not to be missed. Whether you're looking for chic beach bars or high-end nightclubs, the island offers a vibrant scene that's sure to keep you dancing until dawn.