Fontsanta Hotel, a palm-lined paradise in the southern stretch of serene Mallorca
Nestled in Spain's Balearic Islands, Fontsanta Hotel is encapsulated by heaving hilltops, bubbling hot springs, luxe Spanish charm, and a world of wellness opportunities. Eclectic elegance and serenity span every single corner of this exquisite boutique hotel.
Encompassing a Natural Park, verdant splendor abounds, offering visitors a chance to fully immerse themselves in a wealth of wholesome experiences. Sitting on the cusp of the roaring ocean, bliss and relaxation are entrenched within the Fontsanta Hotel.
Feel rejuvenated after an afternoon in the thermal waters, take a plunge under the ice fountain, enjoy a playful yoga session, or relish in a nourishing meal made from locally-sourced, fresh ingredients.
Fontsanta Hotel houses two pools that are not only perfect for escaping the Spanish sun but also for sprinkling a bit of movement into any trip abroad.
This boutique hotel is threaded with a rich tapestry of luxurious pursuits, and outside the realms of this seaside haven, opportunities await. Scale the surroundings on horseback, head out cycling, or endeavor on a hiking excursion through the teeming terrain.
For those seeking adversity and authenticity, this Mallorcan oasis simply cannot be missed.
Devouring delectable, locally-made cuisine in the nature-infused, restaurant terrace
Soaking in the mineral-rich thermal waters at the spa
Rejuvenating the skin, body and mind in the sauna and Turkish bath
Relishing in the fresh morning air whilst practising daily yoga at this boutique hotel
Getting immersed in mindfulness among the blissful beach walks
Rooms Overview
Intertwined with contemporary features and an effortless charm, Fontsanta Hotel evokes lightness, ease and a sense of inner peace. Authenticity reigns throughout, with a dash of luminescence and luxury to further ameliorate each suite.
Luxury Villa with Pool
4 guests
Private access
Private pool
Private terrace
Two-bedroom suite
Sitting on the cusp of the Es Trenc Natural Park, this villa oozes luxury at every corner. Flaunting traditional Spanish architecture, an authentic charm is deeply ingrained within this part of the hotel. Soak in a serene, scent-infused bath, go for a dip in the private pool, relax in the colourful garden, get refreshed in the outdoor shower, and take in all the views of the surrounding natural splendour.
Luxury Suite with Terrace
2 guests
One-bedroom suite
Private terrace
View into the sea
Ample authenticity abounds in this elegant suite. The warm-hued, stone features and white-filled décor fuse together to create a home-like feel. Enjoy a conversation from the comfort of the seating area, or peer out as the sun paints the surrounding natural park with varying shades of yellow, pink and gold.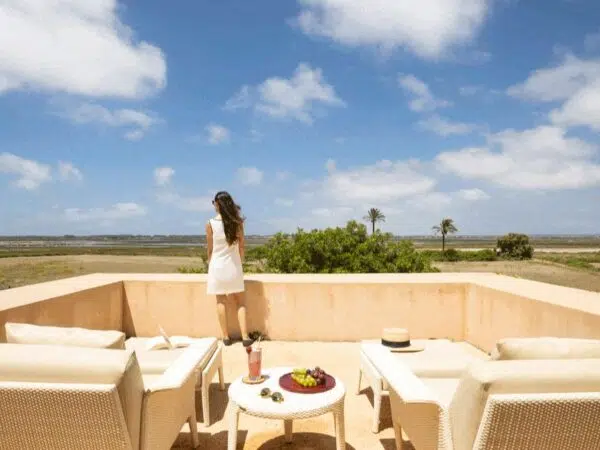 Suite with Terrace
2 guests
One-bedroom suite
Private terrace
View into the garden
This warm, welcoming space is dashed with delightful features aplenty. Situated in the modern end of the hotel, this suite is brimming with boutique charm. Read a book on the sofa, kick back on the terrace, and appreciate the staggering views of the Es Trenc Natural Park.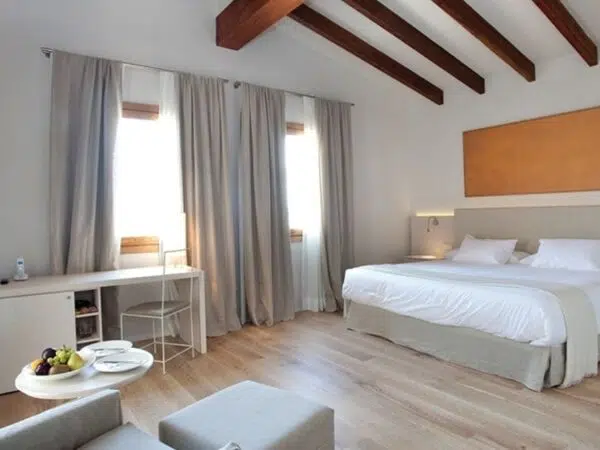 Junior Suite with Terrace
2 guests
One-bedroom suite
Private terrace
View into the garden
From the curtain-draped bed and wooden-beamed ceiling to the sleek interior design and ample bathroom space, this suite makes for a splendid sojourn. Enjoy the traditional Mallorcan architectural features of the building, rest on the sumptuous bed linen, or soak up some sunshine on the terrace.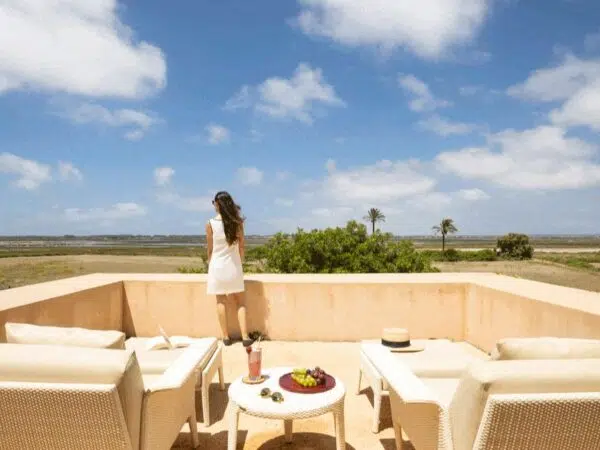 Junior Suite Superior with Terrace
2 guests
One-bedroom suite
Private terrace
View into the sea
Eclectic elegance and contemporary features seamlessly combine in this first-floor suite. Relax in the light-filled room or simply take a step out onto the terrace to revel in the rapture of the natural park, 'Es Salobrar'.
Superior Double Room with Terrace
2 guests
One-bedroom suite
Private terrace
High ceilings, luminous décor and spacious design come together to make this suite all the more special. Kick back from the privacy of the green-infused terrace, or simply bask in the beauty of this nineteenth-century building.
Superior Double Room with Patio
2 guests
One-bedroom suite
View into the patio
Nestled in the nineteenth-century edifice, this suite harbours a historical charm that's melded with a modern-day touch. Light-filled, airy spaces contrast with the wooden-beam ceiling, offering a peaceful sojourn from the Mallorcan heat.
Taste the flavors
Fuel up at the breakfast buffet
Tickle your taste buds with a coffee or freshly squeezed orange juice, before filling up with some mouth-watering cuisine. Enjoy the range of local specialities like cheese and ham, all the way to refreshing fruits, honey, granola and omelettes. There are plenty of alternative options for vegetarians, vegans, and gluten-free guests too.
Traditional Mediterranean cuisine with a Mallorcan twist and pinch of modernity
Home to a state-of-the-art restaurant, Fontsanta Hotel is replete with a gastronomical scene sure to leave you more than satisfied. Get whisked away in the rich flavours, Mediterranean specialities, and locally sourced, fresh ingredients.
Enjoy the fusion of freshly-caught seafood, local cheeses and olive-rich dishes. Taste classic Spanish croquettes, crispy patatas bravas, Iberian ham, and top it all off with Mallorcan ice cream or fruit crumble.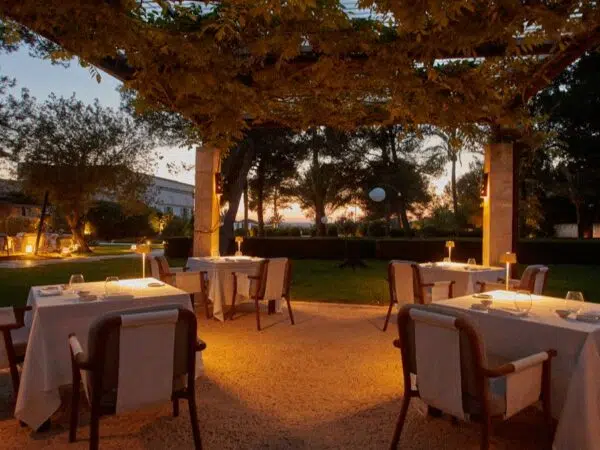 About sustainability
Like the fig tree roots, the property is constantly addressing many sustainable tourism areas and excelling in most fields.
This boutique hotel has sustainability ingrained at heart, with nature-immersive, local activities and experiences on offer. With connections in the community, visitors are recommended authentic experiences with guides and businesses that help Mallorcan locals to thrive.
Fontsanta Hotel offers an environmentally-friendly trip abroad, with the option to reuse towels and bed sheets as guests please. Amenities are additionally made from 100% recycled plastic.
With bicycle rental opportunities aplenty, visitors can embark on an active adventure out into the neighbourhood, whilst being conscious of their environmental
The property concocts its menu using only locally-sourced, Balearic products. Their commitment to the local community can be seen in how they take pride in Mallorcan cuisine, and the fresh, organic ingredients show just that.
Explore the location
Sitting in the southern stretch of Mallorca, Fontsanta Hotel harbours invigorating opportunities all-round. With Es Trenc Natural Park straddling the property, guests can enjoy a stroll immersed in natural beauty. Head down to the crashing coastline to catch one of the island's most notorious, turquoise blue beaches, Es Trenc. Discover local villages and traditional towns, hit the golf course for an active day out, try paddle-boarding in the calm morning waters, or head out hiking in the heaving hilltops.
Explore Mallorca like a local!
Fontsanta Hotel additionally offers guests private transfers to the Es Refugi beach, so visitors can ditch the hassle of having to organise their own transportation.
Book a trusted local driver for your transfer to and from the hotel, and introduce you to the destination, pre-order travel essentials, and get all your questions answered before or during the trip. Choose the stops, visit the attractions, and don't waste any time waiting. We've partnered with Welcome Pickups, the first company to deliver a holistic, in-destination travel experience.