A Complete Guide to Mallorca
Mallorca is the largest of the Balearic Islands and offers miles of splendid coastline and a wide range of active adventures. The sunshine and beautiful beaches keep visitors coming, yet there is so much more to this idyllic island than meets the eye. Blessed with a mild climate for most of the year, Mallorca is perfect for tranquil beach days, outdoor activities, and gastronomic pleasures.
This is our Insider Guide to Mallorca with the top things to do and see in Mallorca, in 2022.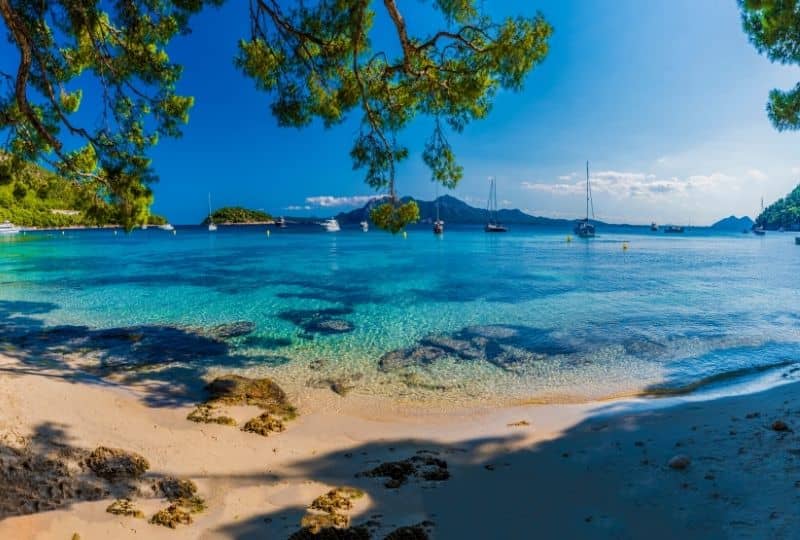 Wander through olive groves, hike the heart of the Tramuntana Mountains, or spend time in dreamy villages dining on traditional fare. This insider guide will help you consider the authentic flavours and hidden gems that dot the island and will have you on your way to finding incredible eateries, azure bays, and charming villages. Discover things to do in Mallorca.
What to Eat in Mallorca
Ingredients growing on the island are heavily represented in the dishes you will eat during your time on Mallorca. Featured extensively are almonds and walnuts, plump olives, and zingy lemons, along with plenty of garlic and olive oil. Many of the Mallorquin dishes include pork, vegetables and locally caught fish. If you're looking for traditional Spanish tapas, don't worry, you won't be disappointed.
Be sure to try a Frito Mallorquín, which is a fry-up of meat, lamb, or fish, with potatoes, vegetables, and spices. If you see Arròs Brut on the menu, you can expect a paella-style dish made the Mallorquin way. You might also come across sobrassada, a spreadable sausage made of pork mince, bacon, salt, and spices, similar to Spanish chorizo. Sobrassada makes a good picnic accompaniment and can be purchased at many local markets, including Mercat Olivar, located in the centre of Palma.
A thriving food scene attracts visitors to the capital city of Palma de Mallorca. Stylish, innovative restaurants are popping up alongside long-established, family-run eateries. At the intimate Adrian Quetglas you will find a unique Michelin-star menu with excellent wine pairing.
Plenty of fuss-free dining, with a beautiful setting, can be found outside Palma. Ca's Patro March on the craggy cliffs of Cala Deia will serve outstanding seafood with a backdrop to match. For truly secluded cliffside dining, take a boat or the mountain path to Sa Forada for a sunset paella.
For some local sweet delights in Palma, head to Horno Santo Cristo where you can try the ensaïmada, the Balearic Islands' most iconic pastry.
Best Bodegas & Cafés in Mallorca
The ever-present sunshine and salty breeze ripen Mallorca's grapes, creating a lovely local wine selection. The area's annual wine festival occurs in September and includes parades, celebrations, grape-crushing, a wine tasting contest and a messy grape battle. For an enjoyable half-day of vineyard exploring and wine tasting, visit Bodegas Ribas, located at the foot of the Tramuntana Mountains.
The local spirit of choice is the Palo, made from dark, dense medicinal plants. It can be enjoyed on ice, yet the somewhat bitter flavour is often paired with soft drinks or made into cocktails, including a popular mojito variety.
Bar Abaco in the La Lonja area is legendary for its elaborate antique decor. For a toned-down atmosphere, U Gallet in the quaint town of Pollensa mixes an excellent cocktail with herbs and fruit from the local market. You'll also find a rustic and chill vibe and some delicious tapas and pintxos to accompany your drinks.
If coffee-sipping is more your style, Palma is a haven for independent coffee shops. The trendy La Molienda will not disappoint. For a traditional café experience, C'an Joan de S'Aigo, in Palma's old town, serves good coffee and hot chocolate, accompanied by an ensaïmada. For coffee outside of Palma, snag a table in the retro-chic, open-air courtyard of Cafe Scholl in the enchanting town of Sóller.
What to do in Mallorca
Some might say that Mallorca's culture sits in the shadow of its sunny shoreline, but this is changing as intrepid explorers wish to return with more than just a suntan. The island's Catalan culture is distinct from mainland Spain, and you will find fascinating hints of history scattered around the island if you know where to look.
Mallorca has a total of 30 monasteries to explore. The Sanctuary of San Salvador includes an impressive view and Sant Joan Sanctuary, in the centre of the island near the historical village of Sineu, is one you might have all to yourself. Likewise, the Monastir de Miramar in the Tramuntana area is a charming refuge near the famous viewpoint of Sa Foradada, yet few people stop to admire its tranquil beauty and stunning views.
No visit to Mallorca would be complete without a stroll through a few charming and fascinating villages. The mountain towns of Valldemossa and Sóller are must-sees but can get crowded during the high season. For a quieter option, Andratx is a traditional town, home to a castle, church, and windmills, surrounded by mountains and sea. Stroll the narrow, 18th-century streets of Pollensa and be sure to visit the sun-drenched town of Santanyi, with stunning beaches only four kilometres from the town centre.
Let's not forget about that glowing coast of beaches and bays that everyone speaks of. To the west, you'll find dramatic cliffs and sparkling seas; the north is marvelous for hikes through pine trees to sheltered inlets, deserted coves dot the east and white-sand beaches are found in the south. If you're hoping to find a quiet or nearly secluded beach, visit in the early hours and seek out the ones with difficult access. Some to consider include Cala Banyalbufar, Sa Calobra, Cala Torta, Cala Gat, Cala Figuera and Es Coll Baix, to name a few.
Activities & Adventures in Mallorca
Whether you want to play tennis or a round of golf, go snorkeling, hiking, or sailing, Mallorca has more than enough choices to keep you active.
The Tramuntana Mountains are a UNESCO World Heritage site and a picturesque hiking and biking destination. Winding trails, plunging viewpoints, historic villages and secluded bays can all be discovered in this area. The route of Puig de Maria is short and comfortable for beginners, and the path from the village of Esporles through Maristella and then on to the Fita del Ram is also a shorter hike with breathtaking views.
If you fancy being on the water rather than in the hills, there are plenty of places to rent paddleboards, kayaks, or snorkeling equipment. Motorboating and sailing are options as well, with schools such as Deep Blue Sea Training or Palma Sea School available to teach you.
Where to Stay In Mallorca
Book your stay now with some of the most iconic boutique hotels in Mallorca.
Your travel style will determine the best areas for you to stay in Mallorca. If you are looking for nightlife and the ability to wake up each morning and hit those trendy coffee shops, you will want to stay in the west – specifically in Palma or near the Bay of Palma. The beaches and towns in this area are desirable, so this is also where you're likely to find the biggest crowds.
Another attractive and popular coast is along the south of the island. Idyllic coves and vast, bone-white beaches line this stretch of Mallorca so, tourists tend to gravitate to areas such as the lovely Cala'Dor.
Families like to stay on the east coast, where many family resorts are located, and the rugged north of the island is perhaps the quietest option for a peaceful getaway. The north is particularly appealing if you plan to explore the Tramuntana mountain range. Here, you have the mountains and many gorgeous villages at your fingertips.