Sa Creu Nova Petit Palais, where luxury and tranquillity live in harmony
Located in a small town in the south of Mallorca, Sa Creu Nova is a combination of 3 historical houses from the 18th century, where historic architecture blends with modern designs. The promise of Quiet Luxury is fulfilled by its peaceful, idyllic surroundings and exquisitely decorated space.
Open the door to your suite in the Sa Creu NovaPetite Palais, and you'll be greeted by peaceful earthy tones, custom-made artwork, and a luxurious tranquil space. The space and experiences are designed for you to truly unwind. You'll relax in the spa of Sa Creu Nova with a massage or aromatherapy session, live a unique gastronomic experience in the Japanese restaurant Kairiku, and explore the location like a local with the staff's recommendations.
Surrounded by natural wonders and near a historic town, you can admire the traditional architecture on its cobble-stoned streets and loosen up on the warm sands of stunning beaches. Book a sailing tour, and you'll enjoy great food, the spectacular view from the sea, and a sense of serene relaxation.
What we like the most
Savouring the 5-course set menu prepared on the spot with Kairiku's Chef
Having a private picnic on the sands of the Es Trenc Beach
Treating yourself to a massage with aromatherapy in the wellness spa
Enjoying the breeze and scenic route as you tour Mallorca in a classic car
Having your expectations exceeded by the helpful and friendly staff
Rooms Overview
Luxuriously remodelled from historic buildings, traditional characteristics flow through the exposed stone walls and brick structures to join with modern designs adorned with gold accents, wooden tones, and works of art, creating a beautiful fusion of the past and present, and a perfect retreat for you to unwind.
Junior Suites
2 guests
One-bedroom suite
View into the city
Raw, exposed stone walls meet the sleek and modern glass doors, the junior suite is set in a palette of light neutral shades with dashes of luxurious gold. An open-plan design that inspires tranquillity, with custom-made art pieces adding a hint of dramatic flair to the space. Depending on the suite you can have a terrace, a garden view or a city view from your room.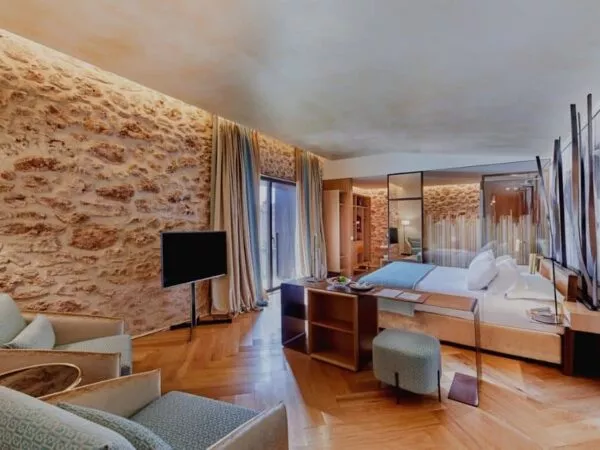 Presidential Suite
2 guests
Equipped kitchen
Mezzanine
Private terrace
Light floods in from the floor-to-ceiling glass panels looking out to an inner garden, you'll walk downstairs to your spacious living room to savour your freshly made breakfast. Hints of traditional Mallorcan styles flow through the stone wall and low vaulted ceiling of the kitchen, with modern designs in shades of sleek white and warm wood, creating a space that exudes luxe and cosiness.
Taste the flavors
Tess de Mar
Savour Mallorcan cuisine and creative dishes prepared with fresh, locally sourced fish, self-grown vegetables, and top-quality products, along with a collection of pre-selected wine. Ask the sommelier for recommendations and the Special Editions to go with your aromatic dishes with rich textures.
Kairiku
You'll relish a gastronomic experience filled with surprises and the finest tastes in the Japanese Omakase restaurant of Kairiku. Let the chef surprise you with a delicious menu of his choice, full of dishes made with the freshest produce that will make your tastebuds sing, along with premium sakes to complement the food.
Es Vicari Cocktail Bar
You'll enjoy an afternoon drink at the bar or have a delightful evening cocktail prepared with the best spirits and exquisite flavours. With an innovative menu comprised of the greatest cocktail hits, you'll have an experience like no other.
Breakfast
Start the day in Tess de Mar with a hearty a la carte breakfast. Served at the table, you'll enjoy bread fresh from the oven and a sweets basket filled with homemade jam, eggs, fresh fruit, and muesli. For drinks, you can choose from teas and coffees, as well as freshly squeezed orange juice and smoothies.
About the sustainability
Citrus, the fruit of Promise, indicates that the property is noticeable eco-conscious as many areas of sustainability are addressed
Sa Creu Nova Petit Palais has implemented many systems to reduce energy use, including lighting timers and renewable energy systems
Sustainability is a built-in feature of its architecture, as it's well insulated and uses mainly local construction materials to decrease its carbon footprint
Authentic travel is important to the Petit Palais, as it promotes opportunities to experience the area and culture like a local
You'll enjoy many delectable dishes made with organic produce and products sourced locally
Explore the location
Sa Creu Nova Petit Palais is located in the heart of Campos. You can tour the picturesque town on a bike and let the winding roads and traditional stone-built buildings charm you away, and go on a picnic to enjoy on a sunny afternoon by the sea on the south coast nearby.
Explore Mallorca like a local!
Shop around in the local markets, and you'll find handmade crafts to take home. Take a dip in the crystal clear waters of Es Trenc Beach and explore the countless calas (caves) nearby, and as the sun sets, enjoy the view and unwind on the warm white sands.
Book a trusted local driver for your transfer to and from the hotel, and introduce you to the destination, pre-order travel essentials, and get all your questions answered before or during the trip. Choose the stops, visit the attractions, and don't waste any time waiting. We've partnered with Welcome Pickups, the first company to deliver a holistic, in-destination travel experience.