Nestled beautifully between charming beaches on the cosmopolitan island of Mykonos, you'll find Kensho Ornos, a sophisticated sanctuary to reward your senses
As soon as you're welcomed into the lobby of Kensho Ornos, a sense of peacefulness immediately washes over you. Cycladic influences are apparent with white-washed walls, natural stone and weathered wood on display. However, pulling your gaze back outside are the unmated sea views of Ornos Bay.
The traditional architecture throughout the hotel blends nature with luxury and encourages harmony between indoor and outdoor spaces. Besides the Zen Rooms, which focus on inner peace and quietness, each of Kensho Orno's 35 rooms features stunning sea or mountain vistas. Time seems to vanish as you soak in your private jacuzzi or plunge pool and watch the sunset colours give way to star-filled evenings.
When you're ready to venture out, a quick chat with the 24-hour concierge service will provide you with local secrets to make the most of your time on the bustling island of Mykonos. Cosy cafes, energetic beach clubs and unique shops await just beyond the hotel's walls; however, by night, you'll be back sipping refreshing cocktails on the oversized rooftop jacuzzi.
What we liked the most
Taking in expansive views of Ornos Bay while soaking in the oversized rooftop jacuzzi
Enjoying a gastronomy experience as Chef Constanthinou prepares 6 to 9-course dinners featuring Greek and Cretan plates
Sipping local wine as you watch the sunset from your private plunge pool
Feeling true relaxation at Kensho Ornos full-service spa, complete with tropical rain beds and heat, colour and sound therapy beds
Dancing the evening away with nightly DJs at the Kensho Ornos Sunset & Lounge Bar
Rooms Overview
Each of Kensho Ornos 35 rooms offer a refined retreat to enjoy their state-of-the-art amenities, including a complimentary iPad set with unlimited playlists. You'll immediately sink deeper into the hand-selected designer furniture and let your attention drift towards the sweeping landscapes of the coast and vivid blue waters.
Zen Room
2 guests
One-bedroom suite
As its name suggests, the Zen Room is an ideal spot to hang up your everyday stresses and reconnect with your inner harmony. While no views are on offer in this room, the traditional construction materials provide a unique, white-washed interior, and soft wooden accents bring a touch of comfort and warmth to space.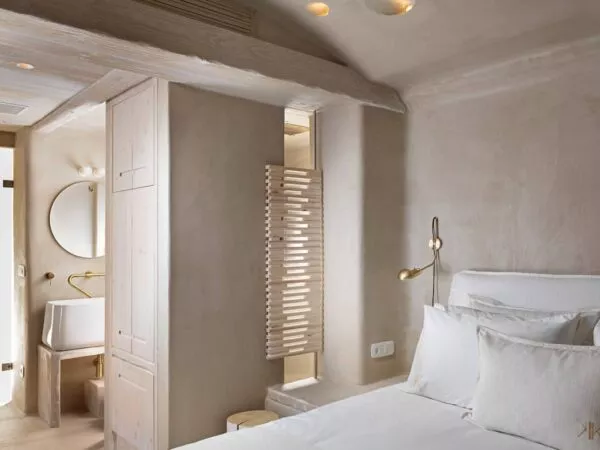 Deluxe Room with Outdoor Hot Tub
2 guests
Jacuzzi
View into the sea
You'll find yourself in a state of pure relaxation as you watch the sunset from your private Jacuzzi on the outdoor terrace. Minimalist décor allows the focus to remain on calming scenes of the surrounding mountains or ocean and handpicked furniture embraces the simplicity of life in paradise.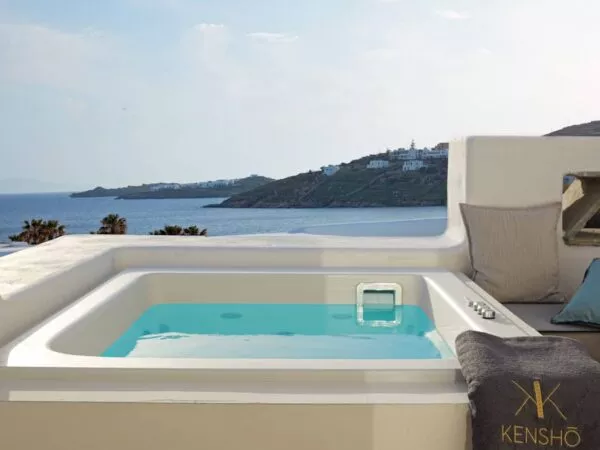 Deluxe Room with Plunge Pool
2 guests
One-bedroom suite
Private pool
Stepping out of bed and straight into your idyllic plunge pool will be an experience you won't soon forget. Clean architectural lines and touches of supreme comfort featured throughout the room quickly quiet your mind. Yet, the expansive outdoor area is sure to excite your inner child for the day ahead.
Junior Suite with Outdoor Hot Tub
2 guests
Jacuzzi
View into the sea
Truly relax from sunrise to sunset on your generous outdoor terrace, complete with an outdoor hot tub and breakfast nook. Heading inside, quaint lines and unique light fixtures divide the open space between bedroom and bathroom, and impressive wooden architecture set a tranquil mood.
VIP Junior Suite with Private Pool
2 guests
Private pool
View into the mountains
A spacious flowing room complete with a private pool and sophisticated outdoor area brings together pure positivity and relaxation. A Yoda chair placed perfectly overlooking your pool and mountain landscapes allows for relaxing afternoons, and vertical wooden blinds provide a sense of security and separation from the bathroom.
Vista Suite with Panoramic Views
2 guests
One-bedroom suite
Panoramic View
Every detail embraces the panoramic scenery in this modern and minimalist suite. A fixed bed with premium ocean views leaves you waking up in serenity, and thoughtful wooden architecture allows for unique takes on classic hotel amenities. Your trip highlight may well be sipping coffee on your wooden patio overlooking Ornos Bay.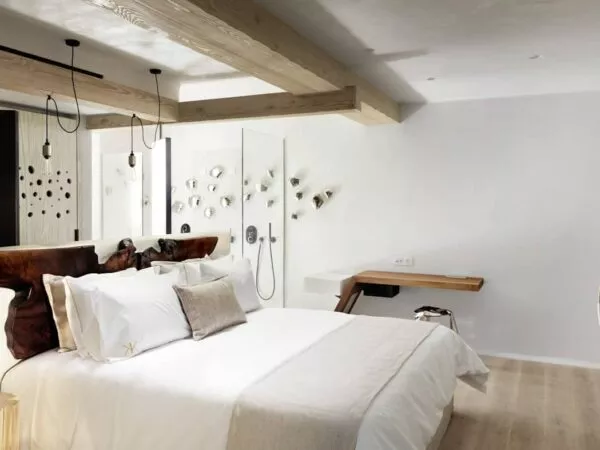 Taste the flavors
Kensho Ornos Restaurant
Delight in modern Mediterranean flavours, influenced by Cycladic traditional cuisine, at the on-site Kensho Ornos Restaurant. Ocean vistas take a back seat as you indulge in executive chef's, Ippokratis Anagnostelis, exquisite menu. Embracing modern gastronomy, Anagnostelis crafts every dish with masterful intention and deep flavours that surprise you at every bite.
Kensho Ornos Sunset & Lounge Bar
Casual meets sophistication at the Kensho Ornos Sunset & Lounge Bar. Complete with a swimming pool, covered terrace, and lounge seats, it's your ideal spot for an afternoon cocktail or predinner wine. Serving finger food and snacks, you'll be hard-pressed to find a reason to leave.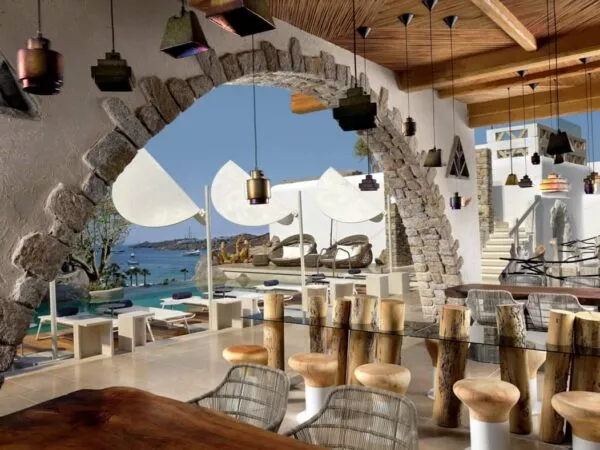 Breakfast
Whether you enjoy waking up with the sun or spending your morning cosied up in bed, when you're ready, a delectable breakfast buffet will be waiting. Served from 7:30 am to 11:30 am, you'll find an assortment of pastries, fruits, yoghurt, eggs and pancakes made to order. If the mood strikes, enjoy a glass of complimentary Prosecco.
Figs
Like the fig tree roots, the property is constantly addressing many sustainable tourism areas and excelling in most fields
An array of water & energy saving systems are seen throughout Kensho Ornos, including energy-efficient bulbs, thermostats in the rooms, movement-sensitive lights and water timers in public spaces.
Enjoy authentic Greek and Cretan flavours as locally sourced and organic products are showcased at each of Kensho Ornos restaurants.
Appreciate the efficiency of eco-friendly and recycled construction material used throughout the hotel along with local knowledge to position rooms to optimize solar heat gain.
Learn about local horticulture as local plants are featured throughout the hotel grounds.
Explore the location
Located just a three-minute walk from the popular Ornos Beach and 5km from the Mykonos Airport, Kensho Ornos is on the doorstep of golden sand beaches and an array of restaurants, upscale beach clubs and boutique shops. If you'd like to journey further afield, you'll find the Water Taxi just a four-minute walk away.
Book a trusted local driver for your transfer to and from the hotel, and introduce you to the destination, pre-order travel essentials, and get all your questions answered before or during the trip. Choose the stops, visit the attractions, and don't waste any time waiting. We've partnered with Welcome Pickups, the first company to deliver a holistic, in-destination travel experience.