La Maison Bleue: Luxurious Moroccan Traditions in the Historical Fes
La Maison Bleue will entice you with luxurious modern décor and rich history. The owner, Mahdi, has beautifully given a second life to the palatial family house.
Every detail in this boutique hotel invites you to recharge and enjoy the best of Moroccan traditions after exploring the hustle and bustle of Fes.
Marvel at the wonders of grand archways, picturesque windows, patterned tiles, and chiseled plaster ceilings. Retreat among in your room where timeless Moroccan rugs blend with antique furniture in the minimalist a soft interior.
Discover the delicacy of traditional cuisine at the restaurant within an atmosphere of romance and beauty, a theme shared with the other luxurious common spaces. Wash your stress away with a traditional hammam and relaxing massages, or simply refresh by the pool.
What we liked the most
The combination of splendid décor and the impeccable service
The spectacular rooftop terrace with panoramic views of the city
A pause by the luxurious spa to enjoy a traditional hammam and massages for rejuvenation
Learning the secret of the finest Moroccan tagine with the charismatic chef
Rooms Overview
Get ready to have an enjoyable stay in a divine accommodation among antiques, hand-picked furniture and traditional architectural elements. If you are into contemporary design, you will love how ornate patterns and metallic accents are put together to give a worldly vibe and how marble tiles are mixed with relaxing neutral colours in the bathroom. All rooms have an ensuite bathroom and content sitting area.
Standard rooms
2 guests
One-bedroom suite
View into the patio
Natural colour shades are trickled with pops of colour in these beautiful standard rooms. You will be perfectly accommodated as the bed size is arranged to suit your needs. Elaborately carved furniture is dotted around the room to bring together style and tradition. The bathroom is beautifully designed with a wooden ceiling, colourful wall tiles neatly in line and a marble bath.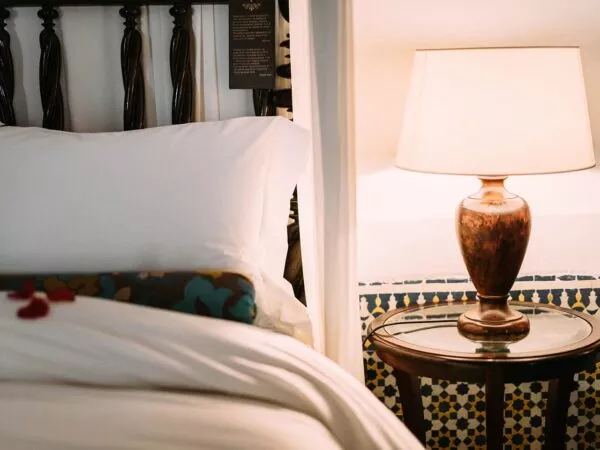 Deluxe rooms
2 guests
One-bedroom suite
View into the patio
A luxurious seating area with soft-to-touch sofas and a stunning window frame with patterned shutters are only the introduction to this ethereal room. The curtains show off the finest texture; some drape lightly around the bed and others hang in a velvety mustard-colour framing the windows. The room is washed with sandy shades, strongly resembling Morocco's deserts. This room is a true mix of authenticity and beauty.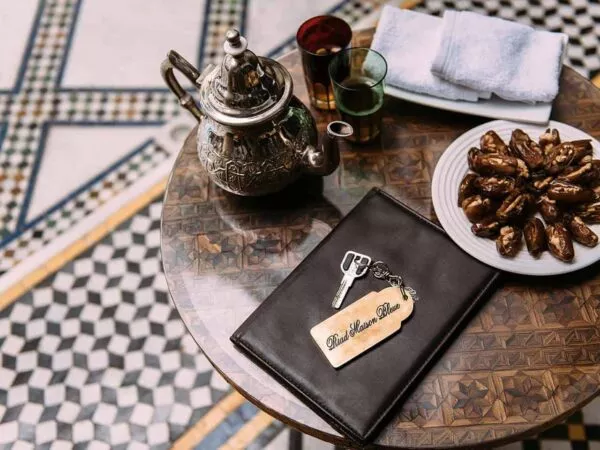 Suites
2 guests
One-bedroom suite
View into the city
For an unimaginably lavish experience, the suites are earthy and classy with neutral tones. The grand four-poster bed contributes to a luxurious ambience. The North African culture is ever-prominent with a fine quality rug that has intricate stitching. This suite guarantees you a purely relaxed but chic atmosphere.
Ambassador suite
guests
Panoramic View
Private terrace
You will be whisked away to a complete world of dreams in a suite of perfection. There is plenty of space to settle in. A magnificent roof terrace provides you with tranquillity to enjoy the views of the medina's North Gate and old city. You will truly feel in the heart of the city. The beautiful bathroom has a deep ceramic bathtub and glamourous marble details.
Taste the flavors
Breakfast
Prepare yourself for all the breakfast delights at La Maison Bleue's breakfast buffet! Many of your favourite classics are found here including an omelette station, meat and sweet treats. Take a wander up to the rooftop and enjoy your breakfast in architectural beauty to start your day feeling refreshed.
The restaurant
La Maison Bleue has a special restaurant with homemade traditional recipes passed down by the El Abbadi family. Dinner is served in a four-course style with dishes such as pastilla, tagines and a delightful array of salads. The delicious dessert consists of a flaky pastry with layers of cream and orange blossom. The friendly atmosphere is topped off by live music and dancing! There are multiple areas in which to sit including an authentic downstairs which makes you feel you are travelling in time.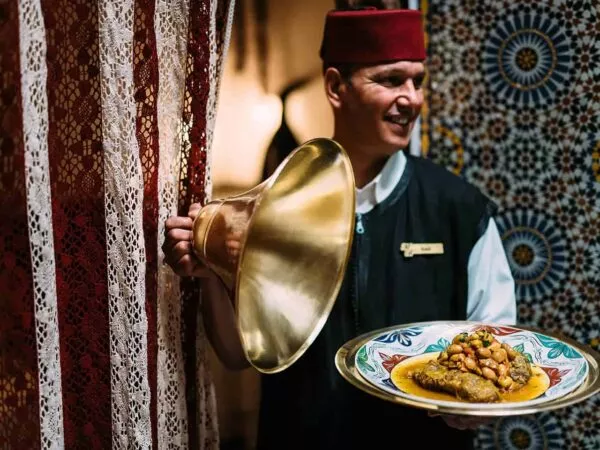 Focus on sustainability
Like the fig tree routs, the property is constantly addressing many sustainable tourism areas and excelling in most fields.
Housed in a family house, la Maison Bleue was refurbished preserving the old character, the furniture had been restored and traditional architecture adapted to the climate.
La Maison Bleue is operated as a role model with their social involvement.
Most of the team have been recruited despite a less-favoured background. The management has been coaching and providing all necessary training that allows you to enjoy the best service up to La Maison Bleue standards.
Explore the location
La Maison Bleue is located on the edge of the breathtaking Medina of Fes. It is easy to access by car or public transportation, only around 9 miles from the airport.
Book a trusted local driver for your transfer to and from the hotel, and introduce you to the destination, pre-order travel essentials, and get all your questions answered before or during the trip. Choose the stops, visit the attractions, and don't waste any time waiting. We've partnered with Welcome Pickups, the first company to deliver a holistic, in-destination travel experience.
When you arrive, you will be fully immersed in Moroccan culture. The educational institution Bou Inania Madrasa is only a three-minute walk away and shows the finest Moroccan architecture. You can take a break at Jardin Jnan surrounded by intricate plants and calming water fountains.