A lively city akin to Disney's Aladdin, Fez Medina is bursting with vibrant colours and fragrant aromas. The oldest Medina in North Africa, this ancient city is surrounded by high walls, separating the maze of over 9,000 alleys from the outside world. Ancient history comes to life, and if you're looking for things to do in Fes, you won't be disappointed. With our insider guide to Fez Medina, you can navigate the nameless alleys with ease and take a deep dive into the timeless culture of Morocco.
Best things to do in Fez
Taste
Fez Medina is brimming with food stalls serving every type of food imaginable. With influences from Arabs, French, Turks and Moors, the variety on offer will have you wishing you could stay longer, no matter the length of your trip. If you ignore what's in it, a must-try is pastilla – a Moroccan meat pie filled with shredded pigeon meat surrounded by a flaky pastry and topped with sugar, cinnamon and roasted almonds.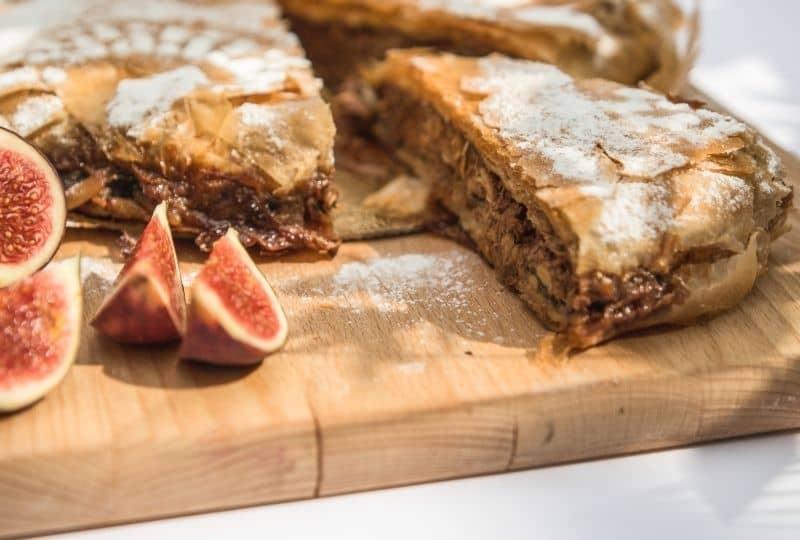 If you have a sweet tooth, the classic Moroccan dessert of almond briouat will amaze your tastebuds. Filo pastry is stuffed with almonds, sugar and cinnamon then fried. They look similar to samosas in their triangular shape yet have the perfect blend of nuttiness and sweetness. Finding both pastillas and almond briouats is easy, especially around Bab Bou Jeloud, or the Blue Gate.
If you are looking for somewhere quieter to sit down, try the quaint and charming Café Restaurant Al Oud, an affordable place with an incredible array of mouth-watering food. Their lamb tagine is particularly notable, especially considering the tiny kitchen it's crafted in.
Sip
Like other Moroccan cities, bars are few and far between. This is even more true in Fez Medina, with many restaurants not even selling alcohol. Instead, a local favourite is sugarcane juice. It's believed this delicious drink boosts the immune system and strengthens liver and kidney functions.
You'll also find the equally sweet mint tea offered at the majority of cafes and restaurants. It can take some getting used to the strong yet intensely sweet drink. However, it's considered rude to turn one down, so take any offerings with gratitude.
If you're keen to sip slightly overpriced alcohol drinks, you're not entirely out of luck. There are still plenty of restaurants dotted around Fez Medina that serve up cocktails, wine and beer. Le Palais Faraj, in particular, offers beautiful cocktails and with floor-to-ceiling windows, you can enjoy your drink with spectacular views of Medina's tiled rooftops.
Explore
As Fez Medina is believed to be the biggest car-free urban area in the world, roaming the streets is an experience in itself. While you'll likely get lost at least a dozen times, exploring the bustling Fez Medina opens up plenty of opportunities to discover hidden gems. Around every corner and within every nook awaits a new finding, and each day you'll find parts of the city you never knew existed.
For a spectacular view, head just out of the Medina to the Marinid Tombs. These old monumental tombs sit on a tall hill above Fez Medina and allow for a deep connection to the history of the ancient city. This tranquil hilltop is rarely frequented by tourists making it an excellent spot for photography.
Another great view of Fez Medina awaits at Nejjarine Square and Museum. Located in the heart of the old city, it showcases traditional riad architecture dating back to the 18th century. Now the building houses beautiful wooden arts and crafts and offers a rooftop terrace overlooking Fez.
Shop
Fez Medina has preserved the use of many of its artisanal trades and is considered the handicraft capital of Morocco. Traditions have been passed down through generations, making shopping in Fez Medina an incredible and unique experience, transporting you back to ancient times.
Tannery, the art of turning animal skins into leather, is especially a must-see. At Chouara Tannery, large colourful vats greet your arrival, along with rather unpleasant scents. Luckily, a local will notice your discomfort and offer you a fresh mint to mask the smell. Place it under your nose and admire the many colourful leather goods made from traditional craftsmanship.
The exotic charm of Fez Medina does not end here. Continue to Tala'a Kebira, a narrow street that spans the city from east to west and is lined with stalls. Famed for both shopping and its delicious street food spots, a walk along this street is a treat for all five senses. You'll be amazed at the variety of fabrics on display, such as silks, satin and leather. Don't forget to haggle to be sure of a good deal.
Chill
Besides your hotel room, it can feel like there are very few unoccupied places in Fez Medina. For those who enjoy peaceful escapes away from the hustle and bustle, a visit to Bou Jeloud Gardens is a must.
Built in the 19th century and originally exclusive only to royal elites, the gardens are now free to enter and are one of the only green spaces left in Fez. Peacocks, wetland creatures and lots of birdlife call this oasis home, and as you wander amongst the cooling fountains and fruit trees, you'll feel like you're miles away from Medina.
If you're ready to spend a day away from the city, head to Moulay Yacoub for a day of ultimate relaxation. The natural spring here is rich in minerals, and a soak in the Vichy Thermalia Spa is said to relax the mind and body and even cure skin diseases and other ailments. Here you'll find two thermal pools, one mixed and one for females only. There are also plenty of hammams around that will give you a more authentic experience.
Be Active
The abundance of mouth-watering food and bustling streets will have you ready to stretch your legs and burn off some of the tasty treats you've been consuming. Luckily, you don't need to go far to enjoy the fresh air and some exercise. Just outside Fez Medina is Mount Zalagh, the largest mountain overlooking the city. The hike takes around two hours, and you'll be surprised at the emptiness for such a stunning climb near the city. As you walk the gentle uphill path through olive groves and wild lavender, you'll gain an even greater appreciation for the perfect chaos in the streets below.
A short hour and a half drive away from Fez will bring you to Tazekka National Park. Located in the Middle Atlas Mountains, you'll have many hikes to tick off. From the short 45 minutes Cork hike, which brings you through a forest of giant cork oaks to the Bou'Adli, which brings you to the summit of Bou'Adli in just under two hours, where you'll have incredible views of the surrounding Rif and Middle Atlas Mountains.
Stay
To enjoy the many things to do in Fez, you may prefer to stay right in the Medina itself. Many family homes have been converted into stunning accommodations, giving you a rich experience of Moroccan culture. Be sure to also spend some time in Marrakesh for a more modern take on traditional culture.