Experience a mountainous fairy tale at Pirrion Wellness Boutique Hotel, discovering a new side of Greek traditions
Pirrion Wellness Boutique Hotel seems to be something straight out of a fairy tale. In a mountainous and romantic setting, the resort is a reference for luxury and relaxation in one of the most unexplored areas of Greece. Here, you can experience a new reality, different from everything you've tried. 
The rooms, made with stone and wooden elements, have a cottage-like decor and are designed to help you unwind. Fireplaces, mountain views, wooden bathtubs and an indoor jacuzzi all contribute to your peace of mind. Wrap yourself in a bathrobe after a warm bath and have breakfast in bed while watching the mountains from your window. 
Discover new and exciting flavours at Pirrion Wellness Boutique Hotel's restaurant. A blend of classic greek and modern international elements takes over the menu, and everything is unique and mesmerising. The kitchen staff delivers colourful and tasty dishes by working with local and seasonal ingredients. 
At Pirrion Wellness Boutique Hotel, you can experience the authentic ritual of bathing care in different Hamman treatments, where you get to clean your soul. Face and hair masks, foot baths, and apricot grain massages are a small part of what is offered. 
Practice yoga outdoors, ski, hike, kayak, and trek in the mountains around Pirrion Wellness Boutique Hotel. The hotel is an invitation to blend activity with relaxation, the perfect cocktail for a mountain vacation in Greece. 
Sipping on Champagne inside a private jacuzzi with views of the mountains

Relaxing massages as a part of the hotel's traditional Hamman treatment 

Practising yoga at sunset to breathe in the mountainous air of Zagori 

Exploring nature by bicycling, hiking, and canyoning

Tasting traditional and innovative Greek flavours at the Skantzohiros Restaurant
Rooms Overview
Named after elements of the region, like Fig, Bergamot, and Chesnut, the rooms at Pirrion Wellness Boutique Hotel reflect the mountainous essences of Zagori. With stone brick walls, warm decor and design, you will be cosy against a fireplace or inside a private jacuzzi, enjoying the mountain air and soft bed linens.
Design Double Room with Mountain View
2 guests
Open-plan suite
View into the mountains
The five double rooms with mountain views at Pirrion Wellness Boutique Hotel grant you the utmost comfort between spacial mattresses, soft pillows, and silky bed linens. Enjoy the view of grasslands and clear blue skies through the windows, and indulge in some tea inside a cottage-like room decor.
Design Double Room with Fireplace
3 guests
Open-plan suite
View into the courtyard
Roast chestnuts by the fire while surrounded by wood and stone elements that carry the essence of the mountains around you. A warm fireplace is the main charm of these double rooms. The minimal decor brings a romantic and relaxing aspect to the space, and the bathrobes and pillow menu guarantee a perfect night of sleep.
Premier Suite
4 guests
Open-plan suite
View into the mountains
The premier suites at Pirrion Wellness Boutique Hotel offer a fireplace and mountain views, perfect for a relaxing getaway. A wooden bathtub invites you to unwind as you watch the slopes of Zagori. The cottage-like decor brings warmth into your stay, and the separate bedroom is ideal for couples with children.
Signature Suite
guests
Balcony
Jacuzzi
View into the mountains
The signature suite offers all the best amenities for a perfect mountain vacation. Find a private balcony with mountain views, a fireplace, and a private jacuzzi inside the room. Enjoy breakfast in bed, flowers, and champagne upon arrival.
Indulge in the unique decor, surrounding stone and wooden elements on the architecture of the place.
Taste the flavors
Lounge Bar
Take your coffee upstairs for a sweet experience at the Lounge Bar in Pirrion Wellness Boutique Hotel. Here you can taste unique and exclusive liquors in the afternoon to the sound of lounge music, or come at night for a glass of wine and a melodic experience under the dim lights. Sip on a negroni as you wrap up the day, and enjoy the relaxed atmosphere.
Breakfast
Enjoy local greek flavours at breakfast and fall in love with the simplicity of Mediterranean morning cuisine. Taste boiled frumenty with local feta cheese, homemade jams, cheese pies, french toast, yoghurt, handmade bread, coffee, and tea. Watch the wind blowing against the mountains as you prepare to start your day.
Skantzohiros Restaurant
Taste the wonders of Greek cuisine at Pirrion Wellness Boutique Hotel's restaurant. Blending Mediterranean and modern flavours with greek classics, every dish impresses the eye and all of your senses. Pair each plate with a glass of wine from the restaurant's extensive cellar, and discover flavours that will become your new favourite. By the fireplace, indulge in meals made with raw, seasonal, and local materials.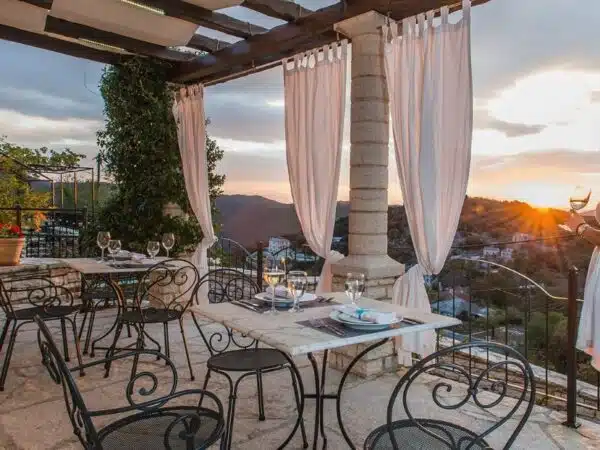 About sustainability
Olive Tree is often a symbol of success, as sustainability seems embedded into the property's identity and DNA.
The hotel is a member of Greece's Ecotourism program, meaning it promotes sustainable tourism practices and respects the environment around it. 

Pirrion Wellness Boutique Hotel buys local and ecological products. 

There is no needless use of paper and printouts, and electronic communication is preferred to letters.

The hotel uses air-energy fireplaces for heating common spaces and low-consumption lighting lamps. 
Explore the location
Zagorohoria is one of the best-preserved villages in Greece. At Pirrion Wellness Boutique Hotel, you can explore all of its natural wonders. As a member of Greece's Ecotourism program, you can indulge in the fauna and flora of its surroundings. Go skis down the mountains in the winter or hike them in the fall. 
You can raft down the river or simply walk by the river banks and natural water trails. Canoe and kayak on the lakes and feel a unique sense of freedom. Cycle to the main town at Zagorohoria and observe the local architecture, shop for local souvenirs and get a taste of regional traditions and lifestyle. 
Explore the area like a local!
Pirrion Wellness Boutique Hotel offers dozens of activities and opportunities to stay active and explore your surroundings. Learn a new skill or fall in love with the natural environment around you. You will never be bored or underwhelmed by its mesmerising beauty.