Tucked in the heaving hilltops of Northern Greece, Zagori is an off-the-grid destination that dabbles in all delights from mystical Mother Nature and Grecian tradition. Teeming with untouched natural splendour and ethereal endeavours, this region is indisputably an idyllic foray for those looking to get in touch with themselves. 
Notorious for the network of nonpareil stone-built villages, locally-referred Zagorochoria offers an authentic insight into Greek living, and better yet, without the hoards of flocking tourists. Meander through the magical towns, enchanting stone bridges and fringing forested pathways to discover the masterfully-crafted architecture that has stood the test of time. 
Embark on an enthralling adventure through Zagori's rich cultural heritage, set out in the labyrinth-like hiking trails, get active in the turquoise-coloured lakes and soak up all the ambience of the sublime scenery. Get your heart racing as you scale the slopes of one of the globe's deepest gorges, savour every bite of mouth-watering Greek cuisine and stay in some of the country's most stellar sojourns. 
Zagori is both heart-warming and invigorating, and this restorative mountain hideaway poses pleasurable pursuits for all. If adversity, authenticity and an untrammelled spirit are what you seek, there's no doubt you'll be delighted by the dumbfounding depths of this destination.  
Taste 
Straddling a stellar spectrum of traditional Epirus cuisine, Zagori encapsulates a surprisingly exquisite gastronomy scene. Equipped with teeming taverns, quaint cafes and family-run restaurants at every end, Zagorochoria is guaranteed to leave every foodie frolicking for more. 
With flavour-packed palatable plates rich in fresh vegetables, delectable cheese and scrumptious meat, this destination offers visitors an authentic insight into North West Greece's mouth-watering cuisine. 
Visitors can't leave without trying the herb-infused salads, tasty stewed beans, charcoal-grilled lamb or veal, crispy quiche-like pies and sheep's cheeses. Enjoy a post-meal digestif like tsipouro, made with homemade liqueurs and local delicacies. 
Sip 
If there's one thing you cannot miss while visiting North West Greece's Zagorochoria, it's a taste of the region's most riveting wines. Decked out with verdant vineyards and world-class wineries, Zagori offers plentiful opportunities for those who want to sip, sample and soak up the spirit of this lush location. 
Head to the local's favourite, Domaine Glinavos. Perched in the picture-perfect village of Zitsa, guests can learn about the family-run winery before enjoying a tasting of delectable wines on offer. Pair the pristine selection with a handful of local delicacies, and make unforgettable memories in among the lush vineyards. 
Explore 
Get lost in the lucid laneways and ancient streets of Zagori's villages. Although Zagorochoria appears quite compact and petite to the eye, these veritable villages are blooming with a rich history, thriving culture and a handful of hidden gems. Discover the delights of authentic living in Dilofo and get gob-smacked by the panorama point of the globe's biggest gorge, just a short stroll from the charismatic village of Vikos.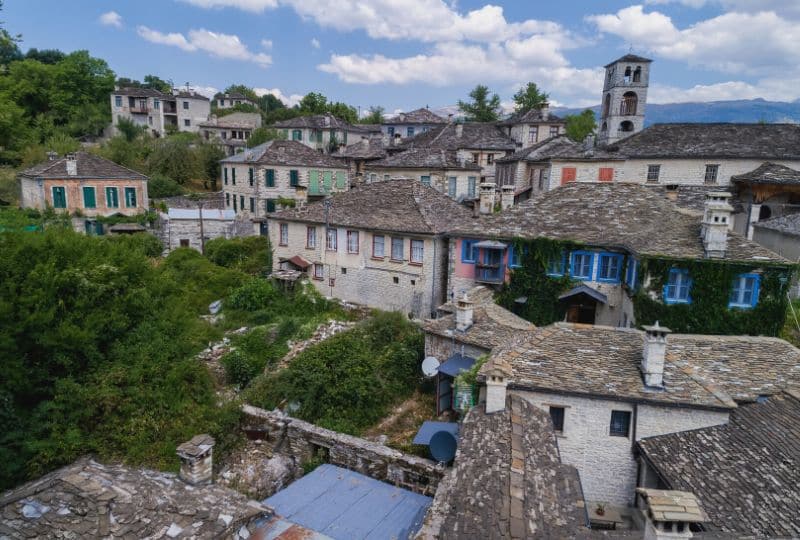 Sip on a coffee in the town square of Monodendri, admire the architecture of the bell tower and church in quaint Aristi and span out from humble Kipoi to see the prominent six stone-built bridges. Among the handful of highlights, don't miss the plant-draped Petsioni Bridge, the triple-arched Kipi (Plakidas) Bridge and the creek-straddling Kokori's Bridge. 
Set up base in Mikro and Megalo Papigo and enjoy a bliss-filled afternoon before setting out for a dip in the Papigo Rock Pools. Embark on an endeavour through the mist-filled mountain tops of Gamilla and set out on a hefty hike to the idyllic Dragon Lake. As you explore the eclectic expanse of villages, soak up all the atmosphere and authenticity of Zagori. 
Shop 
Zagori is home to a hefty array of traditional pieces, authentic products and splendid shopping opportunities. The most prominent items include sweet jams and local honey, tasty cheese and freshly-picked chestnuts, walnuts and apples. 
The best wines can be sourced in Vitsa, and specific sweet-fuelled produce can be found in Ioannina. Famous desserts include kassiopita, which is essentially a crispy pie filled with cheese. Buy a sweet treat to take home for your loved ones, or save it for yourself later.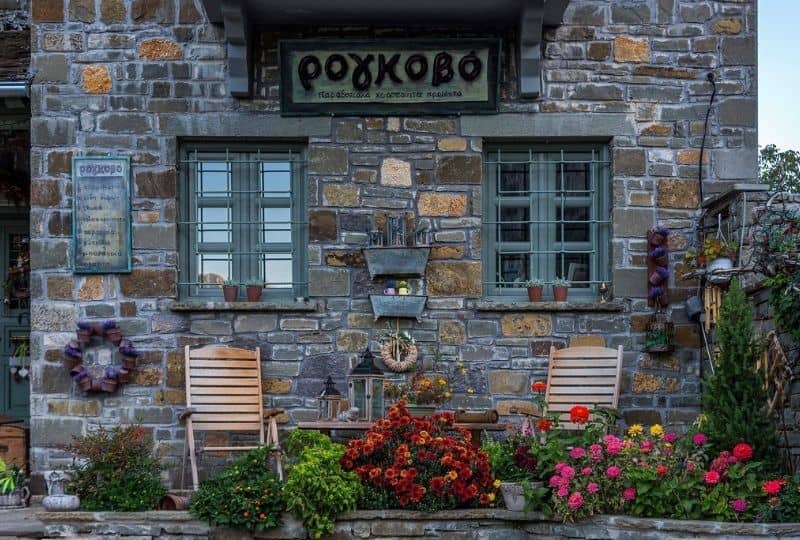 If you're looking to gather the ingredients for a picnic in the park, shopping for fresh produce in Zagori is an absolute delight. Pick up some homemade butter and bread, pair your findings with a bottle of Greek wine, and set out for an afternoon you won't forget. 
Shopping in Zagori is undoubtedly reigned by the wealth of wines, sweet treats and food-focused souvenirs, however, the region additionally offers visitors unique gifts like hand-woven materials, wooden carvings, silverware and copper-made utensils. 
Be active 
What better way to experience a destination than to have a heart-racing adventure? Set your sights on Zagori's adrenaline-inducing activities, and get prepared for an experience you'll never forget. 
Get your life jacket on as you set off on a kayaking white-water rafting adventure through the Voidomatis River and hike through the sweeping slopes of the Vikos Gorge, whose depth drops precipitously. Stand in awe at the wildflower-dominated Beloi Lookout and test your limits as you scale the ever-steep, nerve-inducing Oxia Lookout. 
Avid hikers can quench their thirst for adrenaline-infused adventure by setting out on a multi-hour hike to Drakolimni, otherwise known as Dragon Lake. If you're looking to get off the radar and discover Zagori's most sublime sights, this hike is a bucket list activity. With soaring mountain tops, crystal clear lakes, snow-capped hills and dashes of greenery, this pristine part of Zagorochoria is nothing short of a nature lover's oasis. 
Stay 
Adorned with awe-worthy villages, verdant scenery, traditional architecture and once-in-a-lifetime experiences, this destination makes for the ultimate foray. Accommodating an abundance of countryside-esque stays, luxurious hotels and unique finds, knowing where to stay in Zagorochoria can be a challenge. 
For those seeking a relatively unknown side, Aristi Mountain Resort is replete with revelling experiences. Soak up the sunset from the spa, devour breakfast from the patio, discover the jaw-dropping trails nearby and enjoy the eclectic peace and serenity of this lesser-known location.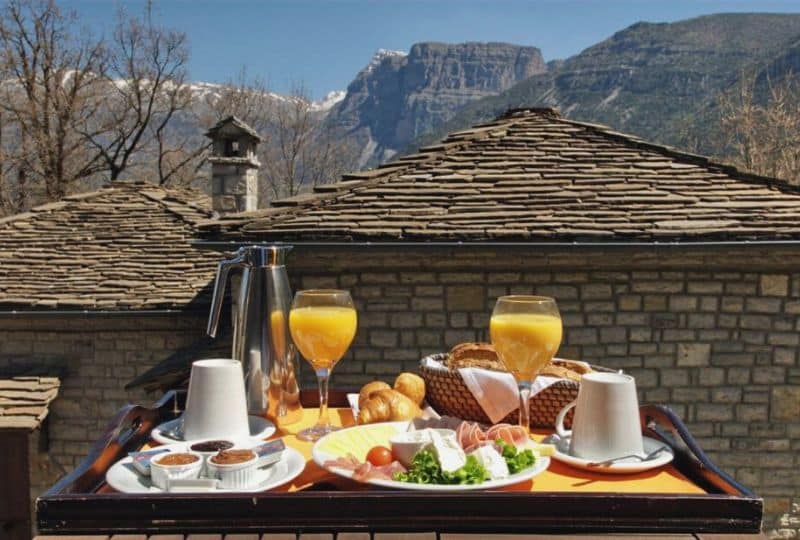 If you're on the hunt for the perfect boutique hotel in Zagori, look no further. Accentuated by traditional architectural features and contemporary design, and with authenticity ingrained at its core, Hotel Athina Elati is a bucket list opportunity. Sitting as the perfect base in Zagorochoria, this gem offers pristine pursuits out into the lakes, mountains and trails. 
This snug cocoon is nestled within the mesmerising mountain range, and it offers the ultimate snapshot into the region's rich heart. With a restaurant serving up tasty treats and a buffet breakfast, this charming hotel is a gourmand's delight. Wind down after a day out sightseeing in front of the flickering fireplace, enjoy local wine in the bubbling jacuzzi and get inspired by the ambience in the lush gardens. 
For those looking to rekindle the romance and indulge in a more intimate stay, Amaryllis Boutique Guest House is a stellar choice. With traditional dining options, vista-filled verandas, friendly staff and access to some of the region's best ski centres and natural attractions, this gem is a relaxing and rejuvenating stay. 
Hotel-connoisseur's will be pleased to know that the region harbours a heart-warming stay that's both sleek and stylish, as well as traditional and down-to-earth. Tucked underneath the mountain range, Papaevangelou Hotel houses cobbled terraces, warm fireplaces, flawless hospitality and contemporary-infused finishes. With inspiring vistas at every end, this accommodation in Zagorochoria is an absolute oasis. 
Tucked in amongst the tantalising mountain tops, ivy-dominated valleys and gushing rivers, Kipi Suites makes for a getaway from godsend. The superb scenery is topped by the hotel's contemporary design, wooden features and timeless traditional style, with intricate details dotted throughout.
Admire the authentic facades, get warm next to the fireplace, enjoy the flavour-packed food at the breakfast buffet and enjoy some one-on-one time in the hot tub. This eco-friendly paradise offers pleasurable pursuits within the idyllic interior and eclectic exterior, making it a fantastic foray.
This nook of North West Greece is an idyllic mountain hideaway that hosts a tempting combination of enlivening endeavours. This region is rich in untrammelled natural splendour, tradition and a thriving culture, making it an absolute mecca for authentic, sustainable travel. If you're looking to create memories that last a lifetime, don't miss out on a trip to Zagori.