Puteus Palace is a tranquil stone palace on the Dalmatian coast waiting to sweep you away
Puteus Palace dates back to 1467, making it one of the oldest on the central coast. Its towering stone walls and cobblestone courtyard tell the story of the Adriatic Sea as it has transformed throughout its 550-year history. You may even stumble across one of four original wells amongst the manicured lawns, which is how the palace got its name.
From your guest suite, you can take a step out onto your private terrace overlooking clay grooves and church peaks, or you can venture down to the courtyard and laze the afternoon away. You'll never be too far from turquoise waters lapping the shores and the gentle sea breeze will caress you while you curl up with a good book or take a leisurely dip in the pool.
Puteus Palace prides itself in being an extraordinary culinary experience for guests, so be sure to come with an appetite. Their friendly staff cannot wait to introduce you to the cuisines of the Mediterranean and Croatian specialities in the garden.
What we liked the most
Drinking your morning coffee above the rooftops and taking in the serenity of Pučišćaʾs Harbour

Chartering a day-long sailing voyage around Croatia with the help of a concierge 

Taking a stroll with your loved one through the romantic, half-acre grounds

Indulging in expertly-curated charcuterie boards fresh produce, wildly sourced seafood, and Dalmatian-bottled wines

Finding the secret wellness centre tucked into the gardens and treating yourself to an open-air massage
Rooms Overview
Guest rooms are focused on the modern luxury experience, with airy décor, canopy beds and hand-woven rugs. Each suite comes with a minibar, luxury cosmetic products, and a fluffy robe, making it the perfect place to let the day melt away.
Standard room
2 guests
One-bedroom suite
View into the sea
This basic room is perfect for solo travellers or couples who like little touches of luxury, along with all the essentials, like air conditioning, Wi-Fi, and TV service. It also can come with a lovely view of the sea, just make sure to request that.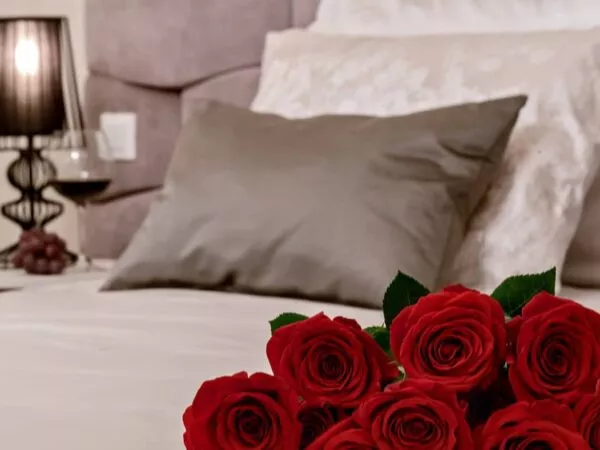 Superior room
2 guests
One-bedroom suite
View into the sea
The Superior room has all of the comfort and amenities of the standard room, but with a little extra space. It also comes with a lovely view of the sea, just be sure to ask for the best view at check-in.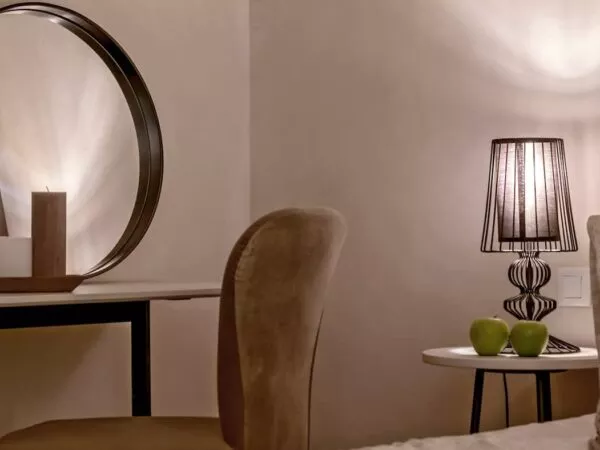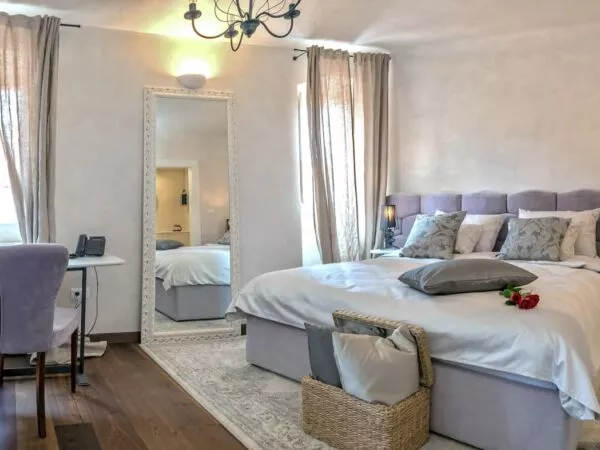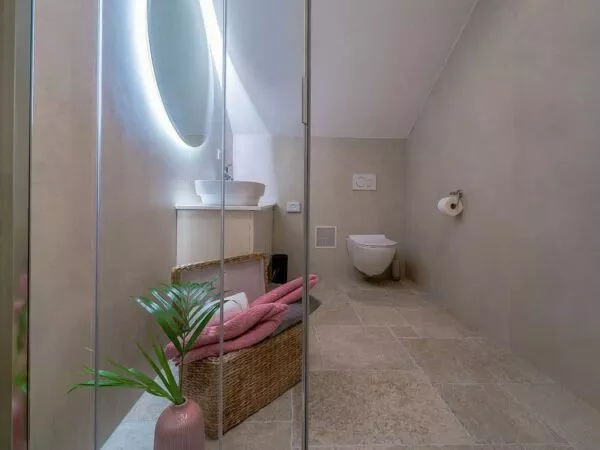 Deluxe room
3 guests
One-bedroom suite
View into the sea
Whether you have a little one with you (the hotel allows guests above the age of seven) or you are travelling with friends, this room is the best option. You can even request a second bed. Again, most deluxe rooms come with seaside views, but if this is important to you, be sure to let them know.
Junior suite with balcony
2 guests
Balcony
View into the sea
If you have come all this way for the view, then you'll definitely want to splurge for this junior suite. The extra investment will score you a private balcony with views of both the garden and the sea.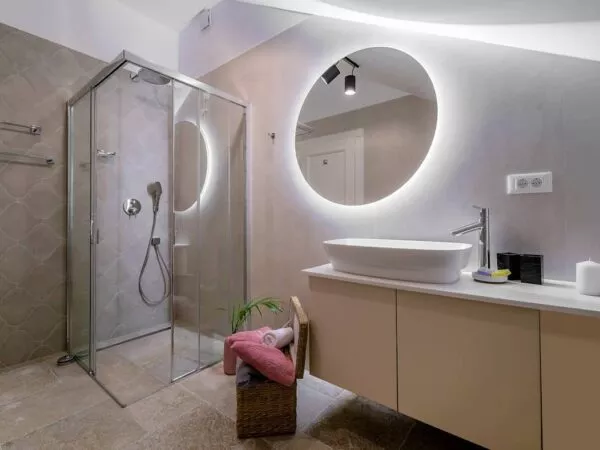 Suite with balcony
2 guests
Kitchenette
View into the sea
If you want extra amenities, this suite upgrade is perfect for you. You'll have two whole floors to yourself, a mini kitchen for prepping afternoon snacks, plus a private balcony for enjoying the sunset over the gardens.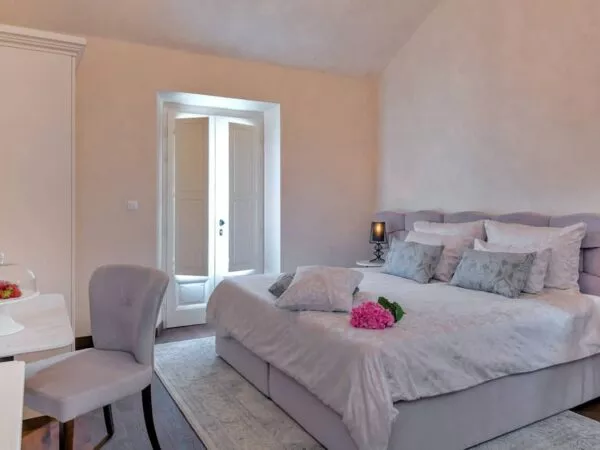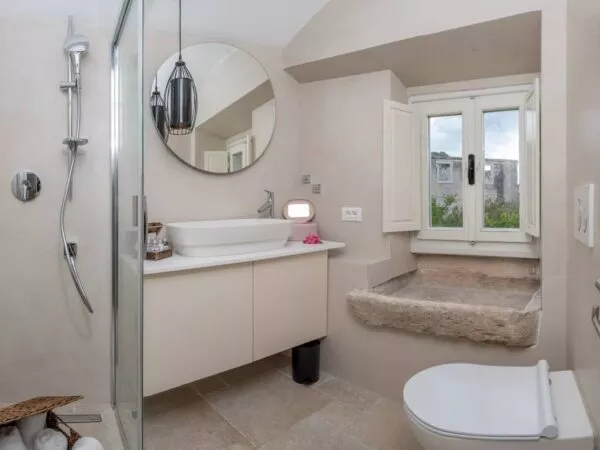 Taste the flavors
Breakfast
Breakfast at Puteus Palace is a fan-favourite for a reason. Full of local produce and artisan specialities, this breakfast is both plentiful and varied. You'll be sure to find the perfect meal to begin your day with the choice of a plated, a la carte meal, or self-serve buffet.
Wine bar
Inside Putues Palace, you can find yourself a spot at the Wine Bar for some appetizers and fine wines. Here you'll find reds, whites, and roses from around the world and some Croatian vineyards.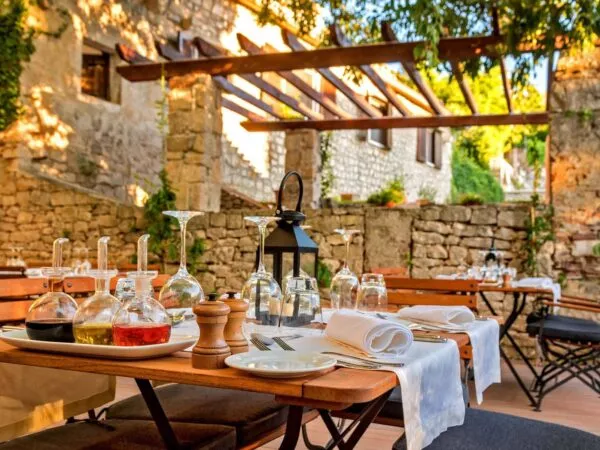 Puteus Restaurant
The garden-side hotel restaurant has an ambience to die for. You'll love eating under the stars as you explore the flavours of Brač and surrounding areas. You will also enjoy your locally-inspired breakfasts here.
About Sustainability
Thyme, the treasured herb, indicates that the property follows local legislation with regards to the environment and has implemented a few eco-friendly common practices
Puteus Palace has been refurbished using only locally sourced, eco-friendly materials, and all of the room decors were purchased from local artisans.

The gardens are teeming with local plant species and you may even get to try some of the spoils in the on-site restaurant.

Energy systems around the hotel are both renewable and energy-saving. You will even have a thermostat in your room to avoid energy waste.

Much of the in-room amenities are locally sourced, organic, and free of single-use plastics.

Puteus Palace truly believes in minimizing waste. For this reason, wastewater is treated and reused, yard trimming is composted and recycling is a priority on site.
Explore the location
Puteus Palace is centrally located on the island of Brač and is merely a hop, skip, and jump to plenty of Croatia's best attractions. Over 5 different restaurants are all within walking distance, as is the seaside if you're up for a stroll. Hike up Vidova Gora, the highest mountain of all islands on the coast, take a trip to Golden Horn Beach, or visit ancient monasteries all within 20 minutes of Puteus Palace. 
Note though since so much walking is required around Brač, it is not well suited for patrons with mobility challenges. 
Book a trusted local driver for your transfer to and from the hotel, and introduce you to the destination, pre-order travel essentials, and get all your questions answered before or during the trip. Choose the stops, visit the attractions, and don't waste any time waiting. We've partnered with Welcome Pickups, the first company to deliver a holistic, in-destination travel experience.